Abstract
Pelagic seabirds obtain food from oceans where the availability of their prey changes rapidly both seasonally and spatially. Here, we investigated changes in the trophic habits of the critically endangered Balearic shearwater (Puffinus mauretanicus) through the breeding season and tested for dietary differences between sexes and age classes. We analysed δ15N and δ13C values in blood of adults during the pre-incubation, incubation and chick-rearing periods and of their chicks. Using a two-isotope mixing model, we estimated dietary contributions based on isotope values from potential prey species which included small pelagic species available naturally and demersal fish species available only from trawling discards. Balearic shearwaters showed clear isotopic and dietary variation through the breeding season. During pre-incubation, breeding adults appeared to exploit demersal fish, whereas during the incubation and chick-rearing period, they fed mainly on pelagic anchovies (Engraulis encrasicolus) and pilchards (Sardina pilchardus). Similarly, chicks were fed mainly with anchovies, a resource with a high energetic value. This variation in the dietary habits of adult shearwaters during the breeding season was probably related to both natural and fishery-induced seasonal changes in the availability of potential prey species within their main feeding grounds. However, changes in the nutritional requirements of the shearwaters could also play an important role. Indeed, diet differed between sexes during pre-incubation: females fed less on trawling discards and more on small pelagic fish than males. This sexual segregation in diet could be the consequence of higher nutritional requirements of females during this period. Our study reveals the differential importance of both trawling discards and small pelagic fish species for a pelagic seabird depending on the breeding period and illustrates the importance of considering the entire breeding season when making inferences about the importance of specific prey in seabird dietary studies.
Access options
Buy single article
Instant access to the full article PDF.
USD 39.95
Price excludes VAT (USA)
Tax calculation will be finalised during checkout.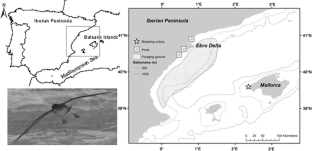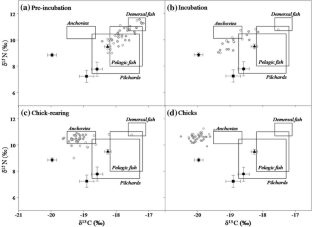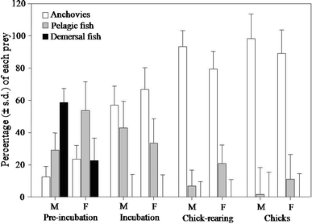 Similar content being viewed by others
References
Abad R, Miquel J, Iglesias M, Álvarez F (1998) Acoustic estimation of abundance and distribution of anchovy in the NW Mediterranean. Sci Mar 62:37–43

Abelló P, Arcos JM, Gil de Sola L (2003) Geographical patterns of seabird attendance to a research trawler along the Iberian Mediterranean coast. Sci Mar 67:69–75

Agostini VN, Bakun A (2002) 'Ocean triads' in the Mediterranean Sea: physical mechanisms potentially structuring reproductive habitat suitability (with example application to European anchovy, Engraulis encrasicolus). Fish Oceanogr 11:129–142

Arcos JM, Oro D (2002a) Significance of fisheries discards for a threatened Mediterranean seabird, the Balearic shearwater Puffinus mauretanicus. Mar Ecol Prog Ser 239:209–220

Arcos JM, Oro D (2002b) Significance of nocturnal purse seine fisheries for seabirds: a case study off the Ebro Delta (NW Mediterranean). Mar Biol 141:277–286

Arcos JM, Louzao M, Oro D (2008) Ecosystem impacts and management in the Mediterranean: seabirds point of view. In: Nielsen JL, Dodson JJ, Friedland K, Hamon TR, Musick J, Verspoor E (eds) Reconciling fisheries with conservation: proceedings of the Fourth World Fisheries Congress. American Fisheries Society, Symposium 49. Bethesda, pp 1471–1479

Barrett RT, Camphuysen KCJ, Anker-Nilssen T, Chardine JW, Furness RW, Garthe S, Hüppop O, Leopold MF, Montevecchi WA, Veit RR (2007) Diet studies of seabirds: a review and recommendations. ICES J Mar Sci 64:1675–1691

Bearhop S, Waldron S, Votier SC, Furness RW (2002) Factors that influence assimilation rates and fractionation of nitrogen and carbon stable isotopes in avian blood and feathers. Physiol Biochem Zool 75:451–458

Becker BH, Beissinger SR (2006) Centennial decline in the trophic level of an endangered seabird after fisheries decline. Conserv Biol 20:470–479

Bertrand JA, Gil de Sola L, Papaconstantinou C, Relini G, Souplet A (2002) The general specifications of the MEDIS surveys. Sci Mar 66:9–17

BirdLife International (2008) Puffinus mauretanicus. IUCN 2008. 2008 IUCN Red List of Threatened Species

Brooke M (2004) Albatrosses and petrels across the world. Oxford University Press, Oxford

Forero MG, Hobson KA (2003) Using stable isotopes of nitrogen and carbon to study seabird ecology: applications in the Mediterranean seabird community. Sci Mar 67:23–32

Furness RW, Tasker ML (2000) Seabird-fishery interactions: quantifying the sensitivity of seabirds to reductions in sandeel abundance, and identification of key areas for sensitive seabirds in the North Sea. Mar Ecol Prog Ser 202:253–264

Grémillet D, Pichegru L, Kuntz G, Woakes AG, Wilkinson S, Crawford RJM, Ryan PG (2008) A junk-food hypothesis for gannets feeding on fishery waste. Proc R Soc B 275:1149–1156

Lewis S, Grémillet D, Daunt F, Ryan P, Crawford RJM, Wanless S (2006) Using behavioural variables to identify proximate causes of population change in a seabird. Oecologia 147:606–614

Lloret J, Palomera I, Salat J, Sole I (2004) Impact of freshwater input and wind on landings of anchovy (Engraulis encrasicolus) and sardine (Sardina pilchardus) in shelf waters surrounding the Ebre (Ebro) River delta (north-western Mediterranean). Fish Oceanogr 13:102–110

Louzao M, Hyrenbach KD, Arcos JM, Abelló P, de Sola LG, Oro D (2006a) Oceanographic habitat of an endangered Mediterranean procellariiform: implications for marine protected areas. Ecol Aplic 16:1683–1695

Louzao M, Igual JM, McMinn M, Aguilar JS, Triay R, Oro D (2006b) Small pelagic fish, trawling discards and breeding performance of the critically endangered Balearic shearwater: improving conservation diagnosis. Mar Ecol Prog Ser 318:247–254

Louzao M, Igual JM, Genovart M, Forero MG, Hobson KA, Oro D (2008) Spatial variation in egg size of a top predator: interplay of body size and environmental factors? Acta Oecol 34:186–193

Montevecchi WA (2002) Interactions between fisheries and seabirds. In: Schreiber EA, Burger J (eds) Biology of marine birds. CRC Press, Boca Raton, pp 527–557

Myers RA, Worm B (2003) Rapid worldwide depletion of predatory fish communities. Nature 423:280–283

Navarro J, González-Solís J, Viscor G (2007) Nutritional and feeding ecology in the Cory's shearwater (Calonectris diomedea) during breeding. Mar Ecol Prog Ser 351:261–271

Oro D (1999) Trawler discards: a threat or a resource for opportunistic seabirds? In: Adams NJ, Slotow RH (eds) Proceedings 22 International Ornithol Congress Durban. BirdLife South Africa, Johannesburg, pp 717–730

Oro D, Aguilar JS, Igual JM, Louzao M (2004a) Modelling demography and extinction risk in the endangered Balearic shearwater. Biol Conserv 116:93–102

Oro D, Cam E, Pradel R, Martínez-Abraín A (2004b) Influence of food availability on demography and local population dynamics in a long-lived seabird. Proc R Soc B 271:387–396

Palomera I, Olivar MP, Salat J, Sabatés A, Coll M, Gracía A, Morales-Nin B (2007) Small pelagic fish in the NW Mediterranean Sea: an ecological review. Prog Ocean 74:37–396

Pearson SF, Levey DJ, Greenberg CH, Martínez del Rio C (2003) Effects of elemental composition on the incorporation of dietary nitrogen and carbon isotopic signatures in an omnivorous songbird. Oecologia 135:516–523

Phillips DL, Gregg JW (2001) Uncertainty in source partitioning using stable isotopes. Oecologia 127:171–179

Phillips RA, Hamer KC (1999) Lipid reserves, fasting capability and the evolution of nestling obesity in procellariiform seabirds. Proc R Soc B 266:1329–1334

Post DM (2002) Using stable isotopes to estimate trophic position: models, methods, and assumptions. Ecology 83:703–718

Ramos R, Ramírez F, Sanpera C, Jover L, Ruiz X (2009) Feeding ecology of yellow-legged gulls (Larus michahellis) in the western Mediterranean: a comparative assessment using conventional and isotopic methods. Mar Ecol Prog Ser 377:289–297

Schlechtriem CH, Focken U, Becker K (2003) Effect of different lipid extraction methods on d13c of lipid and lipid-free fractions of fish and different fish feeds. Isot Environ Health Stud 39:135–140

Sholto-Douglas AD, Field JG, James AG, Merwe NJ (1991) 13C/12C and 15N/14N isotope ratios in the Southern Benguela Ecosystem: indicators of food web relationships among different size-classes of plankton and pelagic fish; differences between fish muscle and bone collagen tissues. Mar Ecol Prog Ser 78:23–31

Smedes F (1999) Determination of total lipid using non-chlorinated solvents. Analyst 124:1711–1718

Tasker ML, Camphuysen CJ, Cooper J, Garthe S, Montevecchi WA, Blaber SJM (2000) The impacts of fishing on marine birds. ICES J Mar Sci 57:531–547

Thompson DR, Phillips RA, Stewart FM, Waldron S (2000) Low d13C signatures in pelagic seabirds: lipid ingestion as a potential source of 13C-depleted carbon in the Procellariiformes. Mar Ecol Prog Ser 208:265–271

Vanderklift MA, Ponsard S (2003) Sources of variation in a consumer-diet d15N enrichment: a meta-analysis. Oecologia 136:169–182

Votier SC, Furness RW, Bearhop S, Crane JE, Caldow RWG, Catry P, Ensor K, Hamer KC, Hudson AV, Kalmbach E, Klomp NI, Pfeiffer S, Phillips RA, Prieto I, Thompson DR (2004) Changes in fisheries discard rates and seabird communities. Nature 427:727–730

Williams TD (2005) Mechanisms underlying the costs of egg production. Bioscience 55:39–48

Williams CT, Buck CL, Sears J, Kitaysky AS (2007) Effects of nutritional restriction on nitrogen and carbon stable isotopes in growing seabirds. Oecologia 153:11–18
Acknowledgments
We extend thanks to Isabel Afán and to Arsenio Granados for their fieldwork and stable isotope analyses, respectively. Fish samples were collected within the frame of the MEDITS project, with the help of Luis Gil de Sola, Pere Abelló and the scientists and crew at R/V Cornide de Saavedra (Spanish Institute of Oceanography, IEO). Research funds were provided by several grants from the Spanish Government (P06-RNM-02362, REN2002-00450, BOS2003-01960 and CGL2006-04325/BOS). Maite Louzao was supported by a PhD fellowship of the Balearic Government and a post-doctoral fellowship of the Spanish Ministry of Education and Science (Ref. EX-2007-1148). Meritxel Genovart was funded by an I3P post-doctoral fellowship from the Spanish Ministry of Education and Science. Four referees contributed to improve a previous draft.
Additional information
Communicated by R. Lewison.
About this article
Cite this article
Navarro, J., Louzao, M., Igual, J.M. et al. Seasonal changes in the diet of a critically endangered seabird and the importance of trawling discards. Mar Biol 156, 2571–2578 (2009). https://doi.org/10.1007/s00227-009-1281-3
Received:

Accepted:

Published:

Issue Date:

DOI: https://doi.org/10.1007/s00227-009-1281-3
Keywords