Abstract
Life history and reproductive strategies influence population dynamics at the inter- and intra-specific level. Environmental conditions suitable for gonad development and spawning, the reproductive range, may be a smaller portion of the broader species distribution. The only known breeding population of veined rapa whelks (Rapana venosa) in North America is in Chesapeake Bay, USA. There is considerable interest in the potential reproductive range of this non-indigenous species given the rapa whelk's negative impacts on commercial shellfish species in both its native and introduced ranges. Weight-specific reproductive output is described for wild caught Chesapeake Bay rapa whelks maintained in flow-through mesocosms for 2 years. Measured reproductive output within and between egg capsule deposition seasons (years) in relation to water temperature, salinity, daylength, and female size is used to describe the rapa whelk's reproductive range. Egg capsule production is influenced by seasonal and absolute water temperatures as well as seasonal daylength cycles. Egg capsule deposition by Chesapeake Bay rapa whelks begins at water temperatures of approximately 18°C and continues for 11–15 weeks. Forty to 70% of female whelks deposited egg capsules in most weeks during this season, producing 150–200 egg capsules female−1 week−1. Water temperatures >28°C caused reduced egg capsule production relative to temperatures of 20–25°C. Egg capsule production was positively related to seasonal changes in daylength, and two peaks of egg capsule deposition were observed in the 2001 and 2002 deposition seasons. The combination of declining daylength and higher water temperatures in late summer was associated with the cessation of egg capsule deposition. A lower average weight specific reproductive output in 130–145 mm SL rapa whelks (average 12 ± 1%) than in 90–106 mm SL rapa whelks (average 22 ± 1% of body weight) may reflect a life history that balances the physiological costs of maintaining a large body mass with the production of many planktonic larvae from multiple clutches of egg capsules per breeding season over a 10–15-year lifespan. Estimates of the cumulative day-degree requirements corresponding to the annual initiation of egg capsule deposition were 238 and 236 for 2001 and 2002, respectively. Reproductive output and day-degree requirements for Chesapeake Bay rapa whelks were similar to values calculated from previous studies of native muricids (Eupleura caudata and Urosalpinx cinerea). A latitudinal range of 30–41° (N and S) is predicted as the realized reproductive range for rapa whelk populations on the basis of the day-degree requirements for native whelks and reproductively active invasive rapa whelk populations.
Access options
Buy single article
Instant access to the full article PDF.
US$ 39.95
Tax calculation will be finalised during checkout.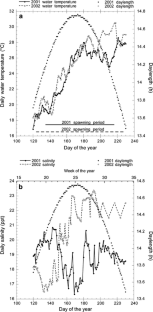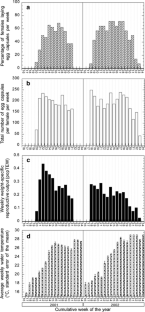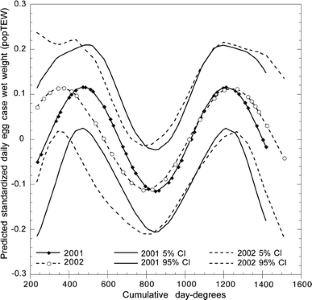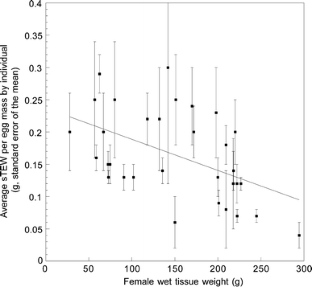 References
Amio M (1963) A comparative embryology of marine gastropods with ecological considerations. Bull Shimonoseki Univ Fish 12:229–358

Carriker M (1955) Critical review of biology and control of oyster drills Urosalpinx and Eupleura. Special Scientific Report: Fisheries No. 148, US Department of the Interior, Fish and Wildlife Service, p 150

Chung E, Kim S, Kim Y (1993) Reproductive ecology of the purple shell, Rapana venosa (Gastropoda: Muricidae), with special reference to the reproductive cycle, deposition of egg capsules, and hatchings of larvae. Korean J Malacol 9:1–15

Chung E, Kim S, Park K, Park G (2002) Sexual maturation, spawning, and deposition of the egg capsules of the female purple shell, Rapana venosa (Gastropoda: Muricidae). Malacologia 44:241–257

Cole H (1942) The American whelk tingle, Urosalpinx cinerea (Say), on British oyster beds. J Mar Biol Assn UK 25:477–508

Eversole A (2001) Reproduction in Mercenaria mercenaria. In: Kraeuter J, Castagna M (eds) Biology of the hard clam. Elsevier, pp 221–280

Federighi H (1931) Studies on the oyster drill (Urosalpinx cinerea, Say). Bull Bur Fish US 47:83–115

Franz D (1971) Population age structure, growth, and longevity of the marine gastropod Urosalpinx cinerea Say. Biol Bull 140:63–72. doi:10.2307/1540026

Galtshoff P, Prytherch H, Engle J (1937) Natural history and methods of controlling the common oyster drills (Urosalpinx cinerea Say and Eupleura caudata Say). US Bureau of Fisheries Circular No. 25, pp 1–24

Gibbs P, Spencer B, Pascoe P (1991) The American oyster drill, Urosalpinx cinerea (Gastropoda): evidence of decline in an imposex-affected population (R. Blackwater, Essex). J Mar Biol Assoc UK 71:827–838

Giberto D, Bremec C, Schejter L, Schiatriti A, Mianzan H, Acha H (2006) The invasive rapa whelk Rapana venosa (Valenciennes 1846): status and potential ecological impacts in the Rio de la Plata estuary, Argentina-Uruguay. J Shellfish Res 25:919–924

Harding JM (2003) Blue crabs Callinectes sapidus as a potential control mechanism for a non-native predatory gastropod Rapana venosa. J Exp Mar Biol Ecol 297:161–177. doi:10.1016/j.jembe.2003.07.005

Harding JM, Mann R (1999) Observations on the biology of the veined rapa whelk Rapana venosa (Valenciennes 1846) in the Chesapeake Bay, USA. J Shellfish Res 19:9–17

Harding JM, Mann R (2005) Veined rapa whelk Rapana venosa range extensions in the Virginia waters of Chesapeake Bay, USA. J Shellfish Res 24:381–385

Harding JM, Mann R, Ware-Kilduff C (2007) The effects of female size on fecundity in a large marine gastropod Rapana venosa (Muricidae). J Shellfish Res 26:33–42. doi:10.2983/0730-8000(2007)26[33:TEOFSO]2.0.CO;2

Hayes P, Menzel R (1981) The reproductive cycle of early setting Crassostrea virginica (Gmelin) in the northern Gulf of Mexico, and its implications for population recruitment. Biol Bull 160:80–88. doi:10.2307/1540902

Hirshfield M, Tinkle D (1975) Natural selection and the evolution of reproductive effort. Proc Natl Acad Sci USA 72:2227–2231. doi:10.1073/pnas.72.6.2227

Hsieh B (1979) Variation and prediction of water temperature in York River estuary at Gloucester Point, VA. MA thesis, Virginia Institute of Marine Science, College of William and Mary, Gloucester Point

MacKenzie C (1961) Growth and reproduction of the oyster drill Eupleura caudata in the York River. Va Ecol 42:317–338. doi:10.2307/1932083

Mann R (1979) Some biochemical and physiological aspects of growth and gametogenesis in Crassostrea gigas and Ostrea edulis grown at sustained elevated temperatures. J Mar Biol Assn UK 59:95–110

Mann R, Occhipinti A, Harding JM (2004) Alien species alert: Rapana venosa (veined whelk). Int Counc Explor Sea Coop Res Rep 264:1–14

Mann R, Harding JM, Westcott E (2006) Occurrence of imposex and seasonal patterns of gametogenesis in the invading veined rapa whelk Rapana venosa from Chesapeake Bay, USA. Mar Ecol Prog Ser 310:129–138. doi:10.3354/meps310129

Morgan S (1995) Life and death in the plankton: larval mortality and adaptation. In: McEdwards L (ed) Ecology of marine invertebrate larvae. CRC Press, pp 279–321

Pastorino G, Penchaszadeh P, Schejter L, Bremec C (2000) Rapana venosa (Valenciennes 1846) (Mollusca: Muricidae): a new gastropod in south Atlantic waters. J Shellfish Res 19:897–899

Perron F (1982) Inter- and intraspecific patterns of reproductive effort in four species of cone shells (Conus spp.). Mar Biol (Berl) 68:161–167. doi:10.1007/BF00397602

Quayle D (1964) Distribution of introduced marine mollusca in British Columbia waters. J Fish Res Board Can 21:1155–1181

Ruiz C, Abad M, Sedano F, Garcia-Martin L, Sanchez Lopez J (1992) Influence of seasonal environmental changes on the gamete production and biochemical composition of Crassostrea gigas (Thunberg) in suspended culture in El Grove, Galicia, Spain. J Exp Mar Biol Ecol 155:249–262. doi:10.1016/0022-0981(92)90066-J

Saglam H, Duzgunes E (2007) Deposition of egg capsule and larval development of Rapana venosa (Gastropoda: Muricidae) from the south-eastern Black Sea. J Mar Biol Ass UK 87:953–957

Sakai A, Allendorf F, Holt J, Lodge D, Molofsky J, With K et al (2001) The population biology of invasive species. Annu Rev Ecol Syst 32:305–332. doi:10.1146/annurev.ecolsys.32.081501.114037

Savini D, Harding JM, Mann R (2002) Rapa whelk Rapana venosa (Valenciennes, 1846) predation rates on hard clams Mercenaria mercenaria (Linnaeus, 1758). J Shellfish Res 21:777–779

Scarabino F, Menafra R, Etchegaray P (1999) Presence of Rapana venosa (Valenciennes 1846) (Gastropoda: Muricidae) in the Rio de la Plata. Bull Urug Zool Soc 11:40 (In Spanish)

Stauber L (1943) Ecological studies on the oyster drill, Urosalpinx cinerea, in Delaware Bay, with notes on the associated drill, Eupleura caudata, and with practical considerations of control methods (unpublished report). Oyster Research Laboratory, New Jersy Agricultural Experiment Station, Bivalve, 180 p

Thompson R, Newell R, Kennedy V, Mann R (1996) Reproductive processes and early development. In: Kennedy V, Newell R, Eble A (eds) The eastern oyster Crassostrea virginica. Maryland Sea Grant College, College Park, pp 335–370

Tidelog (2001) Chesapeake Tidewater. Pacific Publishers, Bolinas

Tidelog (2002) Chesapeake Tidewater. Pacific Publishers, Bolinas

Vinck R, Nieweg D, Post H (2005) Rapana venosa (Valenciennes, 1846): a new invasive species for the Netherlands (and England?). Spirula 345:152–155

Wei L, Qui S, Wang B, Sun X, Wang X (1999) Studies on the reproductive biology of Rapana venosa J Fish China. Shuichan Xuebao 23:150–155

Williamson M (1996) Biological invasions. Chapmann and Hall, New York

Wilson J, Simons J (1985) Gametogenesis and breeding of Ostrea edulis on the west coast of Ireland. Aquaculture 46:307–321
Acknowledgments
Support for this project was provided by the NOAA/National Sea Grant Aquatic Nuisance Species Research and Outreach Program (NA96RG0025/5-29456), Virginia Sea Grant (R/MG-98-3), and the Virginia Institute of Marine Science Department of Fisheries Science. Special thanks are extended to all of the local citizens, watermen, and seafood processors that have donated rapa whelks to our research program. P. Crewe, K. Farnsworth, S. Goodbred, C. Goodbred, S. Haywood, R. Howlett, E. Jestel, D. Kerstetter, M. Mann, K. Mann, M. Southworth, C. Tomlinson, and E. Westcott assisted with local whelk collection. M. Southworth, R. Howlett, and E. Westcott assisted with data collection in the laboratory. Dr. J. Grassle provided helpful comments on earlier versions of this manuscript. This is Contribution number 2958 from the Virginia Institute of Marine Science.
Additional information
Communicated by J.P. Grassle.
Electronic supplementary material
Below is the link to the electronic supplementary material.
About this article
Cite this article
Harding, J.M., Mann, R. & Kilduff, C.W. Influence of environmental factors and female size on reproductive output in an invasive temperate marine gastropod Rapana venosa (Muricidae). Mar Biol 155, 571–581 (2008). https://doi.org/10.1007/s00227-008-1044-6
Received:

Accepted:

Published:

Issue Date:
Keywords
Reproductive Output

Oyster Drill

Rapa Whelk

Direct Development Strategy

Urosalpinx Cinerea