Abstract
The morphogenesis of ephyrae of Atorella vanhoeffeni Bigelow, 1909 (Werner, 1967) and of Nausithoe maculata Jarms, 1990 during strobilation is described. We found differences in the developmental pattern of marginal structures and structural changes of longitudinal muscle tubes in particular. During strobilation the polyp's tetraradiate symmetry is passed to the ephyra of both taxa as a tetraradiate central symmetry that we consider a major plesiomorphic character. The present results also indicate divergent patterns of ephyra development during strobilation that lead to variable marginal symmetries of ephyrae and thus of medusae. Therefore, the marginal symmetry of medusae of N. maculata is octoradiate and of A. vanhoeffeni is hexaradiate. We conclude the latter is stated as derived pattern. These results lead us to maintain both families Nausithoidae and Atorellidae.
Access options
Buy single article
Instant access to the full article PDF.
US$ 39.95
Tax calculation will be finalised during checkout.
Subscribe to journal
Immediate online access to all issues from 2019. Subscription will auto renew annually.
US$ 119
Tax calculation will be finalised during checkout.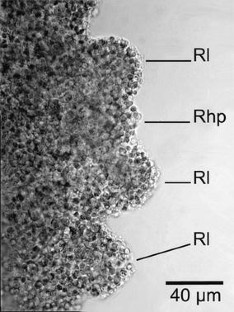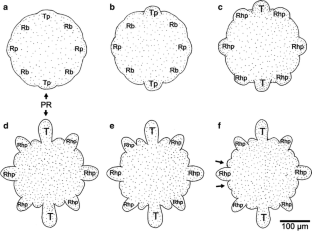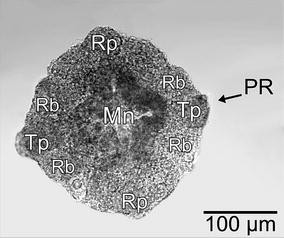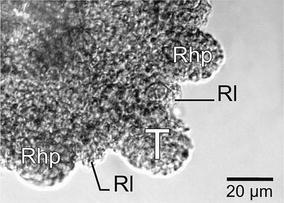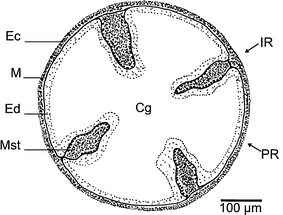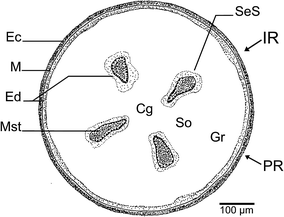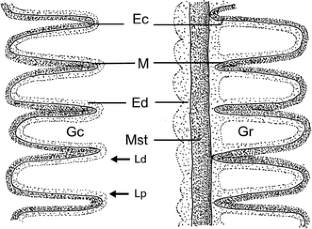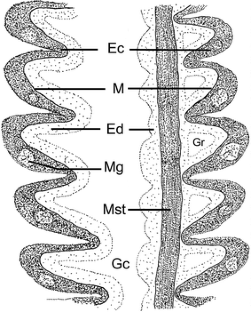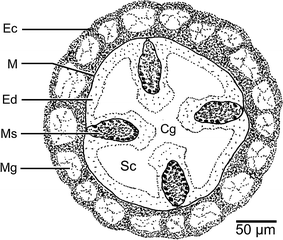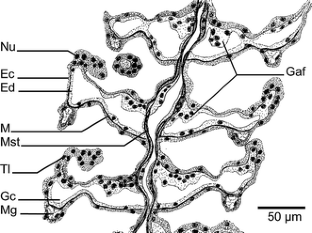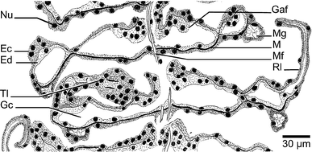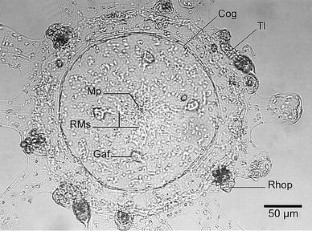 References
Adam H, Czihak G (1964) Arbeitsmethoden der makroskopischen und mikroskopischen anatomie. Gustav Fischer, Stuttgart

Bigelow HB (1909) Rep. Sci. Res. Exped. Eastern Tropical Pacific US Fish Comm. "St. Albatross" 1904–1905. XVI. Medusae. Mem. Mus. Comp. Zool. Harv. 37:1–243

Bigelow HB (1928) Scyphomedusae from the arcturus oceanographic expedition. Zool NY 8:495–524

Brandt JF (1835) Ausführliche Beschreibung der von C.H. Mertens auf seiner Weltumsegelung beobachteten Schirmquallen. Mem Acad Sci St Petersb Sci Nat Ser 6.2:237–411

Calder DR (1982) Life history of the Canonball Jellyfish, Stomolophus meleagris L. Agassiz, 1860 (Scyphozoa, Rhizostomatida). Biol Bull 162:149–162

Chapman DM, Werner B (1972) Structure of a solitary and a colonial species of Stephanoscyphus (Scyphozoa, Coronatae) with observations on periderm repair. Helgoländer Wiss Meeresunters 23:393–421

Forskal P (1775) In: Niebuhr C (ed) Descriptiones animalium avium, amphibiorum, piscium, insectorum, vermium; quae in itinere orientali observati. Hafniae, Moeller, p 164

Goette A (1886) Verzeichnis der Medusen, welche von Dr. Sander, Stabsarzt auf S.M.S. "Prinz Adalbert" gesammelt wurden. Sitzber Akad Wien 39:831–837

Haeckel E (1880) Das System der Medusen. 2. Hälfte des 1. Teiles der Monographie der Medusen: system der Acraspeden. Gustav Fischer, Fischer

Jarms G (1990) Neubeschreibung dreier Arten der Gattung Nausithoe (Coronata, Scyphozoa) sowie Wiederbeschreibung der Art Nausithoe marginata Kölliker, 1853. Mitt Hamb Zool Mus Inst 87:7–39

Jarms G (1997) The polyps of Coronatae (Scyphozoa), a review and some new results. In: Proceedings of 6th international conference on coelenterate biology, 1995, pp 271–278

Jarms G, Båmstedt U, Tiemann H, Martinussen MB, Fosså JH (1999) The holopelagic life cycle of the deep-sea medusa Periphylla periphylla (Scyphozoa, Coronatae). Sarsia 84:55–65

Jarms G (2001) The life cycle of Nausithoe hagenbecki spec. nov. (Scyphozoa, Coronatae). Mitt Hamb Zool Mus Inst 98:13–22

Jarms G, Morandini AC, Silveira FL (2002) Cultivation of polyps and medusae of Coronatae (Cnidaria, Scyphozoa) with a brief review of important characters. Helgol Mar Res 56:203–210

Kato K, Aochi M, Ozato K (1973) Developmental aspects of strobilation in Aurelia aurita. Publs Seto Mar Biol Lab 20:179–194

Kawaguti S, Matsuno A (1981) Anew Species of the Coronatae, Scyphozoa, from the Japan Sea; Atorella japonica n. sp. Bull Kawasaki Para Med Coll 1:15–21

Komai T (1935) On Stephanoscyphus and Nausithoë. Memoirs of the College of Science, Kyoto Imperial University (Ser B) 10:289–339

Lo Bianco S, Mayer P (1890) Spongicola und Nausithoe. Zool Anz 13:687–688

Matsuno A, Kawaguti S (1991) An ultrastructural study of the polyp and strobila of Atorella japonica (Cnidaria, Coronatae) with respect to muscles and nerves. Hydrobiologia 216–217:39–43

Mills CE, Larson RL, Youngbluth MJ (1987) A new species of Coronatae Scyphomedusa from the Bahamas, Atorella octogonos. Bull Mar Sci 40(3):423–427

Morandini AC, Jarms G (2005) New combination for two coronate polyp species (Atorellidae, Coronatae, Scyphozoa, Cnidaria). Contrib Zoo 74(1/2):117–123

Romeis B (1989) Mikroskopische Technik. Oldenbourg, München

Silveira FL, Morandini AC (1997) Nausithoe aurea n.sp. (Scyphozoa: Coronatae: Nausithoidae), a species with two pathways of reproduction after strobilation: sexual and asexual. Contr Zool 66(4):235–246

Thiel ME (1936) Coronatae. In: Bronns Klassen und Ordnungen des Tierreichs: 2 (2/3). Gustav Fischer, Jena, pp 321–480

Vanhoeffen E (1902) Die Acraspeden Medusen der deutschen Tiefsee-Expedition 1898–1899. Wiss Erg Valdivia 3:1–52

Werner B (1967) Morphologie, Systematik und Lebensgeschichte von Stephanoscyphus (Scyphozoa, Coronatae) sowie seine Bedeutung für die Evolution der Scyphozoa. Verh. Dt. zool. Ges. (Göttingen, 1966). Zool Anz (Suppl) 30:297–319

Werner B (1971) Stephanoscyphus planulophorus n. spec., ein neuer Scyphopolyp mit einem neuen Entwicklungsmodus. Helgoländer Wiss Meeresunters 22:120–140

Werner B (1971) Ein neuer, bisher unbekannter Entwicklungsmodus bei einem Scyphopolypen. Separatum Experientia. Birkhäuser 27:351–353

Werner B (1974) Stephanoscyphus eumedusoides n. spec. (Scyphozoa, Coronatae), ein Höhlentyp mit einem neuen Entwicklungsmodus. Helgoländer Wiss Meeresunters 26:434–463

Werner B (1984) Cnidaria. In: von Gruner H.-E. (Herausgaber) (ed) Lehrbuch der speziellen Zoologie, Band 1: Wirbellose Tiere, 2. Teil: Cnidaria, Ctenophora, Mesozoa, Plathelminthes, Nemertini, Entoprocta, Nemathelminthes, Priapulida. 4. Aufl. Gustav Fischer, Stuttgart, pp 11–305
Acknowledgments
The results are part of the diploma thesis "Entstehung von hexaradialen (Atorella) und octoradialen (Nausithoe) Medusen aus tetrradialen Stephanoscyphistomae (Coronatae, Scyphozoa)" of Norman Eggers, carried out at the Department of Zoology, University of Hamburg. We thank an unknown reviewer for correcting the English and constructive remarks.
Additional information
Communicated by O. Kinne.
About this article
Cite this article
Eggers, N., Jarms, G. The morphogenesis of ephyra in Coronatae (Cnidaria, Scyphozoa). Mar Biol 152, 495–502 (2007). https://doi.org/10.1007/s00227-007-0719-8
Received:

Accepted:

Published:

Issue Date:
Keywords
Longitudinal Muscle

Soft Body

Gastric Cavity

Benzyl Benzoate

Aluminium Sulphate