Abstract
Remotely operated vehicle dive video recordings of deep-sea squid ink release were examined to determine species, ink release type, release depth, and accompanying behavior/s. Ink release was commonly observed between the surface and 1,842.1 m in Monterey Bay, CA, and surrounding waters. Six ink release types were observed: pseudomorphs, pseudomorph series, ink ropes, clouds/smokescreens, diffuse puffs and mantle fills. Each species released ink throughout all or most of its depth range; inking was not limited to shallow, sunlit waters. Individuals of each species produced one ink release type more commonly than other types, however, multiple ink types could be released by individuals of all species. Common behaviors preceded and/or followed each release type; pseudomorphs and pseudomorph series were generally associated with escape behaviors, while ink ropes, clouds, and puffs normally involved the animal remaining adjacent to or amid the ink. Deep-sea squids may use ink for defensive purposes similar to those of shallow-dwelling species when they release pseudomorphs, pseudomorph series, or large clouds, and may use ink puffs in intra-specific communication. The function of ink ropes and mantle fills is unknown.
This is a preview of subscription content, log in to check access.
Access options
Buy single article
Instant access to the full article PDF.
US$ 39.95
Price includes VAT for USA
Subscribe to journal
Immediate online access to all issues from 2019. Subscription will auto renew annually.
US$ 199
This is the net price. Taxes to be calculated in checkout.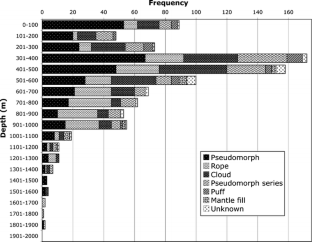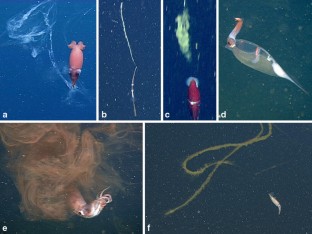 References
Ahl AS (1986) The role of vibrissae in behavior: status review. Vet Res Commun 10:245–268

Alldredge AL, Robison BH, Fleminger A, Torres JJ, King JM, Hamner WM (1984) Direct sampling and in situ observation of a persistent copepod aggregation in the deep-sea. Mar Biol 80:75–81

Anderson RL, Mather J (1996) Escape responses of Euprymna scolopes Berry, 1911 (Cephalopoda: Sepiolidae). J Molluscan Stud 62:543–545

Barham EG (1963) Siphonophores and the deep scattering layer. Science 140:826–828

Barham EG (1966) Deep scattering layer migration and composition: observations from a diving saucer. Science 151:1399–1403

Boletsky SW (1987) Juvenile behavior. In: Boyle PR (ed) Cephalopod life cycles, vol II: comparative reviews. Academic, London, pp 45–60

Caldwell RL (2005) An observation of inking behavior protecting adult Octopus bocki from predation by green sea turtle (Chelonia mydas) hatchlings. Pac Sci 59(1):69–72

Clarke MR (1977) Beaks, nets and numbers. Symp Zool Soc Lond 38:89–126

Dilly PN, Herring PJ (1978) The light organ and ink sac of Heteroteuthis dispar (Mollusca: Cephalopoda). J Zool Lond 186:47–59

Dubas F, Hanlon RT, Ferguson GP, Pinsker HM (1986) Localization and stimulation of chromatophore motoneurons in the brain of the squid Lolliguncula brevis. J Exp Biol 121:1–25

Dunning MC, Clarke MR, Lu CC (1993) Cephalopods in the diet of oceanic sharks caught off Eastern Australia. In: Okutani T, O'Dor RK, Kubodera T (eds) Recent advances in fisheries biology. Tokyo University Press, Tokyo, pp 119–131

Florey E (1969) Ultrastructure and function of cephalopod chromatophores. Am Zool 9:429–442

Forsythe JW, Hanlon RT (1997) Foraging and associated behavior by Octopus cyanea Gray, 1849, on a coral atoll, French Polynesia. J Exp Mar Biol Ecol 209:15–31

Gilly WF, Lucero MT (1992) Behavioral responses to chemical stimulation of the olfactory organ in the squid Loligo opalescens. J Exp Biol 162:209–229

Guerra A, Simon F, Gonzalez AF (1993) Cephalopods in the diet of swordfish, Xiphias gladius, from the Northeastern Atlantic Ocean. In: Okutani T, O'Dor RK, Kubodera T (eds) Recent advances in fisheries biology. Tokyo University Press, Tokyo, pp 159–164

Hanlon RT, Messenger JB (1996) Cephalopod behavior. Cambridge University Press, Cambridge

Herring PJ (1977) Luminescence in cephalopods and fish. Symp Zool Soc Lond 38:127–159

Huffard CL, Caldwell RL (2002) Inking in a blue-ringed octopus, Hapalochlaena lunulata, with a vestigial ink sac. Pac Sci 56:255–257

Hunt JC (1996) The behavior and ecology of midwater cephalopods from Monterey Bay. PhD dissertation, University of California, Los Angeles

Hunt JC, Seibel BA (2000) Life history of Gonatus onyx (Cephalopoda: Teuthoidea): ontogenetic changes in habitat, behavior and physiology. Mar Biol 136:543–552

Hunt JC, Zeidberg LD, Hamner WM, Robison BH (2000) The behaviour of Loligo opalescens (Mollusca: Cephalopoda) as observed by a remotely operated vehicle (ROV). J Mar Biol Assoc UK 80:873–883

Johnsen S (2001) Hidden in plain sight: the ecology and physiology of organismal transparency. Biol Bull 201:301–318

Johnsen S (2002) Cryptic and conspicuous coloration in the pelagic environment. Proc R Soc Lond B Biol Sci 269:243–256

Lucero MT, Farrington H, Gilly WF (1994) Quantification of l-Dopa and dopamine in squid ink: implications for chemoreception. Biol Bull 187:55–63

MacGinitie GE, MacGinitie N (1968) Natural history of marine animals. McGraw-Hill Book Company, New York

Moiseev SI (1991) Observation of the vertical distribution and behavior of nektonic squids using manned submersibles. Bull Mar Sci 49:446–456

Moynihan M (1985) Communication and non-communication in cephalopods. Indiana University Press, Bloomington

Moynihan M, Rodaniche AF (1982) The behavior and natural history of the Caribbean reef squid Sepioteuthis sepioidea. Adv Ethol 25:1–150

Nolen TG, Johnson PM (2001) Defensive inking in Aplysia spp.: multiple episodes of ink secretion and the adaptive use of a limited chemical resource. J Exp Biol 204:1257–1268

Prota G, Ortonne JP, Voulot C, Khatchadourian C, Nardi G, Palumbo A (1981) Occurrence and properties of tyrosinase in the ejected ink of cephalopods. Comp Biochem Physiol 68B:415–419

Robison BH (1993) Midwater research methods with MBARI's ROV. Mar Technol Soc J 26:32–39

Robison BH (1995) Light in the ocean's midwaters. Sci Am 273:60–64

Robison BH (1999) Shape change behavior by mesopelagic animals. Mar Fresh Behav Physiol 32:17–25

Robison BH (2004) Deep pelagic biology. J Exp Mar Biol Ecol 300:253–272

Robison BH, Reisenbichler KR, Hunt JC, Haddock SHD (2003) Light production by the arm tips of the deep-sea cephalopod Vampyroteuthis infernalis. Biol Bull 205:102–109

Russo GL, De Nisco E, Fiore G, Di Donato P, d'Ischia M, Palumbo A (2003) Toxicity of melanin-free ink of Sepia officinalis to transformed cell lines: identification of the active factor as tyrosinase. Biochem Biophys Res Commun 308:293–299

Seibel BA, Robison BH, Haddock SHD (2005) Post-spawning egg care by a squid. Nature 438:929

Shashar N, Hanlon RT, Petz A (1998) Polarization vision helps detect transparent prey. Nature 393:222–223

Tett P (1990) The photic zone. In: Herring PJ, Campbell AK, Whitfield M, Maddock L (eds) Light and life in the sea. Cambridge University Press, Cambridge, pp 59–87

Thompson KR (1994) Predation on Gonatus antarticus by Falkland Islands seabirds. Antarct Sci 6(2):269–274

Vecchione M, Roper CFE (1991) Cephalopods observed from submersibles in the Western North Atlantic. Bull Mar Sci 49:433–445

Vecchione M, Robison BH, Roper CFE (1992) A tale of two species: tail morphology in paralarval Chiroteuthis (Cephalopoda: Chiroteuthidae). Proc Biol Soc Wash 105:683–692

Voight J (1997) Cladistic analysis of the octopods based on anatomical characters. J Molluscan Stud 63:311–325

Voss GL (1967) The biology and bathymetric distribution of deep-sea cephalopods. Stud Trop Ocean 5:511–535

Watanabe Y, Baranov EA, Sato K, NaitoY, Miyazaki N (2004) Foraging tactics of Baikal seals differ between day and night. Mar Ecol Prog Ser 279:283–289

Wells MJ (1978) Octopus. Chapman and Hall, London

Wells MJ (1994) The evolution of a racing snail. In: Poertner HO, O'Dor RK, MacMillan DL (eds) Physiology of cephalopod molluscs: lifestyle and performance adaptations. Gordan and Breach Publishing Group, Basel, pp 1–12

Widder E, Bernstein S, Bracher DF, Case JF, Hiller-Adams P, Reisenbichler KR, Torres JJ, Robison BH (1989) Bioluminescence in Monterey Canyon: image analysis of in situ video recordings from a midwater submersible. Mar Biol 100:541–551

Widder EA, Robison BH, Reisenbichler KR, Haddock SHD (2005) Using red light for in situ observations of deep-sea fishes. Deep-Sea Research I 52:2077–2085

Young RE (1972) The systematics and areal distribution of pelagic cephalopods from the seas off Southern California. Smith Contr Zool 97:1–159

Young RE (1975a) Function of the dimorphic eyes in the midwater squid Histioteuthis dofleini. Pac Sci 29:211–218

Young RE (1975b) Transitory eye shapes and the vertical distribution of two midwater squids. Pac Sci 29:243–255

Young RE, Roper CFE (1976) Bioluminescent countershading in midwater animals: evidence from living squid. Science 191:1046–1048

Young RE (1983) Oceanic bioluminescence: an overview of general functions. Bull Mar Sci 33:829–845
Acknowledgements
We would like to thank the pilots and crews of the ROV Ventana/RV Point Lobos and ROV Tiburon/RV Western Flyer for their assistance in obtaining squid observations. We are grateful to the staff of the MBARI video lab for their help in viewing videos and preparing images for the manuscript. We thank R. Caldwell, E. Griffen, C. Martinez, C. Huffard, B. Williams, and especially D. Greenwood for comments on various stages of the manuscript. This study was made possible by members of MBARI's midwater lab, supported by the David and Lucile Packard Foundation, as well as a National Science Foundation Graduate Research Fellowship to S. Bush. The experiments comply with the current laws of the United States.
Additional information
Communicated by P.W. Sammarco.
About this article
Cite this article
Bush, S.L., Robison, B.H. Ink utilization by mesopelagic squid. Mar Biol 152, 485–494 (2007). https://doi.org/10.1007/s00227-007-0684-2
Received:

Accepted:

Published:

Issue Date:
Keywords
Onyx

Mantle Cavity

Squid Species

Diffuse Cloud

Coleoid Cephalopod