Abstract
Temperature is known to have a strong influence on cephalopod growth during the early exponential growth phase. Most captive growth studies have used constant temperature regimes and assumed that populations are composed of identically sized individuals at hatching, overlooking the effects of seasonal temperature variation and individual hatchling size heterogeneity. This study investigated the relative roles of initial hatchling size and simulated natural seasonal temperature regimes on the growth of 64 captive Octopus pallidus over a 4-month period. Initial weights were recorded, and daily food consumption and fortnightly growth monitored. Two temperature treatments were applied replicating local seasonal water temperatures: spring/summer (14–18°C) and summer/autumn (18–14°C). Overall octopuses in the spring/summer treatment grew at a rate of 1.42% bwd−1 (% body weight per day) compared to 1.72% bwd−1 in the summer/autumn treatment. Initial size influenced growth rate in the summer/autumn treatment with smaller octopuses (<0.25 g) growing faster at 1.82% bwd−1 compared to larger octopuses at 1.68% bwd−1. This was opposite to individuals in the spring/summer treatment where smaller octopuses grew slower at 1.29% bwd−1 compared to larger octopuses at 1.60% bwd−1. Initial size influenced subsequent growth, however, this was dependent on feeding rate and appears to be secondary to the effects of temperature.
Access options
Buy single article
Instant access to the full article PDF.
USD 39.95
Price excludes VAT (USA)
Tax calculation will be finalised during checkout.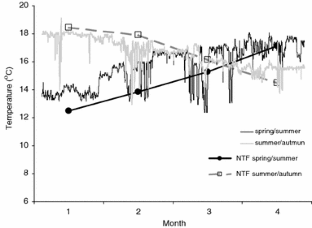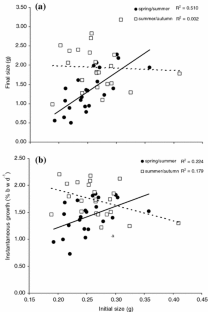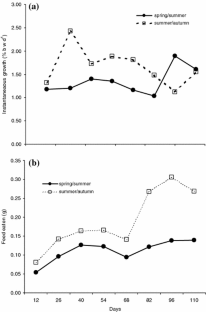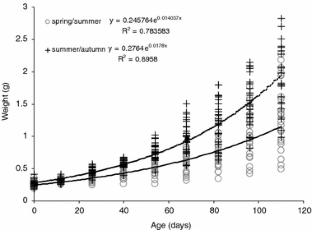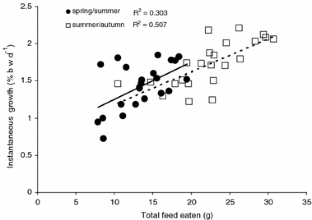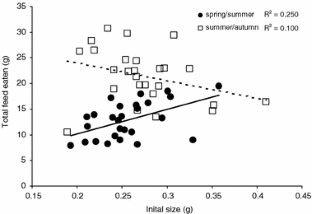 References
Aguado Gimenez F, Garcia Garcia B (2002) Growth and food intake models in Octopus vulgaris Curvier (1797): influence of body weight, temperature, sex and diet. Aquac Int 10:361–377

Ambrose RF (1988) Population dynamics of Octopus bimaculatus: influence of life history patterns, synchronous reproduction and recruitment. Malacologia 29(1):23–39

Boletzky SV (1994) Embryonic development of cephalopods at low temperatures. Antarct Sci 6(2):139–142

Buresch KM, Hanlon RT, Maxwell MR, Ring R (2001) Microsatellite DNA markers indicate a high frequency of multiple paternity within individual field-collected egg capsules of the squid Loligo pealeii. Mar Ecol Prog Ser 210:161–165

Caveriviere A, Domain F, Diallo A (1999) Observations on the influence of temperature on the length of embryonic development in Octopus vulgaris (Senegal). Aquat Living Resour 12(2):151–154

Challier L, Dunn MR, Robin JP (2005) Trends in age-at-recruitment and juvenile growth of cuttlefish, Sepia officinalis, from the English Channel. ICES J Mar Sci 62:1671–1682

Cortez T, Gonzalez AF, Guerra A (1999) Growth of Octopus mimus (Cephalopoda, Octopodidae) in wild populations. Fish Res 42:31–39

DeRusha RH, Forsythe JW, Hanlon RT (1987) Laboratory growth, reproduction and life span of the Pacific pygmy octopus, Octopus diguetti. Pac Sci 41:104–121

Emery AM, Wilson IJ, Craig S, Boyle PR, Noble LR (2001) Assignment of paternity groups without access to paternal genotypes: multiple mating and development plasticity in squid. Mol Ecol 10:1265–1278

Forsythe JW (1984) Octopus joubini (Mollusca: Cephalopoda): a detailed study of growth through the full life cycle in a closed seawater system. J Zool (Lond) 202:393–417

Forsythe JW (1993) A working hypothesis of how seasonal temperature change may impact the field growth of young cephalopods. In: Okutani T, O'Dor RK, Kubodera T (eds) Recent advances in cephalopod fisheries biology. Tokai University Press, Tokyo, pp 133–143

Forsythe JW (2004) Accounting for the effects of temperature on squid growth in nature: from hypothesis to practice. Mar Freshw Res 55:331–339

Forsythe JW, Hanlon RT (1988) Effect of temperature on laboratory growth, reproduction and life span of Octopus bimaculoides. Mar Biol 98:369–379

Forsythe JW, Van Heukelem WF (1987) Growth. In: Boyle PR (ed) Cephalopod life cycles, vol 2. Academic, London, pp 135–155

Forsythe JW, Walsh LS, Turk PE, Lee PG (2001) Impact of temperature on juvenile growth and age at first egg laying of the Pacific reef squid Sepioteuthis lessoniana reared in captivity. Mar Biol 138:103–112

Garcia Garcia B, Aguado Gimenez F (2002) Influence of diet on ongrowing and nutrient utilization in the common octopus (Octopus vulgaris). Aquaculture 211:171–182

Hatfield EMC (2000) Do some like it hot? Temperature as a possible determinant of variability in the growth of the Patagonian squid, Loligo gahi (Cephalopoda: Loliginidae). Fish Res 47:27–40

Hatfield EMC, Hanlon RT, Forsythe JW, Grist EPM (2001) Laboratory testing of a growth hypothesis for juvenile squid Loligo pealeii (Cephalopoda: Loliginidae). Can J Fish Aquat Sci 58:845–857

Iglesias J, Otero JJ, Moxica C, Fuentes L, Sanchez FJ (2004) The completed life cycle of the octopus (Octopus vulgaris, Cuvier) under culture conditions: para larval rearing using Artemia and zoeae, and first data on juvenile growth up to 8 months of age. Aquac Int 12:481–487

Ikeda Y, Wada Y, Arai N, Sakamoto W (1999) Note on size variation of body and statoliths in the oval squid Sepioteuthis lessoniana hatchlings. J Mar Biol Assoc UK 79:757–759

Ito H (1983) Some observations on the embryonic development of Paroctopus conispadiceus (Mollusca Cephalopoda). Bull Hokkaido Reg Fish Res Lab 48:93–105

Jackson GD (1994) Statolith age estimates of the loliginid squid Loligo opalescens (Mollusca: Cephalopoda): corroboration with culture data. Bull Mar Sci 54(2):554–557

Mangold K (1983) Food, feeding and growth in cephalopods. Mem Nat Mus Victoria 44:81–93

Miliou H, Fintikaki M, Kountouris T, Verriopoulos G (2005) Combined effects of temperature and body weight on growth and protein utilization of the common octopus, Octopus vulgaris. Aquaculture 249:245–256

Pecl GT, Moltschaniwskyj NA (1999) Somatic growth processes: how are they altered in captivity? Proc R Soc Lond B Biol Sci 266:1133–1139

Pecl G, Steer MA, Hodgson K (2004) The role of hatchling size in generating the intrinsic size-at-age variability of cephalopods: extending the Forsythe hypothesis. Mar Freshwater Res 55

Rodriguez C, Carrasco JF, Arronte JC, Rodriguez M (2006) Common octopus (Octopus vulgaris Cuvier, 1797) juvenile ongrowing in floating cages. Aquaculture 254:293–300

Segawa S, Nomoto A (2002) Laboratory growth, feeding, oxygen consumption and ammonia excretion of Octopus ocellatus. Bull Mar Sci 7(2):801–813

Steer MA, Pecl GT, Moltschaniwskyj NA (2003) Are bigger calamary Sepioteuthis australis hatchlings more likely to survive? A study based on statolith dimensions. Mar Ecol Prog Ser 261:175–182

Steer MA, Moltschaniwskyj NA, Nichols PD, Miller M (2004) The role of temperature and maternal ration in embryo survival: using the dumpling squid Euprymna tasmanica as a model. J Exp Mar Biol Ecol 307:73–89

Stranks TN (1988) Rediscription of Octopus pallidus (Cehpahlopoda: Octopodidae) from southeastern Australia. Malacologia 29(1):275–287

Tracey S, Steer MA, Pecl GT (2003) Life history traits of the temperate mini-maximalist Idiosepius notoides, (Cephalopoda: Sepioidea). J Mar Biol Assoc UK 83:1297–1300

Wood JB, O'Dor RK (2000) Do larger cephalopods live longer? Effects of temperature and phylogeny on interspecific comparisons of age and size at maturity. Mar Biol 136:91–99
Acknowledgments
The authors would like to thank Jessica André, TAFI staff and students for their assistance in the maintenance and set up of the culture system, and Michael and Craig Hardy for catching brood stock. This experiment complied with current Tasmanian and Australian laws and approved by the Animal Ethics Committee of the University of Tasmania under project No. A0008130.
Additional information
Communicated by S.D. Connell, Adelaide.
About this article
Cite this article
Leporati, S.C., Pecl, G.T. & Semmens, J.M. Cephalopod hatchling growth: the effects of initial size and seasonal temperatures. Mar Biol 151, 1375–1383 (2007). https://doi.org/10.1007/s00227-006-0575-y
Received:

Accepted:

Published:

Issue Date:

DOI: https://doi.org/10.1007/s00227-006-0575-y
Keywords
Initial Size

Carapace Width

Instantaneous Growth Rate

Total Feed

Cephalopod Species