Abstract
The tiger shark (Galeocerdo cuvier) is the largest shark in the family Carcharhinidae and the only carcharhinid with aplacental viviparous (ovoviviparous) reproduction. Despite its size and prevalence, many details of tiger shark reproductive biology are unknown. Size at maturity and litter size have been reported by several authors, but a lack of large numbers of pregnant females has made it difficult to determine gestation period, seasonality, and timing of the female reproductive cycle. Here we analyze data from shark control program fishing and incidental catches in Hawaii (n = 318) to construct the most complete picture of tiger shark reproduction to date. Males reached maturity at approximately 292 cm total length (TL) based on clasper calcification, whereas females matured between 330 and 345 cm TL based on oviducal gland and uterus widths. Litter sizes ranged from 3 to 57 with a mean of 32.6 embryos per litter. Data from 23 litters from various months of the year indicate that tiger sharks are usually 80–90 cm TL at birth, and that the gestation period is 15–16 months. Mating scars were observed in January–February and sperm is presumably stored for 4–5 months until ovulation takes place in May–July. Gestation begins in June–July and pups are born in September–October of the following year. Our data suggest that female tiger sharks in Hawaii give birth only once every three years. This could have major implications for conservation and management of this species, as it suggests that tiger shark fecundity is 33% lower than previously thought. This could greatly reduce the ability of this species to rebound from fishing pressure.
Access options
Buy single article
Instant access to the full article PDF.
US$ 39.95
Tax calculation will be finalised during checkout.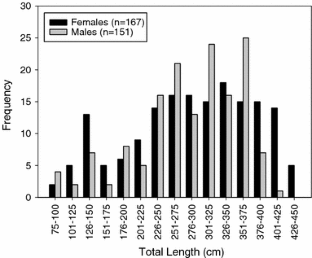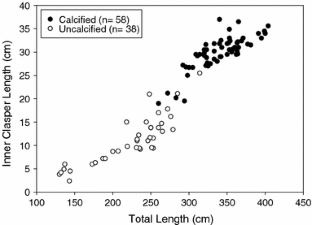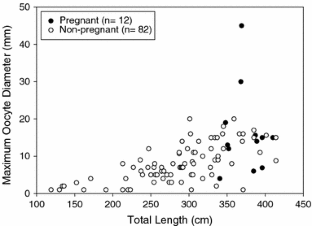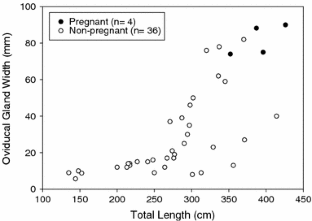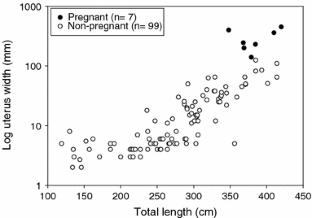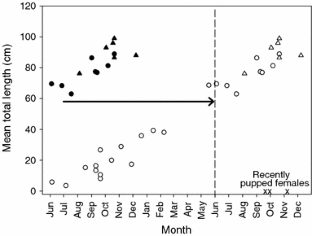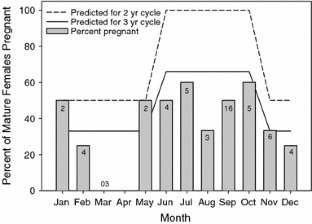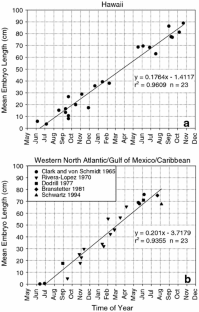 Notes
1.

Several authors (Branstetter 1981; Branstetter et al. 1987; Randall 1992; Seigel et al. 1995) attribute a proposed gestation period of "13–16 months" to Clark and von Schmidt (1965). However, Clark and von Schmidt did not propose anything more specific than to say that gestation "could be slightly over a year".

2.

The oviducal gland has also been referred to as the "shell" or "nidamental" gland. Given that this gland produces slightly different structures in different species, and also functions as a seminal receptacle, the term "oviducal gland" seems to be the most inclusive (Pratt 1979; Hamlett et al. 2005).
References
Alves MIM (1977) Algumas consideracoes sobre a reproducao do cacao jaguara, Galeocerdo cuvieri (Le Sueur, 1822) (Selachii: Carcharhinidae). Arq Cienc Mar 17:121–125

Bass AJ, D'Aubrey JD, Kistnasamy N (1975) Sharks of the east coast of southern Africa. III. The families Carcharhinidae (excluding Mustelus and Carcharhinus) and Sphyrnidae. Oceanographic Research Institute Investigational Report No. 38, Durban

Baughman JL, Springer S (1950) Biological and economic notes on the sharks of the Gulf of Mexico, with especial reference to those of Texas, and with a key for their identification. Am Midl Nat 44:96–152

Bigelow HB, Schroeder WC (1948) Lancelets, cyclostomes, and sharks. In: Tee-Van J (ed) Fishes of the Western North Atlantic. Sears Foundation for Marine Research, Yale University, New Haven

Branstetter S (1981) Biological notes on the sharks of the north central Gulf of Mexico. Contrib Mar Sci 24:213–234

Branstetter S, Musick JA, Colvocoresses JA (1987) A comparison of the age and growth of the tiger shark, Galeocerdo cuvier, from off Virginia and from the northwestern Gulf of Mexico. Fish Bull 85:269–279

Carrier JC, Pratt HL, Jr, Castro JI (2004) Reproductive biology of elasmobranchs. In: Carrier JC, Musick JA, Heithaus MR (eds) Biology of sharks and their relatives. CRC Press, Boca Raton, pp 269–286

Castro JI (1983) The sharks of North American waters. Texas A & M University Press, College Station

Castro JI (1993) The biology of the finetooth shark, Carcharhinus isodon. Environ Biol Fish 36:219–232

Clark E, von Schmidt K (1965) Sharks of the central Gulf coast of Florida. Mar Sci Bull 15:13–83

Compagno LJV (1984) Sharks of the world. An annotated and illustrated catalogue of shark species known to date. Part 2, Carcharhiniformes. FAO Fish Synop 4(125):251–655

Dodrill JW (1977) A hook and line survey of the sharks found within five hundred meters of shore along Melbourne Beach, Brevard County, Florida. MS thesis, Melbourne, Florida

Fourmanoir P (1961) Requins de la côte ouest de Madagascar. Mem Inst Sci Madagascar (Ser. F) 4:1–81

Hamlett WC, Knight DP, Pereira FTV, Steele J, Sever DM (2005) Oviducal glands in Chondrichthyans. In: Hamlett WC (ed) Reproductive biology and phylogeny of Chondrichthyes: sharks, batoids and chimaeras. Enfield Books, Enfield, pp 576

Ikehara II (1961) Billy Weaver shark research and control program final report. Division of Fish and Game, Department of Agriculture and Conservation, State of Hawaii, Honolulu

Kauffman DE (1950) Notes on the biology of the tiger shark (Galeocerdo arcticus) from Philippine waters. Fish Wildl Serv Res Rep 16:1–10

Mollet HF, Cliff G, Pratt HL Jr, Stevens JD (2000) Reproductive biology of the female shortfin mako, Isurus oxyrinchus Rafinesque, 1810, with comments on the embryonic development of lamnoids. Fish Bull 98:299–318

Musick JA, Branstetter S, Colvocoresses JA (1993) Trends in shark abundance from 1974 to 1991 for the Chesapeake Bight region of the U.S. mid-Atlantic coast. In: Branstetter S (ed) Conservation biology of elasmobranchs. NOAA Tech Rep NMFS 115, p 1–19

Natanson LJ, Casey JG, Kohler NE, Colket T IV (1999) Growth of the tiger shark, Galeocerdo cuvier, in the western North Atlantic based on tag returns and length frequencies; and a note on the effects of tagging. Fish Bull 97:944–953

Peres MB, Vooren CM (1991) Sexual development, reproductive cycle, and fecundity of the school shark Galeorhinus galeus off southern Brazil. Fish Bull 89:655–667

Prasad RR (1944) The structure, phylogenetic significance, and function of the nidamental glands of a few elasmobranchs of the Madras coast. Proc Nat Inst Sci India B, Biol Sci 11:282–302

Pratt HL Jr (1979) Reproduction in the blue shark, Prionace glauca. Fish Bull 77:445–470

Pratt HL Jr (1993) The storage of spermatazoa in the oviducal glands of western North Atlantic sharks. Environ Biol Fish 38:139–149

Randall JE (1992) Review of the biology of the tiger shark (Galeocerdo cuvier). Aust J Mar Freshw Res 43:21–31

Rivera-Lopez J (1970) Studies on the biology of the nurse shark, Ginglymostoma cirratum Bonnaterre, and the tiger shark, Galeocerdo cuvieri Peron and Le Sueur. MS thesis, Mayaguez, Puerto Rico

Sarangdhar PN (1945) On the breeding of the tiger shark (Galeocerdo tigrinus Muller and Henle). J Bombay Nat Hist Soc 46:12–13

Schwartz FJ (1989) Sharks of the Carolinas. Inst Mar Sci, Univ North Carolina, Morehead City

Schwartz FJ (1994) Body–organ weight relationships of near-term and newborn tiger sharks, Galeocerdo cuvier, captured off North Carolina. J Elisha Mitchell Sci Soc 110:104–107

Seigel JA, Long DJ, Rounds JM, Hernandez J (1995) The tiger shark, Galeocerdo cuvier, in coastal southern California waters. Calif Fish Game 81:163–166

Simpfendorfer CA (1992) Biology of tiger sharks (Galeocerdo cuvier) caught by the Queensland Shark Meshing Program off Townsville, Australia. Aust J Mar Freshw Res 43:33–43

Simpfendorfer CA, Goodreid AB, McAuley RB (2001) Size, sex and geographic variation in the diet of the tiger shark, Galeocerdo cuvier, from Western Australian waters. Environ Biol Fish 61:37–46

Smale MJ, Goosen AJJ (1999) Reproduction and feeding of spotted gully shark, Triakis megalopterus, off the Eastern Cape, South Africa. Fish Bull 97:987–998

Smith SE, Au DW, Show C (1998) Intrinsic rebound potentials of 26 species of Pacific sharks. Aust J Mar Freshw Res 49:663–678

Springer S (1938) Notes on the sharks of Florida. Proc Fla Acad Sci 3:9–41

Springer S (1940) The sex ratio and seasonal distribution of some Florida sharks. Copeia 1940: 188–194

Stevens JD (1984) Biological observation on sharks caught by sport fishermen off New South Wales. Aust J Mar Freshw Res 35:573–590

Stevens JD, McLoughlin KJ (1991) Distribution, size and sex composition, reproductive biology and diet of sharks from northern Australia. Aust J Mar Freshw Res 42:151–199

Tester AL (1969) Cooperative shark research and control program final report, 1967–1969. University of Hawaii, Honolulu

Vatter A (2003) Bottom longline fishing for sharks in the Northwest Hawaiian Islands. US Department of Commerce, AR-PIR-03–01, Honolulu, HI

Wetherbee BM, Lowe CG, Crow GL (1994) A review of shark control in Hawaii with recommendations for future research. Pacif Sci 48:95–115
Acknowledgments
Special thanks to I. Ikehara and A. Tester for setting up research programs that made this paper possible. We are also indebted to all of the dedicated program members whose tireless efforts collected this data. We appreciate the University of Hawaii Zoology Department for maintaining the early shark control program records and providing total access to them. B. Wetherbee and C. Lowe spent many hours with GLC placing data sheet records into digital spreadsheets. K. Holland and R. Grubbs shared specimens for this study, and S. Kaiser provided many hours of boat time that made it possible to collect the 1990s data. This manuscript was greatly improved by comments from J. Carrier, J. Castro, R. Grubbs, H. Pratt, A. Rossiter, and two anonymous reviewers. A NSF pre-doctoral fellowship to NMW expedited the completion of this study.
Additional information
Communicated by P.W. Sammarco, Chauvin.
About this article
Cite this article
Whitney, N.M., Crow, G.L. Reproductive biology of the tiger shark (Galeocerdo cuvier) in Hawaii. Mar Biol 151, 63–70 (2007). https://doi.org/10.1007/s00227-006-0476-0
Received:

Accepted:

Published:

Issue Date:
Keywords
Pregnant Female

Gestation Period

Tiger Shark

Oviducal Gland

Embryo Length