Abstract
Three Greenland sharks (Somniosus microcephalus) were tagged with electronic tags, in Baie St. Pancrace, St. Lawrence Estuary, Quebec, Canada. One shark was tagged on 23 July 2004, with an acoustic telemetry tag. Two sharks were each tagged with a pop-up satellite archival tag (PSAT) on 27 August 2004. Two of the sharks remained in or close to the bay, one for 47 days and the other for at least 66 days. The third shark left the bay immediately after tagging on 27 August 2004. This shark entered the main channel of the St. Lawrence Estuary, and had moved 114.9 km upstream by 1 November 2004 when the tag reported to ARGOS satellites. The tags provided a total of 179 days of data on the movement and environmental preferences of Greenland sharks in the St. Lawrence Estuary. Sharks that reported depth and ambient water temperature data from the bay showed significant diel differences in depth preferences and corresponding ambient temperatures. The sharks remained near the bottom of the water column during the day and displayed increased vertical movements at night. The shark that resided in the main channel did not show this pattern, but generally remained at depths between 325 and 352 m. Sharks in the bay experienced water temperatures that ranged from −1.1 to 8.6°C at depths from 0 to 67 m. In the main channel the shark experienced temperatures that ranged from 1.0 to 5.4°C at depths from 132 to 352 m. This is the first report of numerous Greenland sharks inhabiting shallow near shore bays during summer and autumn.
Access options
Buy single article
Instant access to the full article PDF.
USD 39.95
Price excludes VAT (USA)
Tax calculation will be finalised during checkout.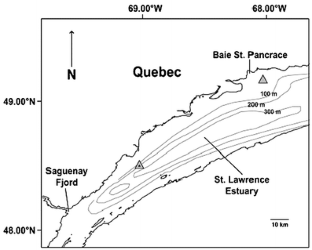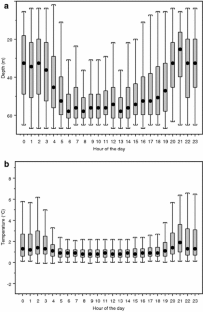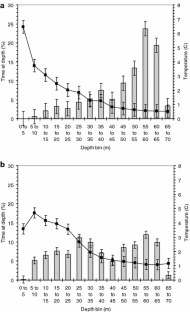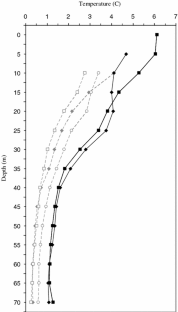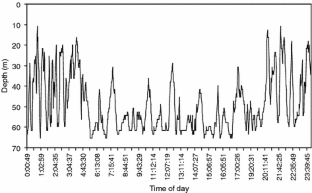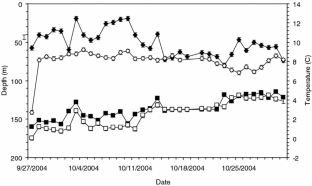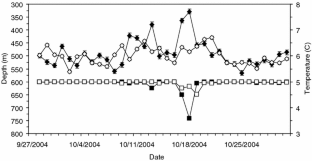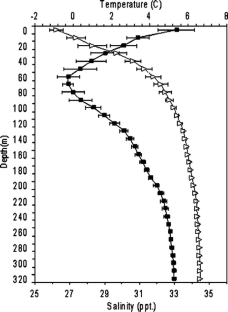 References
Beck B, Mansfield AW (1969) Observations on the Greenland shark, Somniosus microcephalus, in Northern Baffin Island. J Fish Res Bd Can 26:143–145

Bigelow HB, Schroeder WC (1948) Sharks. In: Tee-Van J (ed) Fishes of the western North Atlantic, part 1. Sears foundation for Marine Research Yale University, New Haven, pp. 59–546

Campana SE, Joyce WN (2004). Temperature and depth associations of porbeagle sharks (Lamns nasus) in the northwest Atlantic. Fish Oceanog 13:52–64

Compagno LJV (1984) FAO species catalogue, Vol. 4. Sharks of the world. An annotated and illustrated catalogue of shark species known to date. Part 1. Hexanchiformes to Lamniformes. FAO Fisheries Synopsis 125

Fisk AT, Tittlemier SA, Pranschke JL, Norstrom RJ (2002). Using anthropogenic contaminants and stable isotopes to assess the feeding ecology of greenland sharks. Ecology 83:2162–2172

Herdendorf CE, Berra TM (1995). A Greenland shark from the wreck of the SS Central America at 2,200 Meters. Trans Am Fish Soc 124:950–953

Kondyurin VV, Myagkov NA (1982) Catches of newborn Greenland shark, Somniosus microcephalus, (Bloch and Schneider) (Dalatiidaer) UCD 597.31:591.35.

Lauzier LM, Bailey WB (1957) Features of the deep waters of the Gulf of St. Lawrence. Fish Res Bd Can Bull No. 111, pp. 213–250

Lauzier LM, Trites RW (1958). The deep waters in the Laurential channel. J Fish Res Bd Can 15:1247–1257

Nelson DR, McKibben JN, Strong WR, Lowe CG, Sisneros JA, Schroeder DM, Lavenberg RJ (1997). An acoustic tracking of a megamouth shark, Megachasma pelagios: a crepuscular vertical migrator. Envir Biol Fish 49:389–399

Nakano H, Matsunaga H, Okamoto H, Okazaki M (2003). Acoustic tracking of bigeye thresher shark Alopias superciliosus in the eastern Pacific Ocean. Mar Ecol Prog Ser 265:255–261

Shepard T, Page F, MacDonald B (2002) Length and sex specific associations between spiny dogfish (Squalus acanthias) and hydrographic variables in the Bay of Fundy and the Scotian Shelf. Fish Oceanog 11:78–89

Skomal GB, Benz GW (2004). Ultrasonic tracking of Greenland sharks, Somniosus microcephalus, under Arctic ice. Mar Biol 145:489–498

Taillade M (1992). Animal tracking by satellite. In: Priede IM, Swift SM (eds) Wildlife Telemetry Remote Monitoring and Tracking of Animals. Ellis Horwood, New York, pp. 149–160

Ward P, Myers RA (2005) Inferring the depth distribution of catchability for pelagic fishes and correcting for variations in the depth of longline fishing gear. Can J Fish Aquat Sci 62:1130–1142

Weng KC, Holts D, Goldman K, Musick J, Block BA (2003) Habitat And Migration Of The Salmon Shark. In: MacDonald D, San Deigo, CA. American Fisheries Society - Western Division

Weng KC, Block BA (2004). Diel vertical migration of the bigeye thresher shark, Alopias superciliosus, a species possessing orbital retia mirabilia. Fish Bull 102:221–229

West GJ, Stevens JD (2001) Archival tagging of school shark, Galeorhinus galeus, in Australia: initial results. Environ Biol Fishes 60:283–298
Acknowledgements
All procedures were conducted under animal care protocols approved by the Dalhousie University committee on laboratory animals and field work was conducted under research license from the Department of Fisheries and Oceans, Canada. We thank S. Sirois, and the diving community of Baie Comeau PQ Canada. Acoustic tagging of the shark was performed by Jean-Yves Forest, under the supervision of J. G. with assistance from S. S. and A. Simard. Satellite tagging of sharks was performed by J.-Y. F., with assistance from S. S. and A. S. We thank F. Whoriskey and J. Carr of the Atlantic Salmon Federation, and G.L. Lacroix and D. Knox of the Department of Fisheries and Oceans for the lending of Vemco receivers. The manuscript was improved by comments from A. Ottensmeyer, R. O'Dor and K. Weng. This project was funded by the Future of Marine Animal Populations of the Sloan Foundation, Census of Marine Life (RAM); the Global Shark Assessment of the Pew Charitable Trust (RAM), and NSERC (RAM), and a Dalhousie fellowship to MJWS.
Additional information
Communicated by R. J. Thompson, St. John´s
About this article
Cite this article
Stokesbury, M.J.W., Harvey-Clark, C., Gallant, J. et al. Movement and environmental preferences of Greenland sharks (Somniosus microcephalus) electronically tagged in the St. Lawrence Estuary, Canada. Marine Biology 148, 159–165 (2005). https://doi.org/10.1007/s00227-005-0061-y
Received:

Accepted:

Published:

Issue Date:

DOI: https://doi.org/10.1007/s00227-005-0061-y
Keywords
Environmental Preference

Lawrence Estuary

Greenland Shark

Silky Shark

Thresher Shark