Abstract
There is a need to explore, in an integrated and statistical manner, how the number of species, relative abundance, species composition and life-cycle stages of elasmobranchs in nearshore waters vary among habitat types and during the year. Therefore, four sites in a large marine embayment, each representing a different habitat type, were sampled at regular intervals. These sites were: (1) unvegetated, with no vegetation within at least 200 m; (2) unvegetated, immediately adjacent to sparse mangroves; (3) unvegetated, immediately adjacent to dense mangroves; and (4) vegetated, with seagrass (Posidonia australis) throughout and in the vicinity. Gill netting caught 10 shark species (5 families), 5 ray species (4 families) and 12 teleost species (10 families). Carcharhinus cautus, which contributed approximately 60% to the numbers of elasmobranchs caught, completed its life cycle in nearshore, shallow waters. Negaprion acutidens, Carcharhinus brevipinna, Carcharhinus limbatus and Rhizoprionodon acutus used these waters as a nursery area. C. cautus was caught mainly in the unvegetated sites, particularly in those near mangroves. N. acutidens was caught entirely in unvegetated sites, while R. acutus, C. brevipinna and Chiloscyllium punctatum were caught predominantly or exclusively in seagrass. The mean number of species and mean catch rate of elasmobranchs were greatest for the seagrass site and least for the unvegetated site with no vegetation within at least 200 m and were significantly less for the latter site than for the unvegetated site immediately adjacent to dense mangroves (P<0.05). The numbers of species and catch rates of elasmobranchs were significantly greater in summer and autumn than in winter (P<0.05) and, in the case of number of species, also than in spring (P<0.05). We conclude that the spatial and food resources in the nearshore, shallow waters of Shark Bay are partitioned among elasmobranch species, thus reducing the potential for competition among these species for the resources in those waters.
Access options
Buy single article
Instant access to the full article PDF.
US$ 39.95
Tax calculation will be finalised during checkout.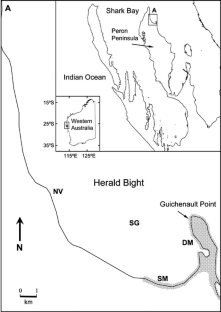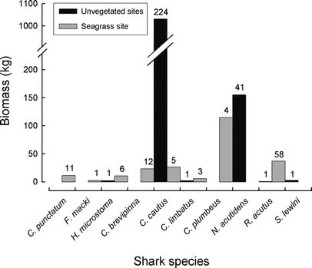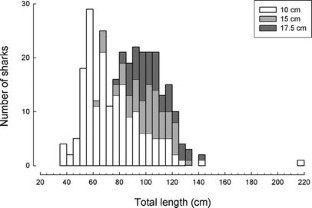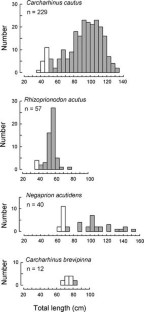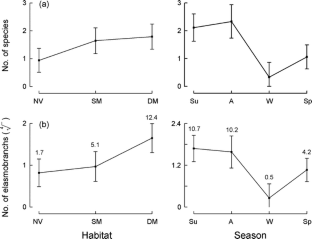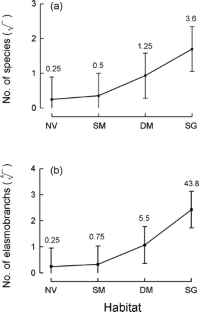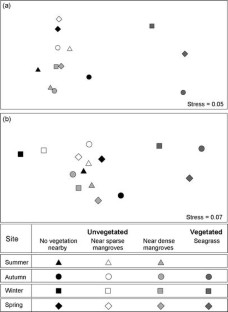 References
Bass AJ (1978) Problems in studies of sharks in the southwest Indian Ocean. In: Hodgson ES, Mathewson RF (eds) Sensory biology of sharks, skates and rays. Office of Naval Research, Department of the Navy, Arlington

Bass AJ, D'Aubrey JD, Kistnasamy N (1975) Sharks of the east coast of southern Africa. 1. The genus Carcharhinus (Carcharhinidae). Investigational report no. 38, Oceanographic Research Institute, Durban

Blaber SJM, Young JW, Dunning MC (1985) Community structure and zoogeographic affinities of the coastal fishes of the Dampier region of north-western Australia. Aust J Mar Freshw Res 36:247–266

Branstetter S (1990) Early life-history implications of selected carcharhinoid and lamnoid sharks of the northwest Atlantic. NOAA Tech Rep NMFS 90:17–28

Clarke KR (1993) Non-parametric multivariate analysis of changes in community structure. Aust J Ecol 18:117–143

Clarke KR, Gorley RN (2001) Primer v5: user manual/tutorial. Primer-E, Plymouth

Compagno LJV (1984) FAO species catalogue, vol 4. Sharks of the world. An annotated and illustrated catalogue of shark species known to date, part 2—Carcharhiniformes. FAO Fish Synop 125:251–655

Kirkwood GP, Walker TI (1986) Gill net mesh selectivities for gummy shark, Mustelus antarcticus Günther, taken in south-eastern Australian waters. Aust J Mar Freshw Res 37:689–697

Last PR, Stevens JD (1994) Sharks and rays of Australia. CSIRO Division of Fisheries, Hobart, Australia

Lyle JM (1987) Observations on the biology of Carcharhinus cautus (Whitley), C. melanopterus (Quoy & Gaimard) and C. fitzroyensis (Whitley) from northern Australia. Aust J Mar Freshw Res 38:701–710

Robertson AI, Duke NC (1987) Mangroves as nursery sites: comparison of the abundance and species composition of fish and crustaceans in mangroves and other nearshore habitats in tropical Australia. Mar Biol 96:193–205

Simpfendorfer CA, Milward NE (1993) Utilisation of a tropical bay as a nursery area by sharks of the families Carcharhinidae and Sphyrnidae. Environ Biol Fishes 37:337–345

Simpfendorfer CA, Goodreid AB, McAuley RB (2001a) Diet of three commercially important shark species from Western Australian waters. Mar Freshw Res 52:975–985

Simpfendorfer CA, Goodreid AB, McAuley RB (2001b) Size, sex and geographic variation in the diet of the tiger shark (Galeocerdo cuvier) in Western Australian waters. Environ Biol Fishes 61:37–46

Somerfield PJ, Clarke KR (1997) A comparison of some methods used for the collection of sublittoral sediments and their associated fauna. Mar Environ Res 43:145–156

Springer S (1967) Social organisation of shark populations. In: Gilbert PW, Mathewson RF, Rall DP (eds) Sharks, skates and rays. John Hopkins University Press, Baltimore

Stevens JD, McLoughlin KJ (1991) Distributions, size and sex composition, reproductive biology and diet of sharks from northern Australia. Aust J Mar Freshw Res 42:151–199

Travers MJ, Potter IC (2002) Factors influencing the characteristics of fish assemblages in a large subtropical marine embayment. J Fish Biol 61:764–784

Underwood AJ (1997) Experiments in ecology: their logical design and interpretation using analysis of variance. Cambridge University Press, Cambridge

Walker DI (1989) Regional studies—seagrass in Shark Bay, the foundation of an ecosystem. In: Larkum AWD, McComb AJ, Shepherd SA (eds) Biology of seagrasses. Elsevier, New York

White WT, Hall NG, Potter IC (2002) Size and age compositions and reproductive biology of the nervous shark Carcharhinus cautus in a large subtropical embayment, including an analysis of growth during pre- and postnatal life. Mar Biol 141:1153–1164

White WT, Platell ME, Potter IC (2004) Comparisons between the diets of four abundant species of elasmobranch in a subtropical embayment. Implications for resource partitioning. Mar Biol 144:439–448
Acknowledgements
Gratitude is expressed particularly to D. Fairclough, A. Hesp, S. de Lestang, M. Taylor and D. Thorburn for their help with sampling, to N. Hall and G. Young for statistical advice, and to D. Fairclough for constructive criticism of the text. Financial support was provided by Murdoch University, the Western Australian Department of Fisheries and the Australian Fisheries Research and Development Corporation. Animal usage was approved by the Murdoch University Animal Ethics Committee (permits 634R and 860R).
Additional information
Communicated by G.F. Humphrey, Sydney
About this article
Cite this article
White, W.T., Potter, I.C. Habitat partitioning among four elasmobranch species in nearshore, shallow waters of a subtropical embayment in Western Australia. Marine Biology 145, 1023–1032 (2004). https://doi.org/10.1007/s00227-004-1386-7
Received:

Accepted:

Published:

Issue Date:
Keywords
Habitat Type

Catch Rate

Nursery Area

Teleost Species

Nearshore Water