Abstract
The mussel species Mytilus edulis L. and M. trossulus Gould coexist and hybridize throughout a large area that includes the north coast of Maine and Atlantic Canada. Previous studies provided genetic evidence for limited hybridization between the two species for mussels >15 mm. The present study used two genetic markers (ITS, Glu-5′) to examine the genetic composition of early life-history stages by sampling veliger and pediveliger larvae, juveniles (<2.0 to 15.0 mm shell length) and adults (>15 mm shell length) in Trinity Bay, Newfoundland, during three consecutive years (1995–1997) to determine if differential mortality limits the relative abundance of hybrids. The relative frequency of the two species and the different hybrid genotypes was similar among the larvae, juveniles and small adult mussels. The double hybrid genotype (F1-like) was the rarest genotype observed. There was no evidence for differential mortality during the early life-history stages, and factors limiting production of hybrids appear to operate before the late larval stage. The observed frequency of hybrids is probably due to a combination of pre- and postzygotic reproductive isolating mechanisms operating early in the mussel's life history. M. trossulus dominated the early life-history stages, possibly due to a higher population density and a greater reproductive output than M. edulis. Differential mortality may explain the observed decrease in frequency of M. trossulus and increase in frequency of M. edulis with increasing shell length. A similar frequency of hybrid mussels from larvae to the size class of 55 mm shell length may indicate a rate of mortality intermediate between the two parental species. The M. edulis–M. trossulus hybrid zone appears to be maintained by reproductive isolating mechanisms limiting the production of hybrids and life-history differences that allow the two species to coexist.
Access options
Buy single article
Instant access to the full article PDF.
USD 39.95
Price excludes VAT (USA)
Tax calculation will be finalised during checkout.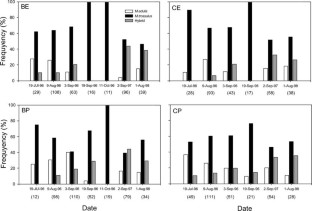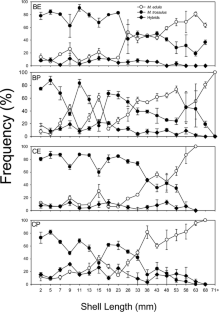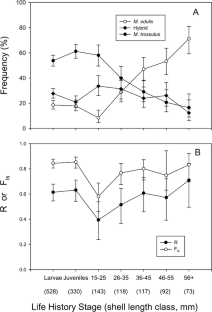 References
Arnold ML (1997) Natural hybridization and evolution. Oxford University Press, Oxford

Arnold ML, Hodges SA (1995) Are natural hybrids fit or unfit relative to their parents? Trends Ecol Evol 10:67–71

Barton NH, Hewitt GM (1989) Adaptation, speciation and hybrid zones. Nature 341:497–503

Bates JA (1992) Genetic and morphological variation in the mussel Mytilus in Newfoundland. MSc thesis, Memorial University of Newfoundland, St. John's

Bates JA, Innes DJ (1995) Genetic variation among populations of Mytilus spp. in eastern Newfoundland. Mar Biol 124:417–424

Beaumont AR, Abdul-Matin AKM, Seed R (1993) Early development, survival and growth in pure and hybrid larvae of Mytilus edulis and Mytilus galloprovincialis. J Molluscan Stud 59:120–123

Bierne N, David P, Boudry P, Bonhomme F (2002a) Assortative fertilization and selection at larval stage in the mussels Mytilus edulis and M. galloprovincialis. Evolution 56:292–298

Bierne N, David P, Langlade A, Bonhomme F (2002b) Can habitat specialisation maintain a mosaic hybrid zone in marine bivalves? Mar Ecol Prog Ser 245:157–170

Bierne N, Borsa P, Daguin C, Jollivet D, Viard F, Bonhomme F, David P (2003a) Introgression patterns in the mosaic hybrid zone between Mytilus edulis and M. galloprovincialis. Mol Ecol 12:447–461

Bierne N, Bonhomme F, David P (2003b) Habitat preference and the marine-speciation paradox. Proc R Soc Lond B Biol Sci 270:1399–1406

Boecklen WJ, Howard DJ (1997) Genetic analysis of hybrid zones: numbers of markers and power of resolution. Ecology 78:2611–2616

Comesaña AS, Toro JE, Innes DJ, Thompson RJ (1999) A molecular approach to the ecology of a mussel (Mytilus edulis–M. trossulus) hybrid zone on the east coast of Newfoundland, Canada. Mar Biol 133:213–221

Daguin C, Bonhomme F, Borsa P (2001) The zone of sympatry and hybridization of Mytilus edulis and M. galloprovincialis, as described by intron length polymorphism at locus mac-1. Heredity 86:342–354

Dalley EL, Anderson JT, deYoung B (2002) Atmospheric forcing, larval drift, and recruitment of capelin (Mallotus villosus). ICES J Mar Sci 59:929–941

Edwards CA, Skibinski DOF (1987) Genetic variation of mitochondrial DNA in mussel (Mytilus edulis and Mytilus galloprovincialis) populations from southwest England and South Wales. Mar Biol 94:547–556

Gardner JPA (1994) The structure and dynamics of naturally occurring hybrid Mytilus edulis Linnaeus, 1758 and Mytilus galloprovincialis Lamarck, 1819 (Bivalvia: Mollusca) populations: review and interpretation. Arch Hydrobiol 99[Suppl]:37–71

Gardner JPA, Skibinski DOF (1991) Biological and physical factors influencing genotype-dependent mortality in hybrid mussel populations. Mar Ecol Prog Ser 71:235–243

Gardner JPA, Thompson RJ (2001) The effects of coastal and estuarine conditions on the physiology and survivorship of the mussels Mytilus edulis, M. trossulus and their hybrids. J Exp Mar Biol Ecol 265:119–140

Gardner JPA, Skibinski DOF, Bajdik CD (1993) Shell growth and mortality differences between the marine mussels Mytilus edulis (L.), Mytilus galloprovincialis (Lmk.) and their hybrids from two sympatric populations in S.W. England. Biol Bull (Woods Hole) 185:405–416

Gilg MR, Hilbish TJ (2003a) Patterns of larval dispersal and their effect on the maintenance of a blue mussel hybrid zone in southwestern England. Evolution 57:1061–1077

Gilg MR, Hilbish TJ (2003b) Spatio-temporal patterns in the genetic structure of recently settled blue mussels (Mytilus spp.) across a hybrid zone. Mar Biol 143:679–690

Gosling EM (1992) Systematics and geographical distribution of Mytilus. In: Gosling EM (ed) The mussel Mytilus: ecology, physiology, genetics and culture. Elsevier, Amsterdam, pp 1–20

Harrison RG (1993) Hybrid zones and the evolutionary process. Oxford University Press, Oxford

Heath DD, Rawson PD, Hilbish TJ (1995) PCR-based nuclear markers identify alien blue mussel (Mytilus spp.) genotypes on the west coast of Canada. Can J Fish Aquat Sci 52:2621–2627

Hilbish TJ, Carson EW, Plante JR, Weaver LA, Gilg MR (2002) Distribution of Mytilus edulis, M. galloprovincialis, and their hybrids in open-coast populations of mussels in southwestern England. Mar Biol 140:137–142

Ihaka R, Gentleman R (1996) R: a language for data analysis and graphics. J Comput Graph Stat 5:299–314

Innes DJ, Comesaña AS, Toro JE, Thompson RJ (1999) The distribution of Mytilus edulis and M. trossulus at spat collection sites in Newfoundland. Bull Aquac Assoc Can 99:22–23

Jiggins CD, Mallet J (2000) Bimodal hybrid zones and speciation. Trends Ecol Evol 15:250–255

Koehn RK, Hall JG, Innes DJ, Zera AJ (1984) Genetic differentiation of Mytilus edulis in eastern North America. Mar Biol 79:117–126

Levitan DR (2002) The relationship between conspecific fertilization success and reproductive isolation among three congeneric sea urchins. Evolution 56:1599–1609

Marshall JL, Arnold ML, Howard DJ (2002) Reinforcement: the road not taken. Trends Ecol Evol 17:558–563

Martel AL, Auffrey LM, Robles CD, Honda BM (2000) Identification of settling and early postlarval stages of mussels (Mytilus spp.) from the Pacific coast of North America, using prodissoconch morphology and genomic DNA. Mar Biol 137:811–818

McDonald JH, Koehn RK (1988) The mussels Mytilus galloprovincialis and M. trossulus on the Pacific Coast of North America. Mar Biol 99:111–118

McElroy D, Moran P, Bermingham E, Kornfield I (1991) REAP: the Restriction Enzyme Analysis Package, version 4.0. Department of Zoology, University of Maine, Walpole

McQuaid CD, Phillips TE (2000) Limited wind-driven dispersal of intertidal mussel larvae: in situ evidence from the plankton and the spread of the invasive species Mytilus galloprovincialis in South Africa. Mar Ecol Prog Ser 201:211–220

Orr HA, Presgraves DC (2000) Speciation by postzygotic isolation: forces, genes and molecules. BioEssays 22:1085–1094

Palumbi SR (1994) Genetic divergence, reproductive isolation and marine speciation. Annu Rev Ecol Syst 25:547–72

Pedersen EM, Hunt HL, Scheibling RE (2000) Temporal genetic heterogeneity within a developing mussel (Mytilus trossulus and M. edulis) assemblage. J Mar Biol Assoc UK 80:843–854

Penney RW, Hart MJ (1999) Distribution, genetic structure, and morphometry of Mytilus edulis and M. trossulus within a mixed species zone. J Shellfish Res 18:367–374

Qiu JW, Tremblay R, Bourget E (2002) Ontogenetic changes in hyposaline tolerance in the mussels Mytilus edulis and M. trossulus: implications for distribution. Mar Ecol Prog Ser 228:143–152

Rand DM, Harrison RG (1989) Ecological genetics of a mosaic hybrid zone: mitochondrial, nuclear, and reproductive differentiation of crickets by soil type. Evolution 43:432–449

Rawson PD, Joyner KL, Meetze K, Hilbish TJ (1996) Evidence for intragenic recombination within a novel genetic marker that distinguishes mussels in the Mytilus edulis species complex. Heredity 77:599–607

Rawson PD, Agrawal V, Hilbish TJ (1999) Hybridization between the blue mussels Mytilus galloprovincialis and M. trossulus along the Pacific coast of North America: evidence for limited introgression. Mar Biol 134:201–211

Rawson PD, Hayhurst S, Vanscoyoc B (2001) Species composition of blue mussel populations in the northeastern Gulf of Maine. J Shellfish Res 20:31–38

Rawson PD, Slaughter C, Yund PO (2003) Patterns of gamete incompatibility between the blue mussels Mytilus edulis and M. trossulus. Mar Biol 143:317–325

Raymond M, Rousset F (1995) GENEPOP (version 1.2): population genetics software for exact tests and ecumenicism. J Hered 86:248–249

Rice WR (1989) Analyzing tables of statistical tests. Evolution 43:223–225

Rieseberg LH (1998) Molecular ecology of hybridization. In: Carvalho GR (ed) Advances in molecular ecology. IOS Press, Amsterdam, pp 243–265

Riginos C, Sukhdeo K, Cunningham CW (2002) Evidence for selection at multiple allozyme loci across a mussel hybrid zone. Mol Biol Evol 19:347–351

Roff DA, Bentzen P (1989) The statistical analysis of mitochondrial DNA polymorphisms: chi-square and the problem of small samples. Mol Biol Evol 6:539–545

Ross CL, Harrison RG (2002) A fine-scale spatial analysis of the mosaic hybrid zone between Gryllus firmus and Gryllus pennsylvanicus. Evolution 56:2296–2312

Saavedra C, Stewart DT, Stanwood RR, Zouros E (1996) Species-specific segregation of gender-associated mitochondrial DNA types in an area where two mussel species (Mytilus edulis and M. trossulus) hybridize. Genetics 143:1359–1367

Skibinski DOF, Ahmad M, Beadmore JA (1978) Genetic evidence of naturally occurring hybrids between Mytilus edulis and Mytilus galloprovincialis. Evolution 32:354–364

Sokal RR, Rohlf FJ (1981) Biometry, 2nd edn. Freeman, San Francisco

Toro JE (1998) Molecular identification of four species of mussels from southern Chile by PCR-based nuclear markers: the potential use in studies involving planktonic surveys. J Shellfish Res 17:1203–1205

Toro JE, Thompson RJ, Innes DJ (2002) Reproductive isolation and reproductive output in two sympatric mussel species (Mytilus edulis, M. trossulus) and their hybrids from Newfoundland. Mar Biol 141:897–909

Väinölä R, Hvilsom MM (1991) Genetic divergence and a hybrid zone between Baltic and North Sea Mytilus populations (Mytilidae: Mollusca). Biol J Linn Soc 43:127–148

Varvio SL, Koehn RK, Väinölä R (1988) Evolutionary genetics of the Mytilus edulis complex in the North Atlantic region. Mar Biol 98:51–60

Willis GL, Skibinski DOF (1992) Variation in strength of attachment to the substrate explains differential mortality in hybrid mussel (Mytilus galloprovincialis and Mytilus edulis) populations. Mar Biol 112:403–408

Wood AR, Beaumont AR, Skibinski DOF, Turner G (2003) Analysis of a nuclear-DNA marker for species identification of adults and larvae in the Mytilus edulis complex. J Molluscan Stud 69:61–66

Zouros E, Freeman KR, Ball A, Pogson GH (1992) Direct evidence for extensive paternal mitochondrial DNA inheritance in the marine mussel Mytilus. Nature 359:412–414

Zouros E, Ball AO, Saavedra C, Freeman KR (1994) An unusual type of mitochondrial DNA inheritance in the blue mussel Mytilus. Proc Natl Acad Sci USA 91:7463–7467
Acknowledgements
We thank M. Miranda and two anonymous reviewers for comments on the manuscript. S. Baird provided advice for the Analyse program. J.E.T. was supported by the Universidad Austral de Chile and a PhD fellowship from the CIDA/MUN Marine Science Scholarship Programme. The study was supported by grants from the Natural Sciences and Engineering Research Council (Canada) to D.J.I. and R.J.T.
Additional information
Communicated by J.P. Grassle, New Brunswick
About this article
Cite this article
Toro, J., Innes, D.J. & Thompson, R.J. Genetic variation among life-history stages of mussels in a Mytilus edulis–M. trossulus hybrid zone. Marine Biology 145, 713–725 (2004). https://doi.org/10.1007/s00227-004-1363-1
Received:

Accepted:

Published:

Issue Date:

DOI: https://doi.org/10.1007/s00227-004-1363-1
Keywords
Internal Transcribe Spacer

Shell Length

Hybrid Zone

Genotype Class

Hybrid Genotype