Abstract
Many studies have shown that the distribution of cetaceans can be closely linked to habitat, but the underlying function of the preferred habitats often remains unclear. Only when behavioural observations are made in relation to habitat types can functional mechanisms behind the habitat use be revealed. Within the range of a bottlenose dolphin (Tursiops truncatus) population off NE Scotland, dolphins show clear preferences for several discrete areas. If the observed patterns of distribution are related to foraging, we predict that behaviour patterns shown by dolphins would reflect this relationship. In this study we identify behaviours of dolphins at the water surface that were related to feeding events, evaluate whether the patterns of distribution were related to foraging and whether they were related the local submarine habitat characteristics. To investigate whether visible surface evidence of foraging behaviour varied spatially, we analysed data collected from 104 regular boat-based surveys made within the Moray Firth, NE Scotland, between 1990 and 2000. To determine whether underlying bathymetry had any influence on the surface behaviour of dolphins, a land-based observation study was carried out in the populations core region of use. The results of this study show that feeding behaviour by dolphins was significantly higher in areas used intensively by dolphins. Furthermore, there were clear relationships between feeding events and the submarine habitat characteristics; certain forms of feeding occur primarily over steep seabed gradients, and in deeper waters during June and July. These results quantitatively support the hypothesis that the distinctive patterns of distribution shown by these dolphins are related to foraging behaviour or opportunities, and that submarine habitat characteristics may be a significant factor in the foraging efficiency of dolphins. Future work should focus on collecting detailed information on the distribution patterns of prey within the study area to allow direct comparisons between predator and prey distributions.
Access options
Buy single article
Instant access to the full article PDF.
USD 39.95
Price excludes VAT (USA)
Tax calculation will be finalised during checkout.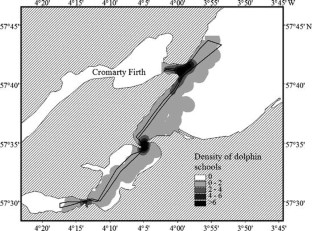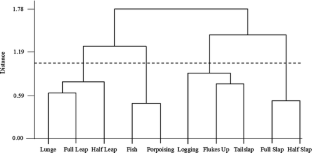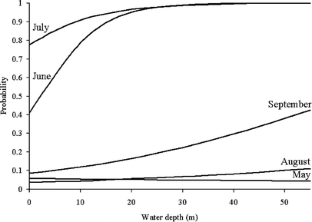 References
Altmann J (1974) Observational study of behavior: sampling methods. Behaviour 49:227–267

Baumgartner MF (1997) The distribution of Risso's dolphin (Grampus griseus) with respect to the physiography of the northern Gulf of Mexico. Mar Mamm Sci 13:614–638

Bray JR, Curtis JT (1957) An ordination of upland forest communities of southern Wisconsin. Ecol Monogr 27:325–349

Davis RW, Ortega-Ortiz JG, Ribic CA, Evans WE, Biggs DC, Ressler PH, Cady RB, Leben RR, Mullin KD, Würsig B (2002) Cetacean habitat in the northern oceanic Gulf of Mexico. Deep-Sea Res 49:121–143

Everitt B (1974) Cluster analysis. Heinemann, London

Frankel AS, Clark CW, Herman LM, Gabriels CM (1995) Spatial distribution, habitat utilization, and social interactions of humpback whales, Megaptera novaeangliae, off Hawaii determined using acoustic and visual means. Can J Zool 73:1134–1146

Gowans S, Whitehead H (1995) Distribution and habitat partitioning by small odontocetes in the Gully, a submarine canyon on the Scotian shelf. Can J Zool 73:1599–1608

Hanson MT, Defran RH (1993) The behaviour and feeding ecology of the Pacific coast bottlenose dolphin, Tursiop truncatus. Aquat Mamm 19:127–142

Harzen S (1998) Habitat use by the bottlenose dolphin (Tursiops truncatus) in the Sado Estuary, Portugal. Aquat Mamm 24:117–128

Hastie GD, Wilson B, Thompson PM (2003a) Fine-scale habitat selection by coastal bottlenose dolphins: application of a new video montage technique. Can J Zool 81:469–478

Hastie GD, Wilson B, Tufft LM, Thompson PM (2003b) Bottlenose dolphins increase breathing synchrony in response to boat traffic. Mar Mamm Sci 19:74–84

Heimlich-Boran JR (1988) Behavioral ecology of killer whales (Orcinus orca) in the Pacific Northwest. Can J Zool 66:565–578

Ikonen E (1986) Spawning migration of salmon (Salmo salar L.) in the coastal waters of the Gulf of Bothnia International Council for the Exploration of the Sea, C.M. 1986/M:24, pp 5–16

Janik VM (2000) Food-related bray calls in wild bottlenose dolphins (Tursiops truncatus). Proc R Soc Lond Ser B 267:923–927

Karczmarski L, Cockcroft VG, McLachlan A (2000) Habitat use and preferences of Indo-Pacific humpback dolphins Sousa chinensis in Algoa Bay, South Africa. Mar Mamm Sci 16:64–79

Kruskal JB (1964) Nonmetric multidimensional scaling: a numerical model. Psychometrika 29:28–42

Mann J (1999) Behavioural sampling methods for cetaceans: a review and critique. Mar Mamm Sci 15:102–122

Mendes S, Turrell WR, Lutkebohle T, Thompson PM (2002) Influence of the tidal cycle and a tidal intrusion front on the spatio-temporal distribution of coastal bottlenose dolphins. Mar Ecol Prog Ser 239:221–229

Menzies WJM (1928) Salmon of the river Conon, 1927. Fishery Board for Scotland: Salmon Fisheries, 1928 no. VIII. Her Majesty's Stationery Office, Edinburgh

Nall GH (1937) Salmon of the river Conon, 1927. Fishery Board for Scotland: Salmon Fisheries, 1928 no. VIII. Her Majesty's Stationery Office, Edinburgh

Quinn TP, teHart BA (1987) Movements of adult sockeye salmon (Oncorhynchus nerka) in British Columbia coastal waters in relation to temperature and salinity stratification: ultrasonic telemetry results. Can Spec Publ Fish Aquat Sci 96:61–77

Raum-Suryan KL, Harvey JT (1998) Distribution and abundance of and habitat use by harbor porpoise, Phocoena phocoena, off the northern San Juan Islands, Washington. Fish Bull 96:802–822

Ross GJB, Cockcroft VG, Butterworth DS (1987) Offshore distribution of bottlenosed dolphins in Natal coastal waters and Algoa Bay, eastern Cape. S Afr J Zool 22:50–56

Selzer LA, Payne PM (1988) The distribution of white-sided (Lagenoryhnchus acutus) and common dolphins (Delphinus delphis) vs. environmental features of the continental shelf of the northeastern United States. Mar Mamm Sci 4:141–153

Shane SH (1990) Behavior and ecology of the bottlenose dolphin at Sanibel Island, Florida. In: Reeves RR (ed) The bottlenose dolphin. Academic, San Diego, pp 245–265

Spence I (1978) Multidimensional scaling. In: Colgan P (ed) Quantitative ethology. Wiley, New York, pp 175–217

Stasko AB, Horral RM, Hasler AD, Stasko D (1973) Coastal movements of mature Fraser River pink salmon (Oncorhynchus gorbuscha) observed by ultrasonic tracking. J Fish Bd Can 30:1309–1316

Watts P, Gaskin DE (1986) Habitat index analysis of the harbor porpoise (Phocoena phocoena) in the southern coastal Bay of Fundy, Canada. J Mammal 66:733–744

Wilson B, Thompson PM, Hammond PS (1997) Habitat use by bottlenose dolphins: seasonal distribution and stratified movement patterns in the Moray Firth, Scotland. J Appl Ecol 34:1365–1374

Winn HE, Price CA, Sorensen PW (1986) The distributional biology of the right whale (Eubalaena glacialis) in the western North Atlantic. Rep Int Whaling Comm Spec Issue 10:129–138
Acknowledgements
This work was supported by Talisman Energy (UK) Ltd., the Cromarty Firth Port Authority, Ross and Cromarty Enterprise and the Caledonian Society of Sheffield. Boat-based surveys were carried out with support from Chevron Texaco, ASAB, MAFF, DETR and the Whale and Dolphin Conservation Society. We thank all those who spent long hours in the field assisting with data collection. We also thank Tim Barton and Stuart Middlemas for comments on earlier drafts of this manuscript. In addition, thanks to Barmac Ltd. for the loan of a theodolite. This research was conducted under the Animal Scientific Licence No. 3469 from Scottish Natural Heritage.
Additional information
Communicated by J.P. Thorpe, Port Erin
About this article
Cite this article
Hastie, G.D., Wilson, B., Wilson, L.J. et al. Functional mechanisms underlying cetacean distribution patterns: hotspots for bottlenose dolphins are linked to foraging. Marine Biology 144, 397–403 (2004). https://doi.org/10.1007/s00227-003-1195-4
Received:

Accepted:

Published:

Issue Date:

DOI: https://doi.org/10.1007/s00227-003-1195-4
Keywords
Feeding Behaviour

Hierarchical Cluster Analysis

Steep Gradient

Killer Whale

Bottlenose Dolphin