Abstract
The dissolved nitrogen pool in aquatic systems is comprised of many different nitrogen forms, both inorganic and organic. Interaction among these nitrogen forms at the level of uptake and enzyme activity is, with the exception of NH4 + and NO3 −, not completely understood. Nitrate reductase (NR) and urease (UA) activities in the marine diatom Thalassiosira weissflogii (Grunow) Fryxell et Hasle were measured in NO3 −, NH4 +, and urea-sufficient cultures before and after challenge additions of NH4 +, NO3 −, and urea in a factorial design. NR and UA were constitutively expressed during growth on NO3 −, NH4 +, and urea. Growth on NH4 + or urea resulted in NR activities that were <10% of the activity observed in the NO3 −-grown culture, while growth on NO3 − resulted in UA values that were ~35% of the activities during growth on either NH4 + or urea. The addition of NH4 + or urea to NO3 −-grown cultures resulted in an immediate decrease in cellular NO3 − uptake rate, which was not mirrored by an immediate repression of in vitro NR activity; however, the diel peak in NR was suppressed in these challenge experiments. The addition of NO3 − or NH4 + to urea-grown cultures resulted in non-significant decreases in the urea uptake rate. UA was not impacted by NO3 − addition, but NH4 + addition significantly decreased UA throughout the experiment. These studies demonstrate that the uptake and assimilation of NO3 − and urea may not be subject to the same internal feedback mechanism when challenged with other nitrogen substrates.
Access options
Buy single article
Instant access to the full article PDF.
USD 39.95
Price excludes VAT (USA)
Tax calculation will be finalised during checkout.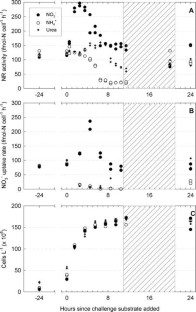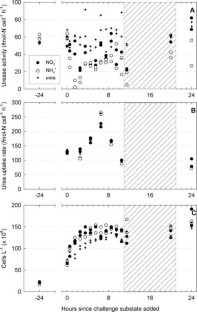 References
Antia NJ, Berland BR, Bonin DJ, Maestrini SY (1975) Comparative evaluation of certain organic and inorganic sources of nitrogen for phototrophic growth of marine microalgae. J Mar Biol Assoc UK 55:519–539

Antia NJ, Harrison PJ, Oliveira L (1991) The role of dissolved organic nitrogen in phytoplankton nutrition, cell biology and ecology. Phycologia 30:1–89

Balch WM (1987) Studies of nitrate transport by marine phytoplankton using 36Cl-ClO3 − as a transport analogue. I. Physiological findings. J Phycol 23:107–118

Berges JA, Harrison PJ (1993) Relationship between nucleoside diphosphate kinase activity and light limited growth rate in the marine diatom Thalassiosira pseudonana (Bacillariophyceae). J Phycol 29:45–53

Berges JA, Harrison PJ (1995) Nitrate reductase activity quantitatively predicts the rate of nitrate incorporation under steady state light limitation: a revised assay and characterization of the enzyme in three species of marine phytoplankton. Limnol Oceanogr 40:82–93

Collier J, Palenik B (1996) Utilization of urea by marine Synechococcus. J Phycol 31[Suppl 3]:15

Collier J, Brahamsha B, Palenik B (1999) The marine cyanobacterium Synechococcus sp. WH7805 requires urease (urea amidohydrolase, EC 3.5.1.5) to utilize urea as a nitrogen source: molecular genetic and biochemical analysis of the enzyme. Microbiology 145:447–459

Collos Y (1983) Transient situations in nitrate assimilation by marine diatoms. 4. Non-linear phenomena and the estimation of the maximum uptake rate. J Plankton Res 5:677–691

Conover SAM (1975) Partitioning of nitrogen and carbon in cultures of marine diatom Thalassiosira fluviatilis supplied with nitrate, ammonium and urea. Mar Biol 32:231–246

Dortch Q (1990) The interaction between ammonium and nitrate uptake in phytoplankton. Mar Ecol 61:183–201

Dortch Q, Clayton JR Jr, Thoresen SS, Ahmed SI (1984) Species differences in accumulation of nitrogen pools in phytoplankton. Mar Biol 81:237–250

Eppley R, Rogers J (1970) Inorganic nitrogen assimilation of Ditylum brightwellii a marine plankton diatom. J Phycol 6:344–351

Falkowski PG (1975) Nitrate uptake in marine phytoplankton: comparison of half-saturation constants from seven species. Limnol Oceanogr 20:412–417

Fan C, Glibert PM, Alexander J, Lomas M (2003) Characterization of urease activity in three marine phytoplankton species, Aureococcus anophagefferens, Prorocentrum minimum, and Thalassiosira weissflogii. Mar Biol 142:949–958

Flynn KJ (1998) Estimation of kinetic parameters for the transport of nitrate and ammonium into marine phytoplankton. Mar Ecol Prog Ser 169:13–28

Ge X, Cain K, Hirschberg R (1990) Urea metabolism and urease regulation in the cyanobacterium Anabaena variabilis. Can J Microbiol 36:218–222

Glibert PM, Goldman JC (1981) Rapid ammonium uptake by marine phytoplankton. Mar Biol Lett 2:25–31

Goldman JC, Glibert PM (1982) Comparative rapid ammonium uptake by four species of marine phytoplankton. Limnol Oceanogr 27:814–827

Grant B, Modgwick J, Dalpont G (1967) Growth of Cylindrotheca closterium var. californica (Mereschk) Riemen and Lewin on nitrate, ammonia and urea. Aust J Mar Freshw Res 18:129–135

Guillard RRL (1983) Culture of phytoplankton for feeding marine invertebrates. In: Berg CJ (ed) Culture of marine invertebrates: selected readings. Hutchinson Ross, Stroudsberg, pp 108–132

Horrigan SG, McCarthy JJ (1981) Urea uptake by phytoplankton at various stages of nutrient depletion. J Plankton Res 3:403–415

Hung CC, Wong GTF, Liu KK, Shiah FK, Gong GC (2000) The effects of light and nitrate levels on the relationship between nitrate reductase activity and 15NO3 − uptake: field observations in the East China Sea. Limnol Oceanogr 45:836–848

Joseph L, Villareal T (1998) Nitrate reductase activity as a measure of nitrogen incorporation in Rhizoselenia formosa (H. Peragallo): internal nitrate and diel effects. J Exp Biol Ecol 229:159–176

Joseph L, Villareal TA, Lipschultz F (1997) A high sensitivity nitrate reductase assay and its application to vertically migrating Rhizosolenia mats. Aquat Microb Ecol 12:95–104

Kudo I, Yoshimura T, Yanada M, Matsunaga K (2000) Exhaustion of nitrate terminates a phytoplankton bloom in Funka Bay, Japan: change in SiO4:NO3 consumption rate during the bloom. Mar Ecol Prog Ser 193:45–51

Lee S, Fuhrman J (1987) Relationship between biovolume and biomass of naturally derived marine bacterioplankton. Appl Environ Microbiol 53:1298–1303

Leftley JW, Syrett PJ (1973) Urease and ATP:urea amidolyase activity in unicellular algae. J Gen Microbiol 77:109–115

Lomas MW, Glibert P (1999) Interactions between NH4 + and NO3 − uptake and assimilation: comparisons of diatoms and dinoflagellates at several growth temperatures. Mar Biol 133:541–551

Lomas MW, Glibert PM (2000) Comparisons of nitrate uptake, storage and reduction in marine diatoms and dinoflagellates. J Phycol 36:903–913

Lund BA (1987) Mutual interference of ammonium, nitrate, and urea on uptake of 15N sources by the marine diatom Skeletonema costatum (Greve) Cleve. J Exp Mar Biol Ecol 113:167–180

Mathew T (1981) Nitrate reduction in Chlorococcales. Hydrobiologia 79:3–14

McCarthy JJ (1972) The uptake of urea by natural populations of marine phytoplankton. Limnol Oceanogr 17:738–748

McCarthy JJ (1981) Kinetics of nutrient utilization. Can Bull Fish Aquat Sci 210:211–233

McCarthy JJ, Eppley R (1972) A comparison of chemical, isotopic and enzymatic methods for measuring nitrogen assimilation of marine phytoplankton. Limnol Oceanogr 17:371–382

Parsons T, Maita Y, Lalli C (1984) A manual of chemical and biological methods for seawater analysis. Pergamon, New York

Peers S, Milligan A, Harrison P (2000) Assay optimization and regulation of urease activity in two marine diatoms. J Phycol 36:523–528

Price NM, Harrison PJ (1988) Uptake of urea C and N by the coastal marine diatom Thalassiosira pseudonana. Limnol Oceanogr 33:528–537

Rees T, Syrett P (1979) The uptake of urea by the diatom Phaeodactylum. New Phytol 82:169–178

Rigano C (1971) Studies on nitrate reductase from Cyanidium caldarium. Arch Mikrobiol 76:265–276

Serra JL, Llama MJ, Cadenas E (1978) Characterization of the nitrate reductase activity in the diatom Skeletonema costatum. Plant Sci Lett 13:41–48

Singh S (1990) Regulation of urease activity in the cyanobacterium Anabaena doliolum. FEMS Microbiol Ecol 67:79–84

Singh S (1992) Regulation of urease cellular levels in the cyanobacteria Anacystis nidulans and Nostoc muscorum. Biochem Physiol Pflanz (BPP) 188:33–38

Solomonson L, Barber M (1990) Assimilatory nitrate reductase: functional properties and regulation. Annu Rev Plant Physiol Plant Mol Biol 41:225–253

Sournia A (1974) Circadian periodicities in natural populations of marine phytoplankton. In: Russell FS, Yonge M (eds) Advances in marine biology, vol 12. Academic, New York, pp 325–389

Syrett P (1981) Nitrogen metabolism in microalgae. Can Bull Fish Aquat Sci 210:182–210

Syrett P, Peplinska A (1988) The effect of nickel and nitrogen deprivation on the metabolism of urea by the diatom Phaeodactylum tricornutum. Br J Phycol 23:387–390

Tischner R, Lorenzen H (1979) Nitrate uptake and nitrate reduction in synchronous Chlorella. Planta 146:287–292

Vergara J, Berges J, Falkowski P (1998) Diel periodicity of nitrate reductase activity and protein levels in the marine diatom Thalassiosira weissflogii (Bacillariophyceae). J Phycol 34:952–961

Villareal TA, Pilskaln C, Brzezinski M, Lipshultz F, Dennett M, Gardner GB (1999) Upward transport of oceanic nitrate by migrating diatom mats. Nature 397:423–425

Wong G, Hung C (2001) Speciation of dissolved iodine: integrating nitrate uptake over time in the oceans. Contin Shelf Res 21:113–128

Zehr JP, Capone DG, Falkowski PG (1989) Rapid incorporation of 13NO3 by NH4-limited phytoplankton. Mar Ecol Prog Ser 51:237–241
Acknowledgements
The author acknowledges the valuable aid of J. Alexander who helped to process the enzyme samples, Dr. P. Glibert for providing laboratory space for these experiments, and the Bermuda Biological Station for support during the writing of this manuscript. This research was supported by NSF grant OCE-9810563 to P.M. Glibert. The author also thanks D. Clougherty and anonymous reviewers whose critical reading greatly improved this manuscript. This is contribution no. 3673 from Horn Point Laboratory and contribution no. 1633 from the Bermuda Biological Station for Research, Inc.
Additional information
Communicated by J.P. Grassle, New Brunswick
About this article
Cite this article
Lomas, M.W. Nitrate reductase and urease enzyme activity in the marine diatom Thalassiosira weissflogii (Bacillariophyceae): interactions among nitrogen substrates. Marine Biology 144, 37–44 (2004). https://doi.org/10.1007/s00227-003-1181-x
Received:

Accepted:

Published:

Issue Date:

DOI: https://doi.org/10.1007/s00227-003-1181-x
Keywords