Abstract
The purpose of this study is to investigate structural, electrochemical and electron-transporting properties of the carbonic materials prepared from pine bark sawdust modified with low-toxic reagents (H2O2, NaHCO3, and ZnCl2) for their possible use as environmentally friendly electrode material in supercapacitors. Comprehensive analysis of products using XRD, CV, and EPR has revealed the main reasons for the accumulation of electric charge in carbonic materials. It has been shown that the highest specific surface area (777 m2/g) and apparent specific capacity (950 F/g) occur in composites made from a mixture of pine bark and zinc chloride. The high electron conductivity, inhomogeneous electronic states, and the presence of inclusions of the crystalline phases of ZnO characterize the carbon matrix of this composite. It is assumed that one reason for accumulation of electric charge in carbonic composite is the presence of local nanostructures with high electron conductivity. The mineral impurities of metal oxides contained in bark can play the role of additional active centers of electric charge transfer during electrolysis and contribute to an increase in the specific capacity of the material.
Access options
Buy single article
Instant access to the full article PDF.
USD 39.95
Price excludes VAT (USA)
Tax calculation will be finalised during checkout.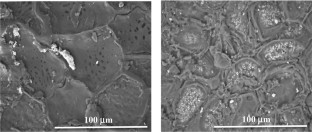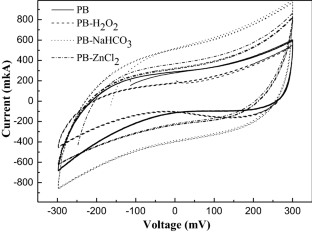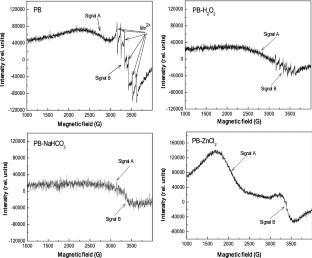 References
Aleshina LA, Glazkova SV, Lugovskaya LA, Podoinikova MV, Fofanov AD, Silina EF (2001) Modern concepts of the structure of celluloses (review). Chem Veg Raw Mater 1:5–36

Alkire RC, Bartlett PN, Lipkowski J (2016) Advances in electrochemical science and engineering electrochemistry of carbon electrodes. Wiley, Hoboken

Andrianova NN, Beilina NYu, Chernenko DN, Chernenko NM (2015) Application of spectroscopic methods to study the processes of carbonization and graphitization in the production of carbon fiber. Problems of atomic science and technology. Tech Phys Autom 71:129–134

Biswal M, Banerjee A, Deo M, Ogale S (2013) From dead leaves to high energy density supercapacitors. Energy Environ Sci 6:1249–1259. https://doi.org/10.1039/C3EE22325F

Fenelonov VB (2002) Introduction to the physical chemistry of the formation of the supramolecular structure of adsorbents and catalysts. Publ. house SB RAS, Novosibirsk

Guetteche Y, Bordjiba T, Bouguerne B, Nabeti Z, Mahmoudi O, Lemzademi A (2017) Development of composite material based on porous microfibrous carbon and zinc oxide for energy storage application. Int J Electrochem Sci 12:1874–1884. https://doi.org/10.20964/2017.03.37

Karnana M, Subramania K, Srividhyac PK, Sathish M (2017) Electrochemical studies on corncob derived activated porous carbon for supercapacitors application in aqueous and non-aqueous electrolytes. Electrochim Acta 228:586–596

Li S-C, Hu B-C, Ding Y-W, Liang H-W, Li C, Yu Z-Y, Wu Z-Y, Chen W-S, Yu S-H (2018) Wood-derived ultrathin carbon nanofiber aerogels. Angew Chem Int Ed 16:7085–7090. https://doi.org/10.1002/anie.201802753

Li Z, Wang X, Wang Z, Wang L, Guo Y, Zhou C, Li X, Du K, Luo Y (2022) Nickel-cobalt layered double hydroxide nanosheets anchored to the inner wall of wood carbon tracheids by nitrogen-doped atoms for high-performance supercapacitors. J Colloid Interface Sci 608:70–78. https://doi.org/10.1016/j.jcis.2021.09.127

Ma L, Lib J, Ma X (2019) Improvement of electrochemical properties of activated carbon hollowfibers from liquefied wood by charcoal power. Mater Lett. https://doi.org/10.1016/j.matlet.2019.126544

Manoj B, Kunjomana AG (2012) Study of stacking structure of amorphous carbon by X-ray diffraction technique. Int J Electrochem Sci 7:3127–3134

Marsh H, Rodriguez-Reinoso F (2006) Activated carbon. Elsevier, Amsterdam

Mensah-Darkwa K, Zequine C, Kahol PK, Gupta RK (2019) Supercapacitor energy storage device using biowastes: a sustainable approach to green energy. Sustainability 11:1–22. https://doi.org/10.3390/su11020414

More A, Elder T, Jiang Z (2021) A review of lignin hydrogen peroxide oxidation chemistry with emphasis on aromatic aldehydes and acids. Holzforschung 75(9):806–823. https://doi.org/10.1515/hf-2020-0165

Ouyang J, Wang X, Wang L, Xiong W, Li M, Hua Z, Zhao L, Zhou C, Liu X, Chen H, Luo Y (2022) Construction of a porous carbon skeleton in wood tracheids to enhance charge storage for high-performance supercapacitors. Carbon 196:532–539. https://doi.org/10.1016/j.carbon.2022.05.011

Peng X, Zhang L, Chen Z, Zhong L, Zhao D, Chi X, Zhao X, Li L, Lu X, Leng K, Liu C, Liu W, Tang W, Loh KP (2019) Hierarchically porous carbon plates derived from wood as bifunctional ORR/OER electrodes. Adv Mater 31:1900341. https://doi.org/10.1002/adma.201900341

Rabetafika HN, Bchir B, Blecker C, Paquot M, Wathelet B (2014) Comparative study of alkaline extraction process of hemicelluloses from pear pomace. Biomass Bioenerg 61:254–264. https://doi.org/10.1016/j.biombioe.2013.12.022

Savchenko D, Kassiba AH (2018) Frontiers in magnetic resonance. Electron paramagnetic resonance in modern carbon-based nanomaterials. Bentham Science Publishers, Sharjah

Teng S, Siegel G, Wang W, Tiwariz A (2014) Carbonized wood for supercapacitor electrodes. ECS Solid State Lett 3:M25–M28. https://doi.org/10.1149/2.005405ssl

Tsyganova SI, Fetisova OY, Bondarenko GN, Mazurova EV, Chesnokov NV (2016) Synthesis of highly porous zinc–carbon composites based on modified pine wood. Russ J Appl Chem 89(3):400–405. https://doi.org/10.1134/S1070427216030095

Tsyganova SI, Romanchenko AS, Bondarenko GN, Fetisova OY (2018) Synthesis of a carbon-containing composite based on aspen wood and its structural and electrochemical properties. Rus J Appl Chem 91(2):330–336. https://doi.org/10.1134/S1070427218020258

Tsyganova SI, Mazurova EV, Bondarenko GN, Fitisova OY, Skvortsova GP (2020) Structural and current-voltage characteristics of carbon materials obtained during carbonization of fir and aspen barks. Biomass Bioenerg 142:105759. https://doi.org/10.1016/j.biombioe.2020.105759

Tsyganova SI, Bondarenko GN, Fetisova OY (2021) Energy storage in carbon materials synthesized from fir bark modified with graphite and zinc chlorine. Wood Sci Technol 55:1–12. https://doi.org/10.1007/s00226-021-01298-2

Wang H, Yu S, Xu B (2016) Hierarchical porous carbon materials prepared using nano-ZnO as a template and activation agent for ultrahigh power supercapacitors. Chem Commun (camb) 20:11512–11515. https://doi.org/10.1039/C6CC05911B

Wang B, Likodimos V, Fielding AJ, Dryfe RAW (2020) In situ electron paramagnetic resonance spectroelectrochemical study of graphene-based supercapacitors: comparison between chemically reduced graphene oxide and nitrogen-doped reduced graphene oxide. Carbon 160(30):236–246. https://doi.org/10.1016/j.carbon.2019.12.045

Wang B (2019) Electron paramagnetic resonance study of carbon-based materials and their applications in electrochemical energy storage. A thesis submitted to the University of Manchester for the degree of Doctor of Philosophy in the School of Nature Science

Xiao X, Han B, Chen G, Wang L, Wang Y (2017) Preparation and electrochemical performances of carbon sphere@ZnO core-shell nanocomposites for supercapacitor applications. Sci Rep 7:40167. https://doi.org/10.1038/srep40167

Xu C, Strømme M (2019) Sustainable porous carbon materials derived from wood-based biopolymers for CO2 capture. Nanomaterials 9:1–13. https://doi.org/10.3390/nano9010103

Yang H, Ye S, Zhou J, Liang T (2019) Biomass-derived porous carbon materials for supercapacitor. Front Chem 7:274. https://doi.org/10.3389/fchem.2019.00274

Yu J, Gao L-z, Li X-l, Wu C, Gao L-l, Li C-m (2016) Porous carbons produced by the pyrolysis of green onion leaves and their capacitive behavior. New Carbon Mater 31:475–484. https://doi.org/10.1016/S1872-5805(16)60026-4
Acknowledgements
This work was carried out as part of the project (121031500180-8) of the Institute of Chemistry and Chemical Technology SB RAS using the equipment of the Krasnoyarsk Regional Center for Collective Use of the Federal Research Center of the Siberian Branch of the Russian Academy of Sciences.
Additional information
Publisher's Note
Springer Nature remains neutral with regard to jurisdictional claims in published maps and institutional affiliations.
Rights and permissions
Springer Nature or its licensor (e.g. a society or other partner) holds exclusive rights to this article under a publishing agreement with the author(s) or other rightsholder(s); author self-archiving of the accepted manuscript version of this article is solely governed by the terms of such publishing agreement and applicable law.
About this article
Cite this article
Tsyganova, S.I., Maximov, N.G., Masurova, E.V. et al. Study of the synthesis of carbon-containing materials based on modified pine bark for the accumulation of electric charge. Wood Sci Technol 57, 135–146 (2023). https://doi.org/10.1007/s00226-022-01438-2
Received:

Accepted:

Published:

Issue Date:

DOI: https://doi.org/10.1007/s00226-022-01438-2