Abstract
In recent years, researchers have pushed to develop an eco-friendly sound-absorbing material derived from natural products capable of reducing noise in indoor sound environments. Wood may fill this niche. In the cross sections of diffuse-porous wood, vessels are widely distributed, a circumstance that provides advantages from a sound absorption perspective. Based on preexisting data concerning the physical properties of various woods, two hardwoods, Homalium (Homalium foetidum) and Jelutong (Dyera costulata), were selected and their sound absorption capability was examined. Gas permeability, pore sizes, and pore types were investigated, and their sound absorption coefficient was calculated. It was shown that Homalium and Jelutong are more gas permeable compared to other hardwoods, especially Jelutong as its pores were larger and its through-pore porosity was greater than that of Homalium. These properties, in fact, are responsible for its superior gas permeability and sound absorption compared to Homalium. It was also determined that an air back cavity was more effective in improving sound absorption in the samples of both woods than increasing the thickness of the samples. Ultimately, this study concludes that Homalium and Jelutong cross sections are well suited for use as sound-absorbing functional building materials.
Access options
Buy single article
Instant access to the full article PDF.
USD 39.95
Price includes VAT (USA)
Tax calculation will be finalised during checkout.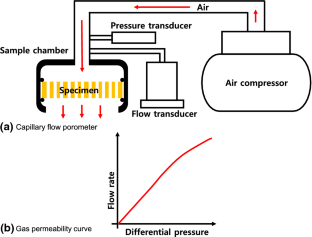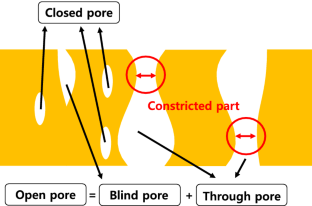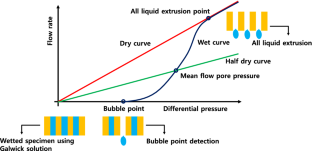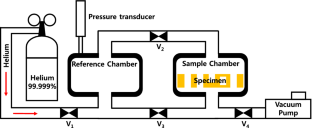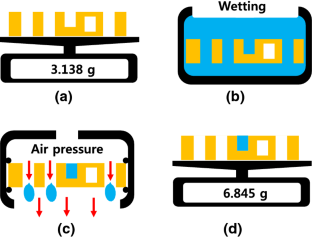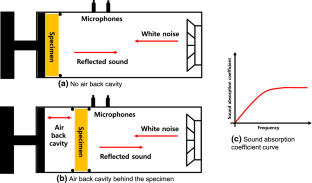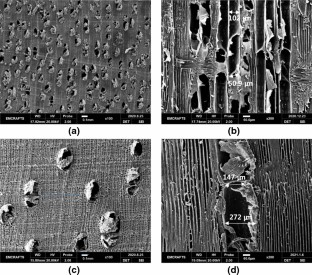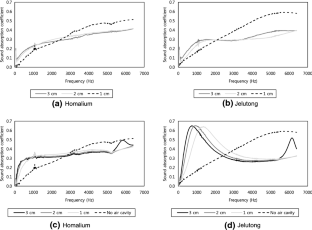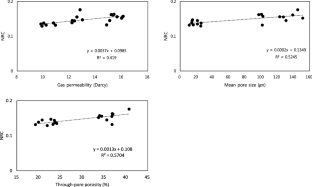 References
Armin E (1938) Flexible end grain wood floor covering. USA Patent US2118841A,

ASTM F316–03 (2019) Standard test methods for pore size characteristics of membrane filters by bubble point and mean flow pore test. ASTM International, West Conshohocken

Atmaca E, Peker I, Altin A (2005) Industrial noise and its effects on humans. Pol J Environ Stud 14(6):721–726

Basirjafari S, Malekfar R, Esmaielzadeh Khadem S (2012) Low loading of carbon nanotubes to enhance acoustical properties of poly (ether) urethane foams. J Appl Phys 112:104312

Berardi U, Iannace G (2015) Acoustic characterization of natural fibers for sound absorption applications. Build Environ 94:840–852

Bhingare NH, Prakash S, Jatti VS (2019) A review on natural and waste material composite as acoustic material. Polym Test 80:106142

Brígida A, Calado V, Gonçalves L, Coelho M (2010) Effect of chemical treatments on properties of green coconut fiber. Carbohydr Polym 79:832–838

Cabeza LF, Barreneche C, Miró L, Morera JM, Bartolí E, Fernández AI (2013) Low carbon and low embodied energy materials in buildings: a review. Renew Sustain Energy Rev 23:536–542

Cao L, Fu Q, Si Y, Ding B, Yu J (2018) Porous materials for sound absorption. Compos Commun 10:25–35

Carroll L (2021) How to cut grain block flooring. https://homeguides.sfgate.com/cut-grain-block-flooring-43113.html. Accessed 13 Jan 2021

Chang C (1988) Measuring density and porosity of grain kernels using a gas pycnometer. Cereal Chem 65:13–15

Chung H, Park Y, Yang S-Y, Kim H, Han Y, Chang Y-S, Yeo H (2017) Effect of heat treatment temperature and time on sound absorption coefficient of Larix kaempferi wood. J Wood Sci 63:575–579

Cochran B (2017) What is end grain flooring? https://www.cochranslumber.com/end-grain-flooring/. Accessed 13 Jan 2021

Dackermann U, Elsener R, Li J, Crews K (2016) A comparative study of using static and ultrasonic material testing methods to determine the anisotropic material properties of wood. Constr Build Mater 102:963–976

de Souza TB, Alberto KC, Barbosa SA (2020) Evaluation of noise pollution related to human perception in a university campus in Brazil. Appl Acoust 157:107023

Follrich J, Höra M, Müller U, Teischinger A, Gindl W (2010) Adhesive bond strength of end grain joints in balsa wood with different density. Wood Res 55:21–32

Gigac J, Stankovská M, Fišerová M (2017) Comparison of capillary flow porometry and mercury intrusion porosimetry in determination pore size distribution of papers. Wood Res 62:587–596

Goines L, Hagler L (2007) Noise pollution: a modem plague. South Med J 100:287–294

Ikei H, Song C, Miyazaki Y (2017) Physiological effects of wood on humans: a review. J Wood Sci 63:1–23

ISO 354 (2003) Acoustics—measurement of sound absorption in a reverberation room. International Organization for Standardization (ISO), Geneva, Switzerland.

ISO 10534–2 (2001) Acoustics-determination of sound absorption coefficient and impedance in impedance tubes—part 2 transfer-function method. International Organization for Standardization (ISO), Geneva, Switzerland.

ISO 11654 (1997) Acoustics—sound absorbers for use in buildings—rating of sound absorption. International Organization for Standardization (ISO), Geneva, Switzerland.

ISO 12154 (2014) Determination of density by volumetric displacement—skeleton density by gas pycnometry. International Organization for Standardization (ISO), Geneva, Switzerland.

Jang E-S, Kang C-W (2019) Changes in gas permeability and pore structure of wood under heat treating temperature conditions. J Wood Sci 65:1–9

Jang E-S, Kang C-W (2020) Do face masks become worthless after only one use in the COVID-19 pandemic? Infect Chemother 52:583–591

Jang E-S, Kang C-W, Jang S-S (2018a) Comparison of the mercury intrusion porosimerty, capillary flow porometry and gas permeability of eleven species of Korean Wood. J Korean Wood Sci Technol 46:681–691

Jang E-S, Kang C-W, Kang H-Y, Jang S-S (2018b) Sound absorption property of traditional Korean natural wallpaper (Hanji). J Korean Wood Sci Technol 46:703–712

Jang E-S, Kang C-W, Jang S-S (2019) Pore characterization in cross section of yellow poplar (Liriodendron tulipifera) wood. J Korean Wood Sci Technol 47:8–20

Jang E-S, Yuk J-H, Kang C-W (2020) An experimental study on change of gas permeability depending on pore structures in three species (hinoki, Douglas fir, and hemlock) of softwood. J Wood Sci 66:1–12

Kang C-W, Jang E-S, Hasegawa M, Matsumura J (2020) Studies of the relationship between sound absorption coefficient and air permeability of wood. J Fac Agric Kyushu Univ 65:351–355

Kang C-W, Jang E-S, Jang S-S, Cho J-I, Kim N-H (2019) Effect of heat treatment on the gas permeability, sound absorption coefficient, and sound transmission loss of Paulownia tomentosa. Wood J Korean Wood Sci Technol 47:644–654

Kang C-W, Kang W, Chung W-Y, Matsumura J, Oda K (2008) Changes in anatomical features, air permeability and sound absorption capability of wood induced by delignification treatment. J Fac Agric Kyushu Univ 53:479–483

Kang C-W, Kang W, Kim G-C (2010) Sound absorption capability and anatomical features of highly sound absorptive wood. J Korean Wood Sci Technol 38:292–297

Kang D-J, Lee J, Gu J, Park H (2007) Sound absorption characteristics of building interior decoration materials. Trans Korean Soc Noise Vib Eng 17:201–206

Kolya H, Kang C-W (2020) High acoustic absorption properties of hackberry compared to nine different hardwood species: a novel finding for acoustical engineers. Appl Acoust 169:107475

Kolya H, Kang C-W (2021) Hygrothermal treated paulownia hardwood reveals enhanced sound absorption coefficient: an effective and facile approach. Appl Acoust 174:107758

Lee J, Gu J, Park H, Kang D-J (2007) Comparison of absorption coefficient according to test methods. Trans Korean Soc Noise Vib Eng 17:373–378

Liu H (2020) Prediction model of urban environmental noise in smart environment. Smart cities: big data prediction methods and applications. Springer, Singapore, pp 289–314

Liu Z, Fan T, Zhang W, Zhang D (2005) The synthesis of hierarchical porous iron oxide with wood templates. Microporous Mesoporous Mater 85:82–88

Mlakar J, Štrancar J (2013) Temperature and humidity profiles in passive-house building blocks. Build Environ 60:185–193

Ogata K, Fujii T, Abe H, Baas P (2008) Identification of the timbers of Southeast Asia and the Western Pacific. Kaisesha Press, Ohtsu, Japan, Forestry and Forest Product Research Institute

Plötze M, Niemz P (2011) Porosity and pore size distribution of different wood types as determined by mercury intrusion porosimetry. Eur J Wood Prod 69:649–657

Prashant Y, Gopinath C, Ravichandran V (2014) Design and development of coconut fiber extraction machine. Sastech Tech J RUAS 13:64–72

Putra A, Abdullah Y, Efendy H, Farid WM, Ayob MR, Py MS (2013) Utilizing sugarcane wasted fibers as a sustainable acoustic absorber. Procedia Eng 53:632–638

Pyatkov D, Pyatkova M, Aliyev UA, Savitskaya P (2019) Noisy behavior of residents of an apartment building as a matter of neighborly law (the case of relationship between dog owners and neighbors). Religación 4:234–249

Raj M, Fatima S, Tandon N (2020) Effects of the features of a green sound-absorbing material on its acoustical properties. Green Mater 9:11–20

Regecová V, Kellerová E (1995) Effects of urban noise pollution on blood pressure and heart rate in preschool children. J Hypertens 13:405–412

Rouquerol J, Avnir D, Fairbridge CW et al (1994) Recommendations for the characterization of porous solids (Technical Report). Pure Appl Chem 66:1739–1758

Rowell RM (2012) Handbook of wood chemistry and wood composites. CRC Press, Boca Raton

Rozli Z, Zulkarnain Z (2010) Noise control using coconut coir fiber sound absorber with porous layer backing and perforated panel. Am J Appl Sci 7:260–264

Sharma S, Shukla S, Sethy A (2020) Acoustical behaviour of natural fibres-based composite boards as sound-absorbing materials. J Indian Acad Wood Sci 17:66–72

Sheikh P, Uhl C (2004) Airplane noise: a pervasive disturbance in Pennsylvania Parks, USA. J Sound Vib 274:411–420

Stansfeld SA, Matheson MP (2003) Noise pollution: non-auditory effects on health. Br Med Bull 68:243–257

Taghiyari H, Zolfaghari H, Sadeghi M, Esmailpour A, Jaffari A (2014) Correlation between specific gas permeability and sound absorption coefficient in solid wood. J Trop for Sci 26:92–100

Wang D, Peng L, Zhu G, Fu F, Zhou Y, Song B (2014) Improving the sound absorption capacity of wood by microwave treatment. BioResources 9:7504–7518

Wheeler E (1989) IAWA list of microscopic features for hardwood identification with an appendix on non-anatomical information. IAWA Bull 10:219–332

Wheeler EA (2011) Inside Wood–A web resource for hardwood anatomy. IAWA J 32:199–211

Yang T, Hu L, Xiong X, Petrů M, Noman MT, Mishra R, Militký J (2020a) Sound absorption properties of natural fibers: a review. Sustainability 12:8477

Yang W, He J, He C, Cai M (2020b) Evaluation of urban traffic noise pollution based on noise maps. Transp Res D Transp Environ 87:102516

Yu Z, Ni C, Tang M, Shen X (2018) Relationship between water permeability and pore structure of Portland cement paste blended with fly ash. Constr Build Mater 175:458–466
Acknowledgements
This research was supported by a grant from the Basic Science Research Program of the National Research Foundation of Korea (NRF), which is funded by the Ministry of Education (NRF-2019R1I1A3A02059471). It was supported a grant from the international cooperation program framework managed by the NRF of Korea (NRF-2020K2A9A2A08000181). Authors are also thankful to the ''The Business Startup Incubator Support Program'' supported by the Ministry of Education and National Research Foundation of Korea. This manuscript is a reorganization of Eun-Suk Jang's doctoral thesis from Jeonbuk National University.
Ethics declarations
Conflict of interest
The authors have no competing interests.
Additional information
Publisher's Note
Springer Nature remains neutral with regard to jurisdictional claims in published maps and institutional affiliations.
About this article
Cite this article
Jang, ES., Kang, CW. The pore structure and sound absorption capabilities of Homalium (Homalium foetidum) and Jelutong (Dyera costulata). Wood Sci Technol (2021). https://doi.org/10.1007/s00226-021-01336-z
Received:

Accepted:

Published: