Abstract
Multiwalled carbon nanotube (MWCNT) and cationic cellulose nanofibril (CCNF) were used to prepare electrothermal films. The mechanical properties, thermal stability, and electric heating performance were investigated by experimental testing and numerical analysis. The results showed that the MWCNT were well dispersed in CCNF matrix. Thermal stability of film was improved, and the maximum decomposition rate was reached at 318 °C. The electrical conductivity increases rapidly after the MWCNT content exceeds 20 wt%, and the electrical conductivity varied from 5.8 × 10−4 S cm−1 and 13.66 S cm−1 with 10–60 wt% MWCNT, the electrothermal films showed strong nonlinearity between I–V and P–V. For the film with 60 wt% MWCNT, the maximum electric power was 3.57 W. The maximum temperature was 93.4 °C and the temperature increased by 279.7% compared with 20% MWCNT content at an applied voltage of 12 V. The average characteristic growth time constant and heat transferred by radiation and convection were 37.24 s and 35.17 mW °C−1, respectively. Therefore, the electrothermal films have a shorter heating parameter and lower electric power consumption as well as excellent thermal cycling stability.
Access options
Buy single article
Instant access to the full article PDF.
US$ 39.95
Tax calculation will be finalised during checkout.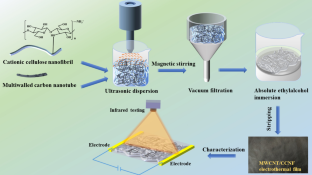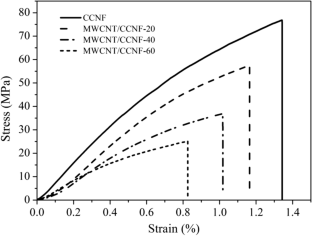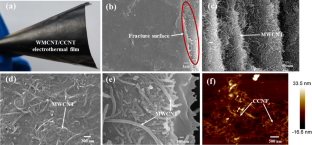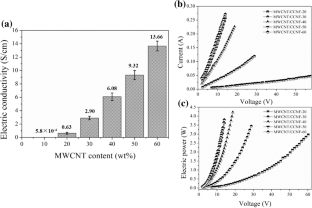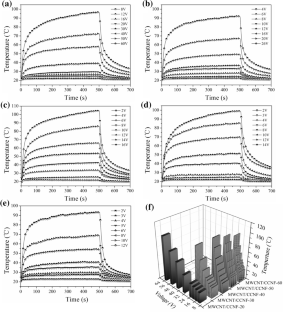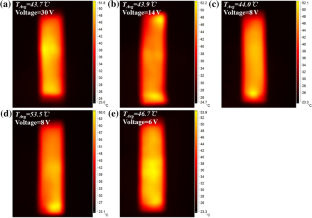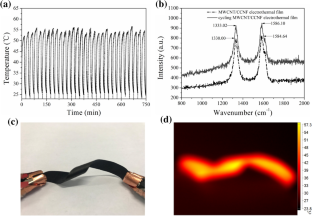 References
Bu Q, Zhan YH, He FF, Lavorgna M, Xia HS (2016) Stretchable conductive films based on carbon nanomaterials prepared by spray coating. J Appl Polym Sci 33(15):43243

Chen C, Wang Y, Meng TT et al (2019) Electrically conductive polyacrylamide/carbon nanotube hydrogel: reinforcing effect from cellulose nanofibers. Cellulose 26:8843–8851

Chu K, Kim D, Sohn Y, Lee S, Moon C, Park S (2013) Electrical and thermal properties of carbon–nanotube composite for flexible electric heating–unit applications. IEEE Electron Device Lett 34(5):668–670

EI-Tantawy F (2001) Joule heating treatments of conductive butyl rubber/ceramic superconductor composites: a new way for improving the stability and Reproducibility. Eur Polym J 37(3):565–574

Feng C, Liu K, Wu JS, Liu L (2010) Flexible, stretchable, transparent conducting films made from superaligned carbon nanotubes. Adv Funct Mater 20(6):885–891

Janas D, Koziol KK (2013) Rapid electrothermal response of high–temperature carbon nanotube film heaters. Carbon 59(4):457–463

Janas D, Koziol KK (2014) A review of production methods of carbon nanotube and graphene thin films for electrothermal applications. Nanoscale 6(6):3037–3045

Jeon GW, Jeong YG (2013) Electric heating films based on m–aramid nanocomposites containing hybrid fillers of graphene and carbon nanotube. J Mater Sci 48(11):4041–4049

Kim H, Lee S, Kim H (2019a) Electrical heating performance of electro–conductive para–aramid knit manufactured by dip–coating in a graphene/waterborne polyurethane composite. Sci Rep 9(1):1511

Kim M, Lee TW, Park SM, Jeong YG (2019b) Structures, electrical and mechanical properties of epoxy composites reinforced with MWCNT–coated basalt fibers. Compos Part A-Appl S 123:123–131

Kong K, Deka BK, Kim M et al (2014) Interlaminar resistive heating behavior of woven carbon fiber composite laminates modified with ZnO nanorods. Compos Sci Technol 100:83–91

Lee TW, Jeong YG (2015) Regenerated cellulose/multiwalled carbon nanotube composite films with efficient electric heating performance. Carbohydr Polym 133:456–463

Lee TW, Lee SE, Jeong YG (2016) Carbon nanotube/cellulose papers with high performance in electric heating and electromagnetic interference shielding. Compos Sci Technol 131:77–87

Lei DY, Ko TH, Yang JY et al (2019) Flexible high–temperature sheet–type electric heaters using m–aramid/functionalized MWCNTs hybrid nanofiber composites. Compos Part B-Eng 166:41–47

Lsaji S, Bin Y, Mstsuo M (2009) Electrical conductivity and self–temperature–control heating properties of carbon nanotubes filled polyethylene films. Polymer 50(4):1046–1053

Lu PB, Cheng F, Ou YH et al (2017) A flexible and transparent thin film heater based on a carbon fiber/heat–resistant cellulose composite. Compos Sci Technol 153:1–6

Luo J, Lu HF, Zhang QC et al (2016) Flexible carbon nanotube/ polyurethane electrothermal films. Carbon 110:343–349

Rao R, Wang HF, Wang HH, Tuan CY, Ye M (2019) Models for estimating the thermal properties of electric heating concrete containing steel fiber and graphite. Compos Part B-Eng 164:116–120

Sun HY, Chen D, Ye C et al (2018) Large–area self–assembled reduced graphene oxide/electrochemically exfoliated graphene hybrid films for transparent electrothermal heaters. Appl Surf Sci 435:809–914

Tang P, Zhang R, Shi R, Bin YZ (2015) Synergetic effects of carbon nanotubes and carbon fibers on electrical and self–heating properties of high–density polyethylene composites. J Mater Sci 50(4):1565–1574

Wang M, Anoshkin IV, Nasibulin AG et al (2016a) Electrical behaviour of native cellulose nanofibril/ carbon nanotube hybrid aerogels under cyclic compression. RSC Adv 6(92):89051–89056

Wang YD, Jiang HQ, Tao YF et al (2016b) Polypyrrole/poly(vinylalcohol–co–ethylene) nanofiber composites on polyethylene terephthalate substrate as flexible electric heating element. Compos Part A-Appl S 81:234–242

Wang FX, Liang WY, Wang ZQ, Yang B, He L, Zhang K (2018) Preparation and property investigation of multi–walled carbon nanotube (MWCNT)/epoxy composite films as high–performance electric heating (resistive heating) element. eXPRESS Polym Lett 12(4):285–295

Wang FX, Zhang K, Liang WY, Wang ZQ, Yang B (2019) Experimental and analytical studies on the flexible, low–voltage electrothermal film based on the multi–walled carbon nanotube/polymer nanocomposite. Nanotechnology 30(6):065704

Wu ZP, Wang JN (2010) Preparation of large–area double–walled carbon nanotube films and application as film heater. Physica 42(1):77–81

Yan J, Jeong YG (2014) Multiwalled carbon nanotube/polydimethylsiloxane composite films as high performance flexible electric heating elements. Appl Phys Let 105(5):051907

Yoon YH, Song JW, Kim D et al (2010) Transparent film heater using single–walled carbon nanotubes. Adv Mater 19(23):4282–4287

Zeng ZH, Jin H, Zhang LP et al (2015) Low–voltage and high–performance electrothermal actuator based on multi–walled carbon nanotube/polymer composites. Carbon 84:327–334

Zheng QF, Cai ZY, Ma ZQ, Gong SQ (2015) Cellulose nanofibril/reduced graphene oxide/carbon nanotube hybrid aerogels for highly flexible and all–solid–state supercapacitors. ACS Appl Mater Interfaces 7(5):3263–3271
Acknowledgements
This research was financially supported by the National Natural Science Foundation of China (No. 32071705) and the Special Fund of the Chinese Central Government for Basic Scientific Research Operations in Commonwealth Research Institutes (No. CAFYBB2016MB001).
Ethics declarations
Conflicts of interest
There are no conflicts of interest.
Additional information
Publisher's Note
Springer Nature remains neutral with regard to jurisdictional claims in published maps and institutional affiliations.
About this article
Cite this article
Liang, S., Wang, H. & Tao, X. Multiwalled carbon nanotube/cationic cellulose nanofibril electrothermal films: mechanical, electrical, electrothermal, and cycling performances. Wood Sci Technol (2021). https://doi.org/10.1007/s00226-021-01326-1
Received:

Accepted:

Published: