Abstract
The differences of total phenolic content (TPC), total flavonoid content (TFC), photosynthetic pigment, organic acids and antioxidant activity in Norway spruce (Picea abies (L.) H. Karst) needle extracts were determined to compare different half-sib spruce families' chemical backgrounds and the abilities to synthesize biologically active compounds and antioxidant activity for potential pharmaceutical and nutraceutical use. Spectrophotometric analysis showed that the highest TPC was found in needle extracts of half-sib family 599 (38.7 mg g−1). The needle extracts of family 548 had the highest TFC (797.7 mg g−1). The highest concentration of chlorophyll a (chl a), chlorophyll b (chl b) and carotenoids was determined in the needle extracts of Norway spruce families 541 (0.651 mg g−1, 0.386 mg g−1 and 0.235 mg g−1, respectively) and 463 (0.655 mg g−1, 0.383 mg g−1 and 0.227 mg g−1, respectively). Using HPLC analysis, the highest concentrations of vitamin C and folic acid were determined in needle extracts of family 541 (16.93 mg g−1 and 0.02 mg g−1, respectively), the highest concentrations of malic and succinic acids were found in 463 (0.95 mg g−1 and 3.09 mg g−1, respectively), the highest concentration of oxalic acid was identified in needle extracts of family 599 (0.50 mg g−1), and the highest concentration of citric acid was found in needle extracts of family 577 (0.68 mg g−1).
Access options
Buy single article
Instant access to the full article PDF.
US$ 39.95
Tax calculation will be finalised during checkout.
Subscribe to journal
Immediate online access to all issues from 2019. Subscription will auto renew annually.
US$ 119
Tax calculation will be finalised during checkout.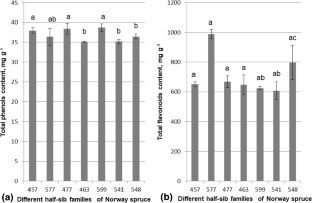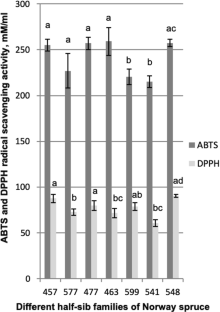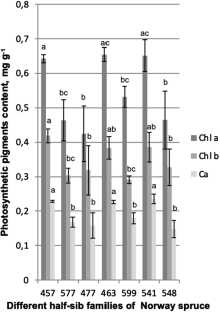 References
Albertsson PA, Kohnke R, Emek SC, Mei J, Rehfeld JF, Akerlund HE, Erlanson-Albertsson C (2007) Chloroplast membranes retard fat digestion and induce satiety. Effect of biological membranes on pancreatic lipase/co-lipase. Biochem 401(3):727–733. https://doi.org/10.1042/BJ20061463

Alexieva V, Avanon S, Sergiev I, Karanov E (2003) Interaction between stresses. Bulg J Plant Physiol (Special Issue) 1–17

Aryal S, Baniya M, Danekhu K, Kunwar P, Eoshani G, Koirala N (2019) Total phenolic content, flavonoid content and antioxidant potential of wild vegetables from western Nepal. Plants 8(4):96. https://doi.org/10.3390/plants8040096

Bailly M (2002) Production of organic acids by bipolar electrodialysis: realizations and perspectives. Desalination 144:157–162. https://doi.org/10.1016/S0011-9164(02)00305-3

Brul S, Coote P (1999) Preservative agents in foods. Mode of action and microbial resistance mechanisms. Int J Food Microbiol 50:1–17. https://doi.org/10.1016/s0168-1605(99)00072-0

Carbonneau MA, Leger CL, Descomps B, Michel Fand Monnier L (1998) Improvement in the antioxidant status of plasma and low-density lipoprotein in subjects receiving a redwine phenolics mixture. J Am Oil Chem Soc 75:235–240. https://doi.org/10.1007/s11746-998-0036-5

Dedrie M, Jacquet N, Bombeck PL, Hébert J, Richel A (2015) Oak barks as raw materials for the extraction of polyphenols for the chemical and pharmaceutical sectors: a regional study. Ind Crop Prod 70:316–321. https://doi.org/10.1016/j.indcrop.2015.03.071

Djeridane A, Yousfi M, Nadjemi B, Boutassouna D, Stocher P, Vidal N (2006) Antioxidant activity of some Algerian medicinal plants extracts containing phenolic compounds. Food Chem 97(4):654–660. https://doi.org/10.1016/j.foodchem.2005.04.028

Dróżdż P, Pyrzynska K (2019) Extracts from pine and oak barks: phenolics, minerals and antioxidant potential. Int J Environ Anal Chem 101(4):464–472. https://doi.org/10.1080/03067319.2019.1668381

Dudonne S, Vitrac X, Coutiere P, Woilezz M, Merillon J (2009) Comparative study of antioxidant properties and total phenolic content of 30 plant extracts of industrial interest using DPPH, ABTS, FRAP, SOD, and ORAC assays. J Agric Food Chem 57(5):1768–1774. https://doi.org/10.1021/jf803011r

Fernandes CJ, O'Donovan D (2005) Natural antioxidant therapy for patients with hemolytic anemia. Indian Pediatr 42:618–620

Ferreira JPA, Miranda I, Gominho J, Pereira H (2015) Selective fractioning of Pseudotsuga menziesti bark and chemical characterization in view of an integrated valorization. Ind Crop Prod 74:998–1007. https://doi.org/10.1016/j.indcrop.2015.05.065

Fkiri S, Menzi F, Ghazhazi H, Khouja M, Khaldi A, Nasr Z (2018) Antioxidants and chlorophyll in Pinus pinaster Arn. Needles Int J Food Sci Nutr 3(1):176–179

French D (2017) Organic acid analysis. Adv Clin Chem 79:153–198. https://doi.org/10.1016/bs.acc.2016.09.003

Gismondi A, Di Marco G, Canuti L, Canini A (2017) Antiradical activity of phenolic metabolites extracted from grapes of white and red Vitis vinifera L. cultivars. Vitis 56:19–26. https://doi.org/10.5073/vitis.2017.56.19-26

Govindarajan R, Vijavakumar M, Pushpangadan P (2005) Antioxidant approach to disease management and the role of 'Rasayana' herbs of Ayurveda. J Ethnopharmacol 99:165–178. https://doi.org/10.1016/j.jep.2005.02.035

Huber M, Rembiałkowska E, Srednická D, Bügel S, van de Vijver LPL (2011) Organic food and impact on human health: assessing the status quo and prospects of research. NJAS—Wageningen J Life Sci 58:103–109. https://doi.org/10.1016/j.njas.2011.01.004

Impei S, Gismondi A, Canuti L, Canini A (2015) Metabolic and biological profile of autochthonous Vitis vinifera L. ecotypes. Food Funct 6:1526–1538. https://doi.org/10.1039/C5FO00110B

Iravani S, Zolfaghari B (2011) Pharmaceutical and nutraceutical effects of Pinus pinaster bark extract. Int J Pharm Sci Res 6(1):1–11

José-María L, Blanco-Moreno JM, Armengot L, Sans FX (2011) How does agricultural intensification modulate changes in plant community composition? Agric Ecosyst Environ 145:77–84. https://doi.org/10.1016/j.agee.2010.12.020

Jyske T, Järvenpää E, Kunnas S, Sarjala T, Raitanen JE, Mäki M, Pastell H, Korpinen R, Kaseva J, Tupasela T (2020) Sprouts and needles of Norway spruce (Picea abies (L.) Karst.) as Nordic specialty—consumer acceptance, stability of nutrients, and bioactivities during storage. Molecules 25(4187):1–23. https://doi.org/10.3390/molecules25184187

Kähkönen MP, Hopia AI, Vuorela H, Rauha JP, Pihlaja K, Kujala ATS, Heinonen M (1999) Antioxidant activity of plant extracts containing phenolic compounds. J Agric Food Chem 47:3954–3962. https://doi.org/10.1021/jf990146l

Karapandzova M, Stefkov G, Karanfilova I, Penovska T, Stanoeva J, Stefova M, Kulenova S (2018) Chemical Characterization and Antioxidant Activity of Mountain Pine (Pinus mugo Turra, Pinaceae) from Republic of Macedonia. Rec Nat Prod 13(1):50–63. https://doi.org/10.25135/rnp.73.18.02.233

Kohnke R, Lindbo A, Larsson T, Lindqvist A, Rayner M, Emek SC (2009) Thylakoids promote release of the satiety hormone cholecystokinin while reducing insulin in healthy humans. Scand J Gastroenterol 44(6):712–719. https://doi.org/10.1080/00365520902803499

Kurlbaum M, Högger P (2011) Plasma protein binding of polyphenols from maritime pine bark extract (USP). J Pharm Biomed Anal 54(1):127–132. https://doi.org/10.1016/j.jpba.2010.07.038

Luethy-Krause B, Pfenninger I, Landolt W (1990) Effects of ozone on organic acids in needles of Norway spruce and Scots pine. Tress 4(4):198–204. https://doi.org/10.1007/BF00225316

Ma D, Li Y, Zhang J, Wang C, Qin H, Ding H, Xie Y, Guo T (2016) Accumulation of phenolic compounds and expression profiles of phenolic acid biosynthesis-related genes in developing grains of white, purple, and red wheat. Front Plant Sci 7:528. https://doi.org/10.3389/fpls.2016.00528

Marčiulynas A, Sirgedaitė-Šėžienė V, Žemaitis P, Baliuckas V (2019) The resistance of Scots pine (Pinus sylvestris L.) half-sib families to Heterobasidion annosum. Forests 10(3):287. https://doi.org/10.3390/f10030287

McQuistan TJ, Simonich MT, Pratt MM, Pereira CB, Hendricks JD, Dashwood RH, Williams DE, Bailey GS (2013) Cancer chemoprevention by dietary chlorophylls: A 12,000- animal dose-dose matrix biomarker and tumor study. Food Chem Toxicol 50(2):341–352. https://doi.org/10.1016/j.fct.2011.10.065

Metsämuuronen S, Sirén H (2019) Bioactive phenolic compounds, metabolism and properties: a review on valuable chemical compounds in Scots pine and Norway spruce. Phytochem 18:623–664. https://doi.org/10.1007/s11101-019-09630-2

Mikkonen H, Myllykoski L, Pongrácz E, Keiski RL (2005) Resources use optimization in small-and medium-sized juice plants in Northern Finland: a novel, waste-free utilization of annual shoots of Norway spruce. In: Pongrácz E (ed.) Proceedings of the Waste minimization and Resources Use Optimization Conference 31:59–68. https://www.researchgate.net/publication/240631203

Montelius C, Erlandsson D, Vitija E, Stenblom EV, Egecioglu E, Erlanson-Albertsson C (2014) Body weight loss, reduced urge for palatable food and increased release of GLP-1 through daily supplementation with green-plant membranes for three months in overweight women. Europe PMC 81:295–304. https://doi.org/10.1016/j.appet.2016.03.024

Muller-Riebau F, Berger B, Yegen O, Cakir C (1997) Seasonal variations in the chemical compositions of essential oils of selected aromatic plants growing wild in Turkey. J Agric Food Chem 45:4821–5825. https://doi.org/10.1021/jf970110y

Nwokeji PA, Fnodiana OI, Ezenweani SR, Osaro-Itota O, Akatah HA (2016) The Chemistry of natural product: plant secondary metabolites. Int J Technol Enhanc Merg Eng Res 4(8):1–7. https://doi.org/10.3390/ma11060940

Oliva J, Romeralo C, Stenlid J (2011) Accuracy of the Rotfinder instrument in detecting decay on Norway spruce (Picea abies) trees. For Ecol Manage 262(8):1378–1386. https://doi.org/10.1016/j.foreco.2011.06.033

Oliveira AP, Pereira JA, Andrade P, Silva BM (2008) Organic acid composition of Cydonia oblonga Miller leaf. Food Chem 111(2):393–399. https://doi.org/10.1016/j.foodchem.2008.04.004

OuYang F, Ou Y, Zhu T, Ma J, An S, Zhao J, Wang J, Kong L, Zhang H, Tigabu M (2021) Growth and physiological responses of Norway spruce (Picea abies (L.) H. Karst) supplemented with monochromatic red. Blue Far-Red Light for 12(164):1–16. https://doi.org/10.3390/f12020164

Papageorgiou AC, Kostoudi C, Sorotos I, Varsamis G, Korakis G, Drouzas AD (2015) Diversity in needle morphology and genetic markers in a marginal Abies cephalonica (Pinaceae) population. Ann For Sci 58(2):217–234. https://doi.org/10.15287/afr.2015.410

Popa VI (2015) Wood bark as valuable raw material for compounds with biological activity. Celul Şi Hârtie 64(4):5–17

Radulescu V, Saviuc C, Chifiriuc C, Oprea E, Ilies DC, Marutescu L, Lazar V (2011) Chemical composition and antimicrobial activity of essential oil from shoots spruce (Picea abies L). Rev. Chim 62(1):69–74. https://www.researchgate.net/publication/267033925

Radulescu V, Ilies D-C, Voiculescu I, Iovu-Adrian B, Craciunescu A (2013) Determination of ascorbic acid in shoots from different coniferous species by HPLC. Farmacia 61:1158–1166

Ragaee S, Abdel-Aal ES, Noaman M (2006) Antioxidant activity and nutrient composition of selected cereals for food use. Food Chem 98(1):32–38. https://doi.org/10.1016/j.foodchem.2005.04.039

Ricke SC (2003) Perspectives on the use of organic acids and short chain fatty acids as antimicrobials. Poult Sci J 82:632–639. https://doi.org/10.1093/ps/82.4.632

Rieksts-Riekstins J, Jansons A, Smilga J, Baumanis I, Ray D, Connolly T (2014) Climate suitability effect on tree growth and survival for Scots pine provenances in Latvia. Proceedings of the 20th international scientific conference research for rural development 2:57–62. Jelgava, Latvia

Routa J, Brännström H, Anttila P, Mäkinen M, Jänis J, Asikainen A (2020) Wood extractives of Finnish Pine, spruce and birch—availability and optimal sources of compounds—a literature review. Natural Resources and Bioeconomy Studies, Finland, Helsinki

Serafini M, Maiani G, Ferro-Luzzi A (1998) Alcohol-free redwine enhances plasma antioxidant capacity in humans. J Nutr 128:1003–1007. https://doi.org/10.1093/jn/128.6.1003

Shah S, Houborg R, Mccabe M (2017) Response of chlorophyll, carotenoid and SPAD-502 measurement to salinity and nutrient stress in wheat (Triticum aestivum L.). Agron J 7(61):1–21. https://doi.org/10.3390/agronomy7030061

Shrestha P, Dhilion S (2006) Diversity and traditional knowledge concerning wild food species in a locally managed forest in Nepal. Agrofor Syst 66:55–63. https://doi.org/10.1007/s10457-005-6642-4

Slinkard K, Singleton VL (1977) Total phenol analysis: automation and comparison with manual methods. Am J Enol Vitic 28:49–55

Solovchenko A, Chivkunova B, Merzlyak M, Gudkovsky V (2005) Relationships between chlorophyll and carotenoid pigments during on- and off-tree ripening of apple fruit as revealed non-destructively with reflectance spectroscopy. Postharvest Biol Technol 38:9–17. https://doi.org/10.1016/j.postharvbio.2005.05.004

Soukupová J, Rock B, Albrechrova J (2000) Comparative study of two spruce species in a polluted mountainous region. New Phytol 150:133–145. https://doi.org/10.1046/j.1469-8137.2001.00066.x

Stenblom EL, Montelius C, Östbring K, Håkansson M, Nilsson S, Rehfeld JF, Erlanson-Albertsson C (2013) Supplementation by thylakoids to a high carbohydrate meal decreases feelings of hunger, elevates CCK levels and prevents postprandial hypoglycaemia in overweight women. Appetite 68:118–123. https://doi.org/10.1016/j.appet.2013.04.022

Tamblyn KC, Conner DE (1997) Bactericidal activity of organic acids against Salmonella typhimurium attached to broiler chicken skint. J Food Prot 60(6):629–633. https://doi.org/10.4315/0362-028X-60.6.629

Tanase C, Cosarca S, Muntean D (2019) A critical review of phenolic compounds extracted from the bark of woody vascular plants and their potential biological activity. Molecules 24(6):1182. https://doi.org/10.3390/molecules24061182

Theron MM, Lues JFR (2007) Organic acid and meat preservation: a review. Food Rev Int 23:141–158

Theron MM, Lues JFR (2010) Organic acids and food preservation. Chapter one: introduction. CRC Press, Boca Raton, USA

Thor W, Stenlid J (2007) Heterobasidion annosum infection of Picea abies following manual or mechanized stump treatment. Scand J for Res 20(2):154–164. https://doi.org/10.1080/02827580510008338

Tomášková I, Pastierovič F, Krejzková A, Čepl J, Hradecký J (2021) Norway spruce ecotypes distinguished by chlorophyll a fuorescence kinetics. Acta Physiol Plant 43(24):1–6. https://doi.org/10.1007/s11738-020-03190-1

Wang Y, Wang J, Chang W, Zhao Z, Cao J (2014) HPLC method for the simultaneous quantification of the major organic acids in Angeleno plum fruit. Mater Sci Eng A 65:1–6. https://doi.org/10.1088/1757-899X/62/1/012035

Werkelin J, Lindberg D, Boström D, Skrifvars BJ, Hupa M (2011) Ash-forming elements in four Scandinavian wood species part 3: combustion of five spruce samples. Biomass Bioenergy 35(12):725–733. https://doi.org/10.1016/j.biombioe.2010.10.010

Wettstein D (1957) Chlorophyll-letale und der submikroskopische Formwechsel der Plastiden. (Chlorophyll lethal and the submicroscopic shape change of plastids) (In German). Exp Cell Res 12(3):427–506. https://doi.org/10.1016/0014-4827(57)90165-9

Xiao F, Xu T, Lu B, Liu R (2020) Guidelines for antioxidant assays for food components. Food Front 1:60–69. https://doi.org/10.1002/fft2.10
Ethics declarations
Conflict of interest
On behalf of all authors, the corresponding author states that there are no conflicts of interest.
Additional information
Publisher's Note
Springer Nature remains neutral with regard to jurisdictional claims in published maps and institutional affiliations.
About this article
Cite this article
Lučinskaitė, I., Laužikė, K., Žiauka, J. et al. Assessment of biologically active compounds, organic acids and antioxidant activity in needle extracts of different Norway spruce (Picea abies (L.) H. Karst) half-sib families. Wood Sci Technol 55, 1221–1235 (2021). https://doi.org/10.1007/s00226-021-01322-5
Received:

Accepted:

Published:

Issue Date: