Abstract
The exhausting fast pace of life in modern urban society is leading to overwhelming stress and diminished cognitive alertness. Moreover, people are spending more and more time indoors due to building densification and urban lifestyle. Therefore, indoor environments that can promote positive psychological perception will become more important. Use of wood in indoor settings and its health benefits are currently receiving increased attention from design and research communities. In this work, a comparative study was conducted on the different degrees of wood use in indoor spaces. The results show that the effect of the physical attributes of degree of wood use, wood coverage and change of wood surface (different type and application position of wood) on the visual psychological responses (visual attention and psychological impression) of wooden indoor spaces were significant. The wooden indoor spaces with medium degree of wood use were easier to get more visual attention and were more helpful to give people the psychological impression of naturalness, warmth, relaxation, and desire to use. In addition, the results also show that when considering the influence of change of wood surface, people tended to pay more attention to indoor spaces with relatively high wood coverage and preferred the experiences in such spaces. The change of wood surface was an all-important aspect that needs to be considered on top of wood coverage. These results provided guidance for the design of healthy indoor environments.
Access options
Buy single article
Instant access to the full article PDF.
US$ 39.95
Tax calculation will be finalised during checkout.
Subscribe to journal
Immediate online access to all issues from 2019. Subscription will auto renew annually.
US$ 119
Tax calculation will be finalised during checkout.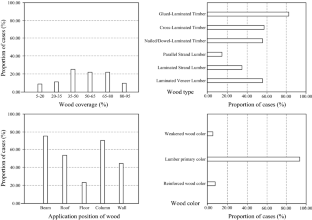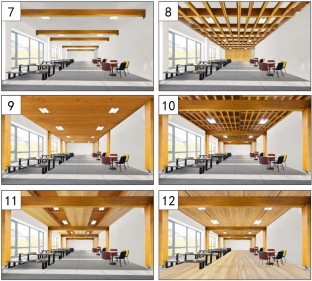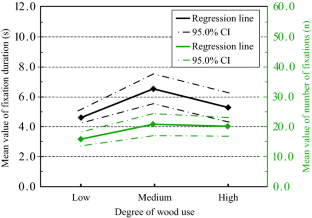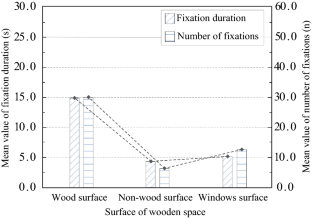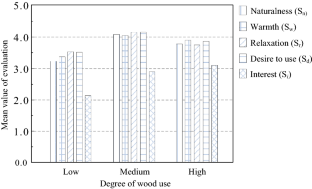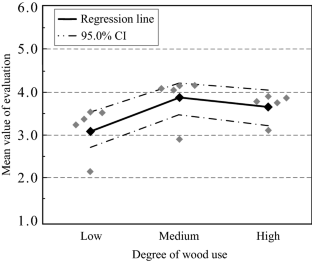 References
Andreassi JL (2010) Psychophysiology: human behavior and physiological response, 5th ed. Lawrence Erlbaum, Hillsdale, p 538

Antonides G (2017) Sustainable consumer behaviour: a collection of empirical studies. Sustainability 9:1686

Balcombe KG, Fraser I, Mcsorley E (2013) Visual attention and attribute attendance in multi-attribute choice experiments. J Appl Econom. https://doi.org/10.1002/jae.2383

Balling JD, Falk JH (1982) Development of visual preference for natural environments. Environ Behav 14(1):5–28

Bamba I, Azuma K (2015) Psychological and physiological effects of Japanese cedar indoors after calculation task performance. J Hum Environ Syst 18(2):33–41. https://doi.org/10.1618/jhes.18.33

Beatley T (2012) Green urbanism: learning from European cities. Island press. Washington, D.C Covelo, California, p 491

Blomgren GW (1965) The psychological image of wood. For Prod J 15:149–151

Broman NO (2001) Aesthetic properties in knotty wood surfaces and their connection with people's preferences. J Wood Sci 47(3):192–198. https://doi.org/10.1007/BF01171221

Broman NO (1996) Two methods for measuring people's preferences for Scots pine wood surfaces: a comparative multivariate analysis. Mokuzai Gakkaishi 42(2):130–139

Broman NO (1995) Visual impressions of features in Scots pine wood surfaces: a qualitative study. For Prod J 45(3):61–66

Burnard MD, Nyrud AQ, Bysheim K, Kutnar A, Vahtikari K, Hughes M (2017) Building material naturalness: perceptions from Finland, Norway and Slovenia. Indoor Built Environ 26:92–107. https://doi.org/10.1177/1420326X15 605162

Burnard MD, Kutnar A (2020) Human stress responses in office-like environments with wood furniture. Build Res Inf 2:1–15

Burnard MD, Kutnar A (2015) Wood and human stress in the built indoor environment: a review. Wood Sci Technol 49(5):969–986. https://doi.org/10.1007/s00226-015-0747-3

Cronhjort Y, Tulamo T, Verma I, Zubillaga L (2017) Interior design and care environments end-user perceptions of wood material. In: Wood2New competitive wood-based interior materials and systems for wood construction. Aalto University, Espoo, Finland

Campbell BL, Behe BK, Khachatryan H et al (2014) Incorporating eye-tracking technology and conjoint analysis to better understand the green industry consumer. HortScience 49(12):1550–1557. https://doi.org/10.21273/HORTSCI.49.12.1550

Fell DR (2010) Wood in the human environment: restorative properties of wood in the built indoor environment. PhD thesis, The University of British Columbia, Vancouver, BC, Canada

Fujisaki W, Tokita M, Kariya K (2015) Perception of the material properties of wood based on vision, audition, and touch. Vis Res 109(Part B, Sp. Iss. SI):185–200. https://doi.org/10.1016/j.visres.2014.11.020

Gerilla GP, Teknomo K, Hokao K (2007) An environmental assessment of wood and steel reinforced concrete housing construction. Build Environ 42(7):2778–2784. https://doi.org/10.1016/j.buildenv.2006.07.021

Guoli Y, Jianping X, Chuanli Z, Lili Y, Lei C, Xuejun B (2013) Review of eye-movement measures in reading research. Adv Psychol Sci 21(4):589–605

Head M, Levasseur A, Beauregard R, Margni M (2020) Dynamic greenhouse gas life cycle inventory and impact profiles of wood used in Canadian buildings. Build Environ 173:106751. https://doi.org/10.1016/j.buildenv.106751

Hib O, Nyrud AQ (2010) Consumer perception of wood surfaces: the relationship between stated preferences and visual homogeneity. J Wood Sci 56(4):276–283. https://doi.org/10.1007/s10086-009-1104-7

Jafarian H, Demers CM, Blanchet P, Laundry V (2018) Effects of interior wood finishes on the lighting ambiance and materiality of architectural spaces. Indoor Built Environ 27(6):786–804. https://doi.org/10.1177/1420326X17690911

Jiménez P, Dunkl A, Eibel K, Denk E, Grote V, Kelz C, Moser M (2016) Wood or laminate? Psychological research of customer expectations. Forests 7(11):275. https://doi.org/10.3390/f7110275

Jonsson O, Lindberg S, Roos A, Mårten H, Mikael L (2008) Consumer perceptions and preferences on solid wood, wood-based panels, and composites: a repertory grid study. Wood Fiber Sci J Soc Wood Sci Technol 40(4):663–678. https://doi.org/10.1007/s10086-008-0969-1

Kaplan S (1987) Aesthetics, affect, and cognition: environmental preference from an evolutionary perspective. Environ Dev 19(1):3–32. https://doi.org/10.1177/0013916587191001

Kaplan R, Kaplan S (1989) The experience of nature: a psychological perspective. CUP Archive

Lau SSY, Gou Z, Liu Y (2014) Healthy campus by open space design: approaches and guidelines. Front Archit Res 3(4):452–467. https://doi.org/10.1016/j.foar.2014.06.006

Li J, Xu HP, Lam F, Zhang C (2020) An analyses of mass timber building design of the University of British Columbia. World Archit. https://doi.org/10.16414/j.wa.2020.11.007

Lipovac D, Podrekar N, Burnard MD, Šarabon N (2020) Effect of desk materials on affective states and cognitive performance. J Wood Sci 66(1):43. https://doi.org/10.1186/s10086-020-01890-3

Lipovac D, Burnard MD (2020) Effects of visual exposure to wood on human affective states, physiological arousal and cognitive performance: a systematic review of randomized trials. Indoor Built Environ p 1420326X2092743

Lindal PJ, Hartig T (2013) Architectural variation, building height, and the restorative quality of urban residential streetscapes. J Environ Psychol 33:26–36. https://doi.org/10.1016/j.jenvp.2012.09.003

Manuel A, Leonhart R, Broman O et al (2015) Consumers' perceptions and preference profiles for wood surfaces tested with pairwise comparison in Germany. Ann for Sci 72(6):741–751. https://doi.org/10.1007/s13595-014-0452-7

Masuda M (2004) Why wood is excellent for interior designing? From vision physical point of view. In: Proceedings of the 8th world conference on timber engineering, Lahti, Finland, pp 101–106

Masuda M, Nakamura M (1990) The wood ratio in interior space and the psychological images (II). Bull Kyoto Univ for 62:297–303

Masuda M, Yamamoto N (1988) The wood ratio in interior space and the psychological images. Bull Kyoto Univ for 60:285–298

Mohtashami N, Mahdavinejad M, Bemanian M (2016) Contribution of city prosperity to decisions on healthy building design: a case study of Tehran. Front Archit Res 5(3):319–331. https://doi.org/10.1016/j.foar.2016.06.001

Nakamura M, Kondo T (2008) Quantification of visual inducement of knots by eye-tracking. J Wood Sci 54:22–27. https://doi.org/10.1007/s10086-018-1777-x

Nyrud A, Bysheim K, Bringslimark T (2010) Health benefits from wood interiors in a hospital room. In: Proceedings of the International Convention of Society of Wood Science and Technology and United Nations Economic Commission for Europe, Geneva, Switzerland, October 11–14

Nyrud AQ, Bringslimark T, Bysheim K (2014) Benefits from wood interior in a hospital room: a preference study. Archit Sci Rev 57(2):125–131. https://doi.org/10.1080/00038628.2013.816933

Nyrud AQ, Bringslimark T (2010) Is interior wood use psychologically beneficial? A review of psychological responses toward wood. Wood Fiber Sci 42(2):202–218. https://doi.org/10.1007/s00468-009-0408-y

O'Connor J, Kozak R, Gaston C, Fell D (2004) Wood use in nonresidential buildings: opportunities and barriers. For Prod J 54(3):19–28

Peterson RA (2001) On the use of college students in social science research: insights from a second-order meta-analysis. J Consum Res 3:450–461

Rametsteiner E, Oberwimmer R, Gschwandtl I (2007) Europeans and wood: what do Europeans think about wood and its uses? A review of consumer and business surveys in Europe. Ministerial Conference on the Protection of Forests in Europe, Liaison Unit Warsaw, Poland

Rice J, Kozak RA, Meitner MJ, Cohen DH (2007) Appearance wood products and psychological well-being. Wood Fiber Sci 38:644–659

Rihn A, Khachatryan H, Campbell B, Hall C, Behe B (2016) Consumer preferences for organic production methods and origin promotions on ornamental plants: evidence from eye-tracking experiments. Agric Econ 47(6):599–608. https://doi.org/10.1111/agec.12258

Sa W, Yiang L (2018) Study on the making of Chinese classical gardens through eye movement experiment: depth of field and frame of scenery. New Archit 000(003):15–19. https://doi.org/10.12069/j.na.201803003

Sakuragawa S (2006) Change in the impression of rooms with interior wood finishes arranged differently: questionnaire survey with the use of photographs for the analysis of impressions of rooms concerning living activities. J Wood Sci 52(4):290–294. https://doi.org/10.1007/s10086-005-0764-1

Spetic W, Kozak R, Cohen D (2007) Perceptions of wood flooring by Canadian householders. Forest Prod J 57(6):34–38. https://doi.org/10.1007/s10570-006-9101-0

Stamps AE III (2002) Entropy, visual diversity, and preference. J Gen Psychol 129(3):300–320. https://doi.org/10.1080/00221300209602100

Stamps AE III (1990) Use of photographs to simulate environments: a meta-analysis. Percept Mot Skills 71(3):907–913

Stamps AE III (2010) Use of static and dynamic media to simulate environments: a meta-analysis. Percept Mot Skills 111(2):355–364

Tsunetsugu Y, Miyazaki Y, Sato H (2007) Physiological effects in humans induced by the visual stimulation of room interiors with different wood quantities. J Wood Sci 53:11–16. https://doi.org/10.1007/s10086-006-0812-5

Tsunetsugu Y, Miyazaki Y, Sato H (2005) Visual effects of interior design in actual-size living rooms on physiological responses. Build Environ 40(10):1341–1346. https://doi.org/10.1016/j.buildenv.2004.11.026

Tsunetsugu Y, Miyazaki Y, Sato H (2002) The visual effects of wooden interiors in actual-size living rooms on the autonomic nervous activities. J Physiol Anthropol Appl Hum Sci 21(6):297. https://doi.org/10.2114/jpa.21.297

Ulrich RS (1983) Aesthetic and affective response to natural environment. In: Altman I, Wohlwill JF (eds) Behavior and natural environments. Plenum Press, New York, pp 85–125

Watchman M, Potvin A, Demers C (2016) Wood and comfort: a comparative case study of two multifunctional rooms. BioResources 12(1):168–182. https://doi.org/10.15376/biored.12.1.168-182

Wästlund E, Shams P, Löfgren M, Witell L, Gustafsson A (2012) Consumer perception at point of purchase: evaluating proposed package designs in an eye-tracking lab. J Bus Retail Manag Res 5(1):42–51

Xu HP, Li J, Li MX, Wu JM, Liu AL (2018) A statistics-based study on wood presentation of interior spaces. In: Proceedings of WCTE 2018—world conference on timber engineering, MAT-P-43, 172

Xu HP, Li J, Wu JM, Kang J (2019) Evaluation of wood coverage on building facades towards sustainability. Sustainability 11(5):1407. https://doi.org/10.3390/su11051407

Xuejun B, Zhun G, Haibo Y, Jin T (2008) The effect of the position and content-relative on web-ads: an eye movement study. Chin J Appl Psychol 014(003):208–212

Zhang X, Lian Z, Ding Q (2016) Investigation variance in human psychological responses to wooden indoor environments. Build Environ 109:58–67. https://doi.org/10.1016/j.buildenv.2016.09.014
Acknowledgements
This research was funded by China Scholarship Council (No. 201906120534). The authors are thankful to Sini Chen at CCTN Design for the assistance with the experiments, and to Zhaoyan Cui (Nanjing Forestry University) and Mengxuan Li (Beijing Municipal Commission of Planning and Natural Resources) for their suggestions for this article. We would also like to thank the two anonymous reviewers for their valuable comments and suggestions. Furthermore, thankful to the research on the protection and inheritance of art forms in intangible cultural heritage of ethnic minorities in Heilongjiang basin for their support (No. 18MZB064).
Additional information
Publisher's Note
Springer Nature remains neutral with regard to jurisdictional claims in published maps and institutional affiliations.
About this article
Cite this article
Li, J., Wu, J., Lam, F. et al. Effect of the degree of wood use on the visual psychological response of wooden indoor spaces. Wood Sci Technol 55, 1485–1508 (2021). https://doi.org/10.1007/s00226-021-01320-7
Received:

Accepted:

Published:

Issue Date: