Abstract
Balsa and kapok fibers are by-products of community plantations. Both fibers have not been optimally utilized in Indonesia. The high holocellulose content and low lignin content of these fibers indicate the potential to be used as a nanocellulose raw material with a simple extraction. The objective of this study was to extract cellulose nanocrystals (CNCs) from balsa and kapok fibers through a direct extraction without pre-treatment. CNCs from balsa and kapok fibers were prepared by a one-step procedure with ammonium persulfate solution (APS) at concentrations of 1, 1.5, and 2 mol/L. The CNCs were characterized by determining their morphology, functional groups, crystallinity, and thermal stability using transmission electron microscopy, Fourier transform infrared spectroscopy, X-ray diffraction, and thermogravimetric analysis, respectively. The results showed that the diameter of the CNCs was in the range of 1.25–11.87 nm depending on the APS concentration and the fiber type. APS dissolved the lignin and hemicellulose, which led to an increase in the CNCs crystallinity with an increasing APS concentration. The decrease in the thermal stability of the CNCs was thought to be due to the increase in the surface area of the particles and the presence of carboxyl groups in the CNCs. This research revealed that balsa and kapok fibers could be used as raw materials to produce nanocellulose in one-step using ammonium persulfate.
Access options
Buy single article
Instant access to the full article PDF.
US$ 39.95
Tax calculation will be finalised during checkout.
Subscribe to journal
Immediate online access to all issues from 2019. Subscription will auto renew annually.
US$ 119
Tax calculation will be finalised during checkout.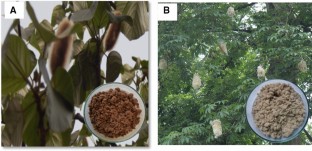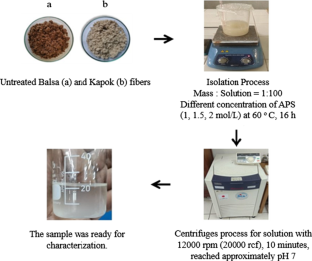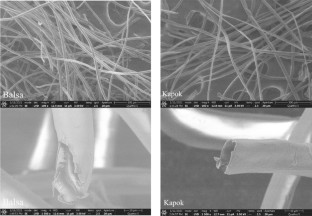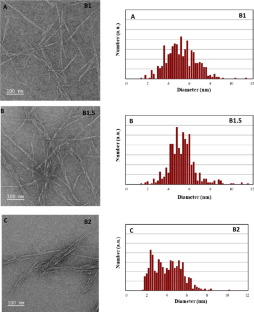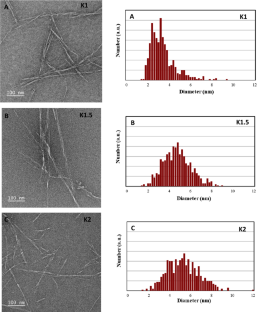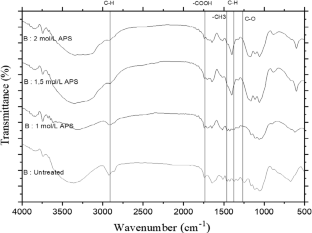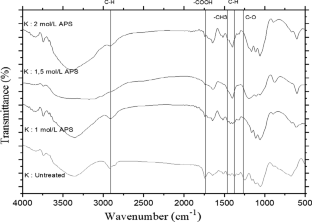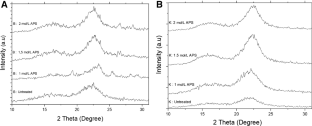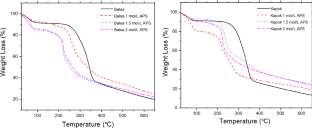 References
Abraham E, Deepa B, Pothan LA, Jacob M, Thomas S, Cvelbar U, Anandjiwala R (2011) Extraction of nanocellulose fibrils from lignocellulosic fibres: a novel approach. Carbohydr Polym 86(4):1468–1475

Abraham E, Deepa B, Pothen LA, Cintil J, Thomas S, John MJ, Narine SS (2013) Environmental- friendly method for the extraction of coir fibre and isolation of nanofibre. Carbohydr Polym 92(2):1477–1483

Adel A, El-Shafei A, Ibrahim A, Al-Shemy M (2018) Extraction of oxidized nanocellulose from date palm (Phoenix Dactylifera L.) sheath fibers: influence of CI and CII polymorphs on the properties of chitosan/bionanocomposite films. Ind Crop Prod 124:155–165

Asrofi M, Abral H, Kasim A, Pratoto A, Mahardika M, Park JW, Kim HJ (2018) Isolation of nanocellulose from water hyacinth fiber (WHF) produced via digester-sonication and its characterization. Fibers Polym 19(8):1618–1625

Bashar MM, Zhu H, Yamamoto S, Mitsuishi M (2019) Highly carboxylated and crystalline cellulose nanocrystals from jute fiber by facile ammonium persulfate oxidation. Cellulose 26(6):3671–3684

Castro-Guerrero CF, Gray DG (2014) Chiral nematic phase formation by aqueous suspensions of cellulose nanocrystals prepared by oxidation with ammonium persulfate. Cellulose 21(4):2567–2577

Chandra J, George N, Narayanankutty SK (2016) Isolation and characterization of cellulose nanofibrils from arecanut husk fibre. Carbohydr Polym 142:158–166

Chen X, Yu J, Zhang Z, Lu C (2011) Study on structure and thermal stability properties of cellulose fibers from rice straw. Carbohydr Polym 85(1):245–250

Cheng M, Qin Z, Liu Y, Qin Y, Li T, Chen L, Zhu M (2014) Efficient extraction of carboxylated spherical cellulose nanocrystals with narrow distribution through hydrolysis of lyocell fibers by using ammonium persulfate as an oxidant. J Mater Chem A 2(1):251–258

de Souza AG, de Lima GF, Colombo R, Rosa DS (2020) A new approach for the use of anionic surfactants: nanocellulose modification and development of biodegradable nanocomposites. Cellulose 27(10):5707–5728

Deepa B, Abraham E, Cordeiro N, Mozetic M, Mathew A, Oksman K, Pothan LA (2015) Utilization of various lignocellulosic biomass for the production of nanocellulose: a comparative study. Cellulose 22(2):1075–1090

Draman SFS, Daik R, Latif FA, El-Sheikh SM (2013) Characterization and thermal decomposition kinetics of kapok (Ceiba pentandra L.)–based cellulose. BioResour 9(1):8–23

Goh KY, Ching YC, Chuah CH, Abdullah LC, Liou NS (2016) Individualization of microfibrillated celluloses from oil palm empty fruit bunch: comparative studies between acid hydrolysis and ammonium persulfate oxidation. Cellulose 23(1):379–390

Hu Y, Tang L, Lu Q, Wang S, Chen X, Huang B (2014) Preparation of cellulose nanocrystals and carboxylated cellulose nanocrystals from borer powder of bamboo. Cellulose 21(3):1611–1618

Huang X, Lim TT (2006) Performance and mechanism of a hydrophobic–oleophilic kapok filter for oil/water separation. Desalination 190(1–3):295–307

Joonobi M, Harun J, Tahir PM, Zaini LH, SaifulAzry S, Makinejad MD (2010) Characteristic of nanofibers extracted from kenaf core. BioResour 5(4):2556–2566

Khan E, Virojnagud W, Ratpukdi T (2004) Use of biomass sorbents for oil removal from gas station runoff. Chemosphere 57(7):681–689

Khanjanzadeh H, Park BD (2020) Characterization of carboxylated cellulose nanocrystals from recycled fiberboard fibers using ammonium persulfate oxidation. J Korean Wood Sci Technol 48(2):231–244

Khanjanzadeh H, Park BD (2021) Optimum oxidation for direct and efficient extraction of carboxylated cellulose nanocrystals from recycled MDF fibers by ammonium persulfate. Carbohydr Polym 251:117029. https://doi.org/10.1016/j.carbpol.2020.117029

Lam E, Leung AC, Liu Y, Majid E, Hrapovic S, Male KB, Luong JH (2013) Green strategy guided by Raman spectroscopy for the synthesis of ammonium carboxylated nanocrystalline cellulose and the recovery of byproducts. ACS Sustain Chem Eng 1(2):278–283

Leung AC, Hrapovic S, Lam E, Liu Y, Male KB, Mahmoud KA, Luong JH (2011) Characteristics and properties of carboxylated cellulose nanocrystals prepared from a novel one-step procedure. Small 7(3):302–305

Lim TT, Huang X (2007) Evaluation of kapok (Ceiba Pentandra (L.) Gaertn.) as a natural hollow hydrophobic-oleophilic fibrous sorbent for oil spill cleanup. Chemosphere 66(5):955–63

Liu Y, Liu Y, Zhang D, Zhang R, Li Z (2016) Kapok fiber: a natural biomaterial for highly specific and efficient enrichment of sialoglycopeptides. Anal Chem 88(2):1067–1072

Mandal A, Chakrabarty D (2011) Isolation of nanocellulose from waste sugarcane bagasse (SCB) and its characterization. Carbohydr Polym 86(3):1291–1299

Mascheroni E, Rampazzo R, Ortenzi MA, Piva G, Bonetti S, Piergiovanni L (2016) Comparison of cellulose nanocrystals obtained by sulfuric acid hydrolysis and ammonium persulfate, to be used as coating on flexible food-packaging materials. Cellulose 23(1):779–793

Oun AA, Rhim JW (2017) Characterization of carboxymethyl cellulose-based nanocomposite films reinforced with oxidized nanocellulose isolated using ammonium persulfate method. Carbohydr Polym 174:484–492

Oun AA, Rhim JW (2018) Isolation of oxidized nanocellulose from rice straw using the ammonium persulfate method. Cellulose 25(4):2143–2149

Purnawati R, Febrianto F, Wistara INJ, Nikmatin S, Hidayat W, Lee SH, Kim NH (2018) Physical and chemical properties of Kapok (Ceiba pentandra) and balsa (Ochroma pyramidale) fibers. J Korean Wood Sci Technol 46(4):393–401

Rashid S, Dutta H (2020) Characterization of nanocellulose extracted from short, medium and long grain rice husks. Ind Crop Prod 154:112627

Saha P, Manna S, Chowdhury SR, Sen R, Roy D, Adhikari B (2010) Enhancement of tensile strength of lignocellulosic jute fibers by alkali-steam treatment. Bioresour Technol 101(9):3182–3187

Segal LGJMA, Creely JJ, Martin AE Jr, Conrad CM (1959) An empirical method for estimating the degree of crystallinity of native cellulose using the X-ray diffractometer. Text Res J 29(10):786–794

Voisin H, Bergström L, Liu P, Mathew AP (2017) Nanocellulose-based materials for water purification. Nanomater 7(3):57

Xu X, Liu F, Jiang L, Zhu JY, Haagenson D, Wiesenborn DP (2013) Cellulose nanocrystals vs cellulose nanofibrils: a comparative study on their microstructures and effects as polymer reinforcing agents. ACS Appl Mater Interfaces 5:2999–3009

Xu W, Mu B, Wang A (2016) Facile fabrication of well-defined microtubular carbonized kapok fiber/NiO composites as electrode material for supercapacitor. Electrochim Acta 194:84–94

Yang H, Yan R, Chen H, Lee DH, Zheng C (2007) Characteristics of hemicellulose, cellulose and lignin pyrolysis. Fuel 86(12–13):1781–1788

Yanti H, Syafii W, Wistara NJ, Febrianto F, Kim NH (2019) Effect of biological and liquid hot water pretreatments on ethanol yield from mengkuang (Pandanus artocarpus Griff). J Korean Wood Sci Technol 47(2):145–162

Yu HY, Zhang DZ, Lu FF, Yao J (2016) New approach for single-step extraction of carboxylated cellulose nanocrystals for their use as adsorbents and flocculants. ACS Sustain Chem Eng 4(5):2632–2643

Zaini LH, Jonoobi M, Tahir PM, Karimi S (2013) Isolation and characterization of cellulose whiskers from kenaf (Hibiscus cannabinus L.) bast fibers. J Biomater Nanobiotechnol 4:1–8

Zaini LH, Paridah MT, Jawaid M, Othman AY, Juliana AH (2014) Effect of kenaf cellulose whiskers on cellulose acetate butyrate nanocomposites properties. Nanocellulose polymer nanocomposites: fundamentals and applications. Wiley, New York, pp 341–353

Zaini LH, Febrianto F, Wistara INJ, Marwanto N, Maulana MI, Lee SH, Kim NH (2019) Effect of ammonium persulfate concentration on characteristics of cellulose nanocrystals from oil palm frond. J Korean Wood Sci Technol 47(5):597–606

Zhang K, Sun P, Liu H, Shang S, Song J, Wang D (2016) Extraction and comparison of carboxylated cellulose nanocrystals from bleached sugarcane bagasse pulp using two different oxidation methods. Carbohydr Polym 138:237–243

Zhang H, Chen Y, Wang S, Ma L, Yu Y, Dai H, Zhang Y (2020) Extraction and comparison of cellulose nanocrystals from lemon (citrus limon) seeds using sulfuric acid hydrolysis and oxidation methods. Carbohydr Polym 238:116180

Zhuang J, Li M, Pu Y, Ragauskas AJ, Yoo CG (2020) Observation of potential contaminants in processed biomass using fourier transform infrared spectroscopy. Appl Sci 10(12):4345
Acknowledgements
The authors acknowledge the Deputy of Strengthening for Research and Development, Ministry of Research and Technology/National Research and Innovation Agency, Republic of Indonesia due to this financial support for this research with a scheme of the Master Program of Education Leading to Doctoral Degree for Excellent Graduates (PMDSU) (No.4123/IT3.L1/PN/2020) and WCR (No. 2345 /IT3.L1/PN/2021). We would like to thank to the Indonesian Institute of Sciences, Biomaterials Research Center for support TGA analysis. This study was also supported by the Science and Technology Support Program through the National Research Foundation of Korea (NRF), funded by the Ministry of Science and ICT (MSIT) (NRF-2019K1A3A9A01000018), and the Basic Science Research Program through the NRF, funded by the Ministry of Education (No.2016R1D1A1B01008339 and No.2018R1A6A1A03025582).
Additional information
Publisher's Note
Springer Nature remains neutral with regard to jurisdictional claims in published maps and institutional affiliations.
About this article
Cite this article
Marwanto, M., Maulana, M.I., Febrianto, F. et al. Characteristics of nanocellulose crystals from balsa and kapok fibers at different ammonium persulfate concentrations. Wood Sci Technol 55, 1319–1335 (2021). https://doi.org/10.1007/s00226-021-01319-0
Received:

Accepted:

Published:

Issue Date: