Abstract
In this study, chemical and anatomical properties of tumorous and normal root of Abies nordmanniana subsp. nordmanniana were compared. The amount of hemicellulose in tumorous root was identified to be 5.34% higher on average than in normal root. However, the amount of lignin was measured to be around 5.78% less. It was determined that the amount of extractive substance, 1% NaOH, cold and hot water dissolution also increased with the formation of tumors. In the study, carbohydrate analysis of samples was also made and it was found out that the amount of glucose, xylose, mannose and galactose of the roots containing tumor were 2.27%, 1.18%, 1.1%, 0.37% more than normal root, respectively. On the other hand, the crystallinity of tumorous roots was decreased in spite of the increase in the amount of cellulose with the formation of tumors. According to the elemental analysis results, it was observed that carbon formation increased with tumor formation. These results were also supported by FTIR-ATR characterization and thermal analysis results. In the anatomical comparison, it was observed that tracheid lengths, tracheid thicknesses and lumen thicknesses decreased with tumor formation. Traumatic resin canals were observed in the cross sections of the tumorous root samples. In addition, it was determined that the annual ring separation was less prominent in the cross section, and the cell diameters were smaller and their location was more dispersed.
Access options
Buy single article
Instant access to the full article PDF.
US$ 39.95
Tax calculation will be finalised during checkout.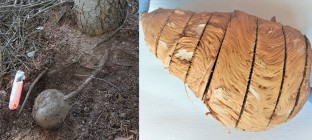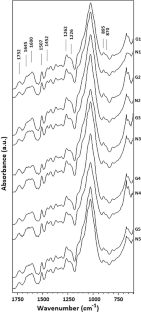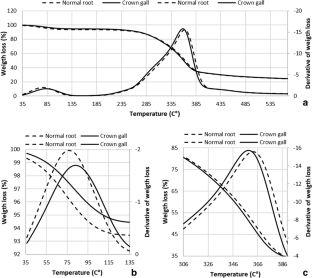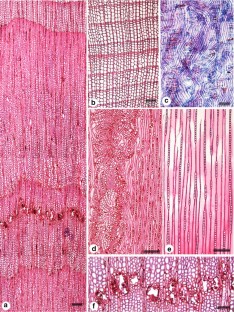 References
Agarwal UP, Atalla RH (2010) Vibrational spectroscopy. In: Heitner C, Dimmel DR, Schmidt JA (eds) Lignin and lignans advanced in chemistry. CRC Press, London

Crane PR, Friss EM, Pedersen KR (1995) The origin and early diversification of angiosperms. Nature 374:27–33. https://doi.org/10.1038/374027a0

Fabre E, Dunal F (1853) Observations on the prevalent diseases of the vine. Bull Soc Cent Agrig Dept Herault 40:46

Eom YG (1991) Anatomical comparison between compression and opposite wood in a branch of Ginkgo biloba L. J Korean Wood Sci and Technol 19(3):77–85. https://doi.org/10.5658/WOOD.2018.46.2.125

Eom YG, Chung YJ (1994) Tumor wood anatomy in Korean red pine (Pinus densiflora). IAWA J 15(2):149–155. https://doi.org/10.1163/22941932-90001354

Eom YG, Lee PW (1989) Anatomical studies on tumorous tissue formed in a stem of Ailanthus altissima Swingle by artificial banding and its subsequent removing treatment - characters of individual elements. J Korean for Soc 78(3):287–301

Franklin GL (1945) Preparation of thin sections of synthetic resins and woody resin composites and a new method for wood. Nature 155:3924–3951. https://doi.org/10.1038/155051A0

Garfinkel DJ, Simpson RB, Ream LW, White FF, Gordon MP, Nester EW (1981) Genetic analysis of crown gall: fine structure map of the T-DNA by site-directed mutagenesis. Cell 27(1):143–153. https://doi.org/10.1016/0092-8674(81)90368-8

Gülsoy SK, Eroğlu H, Merev N (2005) Chemical and wood anatomical properties of tumorous wood in a Turkish white oak (Quercus robur subsp. robur). IAWA J 26(4):469–476. https://doi.org/10.1163/22941932-90000128

Hohn B (2001) Transfer of genetic information from Agrobacterium tumefaciens to plants. In: Brenner S, Miller JH (eds) Brenner's encyclopedia of genetic, 1st edn. Academic Press, Cambridge, Massachusetts, pp 1984–1986

IAWA Committee (2004) IAWA list of microscopic features for softwood identification. IAWA J 25(1):1–70. https://doi.org/10.1163/22941932-90000349

Inari GN, Petrissans M, Lambert J, Ehrhardt JJ, Gerardin P (2006) XPS characterization of wood chemical composition after heat-treatment. Surf Interface Anal 38(10):1336–1342. https://doi.org/10.1002/sia.2455

Ives E (2001) A guide to wood microtomy: making quality micro slides of wood sections. Suffolk Offset, Suffolk, UK

Kato K, Nitta M, Mizuno T (1973) Infrared spectroscopy of some mannans. Agr Biol Chem 37(2):433–435. https://doi.org/10.1080/00021369.1973.10860687

Marchessault RH, Liang CY (1962) The infrared spectra of crystalline polysaccharides. VIII. Xylans. J Polym Sci 59(168):357–378. https://doi.org/10.1002/pol.1962.1205916813

Merev N (1998) Wood anatomy of native hardwood taxa in the eastern Black Sea region, vol 1. Karadeniz Technical University, Trabzon (in Turkish)

Merev N (2003) Wood anatomy and wood identification. Karadeniz Technical University, Trabzon (in Turkish)

Nelson ML, O'Connor RT (1964) Relation of certain infrared bands to cellulose crystallinity and crystal lattice type. Part II. A new infrared ratio for estimation of crystallinity in cellulose I and II. J Appl Polym Sci 8(3):1325–1341. https://doi.org/10.1002/app.1964.070080323

Neish AC, Hibbert H (1940) Effect of crown gall formation on the chemical composition of beets. Can J Res 18c(12):613–623. https://doi.org/10.1139/cjr40c-058

O'Connor RT, DuPrѐ EF, Mitcham D (1958) Application of infrared absorption spectroscopy to investigations of cotton and modified cottons: part I: physical and crystalline modifications and oxidation. Text Res J 28(5):382–392. https://doi.org/10.1177/004051755802800503

Pacurar DI, Thordal-Cristensen H, Pacurar ML, Pamfil D, Botez C, Bellini C (2011) Agrobacterium tumefacience: from crown gall tumors to genetic transformation. Physiol Mol Plant Pathol 76(2):76–81. https://doi.org/10.1016/j.pmpp.2011.06.004

Reinert J (1956) Dissociation of cultures from Picea glauca into small tissue fragments and single cells. Science 123(3194):457–458. https://doi.org/10.1126/science.123.3194.457

Reinert J, White PR (1956) The cultivation in vitro of tumor tissues and normal tissues of Picea glauca. Physiol Plant 9(2):177–189. https://doi.org/10.1111/j.1399-3054.1956.tb08999.x

Rickey RG, Hamilton JK, Hergert HB (1974) Chemical and physical properties of tumor-affected Sitka Spruce. Wood Fiber 6(3):200–210

Ruzin SE (1999) Plant microtechnique and microscopy. Oxford University Press, New York

Scan cm 49:03 (2003) Content of acetone-soluble matter. Scandinavian pulp. Paper and board testing committe.1

Schnabel T, Musso M, Tondi G (2014) Univariate and multivariate analysis of tannin-impregnated wood species using vibrational spectroscopy. Appl Spectrosc 68(4):488–494. https://doi.org/10.1366/13-07181

Schwanninger M, Rodrigues JC, Pereira H, Hinterstoisser B (2004) Effects of short-time vibratory ball milling on the shape of FT-IR spectra of wood and cellulose. Vib Spectrosc 36(1):23–40. https://doi.org/10.1016/j.vibspec.2004.02.003

Segal L, Creely L, Martin AE (1959) An empirical method for estimating the degree of crystallinity of native cellulose using the X-ray diffractometer. Text Res J 29(10):786–794. https://doi.org/10.1177/004051755902901003

Shaw CH (1991) Swimming against the tide: chemotaxis in Agrobacterium. BioEssays 13(1):25–29. https://doi.org/10.1002/bies.950130105

Sluiter A, Hames B, Ruiz R, Scarlata C, Sluiter J, Templeton D, Crocker D (2008) Determination of structural carbohydrates and lignin in biomass. NREL/TP-510-42618 Technical Report

Smith EF, Townsend CO (1907) A plant-tumor of bacterial origin. Science 24:671–673. https://doi.org/10.1126/science.25.643.671

Sjöström E (1993) Wood chemistry. Fundamentals and applications. Academic Press, San Diego

Tsoumis G (1965) Structural deformities in an epidemic tumor of white spruce, Picea Glauca. Can J Bot 43(1):176–181. https://doi.org/10.1139/b65-022

Tappi T 211 om 02 (2002) Ash in wood. pulp. paper and paperboard: combustion at 525 degrees Celsius. TAPPI test methods

Tappi T212 om 02 (2002) One percent sodium hydroxide solubility of wood and pulp. TAPPI test methods

Tappi T222 om 02 (2002) Acid-insoluble Lignin in Wood and Pulp. TAPPI test methods

Tappi T 207 cm 08 (2008) Water solubility of wood and pulp. TAPPI test methods

Tappi T 203 cm 09 (2009) Alpha-. beta- and gamma-cellulose in pulp. TAPPI test methods

Timel TE (1982) Recent progress in the chemistry and topochemistry of compression wood. Wood Sci Technol 16:83–122

Wise EL, Karl HL (1962) Cellulose and hemicellulose. In: Libby CE (ed) Pulp and paper science and technology, 1st edn. Mc Graw Hill Book Co., New York, pp 54–73

White PR (1958) A tree tumor of unknown origin. Proc Natl Acad Sci USA 44(4):339–344. https://doi.org/10.1073/pnas.44.4.339

Yang H, Yan R, Chen H, Lee DH, Zheng C (2007) Characteristics of hemicellulose, cellulose and lignin pyrolysis. Fuel 86(12–13):1781–1788. https://doi.org/10.1016/j.fuel.2006.12.013

Zhao J, Xiuwen W, Hu J, Liu Q, Shen D, Xiao R (2014) Thermal degradation of softwood lignin and hardwood lignin by TG-FTIR and Py-GC/MS. Polym Degrad Stab 108:133–138. https://doi.org/10.1016/j.polymdegradstab.2014.06.006
Acknowledgements
The authors gratefully acknowledge the financial support of the Scientific Research Projects Commission of Artvin Çoruh University (Grant no. 2017.F11.02.02).
Additional information
Publisher's Note
Springer Nature remains neutral with regard to jurisdictional claims in published maps and institutional affiliations.
About this article
Cite this article
Peşman , E., Erşen Bak , . & Konanç, M.U. The chemical characteristics and anatomy of Caucasian fir (Abies nordmanniana subsp. nordmanniana) crown gall tumors infected by Agrobacterium tumefaciens. Wood Sci Technol 55, 1025–1039 (2021). https://doi.org/10.1007/s00226-021-01310-9
Received:

Accepted:

Published:

Issue Date: