Abstract
As a simple and effective biorefinery method, deep eutectic solvent (DESs) treatment was proposed to isolate lignin from lignocellulose. In this study, choline chloride/lactic acid (ChCl/Lac) was applied to extract high-purity and antioxidative lignin. Under the optimized conditions (120 °C for 12 h), the lignin profiling indicated that the recovered lignin had a high purity (94.18%), low molecular weight (Mw 1967 g/mol), and excellent thermal stability as compared with milled wood lignin. The lignin samples were characterized by using Fourier transform infrared spectrometry and nuclear magnetic resonance (NMR) spectra. In addition, the NMR spectra indicated the functional groups of the lignin extracted via DESs were less damaged and the backbone structure was not significantly modified. To further determine the potential application of DES-Lignin, the antioxidant activity was evaluated by radical scavenging ability. The IC50 values of a treatment time of about 12 h was 0.174. As expected, DES-Lignin showed obvious advantage in oxidation resistance. In short, the proposed process was considered as a promising biorefinery strategy for lignin first production.
Access options
Buy single article
Instant access to the full article PDF.
US$ 39.95
Tax calculation will be finalised during checkout.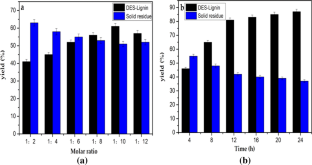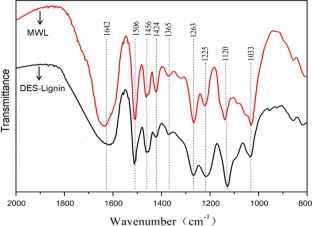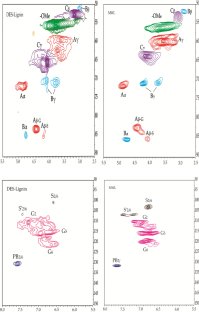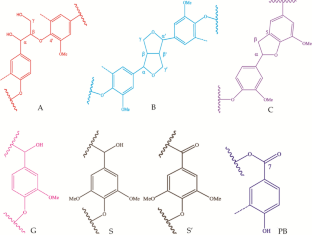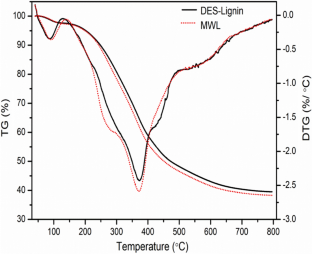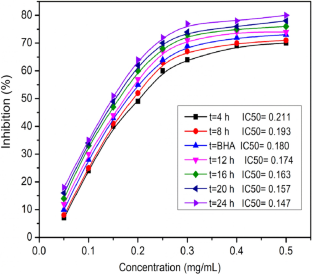 References
Abbott AP, Boothby D, Capper G, Davies DL, Rasheed RK (2004) Deep eutectic solvents formed between choline chloride and carboxylic acids: versatile alternatives to ionic liquids. J Am Chem Soc 126:9142–9147. https://doi.org/10.1021/ja048266j

Bauer S, Sorek H, Mitchell VD, Ibáñez AB, Wemmer DE (2012) Characterization of Miscanthus giganteus Lignin isolated by ethanol organosolv process under reflux condition. J Agr Food Chem 60:8203–8212. https://doi.org/10.1021/jf302409d

Capanema EA, Balakshin MY, Kadla JF (2005) Quantitative characterization of a hardwood milled wood lignin by nuclear magnetic resonance spectroscopy. J Agr Food Chem 53:9639–9649. https://doi.org/10.1021/jf0515330

Del Río JC, Lino AG, Colodette JL, Lima CF, Gutiérrez A, Martínez ÁT, Lu F, Ralph J, Rencoret J (2015) Differences in the chemical structure of the lignins from sugarcane bagasse and straw. Biomass Bioenerg 81:322–338. https://doi.org/10.1016/j.biombioe.2015.07.006

Dizhbite T, Telysheva G, Jurkjane V, Viesturs U (2004) Characterization of the radical scavenging activity of lignins natural antioxidants. Bioresour Technol 95:309–317. https://doi.org/10.1016/j.biortech.2004.02.024

Dwivedi P, Alavalapati JRR, Lal P (2009) Cellulosic ethanol production in the United States: conversion technologies, current production status, economics, and emerging developments. Energy Sustain Dev 13:174–182. https://doi.org/10.1016/j.esd.2009.06.003

Hu G, Cateto C, Pu Y, Samuel R, Ragauskas AJ (2011) Structural characterization of switchgrass lignin after ethanol organosolv pretreatment. Energ Fuel 26:740–745. https://doi.org/10.1021/ef201477p

Huang F, Singh PM, Ragauskas AJ (2011) Characterization of Milled Wood Lignin (MWL) in loblolly pine stem wood, residue, and bark. J Agr Food Chem 59:12910–12916. https://doi.org/10.1021/jf202701b

Inkrod C, Raita M, Champreda V, Laosiripojana N (2018) Characteristics of lignin extracted from different lignocellulosic materials via organosolv fractionation. Bioenerg Res 11:277–290. https://doi.org/10.1007/s12155-018-9895-2

Jiang B, Zhang Y, Guo T, Zhao H, Jin Y (2018) Structural characterization of lignin and lignin-carbohydrate complex (LCC) from ginkgo shells (Ginkgo biloba L) by comprehensive NMR spectroscopy. Polymers 10:736. https://doi.org/10.3390/polym10070736

Li M, Sun S, Xu F, Sun R (2012) Microwave-assisted organic acid extraction of lignin from bamboo: structure and antioxidant activity investigation. Food Chem 134:1392–1398. https://doi.org/10.1016/j.foodchem.2012.03.037

Li T, Lyu G, Liu Y, Lou R, Lucia L, Yang G, Chen J, Saeed H (2017) Deep eutectic solvents (DESs) for the isolation of willow lignin (Salix matsudana cv. Zhuliu). Int J Mol Sci 18:2266. https://doi.org/10.3390/ijms18112266

Liu C, Si C, Wang G, Jia H, Ma L (2018a) A novel and efficient process for lignin fractionation in biomass-derived glycerol-ethanol solvent system. Ind Crop Prod 111:201–211. https://doi.org/10.1016/j.indcrop.2017.10.005

Liu C, Wang X, Lin F, Zhang H, Xiao R (2018b) Structural elucidation of industrial bioethanol residual lignin from corn stalk: a potential source of vinyl phenolics. Fuel Process Technol 169:50–57. https://doi.org/10.1016/j.fuproc.2017.09.008

Liu J, Qi L, Yang G, Xue Y, He M, Lucia LA, Chen J (2020) Enhancement of lignin extraction of poplar by treatment of deep eutectic solvent with low halogen content. Polymers 12:1599. https://doi.org/10.3390/polym12071599

Lou R, Ma R, Lin K, Ahamed A, Zhang X (2019) Facile extraction of wheat straw by deep eutectic solvent (DES) to produce lignin nanoparticles. ACS Sustain Chem Eng 7:10248–10256. https://doi.org/10.1021/acssuschemeng.8b05816

Lu Q, Zhu M, Zu Y, Liu W, Yang L, Zhang Y, Zhao X, Zhang X, Zhang X, Li W (2012) Comparative antioxidant activity of nanoscale lignin prepared by a supercritical antisolvent (SAS) process with non-nanoscale lignin. Food Chem 135:63–67. https://doi.org/10.1016/j.foodchem.2012.04.070

Lynam JG, Kumar N, Wong MJ (2017) Deep eutectic solvents' ability to solubilize lignin, cellulose, and hemicellulose; thermal stability; and density. Bioresource Technol 238:684–689. https://doi.org/10.1016/j.biortech.2017.04.079

Manara P, Zabaniotou A, Vanderghem C, Richel A (2014) Lignin extraction from Mediterranean agro-wastes: Impact of pretreatment conditions on lignin chemical structure and thermal degradation behavior. Catal Today 223:25–34. https://doi.org/10.1016/j.cattod.2013.10.065

Rencoret J, Prinsen P, Gutiérrez A, Martnez ÁT, del Río JC (2015) Isolation and structural characterization of the milled wood lignin, dioxane lignin, and cellulolytic lignin preparations from brewer's spent grain. J Agr Food Chem 63:603–613. https://doi.org/10.1021/jf505808c

Salanti A, Zoia L, Orlandi M, Zanini F, Elegir G (2010) Structural characterization and antioxidant activity evaluation of lignins from rice husk. J Agr Food Chem 58:10049–10055. https://doi.org/10.1021/jf102188k

Sluiter A, Hames B, Ruiz R, Scarlata C, Sluiter J, Templeton D, Crocker D (2008) Determination of structural carbohydrates and lignin in biomass. Laboratory analytical procedure. National renewable laboratory. Anal pro 1617:1–16

Sun S, Li M, Yuan T, Xu F, Sun R (2013) Effect of ionic liquid/organic solvent pretreatment on the enzymatic hydrolysis of corncob for bioethanol production. Part 1: structural characterization of the lignins. Ind Crop Prod 43:570–577. https://doi.org/10.1016/j.indcrop.2012.07.074

Sun S, Wen J, Ma M, Sun R, Jones GL (2014) Structural features and antioxidant activities of degraded lignins from steam exploded bamboo stem. Ind Crop Prod 56:128–136. https://doi.org/10.1016/j.indcrop.2014.02.031

Sun S, Liu F, Zhang L, Fan X (2018) One-step process based on the order of hydrothermal and alkaline treatment for producing lignin with high yield and antioxidant activity. Ind Crop Prod 119:260–266. https://doi.org/10.1016/j.indcrop.2018.04.030

Tejado A, Peña C, Labidi J, Echeverria JM, Mondragon I (2007) Physico-chemical characterization of lignins from different sources for use in phenol–formaldehyde resin synthesis. Bioresource Technol 98:1655–1663. https://doi.org/10.1016/j.biortech.2006.05.042

Wang Z, Hong S, Wen J, Ma C, Tang L, Jiang H, Chen J, Li S, Shen X, Yuan T (2019) Lewis acid-facilitated deep eutectic solvent (DES) pretreatment for producing high-purity and Antioxidative Lignin. ACS Sustain Chem Eng 8:1050–1057. https://doi.org/10.1039/C8GC03064B

Wang H, Liu Z, Hui L, Ma L, Zheng X, Li J, Zhang Y (2020) Understanding the structural changes of lignin in poplar following steam explosion pretreatment. Holzforschung 74:275–285. https://doi.org/10.1515/hf-2019-0087

Xu F, Sun J, Sun R, Fowler P, Baird MS (2006) Comparative study of Organosolv lignins from wheat straw. Ind Crop Prod 23:180–193. https://doi.org/10.1016/j.indcrop.2005.05.008

Xu M, Wang C, Lyu G, Zhong L, Yang L, Wang Z, Qin C, Ji X, Yang G, Chen J, Xu F (2019) Structural characterization and antioxidant activity of milled wood lignin from xylose residue and corncob. Polymers 11:2092. https://doi.org/10.3390/polym11122092

Yang M, Zhang X, Cheng G (2019) A two-stage pretreatment using dilute sodium hydroxide solution followed by an ionic liquid at low temperatures: toward construction of lignin-first biomass pretreatment. Bioresour Technol Rep 7:100286. https://doi.org/10.1016/j.biteb.2019.100286

You TT, Mao JZ, Yuan TQ, Wen JL, Xu F (2013) Structural elucidation of the lignins from stems and foliage of Arundo donax Linn. J Agric Food Chem 61:5361–5370. https://doi.org/10.1021/jf401277v

Zikeli F, Ters T, Fackler K, Srebotnik E, Li J (2016) Wheat straw lignin fractionation and characterization as lignin-carbohydrate complexes. Ind Crop Prod 85:309–317. https://doi.org/10.1016/j.indcrop.2016.03.012
Acknowledgements
This work was financially supported by the National Key Research and Development Plan (Grant No.2017YFB0307901).
Ethics declarations
Conflict of interest
On behalf of all authors, the corresponding author states that there is no conflict of interest.
Additional information
Publisher's Note
Springer Nature remains neutral with regard to jurisdictional claims in published maps and institutional affiliations.
About this article
Cite this article
Wu, Y., Liu, Z., Ma, L. et al. Structural characterization and evaluation of the antioxidant activity of DES-Lignin isolated from Cunninghamia lanceolata. Wood Sci Technol 55, 1041–1055 (2021). https://doi.org/10.1007/s00226-021-01300-x
Received:

Accepted:

Published:

Issue Date: