Abstract
The synthesis of galactoglucomannan sulfates using a sulfamic acid/urea mixture in 1,4-dioxane was studied for the first time. The effect of the galactoglucomannan sulfation time and temperature on the sulfur content in the galactoglucomannan sulfates was investigated. The introduction of sulfate groups into the galactoglucomannan structure was confirmed by the elemental analysis and Fourier transform infrared spectroscopy. The initial and sulfated galactoglucomannans were identified by X-ray diffraction, electron microscopy, and gel permeation chromatography. The thermal analysis has shown that sulfated galactoglucomannan, after the endothermic peak related to the moisture removal, yields a pronounced high-intensity exothermic peak with a maximum at 216 °C, and above 230 °C, the heat absorption effect (endothermic peak) characteristic of decomposition of the parent substance in the range of 230–335 °C is observed. According to the scanning electron microscopy data, the initial galactoglucomannan consists of irregular asymmetric particles with an average size from 400 to 900 µm, and the sulfated galactoglucomannan ammonium salt consists of particles 200–500 µm in size with different shapes. It was shown by gel permeation chromatography that, after the sulfation process, the main galactoglucomannan peak shifts toward higher molecular masses (from 24 to 26 kDa).
Access options
Buy single article
Instant access to the full article PDF.
US$ 39.95
Tax calculation will be finalised during checkout.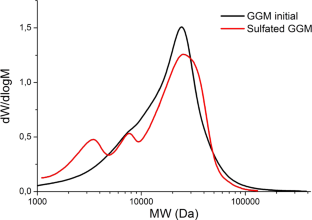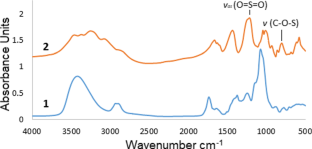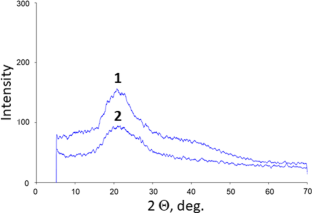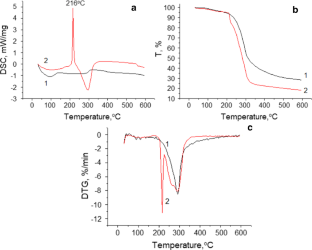 References
Adeyanju O, Ewaoche EA, Plavec J (2017) Effect of chemical modification by oxidation on the physicochemical properties of sweitenia mycrophylla gum. Aa potential excipient. J Pharm Appl Chem 3(3):189–194

Akman F, Kazachenko AS, Yu VN, Malyar YuN (2020) Synthesis and characterization of starch sulfates obtained by the sulfamic acid-urea complex. J Mol Struct 1208:127899. https://doi.org/10.1016/j.molstruc.2020.127899

Alban S, Schauerte A, Franz G (2002) Anticoagulant sulfated polysaccharides: part I. Synthesis and structure-activity relationships of new pullulan sulfates. Carbohydr Polym 47(3):267–276. https://doi.org/10.1016/S0144-8617(01)00178-3

Al-Horani RA, Desai UR (2010) Chemical sulfation of small molecules—advances and challenges. Tetrahedron 66(16):2907–2918. https://doi.org/10.1016/j.tet.2010.02.015

Alves A, Caridade SG, Mano JF, Sousa RA, Rei RL (2010) Extraction and physico-chemical characterization of a versatile biodegradable polysaccharide obtained from green algae. Carbohyd Res 345(15):2194–2200. https://doi.org/10.1016/j.carres.2010.07.039

Babkin VA, Neverova NA, Medvedeva EN, Fedorova TE, Levchuk AA (2016) Investigation of physicochemical properties of arabinogalactan of different larch species. Russ J Bioorg Chem 42(7):23. https://doi.org/10.1134/S1068162016070025

Bajpai P (2018) Chapter 2—wood and fiber fundamentals. In: Bajpai P (ed) Biermann's handbook of pulp and paper, 3rd edn. Elsevier, London, pp 19–74. https://doi.org/10.1016/B978-0-12-814240-0.00002-1

Benson GA, Spillane WJ (1980) Sulfamic acid and its N-substituted derivatives. Chem Rev 80(2):151–186. https://doi.org/10.1021/cr60324a002

Dassanayake RS, Rajakaruna E, Abidi N (2019) Borax-cross-linked guar gum-manganese dioxide composites for oxidative decolorization of methylene blue. J Nanomater 2019:1–11

Dore CM, Faustino DC, Alves MG, Will LS, Costa TG, Sabry DA, de Souza Rêgo LA, Accardo CM, Rocha HA, Filgueira LG, Leite EL (2013) A sulfated polysaccharide, fucans, isolated from brown algae Sargassum vulgare with anticoagulant, antithrombotic, antioxidant and anti-inflammatory effects. Carbohyd Polym 91:467–475

Drozd NN, Bannikova GE, Makarov VA, Varlamov VP (2006) Anticoagulant activity of sulfated polysaccharides. Experim Clin Pharmacol (rus) 69(6):51–60

Dushkin AV, Meteleva ES, Tolstikova TG, Pavlova AV, Khvostov MV (2013) Gel chromatographic and toxicological studies of the mechanochemical transformations of water-soluble polysaccharides. Pharm Chem J 46(10):630–633

Fan L, Gao S, Wang L, Wu P, Cao M, Zheng H, Xie W, Zhou J (2012) Synthesis and anticoagulant activity of pectin sulfates. J Appl Polym Sci 124:2171–2178. https://doi.org/10.1002/app.35239

Gilbert EE (1965) Sulfonation and related reactions. Wiley, New York, pp 217–239

Hu L, Du M, Zhang J (2018) Hemicellulose-based hydrogels present status and application prospects: a brief review. Open J for 8(1):15–28. https://doi.org/10.4236/ojf.2018.81002

Huang H, Zhang W-D (2010) Preparation of cellulose sulphate and evaluation of its properties. J Fiber Bioeng Inf 3(1):32–39. https://doi.org/10.3993/jfbi06201006

Il'ina AV, Levov AN, Mestechkina NM, Drozd NN, Orlovd VN, Makarov VA, Shcherbukhin VD, Varlamov VP, Skryabin KG (2009) The production of nanoparticles based on sulfated polysaccharides and a study of their anticoagulant activity nanotech. Russia 4(3–4):244–252

Kazachenko AS, Malyar YuN, Vasilyeva NYu, Bondarenko GN, Korolkova IV, Antonov AV, Karacharov AA, Fetisova OY, Skvortsova GP (2020a) «Green» synthesis and characterization of galactomannan sulfates obtained using sulfamic acid. Biomass Conv Bioref. https://doi.org/10.1007/s13399-020-00855-2

Kazachenko AS, Vasilyeva NYu, Malyar YuN (2020b) Environmentally friendly guar gum sulfation with a sulfamic acid-urea mixture. J Phys CS 1515:042018. https://doi.org/10.1088/1742-6596/1515/4/042018

Kolsi RBA, Fakhfakh J, Krichen F, Jribi I, Chiarore A, Patti FP, Blecker C, Allouche N, Belghith H, Belghith K (2016) Structural characterization and functional properties of antihypertensive Cymodocea nodosa sulfated polysaccharide. Carbohydr Polym 151:511–522. https://doi.org/10.1016/j.carbpol.2016.05.098

Kopania E, Milczarek S, Bloda A, Wietecha J, Wawro D (2012) Extracting galactoglucomannans (GGM) from polish softwood varieties. Fibres Text East Eur 20/6B(96):160–166

Kostyro YN, Selezneva OA, Eskra AI (2011) Prospects for the development and use of drugs in medical practice based heparinoids. Bull ESSC SB RAMS. 4(80):249–254 (In Russ)

Kundu S, Abdullah MF, Das A, Basu A, Halder A, Das M, Samanta A, Mukherjee A (2016) Antifungal ouzo nanoparticles from guar gum propionate. RSC Adv 6(108):106563–106571

Kuznetsov BN, Levdansky VA, Krylov AS, Levdansky AV, Bondarenko GN, Romanchenko AS, Mazurova EV (2014) Study of products of microcrystalline cellulose sulfation with chlorosulfonic acid in dioxane by FT Raman, XRD, SEM and AFM methods. Chem Plant Raw Mater 3:85–91

Kuznetsov BN, Vasilyeva NYu, Kazachenko AS, Levdansky VA, Kondrasenko AA, Malyar YuN, Skvortsova GP, Lutoshkin MA (2020) Optimization of the process of abies ethanol lignin sulfation by sulfamic acid–urea mixture in 1,4-dioxane medium. Wood Sci Technol 54:365–381. https://doi.org/10.1007/s00226-020-01157-6

Liun J, Willfor S, Xun C (2015) A review of bioactive plant polysaccharides: biological activities, functionalization, and biomedical applications. Bioact Carbohydr Diet Fibre 5(1):31–61. https://doi.org/10.1016/j.bcdf.2014.12.001

Lozhechnikova A, Dax D, Vartiainen J, Willför S, Xu C, Österberg M (2014) Modification of nanofibrillated cellulose using amphiphilic block-structured galactoglucomannans. Carbohydr Polym 110:163–172. https://doi.org/10.1016/j.carbpol.2014.03.087

Martinichen-Herrero JC, Carbonero ER, Sassaki GL, Gorin PAJ, Iacomini M (2005) Anticoagulant and antithrombotic activities of a chemically sulfated galactoglucomannan obtained from the lichen Cladonia Ibitipocae. Int J Biol Macromol 35(1–2):97–102. https://doi.org/10.1016/j.ijbiomac.2004.12.002

Medvedeva EN, Babkin VA, Ostrouhova LA (2003) Larch arabinogalactan—properties and prospects of use (review). Chem Raw Plant Mat 1:27–37

Mestechkina NM, Shcherbukhin VD (2010) Sulfated polysaccharides and their anticoagulant activity (review). Appl Biochem Microbiol 46(3):291–298

Mudgil D, Barak S, Khatkar BS (2012) X-ray diffraction, IR spectroscopy and thermal characterization of partially hydrolyzed guar gum. Int J Biol Macromol 50(4):1035–1039. https://doi.org/10.1016/j.ijbiomac.2012.02.031

Novikov VYu, Konovalova IN, Kuchina YuA, Dolgopiatova NV (2020) Thermal destruction of chondroitin sulphate isolated from Barents Sea hydrobionts. Izv Vyssh Uchebn Zaved Khim Khim Tekhnol 63(1):39–44. https://doi.org/10.6060/ivkkt.20206301.6049

Ogawa K, Yui T, Mizuno T (1991) X-ray diffraction study of glucomannans and their acetates. Agricul Biol Chem 55(8):2105–2111

Oliveira RCR, Almeida RR, Gonçalves TA (2016) A review of plant sulfated polysaccharides and their relations with anticoagulant activities. J Dev Drugs 5:3

Pereira MS, Melo FR, Mourão PAS (2002) Is there a correlation between structure and anticoagulant action of sulfated galactans and sulfated fucans. Glycobiology 12(10):573–580

Romanchenko AS, Levdansky AV, Levdansky VA, Kuznetsov BN (2015) Study of cellulose sulfates by X–ray photoelectron spectroscopy. Russ J Bioorg Chem 41(7):719–724. https://doi.org/10.1134/S1068162015070134

Ruiz-Matute AI, Hernandez-Hernandez O, Rodriguez-Sanchez S, Sanz ML, Martinez CI (2011) Derivatization of carbohydrates for GC and GC–MS analyses. J Chromatogr B 879:1226–1240

Šimkovic I, Tracz A, Kelnar I, Uhliariková I, Mendichi R (2014) Quaternized and sulfated xylan derivative films. Carbohydr Polym 99:356–364. https://doi.org/10.1016/j.carbpol.2013.08.075

Singh RD, Banerjee J, Arora A (2015) Prebiotic potential of oligosaccharides: a focus on xylan derived oligosaccharides. Bioact Carbohydr Diet Fibre 5(1):19–30. https://doi.org/10.1016/j.bcdf.2014.11.003

Sjöström E, Alén R (1999) Analytical methods of wood chemistry. Pulping and papermaking. Springer, Berlin, p 318

Spillane W, Malaubier JB (2014) Sulfamic acid and its N- and O-substituted derivatives. Chem Rev 114(4):2507–2586. https://doi.org/10.1021/cr400230c

Su Y, Shen YD, Lai XJ, Wang XR (2013) Preparation and property of hydrophobic modified guar gum thickener. Adv Mater Res 631–632:260–264

Timell TE (1967) Recent progress in the chemistry of wood hemicelluloses. Wood Sci Technol 1:45–70. https://doi.org/10.1007/BF00592255

Vasil'eva NY, Levdansky AV, Kuznetsov BN, Skvortsova GP, Kazachenko AS, Djakovitch L, Pinel C (2015) Sulfation of arabinogalactan by sulfamic acid in dioxane. Russ J Bioorg Chem 41(7):725–731. https://doi.org/10.1134/S1068162015070158

Vasilyeva NY, Levdansky AV, Karacharov AA, Mazurova EV, Bondarenko GN, Levdansky VA, Kazachenko AS, Kuznetsov BN (2014) Study of structure of product's obtained by sulfation of arabinogalactan from larch wood with chlorosulfonic acid in pyridine. J Sib Fed Univ Chem 4(7):547–555

Vo T-S, Kim S-K (2010) Potential anti-HIV agents from marine resources: an overview. Mar Drugs 8(12):2871. https://doi.org/10.3390/md8122871

Willför S, Sundberg K, Tenkanen M, Holmbom B (2008) Spruce-derived mannans—a potential raw material for hydrocolloids and novel advanced natural materials. Carbohydr Polym 72(2):197–210. https://doi.org/10.1016/j.carbpol.2007.08.006

Xu C, Willför S, Sundberg K, Petterson C, Holmbom B (2007) Physico-chemical characterization of spruce galactoglucomannan solutions: stability, surface activity and rheology. Cellul Chem Technol 41(1):51–62

Xu Y, Wu Y, Sun P, Zhang F, Linhardt RJ, Zhang A (2019) Chemically modified polysaccharides: SYNTHESIS, characterization, structure activity relationships of action. Int J Biol Macromol 132:970–977. https://doi.org/10.1016/j.ijbiomac.2019.03.213
Acknowledgements
The authors are grateful to G.N. Bondarenko for obtaining the X-ray data and I.V. Korol'kova for recording the FTIR spectra. This study was carried out on the equipment of the Krasnoyarsk Territorial Center for Collective Use, Krasnoyarsk Science Center, Siberian Branch of the Russian Academy of Sciences.
Funding
This study was supported by the Russian Foundation for Basic Research, Project No. 20-33-70256.
Ethics declarations
Conflict of interest
The authors declare that they have no conflict of interest.
Additional information
Publisher's Note
Springer Nature remains neutral with regard to jurisdictional claims in published maps and institutional affiliations.
About this article
Cite this article
Kazachenko, A.S., Malyar, Y.N., Vasilyeva, N. . et al. Isolation and sulfation of galactoglucomannan from larch wood (Larix sibirica). Wood Sci Technol 55, 1091–1107 (2021). https://doi.org/10.1007/s00226-021-01299-1
Received:

Accepted:

Published:

Issue Date: