Abstract
The impact of volatile organic compounds (VOCs) and odor on indoor environment and people has attracted much attention. To reduce this problem of odorous compounds contained in wood panel, this study focused on identifying odorant compounds and exploring the influence of moisture content factors on VOCs and odor emissions. Paper mulberry (Broussonetia papyrifera (L.)Vent.) was investigated using the technology of gas chromatography-mass spectrometry/olfactory (GC–MS/O). Total volatile organic compounds (TVOC) and characteristic odor-active compounds were studied, and the emission of heartwood and sapwood of paper mulberry was compared at the same time. It was found that the main components from heartwood and sapwood were aromatics, alkanes, alkenes, aldehydes ketones, alcohols and esters. Totally, 23 kinds of odor-active compounds were identified from heartwood and sapwood of paper mulberry, among which, aromatics and aldehydes ketones were the main odorant compounds. Seven kinds of key odorant compounds were identified in this process. With the decrease in moisture content, the TVOC and total odor intensity of heartwood and sapwood generally decreased. The moisture content had a great effect on VOC release when the moisture content decreased from 70 to 50% and reduced from fiber saturation point (30%) to air saturation point (10%). The main odor impressions of paper mulberry were aromatic, fresh fruit fragrance, sweet scent and special pungent. In the whole process of moisture content decrease, the TVOC, concentration of odorant and odor intensity of sapwood were higher than that of heartwood.
Access options
Buy single article
Instant access to the full article PDF.
US$ 39.95
Tax calculation will be finalised during checkout.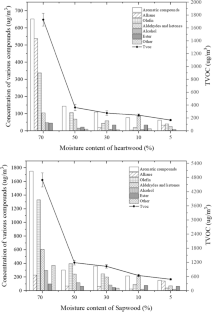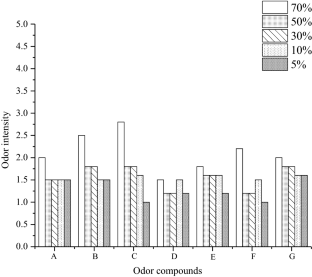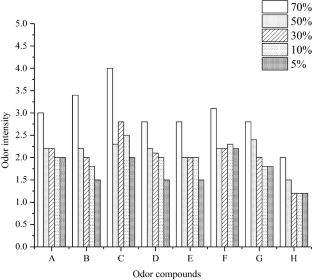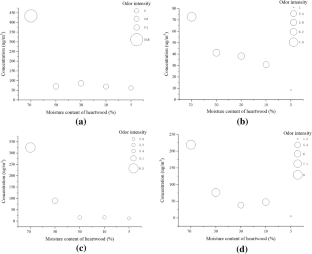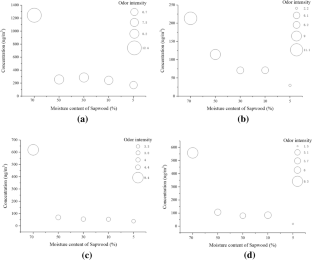 References
Burdock GA (2005) Fenaroli's handbook of flavor ingredients, 5th edn. FL. p, Boca Raton, p 575

Burdock GA (2010) Fenaroli's handbook of flavor ingredients, 6th edn. CRC Press, Boca Raton, FL, p 382

Daisey JM, Angell WJ, Apte MG (2003) Indoor air quality, ventilation and health symptoms in schools: an analysis of existing information. Indoor Air 13:53–64

EN 13725–2003. (2003) Air quality–determination of odour concentration by dynamic olfactometry. European Committee for Standardization. Brussels, Belgium. 2003

Guclu G, Sevindik O, Kelebek H, Selli S (2016) Determination of volatiles by odor activity value and phenolics of cv. Ayvalik Early-Harvest Olive Oil Foods 5(4):46

Ghadiriasli R, Wagenstaller M, Buettner A (2018) Identification of odorous compounds in oak wood using odor extract dilution analysis and two–dimensional gas chromatography–mass spectrometry/olfactometry. Anal Bioanal Chem 410:6595–6607

GB/T 29899–2013 (2013) Determination of the emission of volatile organic compounds from wood-based panels and furnishing-small chamber method. The Standardization Administration of China. B70

Jiang LQ, Shen J, Li HW, Wang QF, Shen XW (2018) Effects of volatile organic compounds released by different decorative particleboards on indoor air quality. BioResources 13:7595–7605

Jiang LQ, Shen J, Zhao Z et al (2019) Study on film properties and VOCs of nano-TiO2 and ZnO modified waterborne paints. J Forest Eng 4(04):148–155

Kim YM, Harrad S, Harrison RM (2001) Concentrations and sources of VOCs in urban domestic and public microenvironments. Environ Sci Technol 35(6):997–1004

Kasper PL, Mannebeck D, Oxbøl A, Nygaard JV, Hansen MJ, Feilberg A (2017) Effects of dilution systems in olfactometry on the recovery of typical livestock odorants determined by PTR-MS. Sensors 17:1859

Kohlpaintner C (2013) Aldehydes, Alphatic. Ullmann's Encyclopedia of Industrial Chemistry. 7th ed. (1999–2015). New York, NY: John Wiley & Sons. Online Posting Date: Jan 15

Larranaga MD, Lewis RJ Sr,  Lewis RA (2016) Hawley's condensed chemical dictionary, 16th edn. Wiley, Hoboken, NJ, p 576

Lewis RJ Sr (2007a) Hawley's condensed chemical dictionary, 15th edn. Wiley, New York, NY, p 371

Lewis RJ Sr (2007b) Hawley's condensed chemical dictionary, 15th edn. Wiley, New York, NY, p 904

Li ZJ, Shen J, Jiang LQ et al (2018) Odor release analysis of MDF with melamine impregnated paper veneer. J Beijing Forestry Univ 40(12):117–123

Liu WJ, Shen J, Wang QF (2017) Design of DL–SW micro–cabin for rapid detection and analysis of VOCs from wood–based panels. Forestry Eng 4:40–45

Liu R, Huang AM, Wang C, Lu B (2018a) Review of odor source and controlling technology for furniture. J Wood Ind 32(03):34–38

Liu R, Wang C, Huang AM, Lv B (2018b) Identification of odorous constituents of southern yellow pine and China fir wood: the effects of extractive removal. Anal Methods 10(18):2115–2122

Liu R, Wang C, Huang AM, Lv B (2018c) Characterization of odors of wood by gas chromatography–olfactometry with removal of extractives as attempt to control indoor air quality. Molecules 23(1):203

Long L, Lu XX (2008) VOC emission from Chinese fir (Cunninghamia lanceolata) drying. Scientia Silvae Sinicae 01:107–116

Lv B, Yang JK, Yang Z et al (2017) Discussion on the smell and environmental performance of wooden furniture. Chin Wood-Based Panels 24(03):4–6

Ministry of the Environment (1971) Law No. 91: Offensive Odor Control Law. Government of Japan, Tokyo, Japan

Marando F, Salvatori E, Fusaro L, Manes F (2016) Removal of PM10 by forests as a nature-based solution for air quality improvement in the metropolitan city of Rome. Forests 7(12):150

Miyazawa T, Gallagher M, Preti G, Wise PM (2008) Synergistic mixture interactions in detection of perithreshold odors by humans. Chem Senses 33(4):363–369

NIOSH (2010) NIOSH Pocket guide to chemical hazards. Department of Health & Human Services, Centers for Disease Control & Prevention. National Institute for Occupational Safety & Health. DHHS (NIOSH) Publication No 2010–168

NOAA (2016) CAMEO Chemicals. Database of Hazardous Materials. Ethylbenzene (100–41–4) Natl Ocean Atmos Admin, Off Resp Rest NOAA Ocean Serv 2016 Available from June 14

O'Neil MJ (2013) The merck index - an encyclopedia of chemicals, drugs, and biologicals. Royal Soc Chem, Cambridge, UK, p 186

Peng WX, Zhu TL, Zheng ZZ, Fan ZC, Li KF, Li NC (2004) Research status and trend of wood extractive. China Forestry Sci Technol 05:6–9

Qian MC, Wang Y (2005) Seasonal variation of volatile composition and odor activity value of "marion" (Rubus spp hyb) and "Thornless Evergreen" (R laciniatus L) Blackberries. J Food Sci 70(1):13–20

Rui L, Buccolieri R, Gao Z, Ding W, Shen J (2018) The impact of green space layouts on microclimate and air quality in residential districts of Nanjing. China Forests 9(4):224

Sax NI (1984) Dangerous properties of industrial materials, 6th edn. Van Nostrand Reinhold, New York, NY, p 152

Schreiner L, Bauer P, Buettner A (2018) Resolving the smell of wood Identification of odour–active compounds in Scots pine (Pinus sylvestris L.). Sci Rep 8:1–9

Shen J, Jiang LQ (2018) A review of research on VOCs release from wood–based panels. J Forestry Eng 3(06):1–10

Shao YL, Shen J, Shen XW, Qin JK (2018) Effect of panel area–volume ratio on TVOC released from decorative particleboards. Wood Fiber Sci 50:132–142

Sun ZB, Yan XJ, Lin B et al (2018) GC-O sniffing analysis based on direct intensity method for different vinegar-age Zhenjiang vinegar aroma active ingredients. Chin J Food Sci 18(03):227–234

Schnabel K, Belitz H, v. Ranson C, (1988) Untersuchungen zur Struktur-Aktivitäts-Beziehung bei Geruchsstoffen. (Investigations of the structure-activity relationship in odorants)(In German). Z Lebensm Unters Forsch 187:215–223

Wang JX (2011) Study on impact of environmental factors on emission of VOC from wood-based panels. D. Northeast Forestry University

Wang QF, Shen J, Shen XW, Du J (2018a) Volatile organic compounds and odor emissions from alkyd resin enamel–coated particleboard. BioResources 13(3):6837–6849

Wang QF, Shen J, Du JH, Cao T, Shen X (2018b) b) Characterization of odorants in particleboard coated with nitrocellulose lacquer under different environment conditions. For Prod j 68(3):272–280

Wang QF, Shen J, Shao YL, Dong H, Li Z, Shen X (2019) Volatile organic compounds and odor emissions from veneered particleboards coated with water–based lacquer detected by gas chromatography–mass spectrometry/olfactometry. Eur J Wood Prod 77(5):771–781

Wang QF, Shen J, Zhao Y, Liu W (2017a) a) Influence of environmental factors to volatile organic compound emissions from plywood by a rapid detection method. For Prod J 67:120–125

Wang QF, Shao YL, Cao TY et al (2017b) Identification of key odor compounds from three kinds of wood species. 2017 International conference on Environmental Science and Sustainable Energy, ESSE139, Suzhou, China

Xie LS (2001) Room environment and wood smell. Furnit Inter Decor 03:13–15

Yang R, Xu W, Liang XY et al (2017) Exploration and analysis of VOC and odor detection technology for solid wood furniture. Furniture 38(05):99–103

Yang R, Xu W, Liang XY et al (2018) Analysis of VOC and odor gas release components of solid wood nightstand. Furniture 39(02):24–27

Zhang WC (2011) Research in characteristics of VOC release from interior overlaid particleboard. D. Northeast Forestry University.
Funding
This research was supported by the "Project of National Natural Science Foundation of China" (Grant no. 31971582).
Ethics declarations
Conflicts of interest
The authors declare no conflict of interest.
Additional information
Publisher's Note
Springer Nature remains neutral with regard to jurisdictional claims in published maps and institutional affiliations.
About this article
Cite this article
Wang, Q., Shen, J., Zeng, B. et al. Research on VOCs and odor from heartwood and sapwood of paper mulberry (Broussonetia papyrifera (L.) Vent.) with different moisture content. Wood Sci Technol 55, 1153–1170 (2021). https://doi.org/10.1007/s00226-021-01292-8
Received:

Accepted:

Published:

Issue Date: