Abstract
Near-infrared spectroscopy (NIRS) is a potential, field-portable wood identification tool. NIRS has been studied as tool to identify some woods but has not been tested for Dalbergia. This study explored the efficacy of hand-held NIRS technology to discriminate, using multivariate analysis, the spectra of some high-value Dalbergia wood species: D. decipularis, D. sissoo, D. stevensonii, D. latifolia, D. retusa, all of which are listed in CITES Appendix II, and D. nigra, which is listed in CITES Appendix I. Identification models developed using partial least squares discriminant analysis (PLS-DA) and soft independent modeling by class analogy (SIMCA) were compared regarding their ability to answer two sets of identification questions. The first is the identification of each Dalbergia species among the group of the six above, and the second is the separation of D. nigra from a single group comprising the other species, grouping all Dalbergia as one class. For this latter study, spectra of D. cearensis and D. tucurensis were added to the broader Dalbergia class. These spectra were not included in the first set because the number of specimens was not enough to create an exclusive class for them. PLS-DA presented efficiency rates of over 90% in both situations, while SIMCA presented 52% efficiency at species-level separation and 85% efficiency separating D. nigra from other Dalbergia. It was shown that PLS-DA approaches are far better suited than SIMCA for generating a field-deployable NIRS model for discriminating these Dalbergia.
This is a preview of subscription content, log in to check access.
Access options
Buy single article
Instant access to the full article PDF.
US$ 39.95
Price includes VAT for USA
Subscribe to journal
Immediate online access to all issues from 2019. Subscription will auto renew annually.
US$ 199
This is the net price. Taxes to be calculated in checkout.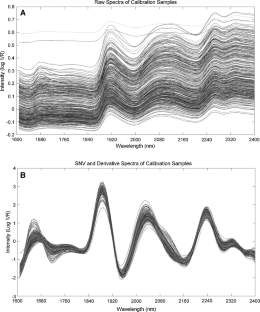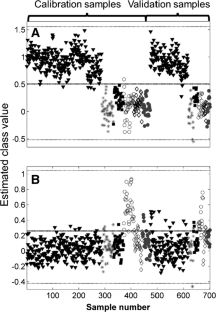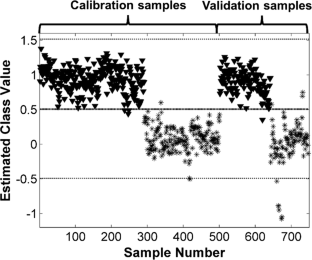 References
Acquah GE, Via BK, Billor N, Fasina OO, Eckhardt LG (2016) Identifying plant part composition of forest logging residue using infrared spectral data and linear discriminant analysis. Sensors 16:1375–1390. https://doi.org/10.3390/s16091375

Adedipe OE, Dawson-Andoh B, Slahor J, Osborn L (2008) Classification of red oak (Quercus rubra) and white oak (Quercus alba) wood using a near infrared spectrometer and soft independent modelling of class analogies. J Near Infrared Spectrosc 16(1):49–57. https://doi.org/10.1255/jnirs.760

Ballabio D, Todeschini R (2009) Multivariate classification for qualitative analysis. In: Da-Wen S (ed) Infrared spectroscopy for food quality analysis and control, 1st edn. Academic Press, London, pp 83–104

Bergo MCJ, Pastore TCM, Coradin VTR, Wiedenhoeft AC, Braga JWB (2016) NIRS identification of Swietenia macrophylla is robust across specimens from 27 countries. IAWA J. 37(3):420–430. https://doi.org/10.1163/22941932-20160144

Botelho BG, Reis N, Oliveira LS, Sena MM (2015) Development and analytical validation of a screening method for simultaneous detection of five adulterants in raw milk using mid-infrared spectroscopy and PLS-DA. Food Chem 181:31–37. https://doi.org/10.1016/j.foodchem.2015.02.077

Braga JWB, Pastore TCM, Coradin VTR, Camargos JAA, Silva AR (2011) The use of near infrared spectroscopy to identify solid wood specimens of Swietenia macrophylla. IAWA J 32:285–296. https://doi.org/10.1163/22941932-90000058

Branden KV, Hubert M (2005) Robust classification in high dimensions based on the SIMCA method. Chemometr Intell Lab Syst 79:10–21. https://doi.org/10.1016/j.chemolab.2005.03.002

Burns D, Ciurczak EW (2007) Handbook of Near-Infrared Analysis. CRC Press, Boca Raton

Camargos JAA, Coradin VTR, Czarneski MC, de Oliveira D, Meguerditchian I (2001) Trees of Brazil catalog. IBAMA, Brasilia

Carballo-Meilan A, Goodman AM, Baron MG, Gonzalez-Rodriguez J (2014) A specific case in the classification of woods by FTIR and chemometric: discrimination of Fagales from Malpighiales. Cellulose 21:261–273. https://doi.org/10.1007/s10570-013-0093-2

Carvalho AM (1997) A synopsis of the genus Dalbergia (Fabaceae: Dalbergieae) in Brazil. Brittonia 49:97–109. https://doi.org/10.2307/2807701

CITES (1992) Check list of CITES species. CITES. http://checklist.cites.org/#/en/search/output_layout=alphabetical&level_of_listing=0&show_synonyms=1&show_author=1&show_english=1&show_spanish=1&show_french=1&scientific_name=Dalbergia+nigra&page=1&per_page=20. Accessed 10 March 2017

CITES (2017) CITES: Appendices I, II and III to the Convention on International Trade in Endangered Species of Wild Fauna and Flora. CITES. https://www.cites.org/eng/app/appendices.php. Accessed 10 March 2017

De Maesschalck R, Candolfi A, Massart DL, Heuerding S (1999) Decision criteria for soft independent modelling of class analogy applied to near infrared data. Chemometr Intell Lab Syst 47:65–77. https://doi.org/10.1016/S0169-7439(98)00159-2

Espinoza EO, Wiemann MC, Barajas-Morales J, Chavarria GD, McClure PJ (2015) Forensic analysis of CITES-protected Dalbergia timber from the Americas. IAWA J. 36(3):311–325. https://doi.org/10.1163/22941932-20150102

Flåten GR, Grung B, Kvalheim OM (2004) A method for validation of reference sets in SIMCA modelling. Chemom Intell Lab Syst 72(1):101–109. https://doi.org/10.1016/j.chemolab.2004.03.003

Gasson P, Miller R, Stekel DJ, Whinder F, Ziemińska K (2010) Wood identification of Dalbergia nigra (CITES Appendix I) using quantitative wood anatomy, principal components analysis and naïve Bayes classification. Ann Bot 105(1):45–56. https://doi.org/10.1093/aob/mcp270

Gasson P, Baas P, Wheeler E (2011) Wood anatomy of cited-listed tree species. IAWA J 32:155–198. https://doi.org/10.1163/22941932-90000050

Guzman JAS, Richter HG, Rodriguez AR, Fuentes TFJ (2008) Wood fluorescence of commercial timbers marketed in Mexico. IAWA J 29:311–322. https://doi.org/10.1163/22941932-90000189

Kite GC, Green PWC, Veitch NC, Groves MC, Gasson PE, Simmonds MSJ (2010) Dalnigrin, a neoflavonoid marker for the identification of Brazilian rosewood (Dalbergia nigra) in CITES enforcement. Phytochemistry 71(10):1122–1131. https://doi.org/10.1016/j.phytochem.2010.04.011

Lancaster C, Espinoza E (2012) Analysis of select Dalbergia and trade timber using direct analysis in real time and time-of-flight mass spectrometry for CITES enforcement. Rapid Commun Mass Spectrom 26(9):1147–1156. https://doi.org/10.1002/rcm.6215

Lazarescu C, Hart F, Pirouz Z, Panagiotidis K, Mansfield SD, Barret JD, Avramidis S (2016) Wood species identification by near-infrared spectroscopy. International Wood Products Journal 8:32–35. https://doi.org/10.1080/20426445.2016.1242270

Lorenzi H (1992) Brazilian trees: manual of identification and cultivation of arboreal plants from Brazil. Plantarum, Nova Odessa

Martins AR, Talhavini M, Vieira ML, Zacca JJ, Braga JWB (2017) Discrimination of whisky brands and counterfeit identification by UV–Vis spectroscopy and multivariate data analysis. Food Chem 229:142–151. https://doi.org/10.1016/j.foodchem.2017.02.024

Miller RB, Wiemann MC (2006) Separation of Dalbergia nigra from Dalbergia spruceana. U.S. Department of Agriculture. https://www.fpl.fs.fed.us/documnts/fplrp/fpl_rp632.pdf. Accessed 10 Feb 2017

Myers N, Mittermeier RA, Mittermeier CG, da Fonseca GAB, Kent J (2000) Biodiversity hotspots for conservation priorities. Nature 403:853–858. https://doi.org/10.1038/35002501

Pasquini C (2003) Near Infrared Spectroscopy: fundamentals, practical aspects and analytical applications. J Braz Chem Soc 14(2):198–219. https://doi.org/10.1590/s0103-50532003000200006

Pastore TCM, Braga JWB, Coradin VTR, Magalhaes WLE, Okino EYA, Camargos JAA, Muniz GIB, Bressan OA, Davrieux F (2011) Near infrared spectroscopy (NIRS) as a potential tool for monitoring trade of similar woods: discrimination of true mahogany, cedar, andiroba, and curupixa. Holzforschung 65:73–80. https://doi.org/10.1515/HF.2011.010

Schwanninger M, Rodrigues JC, Fackler K (2011) A review of band assignments in near infrared spectra of wood and wood components. J Near Infrared Spectrosc 19(5):287–308. https://doi.org/10.1255/jnirs.955

Soares LF, Silva DC, Bergo MCJ, Coradin VTR, Braga JW, Pastore TCM (2017) Evaluation of a NIR handheld device and PLS-DA for discrimination of six similar Amazonian wood species. Quim Nova 40:418–426. https://doi.org/10.21577/0100-4042.20170014

Stehmann JR, Forzza RC, Salino A, Sobral M, Costa DP, Kamino LHY (2009) Plants of Atlantic Forest. Jardim Botânico do Rio de Janeiro, Rio de Janeiro

The Plant List (2013) The plant List 2013 Version 1.1. The plant List. http://www.theplantlist.org. Accessed 7 Apr 2017

UNODC—United Nations Office on Drugs and Crime (2016) Best practice guide for forensic timber identification. UNODC. https://www.unodc.org/documents/Wildlife/Guide_Timber.pdf. Accessed 18 Mar 2017

Wiemann MC, Ruffinatto F (2012) Separation of Dalbergia stevensonii from Dalbergia tucurensis. USDA Forest Service. https://www.fpl.fs.fed.us/documnts/fplrp/fpl_rp665.pdf. Accessed 09 May 2017

Wise BM, Shaver JM, Gallagher NB, Windig W, Bro R, Koch RS (2006) PLS Toolbox Version 4.0 for use with MatlabTM. Eigenvector Research Inc. http://mitr.p.lodz.pl/raman/jsurmacki/pliki/zajecia/LMDiT/cw3/LMDiT_PLS_Manual_4.pdf. Accessed 13 March 2017
Acknowledgements
The authors thank ITTO-CITES Program, Forest Products Laboratory/USDA, Forest Products Laboratory of Brazilian Forest Service, University of Brasília, INCTBio Program, CAPES, CNPq and FAPDF.
Additional information
Publisher's Note
Springer Nature remains neutral with regard to jurisdictional claims in published maps and institutional affiliations.
Electronic supplementary material
Below is the link to the electronic supplementary material.
About this article
Cite this article
Snel, F.A., Braga, J.W.B., da Silva, D. et al. Potential field-deployable NIRS identification of seven Dalbergia species listed by CITES. Wood Sci Technol 52, 1411–1427 (2018). https://doi.org/10.1007/s00226-018-1027-9
Received:

Published:

Issue Date: