Abstract
The effect of UV irradiation on different wood species represents an open subject of research. Six species, half softwoods and half hardwoods, all important for both historic and modern furniture, were subjected to the action of artificial UV radiation at a constant temperature of 40 °C. The species were: fir (Abies alba), pine (Pinus sylvestris), larch (Larix decidua), ash (Fraxinus excelsior), cherry (Prunus/Cerasus avium) and walnut (Juglans regia). Previous research showed that important and rapid changes occur within the first 24 h of exposure, and therefore, a short exposure time was adopted in this research, where the specimens were subjected to the action of UV-rich artificial light (UVB–UVA–Vis, 295–600 nm, UVA-Spot 400T source), at a constant temperature of 40 °C, in a climatic chamber. The effect of exposure was measured after 6, 12, 18 and 24 h. The test samples were covered with black cardboard on half of their surface to block the access of UV radiation and allow the investigation of temperature effect with none or limited UV penetration. The experiments proved that UV radiation caused rapidly colour changes (after 6 h), as darkening, monitored by direct observations and colour measurements in the CIE Lab system. The overall colour difference ΔE evolved in time, reaching, after 24 h UV exposure at 40 °C, a maximum for pine (15.93) and minimum for ash (7.05). FTIR–ATR analyses were performed to determine surface chemical structure changes associated with the measured colour changes. UV radiation caused photodegradation phenomena as lignin degradation and photooxidation processes leading to the formation of carbonyl containing chromophores, even after short-time exposure periods (6 h), which evolved in time following patterns influenced by the wood species. The moderate temperature had only a limited effect on the covered specimens, on both colour and surface chemistry changes, compared to the effect combined with UV irradiation, but particularities were observed in the behaviour of the wood species studied. The combined analysis of FTIR–ATR results with CIE Lab measurements showed only a slight trend in case of yellowness, which was associated with lignin degradation, but none for redness, associated mostly with wood extractives. The different behaviour of the wood species studied may be related to the differences in their chemical composition, especially lignin and extractives content.
Access options
Buy single article
Instant access to the full article PDF.
US$ 39.95
Tax calculation will be finalised during checkout.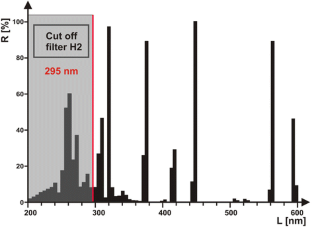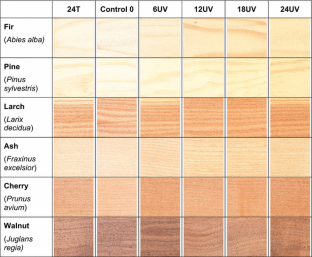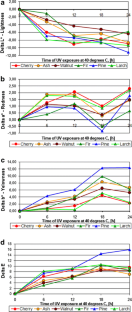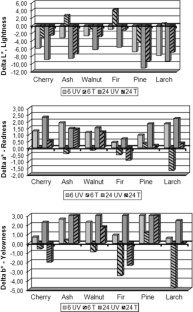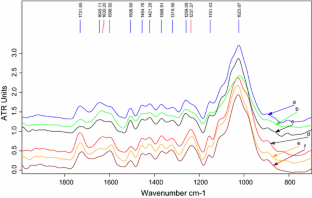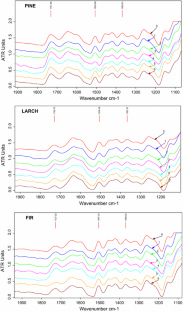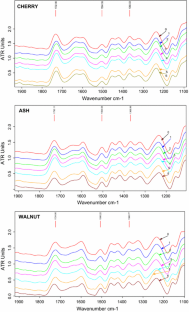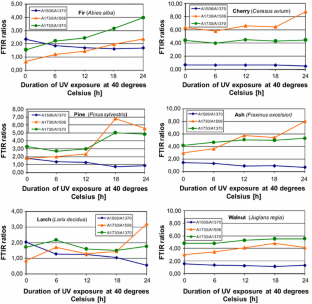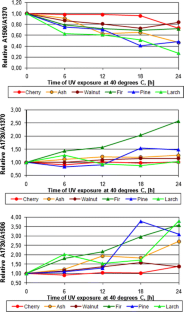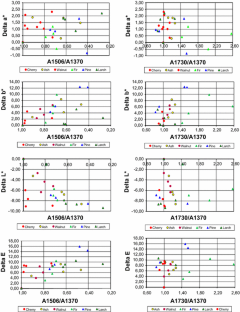 References
Agreşti G, Bonifazi G, Calienno L, Capobianco G, Lo Monaco A, Pelosi C, Picchio R, Serranti S (2013) Surface investigation of photo-degraded wood by color monitoring, infrared spectroscopy, and hyperspectral imaging. J Spectrosc. doi:10.1155/2013/380536

Baar J, Gryc V (2012) The analysis of tropical wood discoloration caused by simulated sunlight. Eur J Wood Prod 70(1–3):263–269

Baar J, D'Amico S, Wimmer R (2013) Colour and light- induced discoloration of wood from the tropical species Jatoba and African padauk. ProLigno 9(4):581–586

Baar J, Wimmer R, D'Amico S (2014) Dependence of colour and discolouration on total extractive content of African Padauk and Jatoba. Wood Sci Technol 48(6):1155–1165

Bodîrlău R, Spiridon I, Teacă CA (2007) Chemical investigation of wood tree species in temperate forest in east-northern Romania. BioResources 2(1):41–57

Calienno L, Lo Monaco A, Pelosi C, Picchio R (2014) Colour and chemical changes on photodegraded beech wood with or without red heartwood. Wood Sci Technol 48(6):1167–1180

Chang HT, Yeh TF, Chang ST (2002) Comparisons of chemical characteristic variations for photodegraded softwood and hardwood with/without polyurethane clear coatings. Polym Degrad Stab 77(1):129–135

Chang TC, Chang HT, Wu CL, Chang ST (2010a) Influences of extractives on the photodegradation of wood. Polym Degrad Stab 95:516–521

Chang TC, Chang HT, Wu CL, Lin HY, Chang ST (2010b) Stabilizing effect of extractives on the photo-oxidation of Acacia confusa wood. Polym Degrad Stab 95:1518–1522

Chang TC, Lin HY, Wang SY, Chang ST (2014) Study on inhibition mechanisms of light-induced wood radicals by Acacia confusa heartwood extracts. Polym Degrad Stab 105:42–47

Chou PL, Chang HT, Yeh TF, Chang ST (2008) Characterizing the conservation effect of clear coatings on photodegradation of wood. Bioresour Technol 99:1073–1079

Colom X, Carrillo F, Nogués F, Garriga P (2003) Structural analysis of photodegraded wood by means of FTIR spectroscopy. Polym Degrad Stab 80:543–549

Emandi A, Vasiliu CI, Budrugeac P, Stamatin I (2011) Quantitative investigation of wood composition by integrated FT-IR and thermogravimetric methods. Cellulose Chem Technol 45:579–584

Esteves B, Velez Marques A, Domingos I, Pereira H (2013) Chemical changes of heat treated pine and Eucalypt wood monitored by FTIR, Maderas. Ciencia y tecnología 15(2):245–258

Fengel D, Wegener G (1984) Wood—chemistry, ultra structure, reactions. Berlin and New York

Forsthuber B, Müller U, Teischinger A, Grüll G (2013) Chemical and mechanical changes during photooxidation of an acrylic clear wood coat and its prevention using UV absorber and micronized TiO2. Polym Degrad Stab 98:1329–1338

Fufa SM, Jellea BP, Hovde PJ (2013) Weathering performance of spruce coated with water based acrylicpaint modified with TiO2 and clay nanoparticles. Prog Org Coat 76:1543–1548

Hon DNS (2001) Weathering and photochemistry of wood. In: Hon DNS, Shiraishi N (eds) Wood and cellulosic chemistry, 2nd edn, rev. and expanded. Marcel Decker Inc, New York, pp 513–546

Kataoka Y, Kiguchi M, Williams R, Evans D (2007) Violet light causes photodegradation of wood beyond the zone affected by ultraviolet radiation. Holzforschung 61:23–27

Müller U, Rätzsch M, Schwanninger M, Steiner M, Zöbl H (2003) Yellowing and IR-changes of spruce wood as result of UV-irradiation. J Photochem Photobiol B 69:97–105

Oltean L, Teischinger A, Handmann C (2008) Wood surface discolouration due to simulated indoor sunlight exposure. Holz Roh Werkst 66:51–56

Palija T, Dobić J, Jaić M (2013) A photochemical method for improvement of colour stability at polymer–wood biointerfaces. Colloids Surf B 108:152–157

Pandey KK (2005) Study of the effect of photo-irradiation on the surface chemistry of wood. Polym Degrad Stab 90:9–20

Pandey KK, Pitman AJ (2003) FTIR studies of the changes in wood chemistry following decay by brown-rot and white-rot fungi. Int Biodeterior Biodegrad 52:151–160

Pandey KK, Vuorinen T (2008) Comparative study of photodegradation of wood by a UV laser and a xenon light source. Polym Degrad Stab 93:2138–2146

Paţachia S, Croitoru C, Friedrich C (2012) Effect of UV exposure on the surface chemistry of wood veneers treated with ionic liquids. Appl Surf Sci 258:6723–6729

Persze L, Tolvaj L (2012) Photodegradation of wood at elevated temperature: colour change. J Photochem Photobiol B 108:44–47

Preklet E, Papp G, Barta E, Tolvaj L, Berkesi O, Bohus J, Szatmári S (2012) Changes in DRIFT spectra of wood irradiated by lasers of different wavelength. J Photochem Photobiol B 112:43–47

Röntgen WC (1895) On a new kind of rays from the Sitzungsberichte der Würzburger Physik-medic. Ges Nat 53(1369):274

Roşu D, Teacă CA, Bodîrlău R, Roşu L (2010) FTIR and colour change of the modified wood as a result of artificial light irradiation. J Photochem Photobiol B 99(3):144–149

Srinivas K, Pandey KK (2012) Photodegradation of thermally modified wood. J Photochem Photobiol B 117:140–145

Teacă CA, Roşu D, Bodîrlău R, Roşu L (2013) Structural changes in wood under artificial UV light irradiation determined by FTIR spectroscopy and color measurements—a brief review. BioRes 8(1):1478–1507

Tolvaj L, Faix O (1995) Artificial ageing of wood monitored by DRIFT spectroscopy and CIELab color measurements. 1. Effect of UV light. Holzforschung 49:397–404

Tolvaj L, Mitsui K (2005) Light source dependence of the photodegradation of wood. J Wood Sci 51:468–473

Tolvaj L, Mitsui K (2010) Correlation between hue angle and lightness of light irradiated wood. Polym Degrad Stab 95(4):638–642

Tolvaj L, Varga D (2012) Photodegradation of timber of three hardwood species caused by different light sources. Acta Silv Lign Hung 8:145–155

Tolvaj L, Persze L, Albert L (2011) Thermal degradation of wood during photodegradation. J Photochem Photobiol B 105:90–93

Tolvaj L, Molnar Z, Nemeth R (2013) Photodegradation of wood at elevated temperature: infrared spectroscopic study. J Photochem Photobiol B 12:132–136

Tolvaj L, Molnar Z, Magoss E (2014a) Measurement of photodegradation-caused roughness of wood using a new optical method. J Photochem Photobiol B 134:23–26

Tolvaj L, Nemeth R, Pasztory Z, Bejo L, Takats P (2014b) Colour stability of thermally modified wood during short-term photodegradation. BioRes 9(4):6644–6651

Tu CM, Apt A (2013) Light barrier properties of paperboard, packages and plastic caps in packages. Master thesis. Lund University. https://lup.lub.lu.se/student-papers/search/publication/4175246

Wagenführ R (2000) Holzatlas. (Wood atlas) (In German) Hanser Fachbuchverlag. Leipzig

Williams RS (2005) Weathering of wood. In: Rowell RM (ed) Handbook of wood chemistry and wood composite. Taylor and Francis (CRC Press), Florida, pp 139–185

Živković V, Arnold M, Radmanović K, Richter K, Turkulin H (2014) Spectral sensitivity in the photodegradation of fir wood (Abies alba Mill.) surfaces: colour changes in natural weathering. Wood Sci Technol 48:239–252
Acknowledgments
We hereby acknowledge the structural founds project PRO-DD (POS-CCE, O.2.2.1., ID 123, SMIS 2637, ctr. No 11/2009) for providing the infrastructure used in this work. The authors are also grateful to Mrs. Mihaela Pamfile Lazar for her contribution to colour measurements.
About this article
Cite this article
Timar, M.C., Varodi, A.M. & Gurău, L. Comparative study of photodegradation of six wood species after short-time UV exposure. Wood Sci Technol 50, 135–163 (2016). https://doi.org/10.1007/s00226-015-0771-3
Received:

Published:

Issue Date:
Keywords
Lignin

Wood Species

Lignin Degradation

Juglans Regia

Black Cardboard