Abstract
This paper deals with the characterisation of bending stiffness components of medium density fibreboard (MDF) by carrying out a single plate bending test. The approach couples full-field slope measurements with an inverse identification method. MDF panels manufactured with different fractions of Eucalyptus fibres and sugarcane bagasse particles were used. The slope maps generated across the plate surface were measured by the deflectometry technique. The curvature fields of the deformed plate were reconstructed by numerical differentiation afterwards. The virtual fields method was then implemented for material parameter identification under the framework of Kirchhoff–Love plate bending theory. The elastic properties obtained from the proposed data reduction (i.e. simultaneous identification of modulus of elasticity, Poisson's ratio and shear modulus) were compared with values determined from classical three-point bending tests and reported in the literature. The set of properties were found in relatively good agreement.
Access options
Buy single article
Instant access to the full article PDF.
USD 39.95
Price excludes VAT (USA)
Tax calculation will be finalised during checkout.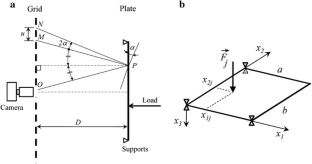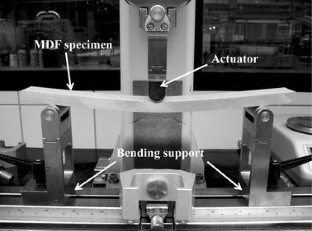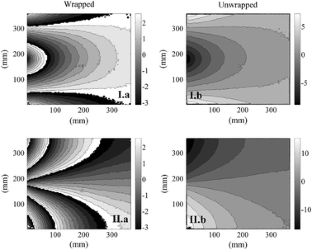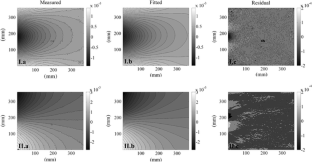 References
Avril S, Grédiac M, Pierron F (2004) Sensitivity of the virtual fields method to noisy data. Comput Mech 34(6):439–452

Avril S, Bonnet M, Bretelle AS, Grédiac M, Hild F, Ienny P, Latourte F, Lemosse D, Pagano S, Pagnacco E, Pierron F (2008) Overview of identification methods of mechanical parameters based on full-field measurements. Exp Mech 48(4):381–402

Belini U, Tomazello Filho M, Louzada J, Rodrigues J, Astolphi J (2012) Pilot study for MDF manufacture from sugarcane bagasse and Eucalyptus fibers. Eur J Wood Prod 70(4):537–539

EN 310 (1993) Wood-based panels, determination of modulus of elasticity in bending and bending strength. European Committee for Standardization, Brussels, Belgium

Ghiglia D, Pritt M (1998) Two-dimensional phase unwrapping: theory, algorithms, and software. Wiley, USA

Grédiac M (2004) The use of full-field measurement methods in composite material characterization: interest and limitations. Compos A Appl Sci Manuf 35(7–8):751–761

Grédiac M, Toussaint E, Pierron F (2003) Special virtual fields for the direct determination of material parameters with the virtual fields method. 3- Application to the bending rigidities of anisotropic plates. Int J Solids Struct 40(10):2401–2419

Grédiac M, Pierron F, Avril S, Toussaint E (2006) The virtual fields method for extracting constitutive parameters from full-field measurements: a review. Strain 42(4):233–253

Kim JH (2008) Identification of the local stiffness reduction of damaged composite plates using the virtual fields method. PhD thesis, Art et Métiers ParisTech Châlons-en-Champagne, France

Kim JH, Pierron F, Grédiac M, Wisnom M (2007) A procedure for producing reflective coatings on plates to be used for full-field slope measurements by a deflectometry technique. Strain 43(2):138–144

Machado J, Cruz H (2005) Within stem variation of maritime pine timber mechanical properties. Holz Roh Werkst 63(2):154–159

Moboru S, Taeko S (2004) Poisson's ratio of wood-based panels and Poisson's effect of hygroscopic linear expansion under a uniaxially dimensional restraint. J Soc Mat Sci 53(4):396–401

Müller U, Sretenovi A, Vincenti A, Gindl W (2005) Direct measurement of strain distribution along a wood bond line. Part 1: shear strain concentration in a lap joint specimen by means of electronic speckle pattern interferometry. Holzforschung 59(3):300–306

Pierron F (2009) A novel method for measuring the through-thickness shear moduli of anisotropic plates from surface deformation measurements. Compos A Appl Sci Manuf 40(12):1815–1825

Pierron F, Grédiac M (2012) The virtual fields method. Springer, New York

Surrel Y (1999) Fringe analysis. In: Rastogi P (ed) Photomechanics (topics in applied physics). Springer, Berlin, pp 57–104

Surrel Y (2002) Some metrological issues in optical full-field techniques. Proc SPIE 4777:220–231

Surrel Y (2004) Deflectometry: a simple and efficient noninterferometric method for slope measurement. In: Xth SEM International congress on experimental mechanics, society for experimental mechanics, 7–10 June in Costa Mesa, California, USA

Syed-Muhammad K, Toussaint E, Grédiac M, Avril S, Kim J (2008) Characterization of composite plates using the virtual fields method with optimized loading conditions. Compos Struct 85(1):7082

Williamson TG (2002) APA engineered wood handbook. McGraw-Hill, USA

Xavier J, Avril S, Pierron F, Morais J (2009) Variation of transverse and shear stiffness properties of wood in a tree. Compos A Appl Sci Manuf 40:1953–1960

Xavier J, de Jesus A, Morais J, Pinto J (2012) Stereovision measurements on evaluating the modulus of elasticity of wood by compression tests parallel to the grain. Constr Build Mater 26(1):207–215

Zhou C, Dai C, Smith G (2011) Modeling vertical density profile formation for strand-based wood composites during hot pressing: part 2. Experimental investigations and model validation. Compos B Eng 42(6):1357–1365
Acknowledgments
The authors would like to acknowledge the São Paulo Research Foundation (FAPESP), the programs CAPES-GRICES and Ciência 2008 of the Foundation of Science and Technology of Portugal (FCT) for financial support. We also thank São Manoel Sugar Factory S.A. (Brasil) for support in the MDF manufacturing process. Finally, we thank Joaquim Moura and Cristóvão Santos for helping in the plate bending fixture set-up.
About this article
Cite this article
Xavier, J., Belini, U., Pierron, F. et al. Characterisation of the bending stiffness components of MDF panels from full-field slope measurements. Wood Sci Technol 47, 423–441 (2013). https://doi.org/10.1007/s00226-012-0507-6
Received:

Published:

Issue Date:

DOI: https://doi.org/10.1007/s00226-012-0507-6
Keywords
Urea Formaldehyde Resin

Electronic Speckle Pattern Interferometry

Medium Density Fibreboard

Curvature Field

Virtual Field