Abstract
Western red cedar (WRC) is well known for its natural durability. However, the roles of all the extractives that may be associated with this durability are not fully understood. The literature primarily credits the thujaplicins, with a lesser role for the lignans; however, previous work has identified highly durable material with low thujaplicin content. To elucidate the relative importance of various extractives, the decay resistance of WRC stakes at four test sites was compared with data on the content of specific extractives to determine whether there was any detectable association. The concentration of plicatic acid, a lignan, was associated with the decay resistance of WRC lumber in ground contact. An unidentified, unquantified compound (B) appeared to be similarly associated with decay resistance. The thujaplicins were only weakly associated with the decay resistance of WRC in ground contact.
Access options
Buy single article
Instant access to the full article PDF.
USD 39.95
Price includes VAT (USA)
Tax calculation will be finalised during checkout.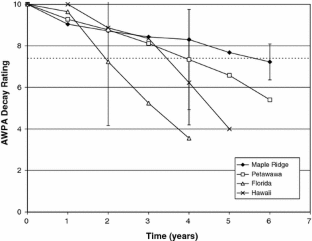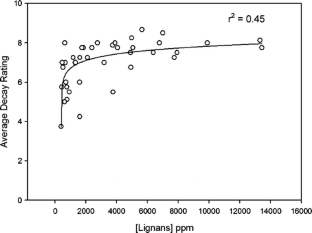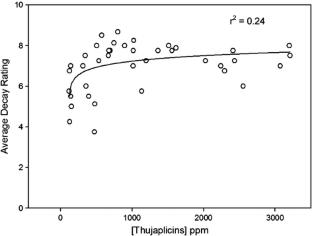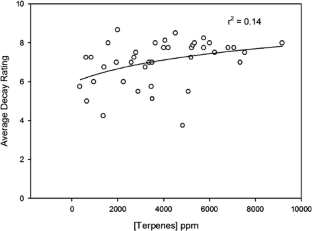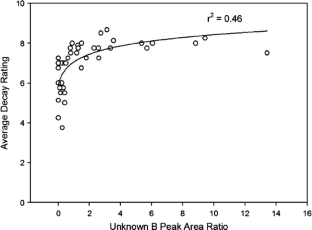 References
Akers HA, Abrego VA, Garland E (1980) Thujaplicins from Thuja plicata as iron transport agents for Salmonella typhimurium. J Bacteriology 141(1):164–168

American Wood Protection Association (2009) AWPA E7-09 Standard method of evaluating wood preservatives by field tests with stakes. In: AWPA book of standards 2009. AWPA, Birmingham, AL, pp 363–371

Arima YA, Hatanaka A, Tsukihara S, Fujimoto K, Fukuda K, Sakurai H (1997) Scavenging activities of alpha-, beta- and gamma-thujaplicins against active oxygen species. Chem Pharm Bull 45(12):1881–1886

Barton GM, MacDonald BF (1971) The chemistry and utilization of western red cedar. Department of Fisheries and Forestry, Canadian Forestry Service, Publication No. 1023. 31p

Cartwright KStG (1941) The variability in resistance to decay of the heartwood of home-grown western red cedar (Thuja plicata D. Don) and its relation to position in the log. Forestry 15:65–75

Chedgy RJ, Lim YW, Breuil C (2009) Effects of leaching on fungal growth and decay of western red cedar. Can J Bot 55:578–586

Cook JA, Morris PI (1995) Modelling data from stake tests of waterborne wood preservatives. For Prod J 45(11/12):61–65

Daniels CR, Russell JH (2007) Analysis of western redcedar (Thuja plicata Donn) heartwood components by HPLC as a possible screening tool for trees with enhanced natural durability. J Chromatogr Sci 45:281–285

DeBell JD, Morrell JJ, Gartner BL (1997) Tropolone content of increment cores as an indicator of decay resistance in western redcedar. Wood Fiber Sci 29(4):364–369

DeBell JD, Morrell JJ, Gartner BL (1999) Within stem variation in tropolone content and decay resistance of second-growth western red cedar. For Sci 45(1):101–107

Diouf PN, Delbarre N, Perrin D, Gérardin P, Rapin C, Jacquot JP, Gelhaye E (2002) Influence of tropolone on Poria placenta wood degradation. Appl Environ Microbiol 68(9):4377–4382

Erdtman H, Gripenberg J (1948) Antibiotic substances from the heart wood of Thuja plicata D. Don. II. The constitution of gamma-thujaplicin. Acta Chemica Scand 2:625–638

Freitag CM, Morrell JJ (2001) Durability of a changing western redcedar resource. Wood Fiber Sci 33(1):69–75

Gardner JAF, Barton GM, MacLean H (1959) The polyoxyphenols of western red cedar (Thuja plicata Donn.). I. Isolation and preliminary characterization of plicatic acid. Can J Chem 37:1703–1709

Jin L, van der Kamp B, Wilson J, Swan EP (1988a) Biodegradation of thujaplicins in living western red cedar. Can J For Res 18:782–786

Jin L, Wilson JW, Swan EP (1988b) Thujin, a novel lactone isolated from the discolored heartwood of Thuja plicata Donn. Can J Chem 66:51–53

Johnson EL, Cserjesi AJ (1980) Weathering effect on thujaplicin concentration in western redcedar shakes. For Prod J 30(6):52–53

Laks PE, Morris PI, Larkin GM, Ingram JK (2008) Field tests of naturally durable North American wood species. Int Res Group Wood Prot Document No. IRG/WP/08-10675. 11p

Lim YW, Chedgy RJ, Amirthalingham S, Breuil C (2007) Screening fungi tolerant to western red cedar (Thuja plicata Donn) extractives. Part 2. Development of a feeder strip assay. Holzforschung 61:195–200

MacDonald BF, Barton GM (1973) Lignans of western red cedar (Thuja plicata Donn). XI. Beta-Apoplicatitoxin. Can J Chem 51(4):482–485

MacLean H, Murakami K (1966) Lignans of western red cedar (Thuja plicata Donn) IV. Thujaplicatin and thujaplicatin methyl ether. Can J Chem 44:1541–1545

Morita Y, Matsumura E, Okabe T, Fukui T, Shibata M, Sugiura M, Ohe T, Tsujibo H, Ishida N, Inamori Y (2004) Biological activity of alpha-thujaplicin, the isomer of hinokitiol. Biol Pharm Bull 27(6):899–902

Morris PI, Ingram JK (2006) Field testing of wood preservatives in Canada XV: durability of shakes and shingles. Proc Can Wood Preserv Assoc 27:91–106

Nault J (1988) Radial distribution of thujaplicins in old growth and second growth western red cedar (Thuja plicata Donn). Wood Sci Technol 22:73–80

Rennerfelt E (1948) Thujaplicin, a fungicidal substance in the heartwood of Thuja plicata. Physiol Plant 1:245–254

Roff JW, Atkinson JM (1954) Toxicity tests of a water-soluble phenolic fraction (thujaplicin-free) of western red cedar. Can J Bot 32:308–309

Roff JW, Whittaker EI (1959) Toxicity tests of a new tropolone, beta-thujaplicinol (7-hydroxy-4-isopropyltropolone) occurring in western red cedar. Can J Bot 37:1132–1134

Rudman P (1962) The causes of natural durability in timber. IX. The antifungal activity of heartwood extractives in a wood substrate. Holzforschung 16(3):74–77

Rudman P (1963) The causes of natural durability in timber. XI. Some tests on the fungi toxicity of wood extractives and related compounds. Holzforschung 17(2):54–57

Russell JH, Daniels CR (2010) Variation in western redcedar heartwood extractives. International Cedar Symposium on western redcedar and yellow-cedar. USDA FS PNW-GTR-828. pp 83–86

Schultz TP, Nicholas DD (2000) Naturally durable heartwood: evidence for a proposed dual defensive function of the extractives. Phytochem 54:47–52

Schultz TP, Nicholas DD (2002) Development of environmentally-benign wood preservatives based on the combination of organic biocides with antioxidants and metal chelators. Phytochem 61:555–560

Sowder AM (1929) Toxicity of water-soluble extractives and relative durability of water-treated wood flour of western red cedar. Ind Eng Chem 21(10):981–984

Stirling R (2010) Residual extractives in western red cedar shakes and shingles after long-term field testing. For Prod J 60(4):353–356

Stirling R, Morris PI (2010) Reducing depletion of western redcedar extractives from wood in service. International cedar symposium on western redcedar and yellow-cedar. USDA FS PNW-GTR-828. pp 87–92

Stirling R, Clark JE, Daniels CR, Morris PI (2007) Methods for determining the role of extractives in the natural durability of western red cedar heartwood. Int Res Group Wood Prot Document No. IRG/WP/07-20356. 12p

Taylor AM, Gartner BL, Morrell JJ, Tsunoda K (2006) Effects of heartwood extract fractions of Thuja plicata and Chamaecyparis nootkatensis on wood degradation by termites or fungi. J Wood Sci 52:147–153

Yen T-B, Chang H-T, Hseih C-C, Chang S-T (2008) Antifungal properties of ethanolic extract and its active compounds from Calocedrus macrolepis var. formosana (Florin) heartwood. Bioresour Technol 99:4871–4877
Acknowledgments
The work of Peter Laks and Glenn Larkin of Michigan Technological University in installing and evaluating test stakes at the Florida and Hawaii test sites is gratefully acknowledged. The development of the HPLC method for extractives analysis and initial selection of unknown compounds A-I by Bob Daniels is also gratefully acknowledged. FPInnovations would like to thank its industry members, Natural Resources Canada (Canadian Forest Service); the Provinces of British Columbia, Alberta, Saskatchewan, Manitoba, Ontario, Quebec, Nova Scotia, New Brunswick, as well as Newfoundland and Labrador, and the Government of Yukon for their guidance and financial support for this research.
About this article
Cite this article
Morris, P.I., Stirling, R. Western red cedar extractives associated with durability in ground contact. Wood Sci Technol 46, 991–1002 (2012). https://doi.org/10.1007/s00226-011-0459-2
Received:

Published:

Issue Date:
Keywords
Terpene

Lignan

Ground Contact

Decay Resistance

Natural Durability