Abstract
Food is physically manipulated by other materials during production processes, and therefore, food quality and safety are vital in processes where foods are in contact with various materials. Wooden frames were used for centuries for dried egg pasta trays; however, with the development of different materials, wood was slowly abandoned and replaced by plastic. Nevertheless, there are some hygienic considerations concerning plastic frames in the dried egg pasta making industry. In this study, plastic and wooden trays were analysed by swabbing (n = 210) and evaluated in regard to total number of aerobic counts (TAC), Enterobacteriaceae, Escherichia coli, moulds, yeasts and Staphylococcus aureus using dry medium plates. The aims of the research were to (1) evaluate the total number of microorganisms on wood and plastic material used for pasta trays and (2) make a hygienic evaluation of analysed materials for application in the pasta industry. The research was aimed to answer the question, 'Does the tray material and/or location of the swab sample influence the colony forming unit (CFU)/20 cm2?' Results showed a statistical difference in CFU/20 cm2 for all bacterial determinations, except for E. coli which was not detected in swabs taken from wooden or plastic trays. This hygiene evaluation study supported the conclusion that the use of wood is appropriate in the food industry from a hygienic and technological point of view.
Access options
Buy single article
Instant access to the full article PDF.
US$ 39.95
Tax calculation will be finalised during checkout.
Subscribe to journal
Immediate online access to all issues from 2019. Subscription will auto renew annually.
US$ 119
Tax calculation will be finalised during checkout.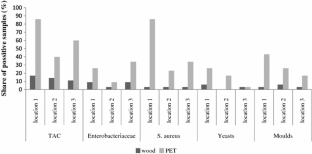 References
Almedom AM, Blumenthal U, Manderson L (1997) Hygiene evaluation procedures: approaches and methods for assessing water—and sanitation—related hygiene practices. London school of hygiene and tropical medicine, international nutrition foundation for developing countries (INFDC), http://www.unu.edu/unupress/food2/UIN11E/UIN11E00.HTM

Beyer G, Guðbjörnsdóttir B (2002) Wood in the food industry—guidelines for handling wooden pallets. Nordic industrial fund, pp 1–27

Burlingame B, Pineiro M (2007) The essential balance: risks and benefits in food safety and quality. J Food Compos Anal 20:139–146

Dalbon G, Grivon D, Pagani AM (1996) Continuous manufacturing process. In: Kruger EJ, Matsuo BR, WJ Dick (eds) Pasta and noodle technology. Am Assoc Cereal Chem, pp 13–58

De Smedt JM (1998) AOAC validation of qualitative and quantitative methods for microbiology in foods. Int J Food Microbiol 45(1):25–28

De Temmerman JP, Verboven AJ, Delcour B, Ramon H (2008) Drying model for cylindrical pasta shapes using desorption isoterms. J Food Eng 86(3):414–421

De Zorui M, Curion A, Simonato B, Giannattasio M, Pasini G (2007) Effect of pasta drying temperature on gastrointestinal digestibility and allergenicity of durum wheat proteins. Food Chem 104(1):353–363

Dežman B (2000) Swabs to cleanliness. University of Ljubljana. College of health studies, Department of Sanitary Engineering, pp 50–54

DIN 10113-1:1997-07 (1997) Bestimmung des Oberflächenkeimgehaltes auf Einrichtungs- und Bedarfsgegenständen im Lebensmittelbereich—Teil 1: Quantitatives Tupferverfahren, Deutsches Institut für Normung, Berlin, Germany, pp 3–9

DIN 10113-2:1997-07 (1997) Bestimmung des Oberflächenkeimgehaltes auf Einrichtungs- und Bedarfsgegenständen im Lebenmittelbereich—Teil 2: Semiquantitatives Tupferverfahren, Deutsches Institut für Normung, Berlin, Germany, pp 2–5

Garbutt J (1997) Essentials of food microbiology. Arnold London, London, p 243

Gough NL, Dodd CER (1998) The survival and disinfection of Salmonella typhimurium on chopping board surfaces of wood and plastic. Food Control 9(6):363–368

Holah JT (2003) Cleaning and disinfection. In: Lelieveld HLM, Mostert MA, Holah J, White B (eds) Hygiene in food processing: principles and practice. Woodhead Publishing, London, pp 235–278

Jacob C, Mathiasen L, Powell D (2010) Designing effective messages for microbial food safety hazards. Food Control 21(1):1–6

James M, Loessner MJ, Golden DA (2005) Modern food microbiology, 7th edn. Springer Science Business Media, New York, p 790

Johnston WK (2001) Pasta drying–introduction and background. In: Kill RC, Turnbull K (eds) Pasta and semolina technology. Blackwell Science, London, pp 158–161

Lauzon HL (1998) Wood in the food industry—literature review. Nordic industrial fund. pp 1–21 http://www.treteknisk.no/Report-1_Gbtfv.pdf.file Accessed 4 December 2009

Lorentzen G, Guðbjörnsdóttir B (2000) Wood in food—measuring methods. Norwegian institute of fisheries and aquaculture research, pp 13–23. http://www.nofima.no/filearchive/Rapport%2001-2000%20Wood%20in%20Food.pdf Accessed 6 December 2009

Marriott NG, Gravani RB (2006) Principles of food sanitation, 5th edn. Springer Science Business Media, New York, pp 25–67

McNabb A, Anderssen RS (2007) Pasta drying. In: Hui YH, Clary C, Farid MM, Fasina OO, Nomhorm A, Welti CJ Food drying science and technology: microbiology, chemistry, application. DeStech Publications, Lancaster, pp 669–692

Milling AR, Kehr A, Smalla K (2005) The use of wood in practice–a hygienic risk? Holz Roh- Werkst 63:463–472

Mondelli G (2005) Pasta drying, Principal dynamic parameters of process. Professional Pasta 28:33–44

Paster T (2006) The HACCP food safety training manual. Wiley, New York

Pohar M (2002) Good hygiene practice (in Slovenian) In: Raspor P (ed) Handbook for establishment and conducting HACCP system (Priročnik za postavljanje in vodenje HACCP), University of Ljubljana, Biotechnical faculty, pp 3–17

Pollini MC (1996) THT technology in the modern industrial pasta drying process. In: Kruger EJ, Matsuo BR, Dick WJ (eds) Pasta and noodle technology. Am Assoc Cereal Chem, pp 59–74

Prechter S, Betz M, Cerny G, Wegener G, Windeisen E (2002) Hygienische Aspekte von Schneidebrettern aus Holz bzw. Kunststoff. Holz Roh- Werkst 60:239–248

Raspor P (2002) Definition of the HACCP system and HACCP principles (In Slovenian). In: Raspor P (ed) Handbook for establishment and conducting HACCP system (Priročnik za postavljanje in vodenje sistema HACCP). University of Ljubljana, Biotechnical faculty, pp 113–127

Raspor P, Jevšnik M (2008) Good nutritional practice from producer to consumer. Crit Rev Food Sci Nutr 48(3):276–292

Salo S, Laine A (2000) Validation of the microbiological methods hygicult dipslide, contact plate, and swabbing in surface hygiene control. a nordic collaborative study. J AOAC Int 86:1357–1366

Salo S, Storgårds E, Wirtanen G (2007) Methods for evaluation of processes hygiene. In: Wirtanen G, Salo S (eds) Microbial contaminants and contamination routes in food industry. Espoo, Finland, pp 42–45

SAS Software (1999) Version 8.01. Cary: SAS Institute, Inc

Schönwälder A, Kehr R, Wulf A, Smalla K (2000) Wooden boards affecting the survival of bacteria? Holz Roh- Werkst 60:249–257

Steenstrup DL (2007) Hygienically integrated systems. In: Wirtanen G, Salo S (eds) Microbial contaminants and contamination routes in food industry. Espoo, Finland, pp 39–41

Tansey G (2008) Food, farming and global rules. In: Tansey G, Rajotte T (eds) The future control of food: a guide to international negotiations and rules on intellectual property. biodiversity and food security. Earthscan, London, pp 1–3

Untermann F (1998) Microbial hazards in food. Food Control 9(2):119–126

Wirtanen G (2007) Food process hygiene, effective cleaning and safety in the food industry. In: Wirtanen G, Salo S (eds) Microbial contaminants and contamination routes in food industry. Espoo, Finland, pp 129–144

Worfel RC, Sofos GC, Smith JB, Schmidt GR (1995) Microbial contamination of condensates formed on superstructure of wood and other materials in meat plants. Dairy Food Environ Sanit 15:430–434
About this article
Cite this article
Filip, S., Fink, R., Oder, M. et al. Hygienic acceptance of wood in food industry. Wood Sci Technol 46, 657–665 (2012). https://doi.org/10.1007/s00226-011-0440-0
Received:

Published:

Issue Date:
Keywords
Tray

Swab Sample

Wooden Frame

Food Supply Chain

Plastic Frame