Abstract
This research tests the hypothesis that plasma will cause differential etching of wood cell walls because of variation in the susceptibility of aromatic and aliphatic polymers to degradation by plasma. Wood was exposed to glow discharge plasma, and scanning electron microscopy and chromatic confocal profilometry were used to examine etching of cell walls. Plasma etched cell walls and made them thinner, but the middle lamella was more resistant to etching than the secondary wall. Plasma created small voids within the secondary wall, which were separated by thin lamellae connected to the middle lamella and tertiary wall layers. Larger voids were created in cell walls by the etching of bordered and half-bordered pits. Etching of the uppermost layer of cells at wood surfaces occurs first and when large voids are created in the walls of these cells then significant plasma etching of the underlying cells occurs. Etching of wood cell walls can be quantified using confocal profilometry, and using this technique a strong relationship between applied plasma energy and volume of cell wall etched by plasma was observed. It is concluded that all of wood's polymers can be degraded by plasma even though cell wall layers that are rich in lignin are etched more slowly than other parts of the cell wall.
Access options
Buy single article
Instant access to the full article PDF.
USD 39.95
Price excludes VAT (USA)
Tax calculation will be finalised during checkout.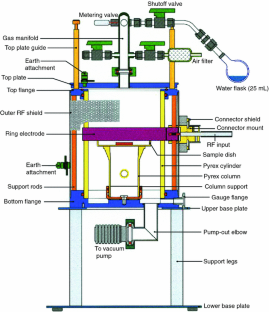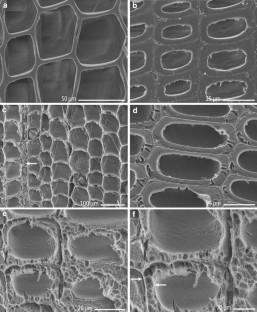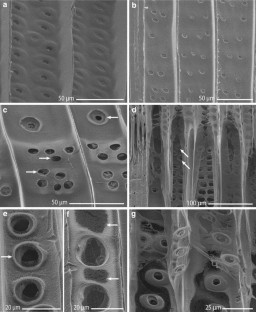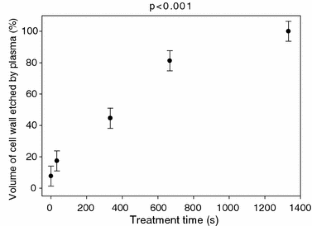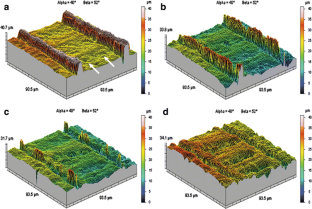 References
Avramidis G, Wolkenhauer A, Zhen B, Militz H, Viöl W (2009) Water repellent coatings on wood surfaces generated by a dielectric barrier discharge plasma jet at atmospheric pressure. In: Englund F, Hill CAS, Militz H, Segerholm BK (eds) Proceedings of the 4th European conference on wood modification, Stockholm, pp 269–275

Bente M, Avramidis G, Förster S, Rohwer EG, Viöl W (2004) Wood surface modification in dielectric barrier discharges at atmospheric pressure for creating water repellent characteristics. Holz Roh-Werkst 62(3):157–163

Boenig HV (1982) Plasma science and technology. Cornell University Press, New York

Chapman B (1980) Glow discharge processes. Wiley, New York

Chen HY (1989) Effects of low temperature radio-frequency oxygen and nitrogen plasmas on lignocellulosic materials. Ph.D Thesis. University of California

Chen HY, Zavarin E (1990) Interactions of cold radiofrequency plasma with solid wood I. Nitrogen permeability along the grain. J Wood Chem Tech 10(3):387–400

de Lhoneux B, Antoine R, Côté WA (1984) Ultrastructural implications of gamma-irradiation of wood. Wood Sci Technol 18(3):161–176

Denes AR, Tshabalala MA, Rowell RM, Denes FS, Young RA (1999) Hexamethyldisiloxane-plasma coating of wood surfaces for creating water repellent characteristics. Holzforschung 53(3):318–326

Denes FS, Cruz-Barba LE, Manolache S (2005) Plasma treatment of wood. In: Rowell RM (ed) Handbook of wood chemistry and wood composites. CRC Press, New York, pp 447–473

Donaldson L, Frankland A (2004) Ultrastructure of iodine treated wood. Holzforschung 58(3):219–225

Egitto FD, Vukanovic V, Taylor GN (1990) Plasma etching of organic polymers. In: d'Agostino R (ed) Plasma deposition treatment and etching of polymers. Academic Press, Boston, pp 321–422

Evans PD, Ramos M, Senden T (2007) Modification of wood using a glow-discharge plasma derived from water. In: Hill CAS, Jones D, Militz H, Ormondroyd GA (eds) Proceedings of the 3rd European conference on wood modification, Cardiff, pp 123–132

Evans PD, Urban K, Chowdhury MJA (2008) Surface checking of wood is increased by photodegradation caused by ultraviolet and visible light. Wood Sci Technol 42(3):251–265

Fergus BJ, Procter AR, Scott JAN, Goring DAI (1969) The distribution of lignin in spruce wood as determined by ultraviolet microscopy. Wood Sci Technol 3(2):117–138

Flamm DL, Herb GK (1989) Plasma etching technology—an overview. In: Manos DM, Flamm DL (eds) Plasma etching: an introduction. Academic Press, San Diego, pp 1–90

Furuno T, Uehara T, Jodai S (1990) Histochemical studies of corona-treated wood. Mokuzai Gakkaishi 36(4):323–331

Heady RD, Evans PD (2000) Callitroid (callitrisoid) thickening in Callitris. IAWA J 21(3):293–319

Heady RD, Evans PD (2005) Wood anatomy of Actinostrobus (Cupressaceae). IAWA J 26(1):79–92

Inagaki N (1996) Plasma surface modification and plasma polymerization. CRC Press, New York

Jutte SM, Spit BJ (1963) The submicroscopic structure of bordered pits on the radial walls of tracheids in parana pine, kauri, and European spruce. Holzforschung 17(6):168–175

Kolluri OS (2003) Application of plasma technology for improved adhesion of materials. In: Pizzi A, Mittal KL (eds) Handbook of adhesive technology, 2nd edn. CRC Press, New York, pp 193–204

Lipska-Quinn AE (1994) The effect of RF plasma on the chemical and physical properties of wood. Ph.D Thesis, University of California

Long TM, Prakash S, Shannon MA, Moore JS (2006) Water-vapor plasma-based surface activation for trichlorosilane modification of PMMA. Langmuir 22(9):4104–4109

Magalhães WLE, Ferreira de Souza M (2002) Solid softwood coated with plasma-polymer for water repellence. Surf Coatings Tech 155(1):11–15

Mahlberg R, Niemi HEM, Denes FS, Rowell RM (1999) Application of AFM on the adhesion studies of oxygen-plasma-treated polypropylene and lignocellulosics. Langmuir 15(8):2985–2992

Matsui H, Setoyama K, Kurosu H (1992) Surface modification of wood in fluorine-containing gas plasma I. Tetrafluoromethane plasma treatment. Mokuzai Gakkaishi 38(1):73–80

Mertens N, Wolkenhauer A, Leck M, Viöl W (2006) UV laser ablation and plasma treatment of wooden surfaces—a comparing investigation. Laser Phys Lett 3(8):380–384

Parham RA, Côté WA (1971) Distribution of lignin in normal and compression wood of Pinus taeda L. Wood Sci Technol 5(1):49–62

Pederson LA (1982) Structural composition of polymers relative to their plasma etch characteristics. J Electrochem Soc 129(1):205–208

Podgorski L, Chevet B, Onic L, Merlin A (2000) Modification of wood wettability by plasma and corona treatments. Int J Adhesion Adhesives 20(2):103–111

Podgorski L, Bousta C, Schambourg F, Maguin J, Chevet B (2001) Surface modification of wood by plasma polymerization. Pigment Resin Technol 31(1):33–40

Ramos M (2001) Improving the gluing of eucalypt timber by plasma modification of wood surfaces. M.Sc Thesis, The Australian National University

Rehn P, Viöl W (2003) Dielectric barrier discharge treatments at atmospheric pressure for wood surface modification. Holz Roh-Werkst 61(2):145–150

Sakata I, Morita M, Tsuruta N, Morita K (1993) Activation of wood surface by corona treatment to improve adhesive bonding. J Appl Polym Sci 49(7):1251–1258

Singh AP, Gallagher SS, Schmitt U, Dawson BS, Kim YS (1998) Ponding of radiata pine (Pinus radiata) 2. The effect of ponding on coating penetration into wood. The International Research Group on Wood Protection Doc IRG/WP 98-10249, pp 1–8

Tabirih PK, McGinnes EA, Kay MA, Harlow CA (1977) A note on anatomical changes of white oak wood upon exposure to gamma radiation. Wood Fiber Sci 9(3):211–215

Uehara T, Jodai S (1987) Gluing of wood by corona-treatment. Mokuzai Gakkaishi 33(10):777–784

VSN International (2008) Genstat for windows, 11th edn. VSN International Ltd, Hemel Hempstead, UK

Warner SB, Uhlmann DR, Peebles LH (1975) Ion etching of amorphous and semicrystalline fibres. J Mater Sci 10(5):758–764

Worrall JJ, Anagnost SE, Zabel RA (1997) Comparison of wood decay among diverse lignicolous fungi. Mycologia 89(2):199–219
Acknowledgments
We thank Natural Resources Canada (Value-to-Wood), NSERC (ForValueNet), FP-Innovations (Forintek), Université Laval (Professors' Bernard Riedl and Alain Cloutier), Canadian Foundation for Innovation and British Columbia Knowledge Development Fund for their financial support of this research. Phil Evans would like to thank Anthony Hyde at the Department of Applied Mathematics, The Australian National University for building the plasma device used in this research and Professor Tim Senden from the same department for his encouragement and helpful advice.
About this article
Cite this article
Jamali, A., Evans, P.D. Etching of wood surfaces by glow discharge plasma. Wood Sci Technol 45, 169–182 (2011). https://doi.org/10.1007/s00226-010-0317-7
Received:

Published:

Issue Date:

DOI: https://doi.org/10.1007/s00226-010-0317-7
Keywords
Plasma Treatment

Plasma Etching

Middle Lamella

Cell Wall Material

Wood Cell Wall