Abstract
Previous studies indicated a positive effect of vitamin K2 (VK2) supplementation on bone turnover biomarkers and bone mineral density (BMD), but the doses varied, and few studies have focused on the difference between VK2 supplementation alone and in combination with calcium and vitamin D3. The aim of this study was to explore a low and effective dose of VK2 for improving BMD, and to examine whether the co-supplementation of VK2, calcium and vitamin D3 would bring greater effects. In this trial, a total of 311 community-dwelling men and postmenopausal women aged 50 and 75 years were randomly assigned to four groups, receiving placebo, 50 µg/day, 90 µg/day or co-supplementation with calcium (500 mg/day) and vitamin D3 (10 µg/day) for 1 year. At the endpoint, the bone loss of femoral neck was significantly lower in postmenopausal women in the two 90 µg groups (treatment × time, p = 0.006) compared with placebo, but no effects in men. Serum biomarkers cOC/ucOC ratio increased in the intervention groups (treatment × time, p < 0.001). VK2 supplementation in dose of 90 µg/day performed a significant effect on reducing bone loss in postmenopausal women, but in combination with calcium and vitamin D3 brought no additional effects.
Trial registration This trial was registered at http://www.chictr.org.cn as chiCTR1800019240.
Access options
Buy single article
Instant access to the full article PDF.
US$ 39.95
Tax calculation will be finalised during checkout.
Subscribe to journal
Immediate online access to all issues from 2019. Subscription will auto renew annually.
US$ 119
Tax calculation will be finalised during checkout.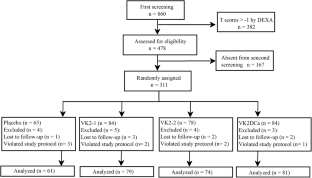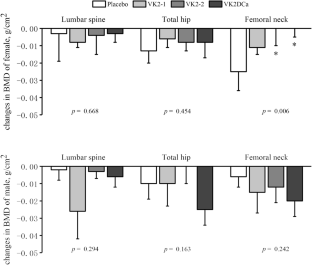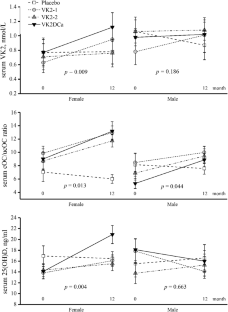 Acknowledgements
The authors thank all the volunteers from the HDNNCDS for their participation in this study, and also thank all the colleagues who have taken part in the works for setting up, maintaining and following up this HDNNCDS cohort.
Funding
This study was funded by the Applied Technology Research and Development Plan of Heilongjiang Province (GA18C005).
Ethics declarations
Conflict of interest
Yingfeng Zhang, Zhipeng Liu, Lili Duan, Yeyu Ji, Sen Yang, Yuan Zhang, Hongyin Li, Yu Wang, Peng Wang, Jiepeng Chen, and Ying Li declare that they have no conflicts of interest.
Human and Animal Rights
The study has been approved by the Ethical Committee of Harbin Medical University and was performed in accordance with the ethical standards as laid down in the 1964 Declaration of Helsinki and its later amendments or comparable ethical standards.
Informed Consent
All participants gave written informed consent before entering the study.
Additional information
Publisher's Note
Springer Nature remains neutral with regard to jurisdictional claims in published maps and institutional affiliations.
Electronic supplementary material
Below is the link to the electronic supplementary material.
About this article
Cite this article
Zhang, Y., Liu, Z., Duan, L. et al. Effect of Low-Dose Vitamin K2 Supplementation on Bone Mineral Density in Middle-Aged and Elderly Chinese: A Randomized Controlled Study. Calcif Tissue Int 106, 476–485 (2020). https://doi.org/10.1007/s00223-020-00669-4
Received:

Accepted:

Published:

Issue Date:
Keywords
Osteoporosis

Vitamin K2

Menaquinone-7

Bone mineral density

Postmenopausal women