Abstract
Soy foods contain several components such as isoflavones, calcium and protein that potentially modulate bone turnover and increase bone mineral density (BMD) in postmenopausal women. The study is to evaluate the effect of dried beancurd supplementation on skeletal health in postmenopausal Chinese women. Three hundred postmenopausal women aged 50–65 years were assigned into two groups, receiving 100 g dried beancurd or rice cake a day for 2 years. BMD at the lumbar spine and right proximal femur were measured with a dual-energy X-ray absorptiometry. The bone turnover biomarkers of serum alkaline phosphatase (ALP), bone Gla protein (BGP) and urinary N-telopeptide cross-links of collagen normalized for creatinine (NTX/CRT) were also determined. Serum isoflavone concentration was analyzed by high performance liquid chromatography. The 2-year dried beancurd supplementation generated a significant increase in lumbar spine BMD. An obvious decrease was found in urinary NTX/CRT, and a significant increase was detected in serum isoflavone concentration. The dried beancurd supplementation had no effect on changes of right proximal femur BMD and concentrations of serum ALP and BGP. Daily supplementation of dried beancurd could increase BMD of lumbar spine, but does not slow bone loss at right proximal femur in postmenopausal Chinese women.
Access options
Buy single article
Instant access to the full article PDF.
USD 39.95
Price excludes VAT (USA)
Tax calculation will be finalised during checkout.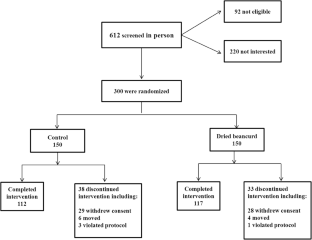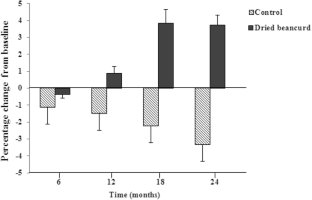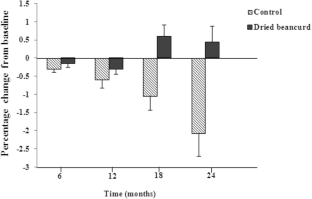 References
Gallagher JC (1990) The pathogenesis of osteoporosis. Bone Mineral 9(3):215–227. https://doi.org/10.1016/0169-6009(90)90039-I

National Health Commission of the People's Republic of China (2018) The epidemiological investigation of osteoporosis in China. http://www.nhc.gov.cn/wjw/zcjd/201810/4988546cfa1040db86c1815d3dad7a2b.shtml. Accessed 20 Oct 2018

Cauley JA, Zmuda JM, Ensrud KE, Bauer DC, Ettinger B (2001) Timing of estrogen replacement therapy for optimal osteoporosis prevention. J Clin Endocrinol Metab 86(12):5700–5705. https://doi.org/10.1210/jcem.86.12.8079

Rossouw JE, Anderson GL, Prentice RL, LaCroix AZ, Kooperberg C, Stefanick ML, Jackson RD, Beresford SA, Howard BV, Johnson KC, Kotchen JM, Ockene J (2002) Risks and benefits of estrogen plus progestin in healthy postmenopausal women: principal results from the women's health initiative randomized controlled trial. JAMA 288(3):321–333. https://doi.org/10.1001/jama.288.3.321

Ghanem K (2007) Beneficial effects of soybean protein and isoflavone extract supplementation on bone density and plasma lipids in females rats. Pol J Food Nutr Sci 57(1):103–108

Arjmandi BH, Alekel L, Hollis BW, Amin D, Stacewicz-Sapuntzakis M, Guo P, Kukreja SC (1996) Dietary soybean protein prevents bone loss in an ovariectomized rat model of osteoporosis. J Nutr 126(1):161–167. https://doi.org/10.1093/jn/126.1.161

AlAnazi AF, Qureshi VF, Javaid K, Qureshi S (2011) Preventive effects of phytoestrogens against postmenopausal osteoporosis as compared to the available therapeutic choices: an overview. J Nat Sci Biol Med 2(2):154–163. https://doi.org/10.4103/0976-9668.92322

Ho SC, Woo J, Lam S, Chen Y, Sham A, Lau J (2003) Soy protein consumption and bone mass in early postmenopausal Chinese women. Osteoporos Int 14(10):835–842. https://doi.org/10.1007/s00198-003-1453-9

Alekel DL, Germain AS, Peterson CT, Hanson KB, Stewart JW, Toda T (2000) Isoflavone-rich soy protein isolate attenuates bone loss in the lumbar spine of perimenopausal women. Am J Clin Nutr 72(3):844–852. https://doi.org/10.1093/ajcn/72.3.844

Brink E, Coxam V, Robins S, Wahala K, Cassidy A, Branca F, Invest P (2008) Long-term consumption of isoflavone-enriched foods does not affect bone mineral density, bone metabolism, or hormonal status in early postmenopausal women: a randomized, double-blind, placebo controlled study. Am J Clin Nutr 87(3):761–770. https://doi.org/10.1093/ajcn/87.3.761

Tai TY, Tsai KS, Tu ST, Wu JS, Chang CI, Chen CL, Shaw NS, Peng HY, Wang SY, Wu CH (2012) The effect of soy isoflavone on bone mineral density in postmenopausal Taiwanese women with bone loss: a 2-year randomized double-blind placebo-controlled study. Osteoporos Int 23(5):1571–1580. https://doi.org/10.1007/s00198-011-1750-7

Kenny AM, Mangano KM, Abourizk RH, Bruno RS, Anamani DE, Kleppinger A, Walsh SJ, Prestwood KM, Kerstetter JE (2009) Soy proteins and isoflavones affect bone mineral density in older women: a randomized controlled trial. Am J Clin Nutr 90(1):234–242. https://doi.org/10.3945/ajcn.2009.27600

Zhang XL, Shu XO, Li HL, Yang G, Li Q, Gao YT, Zheng W (2005) Prospective cohort study of soy food consumption and risk of bone fracture among postmenopausal women. Arch Intern Med 165(16):1890–1895. https://doi.org/10.1001/archinte.165.16.1890

Koh WP, Wu AH, Wang RW, Ang LW, Heng D, Yuan JM, Yu MC (2009) Gender-specific associations between soy and risk of hip fracture in the Singapore Chinese Health Study. Am J Epidemiol 170(7):901–909. https://doi.org/10.1093/aje/kwp220

Wu Y, Liu J, Xing S, Xu R, Zhang Z, Wang Y (2002) Comparative study on two different dosages of conjugated equine estrogen continuously combined with medroxyprogesterone in prevention of postmenopausal osteoporosis. Chin J Obstet Gynecol 37(5):267–270

Pines A, Katchman H, Villa Y, Mijatovic V, Dotan I, Levo Y, Ayalon D (2010) The effect of various hormonal preparations and calcium supplementation on bone mass in early menopause. Is there a predictive value for the initial bone density and body weight? J Intern Med 246(4):357–361. https://doi.org/10.1046/j.1365-2796.1999.00578.x

Craft NE, Mitchell T (2007) Comparison of plasma isoflavone extraction. FASEB J 21(5):A733–A733. https://doi.org/10.1096/fasebj.21.5.A733-a

Yang Y, Wang G, Pan X (2009) Chinese food composition. Peking University Medical Press, Beijing

Somekawa Y, Chiguchi M, Ishibashi T, Aso T (2001) Soy intake related to menopausal symptoms, serum lipids, and bone mineral density in postmenopausal Japanese women. Am J Obstet Gynecol 97(1):109–115. https://doi.org/10.1097/00006250-200101000-00022

Mei J, Yeung SS, Kung AW (2001) High dietary phytoestrogen intake is associated with higher bone mineral density in postmenopausal but not premenopausal women. J Clin Endocr Metab 86(11):5217–5221. https://doi.org/10.1210/jcem.86.11.8040

Kritz-Silverstein D, Goodman-Gruen DL (2002) Usual dietary isoflavone intake, bone mineral density, and bone metabolism in postmenopausal women. J Womens Health Gend Based Med 11(1):69–78. https://doi.org/10.1089/152460902753473480

Taku K, Melby MK, Kurzer MS, Mizuno S, Watanabe S, Ishimi Y (2010) Effects of soy isoflavone supplements on bone turnover markers in menopausal women: systematic review and meta-analysis of randomized controlled trials. Bone 47(2):413–423. https://doi.org/10.1016/j.bone.2010.05.001

Xin YHY (2006) Influence of daidzein tablets on climacteric syndrome and bone mineral density of women. Chin J Osteoporos 12(02):149–151

Nagata C, Inaba S, Kawakami N, Kakizoe T, Shimizu H (2000) Inverse association of soy product intake with serum androgen and estrogen concentrations in Japanese men. Nutr Cancer 36(1):14–18. https://doi.org/10.1207/S15327914NC3601_3

Wangen KE, Duncan AM, Merz-Demlow BE, Xu X, Marcus R, Phipps WR, Kurzer MS (2000) Effects of soy isoflavones on markers of bone turnover in premenopausal and postmenopausal women. J Clin Endocrinol Metab 85(9):3043–3048. https://doi.org/10.1210/jcem.85.9.6787

Hsu CS, Shen WW, Hsueh YM, Yeh SL (2001) Soy isoflavone supplementation in postmenopausal women. Effects on plasma lipids, antioxidant enzyme activities and bone density. J Reprod Med 46(3):221–226. https://doi.org/10.3109/01674820109049951

Gallagher JC, Satpathy R, Rafferty K, Haynatzka V (2004) The effect of soy protein isolate on bone metabolism. Menopause 11(3):290–298. https://doi.org/10.1097/01.gme.0000097845.95550.71

Evans EM, Racette SB, Van Pelt RE, Peterson LR, Villareal DT (2007) Effects of soy protein isolate and moderate exercise on bone turnover and bone mineral density in postmenopausal women. Menopause 14(3):481–488. https://doi.org/10.1097/01.gme.0000243570.78570.f7

Wang RR, Wang JD, Liu EQ (2006) Studies on compound coagulant of tofu. China Condiment 6:25–27

Chinese Nutrition Society (2014) Chinese dietary reference intakes. Science Press, Beijing

Wang MC, Zhao A, Ignatius S, Wang Y, Ting LI, Wang PY, Zhang YM (2017) Calcium intake among Chinese adults in eight cities. Acta Nutrimenta Sinica 39(4):332–336. https://doi.org/10.13325/j.cnki.acta.nutr.sin.2017.04.006

Messina M (2014) Soy foods, isoflavones, and the health of postmenopausal women. Am J Clin Nutr 100(Suppl 1):423S–430S. https://doi.org/10.3945/ajcn.113.071464

Lydeking-Olsen E, Beck-Jensen JE, Setchell KDR, Holm-Jensen T (2004) Soymilk or progesterone for prevention of bone loss—a 2 year randomized, placebo-controlled trial. Eur J Nutr 43(4):246–257. https://doi.org/10.1007/s00394-004-0497-8

Hannan MT, Tucker KL, Dawson-Hughes B, Cupples LA, Felson DT, Kiel DP (2000) Effect of dietary protein on bone loss in elderly men and women: the Framingham osteoporosis study. J Bone Miner Res 15(12):2504–2512. https://doi.org/10.1359/jbmr.2000.15.12.2504

Munger RG, Cerhan JR, Chiu BC (1999) Prospective study of dietary protein intake and risk of hip fracture in postmenopausal women. Am J Clin Nutr 69(1):147–152. https://doi.org/10.1093/ajcn/69.1.147

Geinoz G, Rapin CH, Rizzoli R, Kraemer R, Buchs B, Slosman D, Michel JP, Bonjour JP (1993) Relationship between bone-mineral density and dietary intakes in the elderly. Osteoporos Int 3(5):242–248. https://doi.org/10.1007/Bf01623827

Potter SM, Baum JA, Teng HY, Stillman RJ, Shay NF, Erdman JW (1998) Soy protein and isoflavones: their effects on blood lipids and bone density in postmenopausal women. Am J Clin Nutr 68(6):1375s–1379s

Newton KM, LaCroix AZ, Levy L, Li SS, Qu P, Potter JD, Lampe JW (2006) Soy protein and bone mineral density in older men and women: a randomized trial. Maturitas 55(3):270–277. https://doi.org/10.1016/j.maturitas.2006.04.011

Chinese Nutrition Society (2008) Dietary guidelines for Chinese (2007). Tibet People's Publishing House, Tibet
Acknowledgements
We appreciate the support of all the participants involved in the study. We are grateful to the Nestlé Foundation for the funding that made the entire work possible.
Funding
This study was funded by Nestlé Foundation.
Ethics declarations
Conflict of interest
The authors declare no conflict of interest.
Human and Animal Rights and Informed Consent
The study was conducted in accordance with the ethical standards of Institutional Review Committee of Public Health School of Xiamen University and with the 1964 Helsinki declaration and its later amendments or comparable ethical standards. Informed consent was obtained from all participants included in the study.
Additional information
Publisher's Note
Springer Nature remains neutral with regard to jurisdictional claims in published maps and institutional affiliations.
Electronic supplementary material
Below is the link to the electronic supplementary material.
About this article
Cite this article
Li, L., Sun, M., Sun, J. et al. The Effect of Dried Beancurd on Bone Mineral Density in Postmenopausal Chinese Women: A 2-Year Randomized Controlled Trial. Calcif Tissue Int 105, 573–581 (2019). https://doi.org/10.1007/s00223-019-00604-2
Received:

Accepted:

Published:

Issue Date:

DOI: https://doi.org/10.1007/s00223-019-00604-2
Keywords