Abstract
Demonstrating the clinical consequences of osteosarcopenic obesity (OSO) is complex. This study evaluated clinical manifestations and factors associated with bone and muscle loss in Koreans with obesity. This cross-sectional observational study enrolled Koreans with obesity aged ≥ 50 years from the Korea National Health and Nutrition Examination Survey. Clinical manifestations were compared among four groups: obesity (O), sarcopenic obesity (SO), osteopenic obesity (OO), and OSO. Factors associated with appendicular skeletal muscle mass (ASM) or bone mineral density (BMD) were evaluated. OSO increases with age in both sexes. Men with SO and OSO had increased cardiometabolic diseases and markers, percentages of body fat (BF %), and trunk fat (TF %), and decreased limb fat percentage (LF %). Women with SO and OSO had increased metabolic markers, BF %, and TF % but those with OSO had increased cardiometabolic diseases and lower LF %. Both sexes with OSO had decreased ASM and vitamin D, and higher vitamin D deficiency. BF % was negatively associated with ASM and femur BMD in both sexes. TF % was negatively and LF % was positively associated with ASM in both sexes and with femur BMD in women. Vitamin D was positively associated with femur BMD in men and with ASM and BMD at all sites in women. ASM and BMD were positively associated with each other. Appendicular muscle loss is metabolically significant regardless of bone loss in men; however, appendicular muscle loss with bone loss is metabolically more significant in women. Regional body composition, fat distribution, and vitamin D deficiency were associated with OSO phenotype in both sexes.
This is a preview of subscription content, log in to check access.
Access options
Buy single article
Instant access to the full article PDF.
US$ 39.95
Price includes VAT for USA
Subscribe to journal
Immediate online access to all issues from 2019. Subscription will auto renew annually.
US$ 199
This is the net price. Taxes to be calculated in checkout.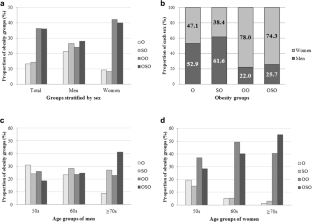 Abbreviations
ALT:

Alanine aminotransferase

ASM:

Appendicular skeletal muscle mass

AST:

Aspartate aminotransferase

BF %:

Body fat percentage

BMD:

Bone mineral density

BMI:

Body mass index

CI:

Confidence interval

Cr:

Creatinine

CVA:

Cerebrovascular accident

DBP:

Diastolic blood pressure

DXA:

Dual-energy X-ray absorptiometry

FM:

Fat mass

H:

Hours

HbA1c:

Glycated hemoglobin

HDL-C:

High-density lipoprotein cholesterol

HL:

Hyperlipidemia

HOMA-IR:

Homeostasis model assessment of insulin resistance

Ht:

Height

HTN:

Hypertension

iPTH:

Intact parathyroid hormone

KNHANES:

Korea National Health and Nutrition Examination Surveys

LDL-C:

Low-density lipoprotein cholesterol

LF %:

Limb fat percentage

LM:

Lean mass

MetS:

Metabolic syndrome

MI:

Myocardial infarction

Min:

Minutes

O:

Obesity

OA:

Osteoarthritis

OO:

Osteopenic obesity

OSO:

Osteosarcopenic obesity

SBP:

Systolic blood pressure

SD:

Standard deviation

SO:

Sarcopenic obesity

T-C:

Total cholesterol

TF %:

Trunk fat percentage

TG:

Triglycerides

T2D:

Type 2 diabetes

WC:

Waist circumference

Wt:

Weight

25OHD:

25-hydroxyvitamin D
References
1.

Ormsbee MJ, Prado CM, Ilich JZ, Purcell S, Siervo M, Folsom A, Panton L (2014) Osteosarcopenic obesity: the role of bone, muscle, and fat on health. J Cachexia Sarcopenia Muscle 5:183–192

2.

Ilich JZ, Kelly OJ, Inglis JE (2016) Osteosarcopenic obesity syndrome: what is it and how can it be identified and diagnosed? Curr Gerontol Geriatr Res 2016:7325973

3.

Hita-Contreras F, Martinez-Amat A, Cruz-Diaz D, Perez-Lopez FR (2015) Osteosarcopenic obesity and fall prevention strategies. Maturitas 80:126–132

4.

Kelly TL, Wilson KE, Heymsfield SB (2009) Dual energy X-Ray absorptiometry body composition reference values from NHANES. PLoS ONE 4:e7038

5.

Pi-Sunyer FX, Becker DM, Bouchard C et al (1998) Clinical guidelines on the identification, evaluation, and treatment of overweight and obesity in adults: executive summary. Am J Clin Nutr 68:899–917

6.

Baumgartner RN (2000) Body composition in healthy aging. Ann N Y Acad Sci 904:437–448

7.

Daly RM, Rosengren BE, Alwis G, Ahlborg HG, Sernbo I, Karlsson MK (2013) Gender specific age-related changes in bone density, muscle strength and functional performance in the elderly: a-10 year prospective population-based study. BMC Geriatr 13:71

8.

Chung JH, Hwang HJ, Shin HY, Han CH (2016) Association between sarcopenic obesity and bone mineral density in middle-aged and elderly korean. Ann Nutr Metab 68:77–84

9.

Wannamethee SG, Atkins JL (2015) Muscle loss and obesity: the health implications of sarcopenia and sarcopenic obesity. Proc Nutr Soc 74:405–412

10.

Cooper C, Dere W, Evans W, Kanis JA, Rizzoli R, Sayer AA, Sieber CC, Kaufman JM, Abellan van Kan G, Boonen S, Adachi J, Mitlak B, Tsouderos Y, Rolland Y, Reginster JY (2012) Frailty and sarcopenia: definitions and outcome parameters. Osteoporos Int 23:1839–1848

11.

Zamboni M, Mazzali G, Fantin F, Rossi A, Di Francesco V (2008) Sarcopenic obesity: a new category of obesity in the elderly. Nutr Metab Cardiovasc Dis 18:388–395

12.

Kweon S, Kim Y, Jang MJ, Kim Y, Kim K, Choi S, Chun C, Khang YH, Oh K (2014) Data resource profile: the Korea National Health and Nutrition Examination Survey (KNHANES). Int J Epidemiol 43:69–77

13.

Matthews DR, Hosker JP, Rudenski AS, Naylor BA, Treacher DF, Turner RC (1985) Homeostasis model assessment: insulin resistance and beta-cell function from fasting plasma glucose and insulin concentrations in man. Diabetologia 28:412–419

14.

Holick MF (2009) Vitamin D status: measurement, interpretation, and clinical application. Ann Epidemiol 19:73–78

15.

Schoeller DA, Tylavsky FA, Baer DJ, Chumlea WC, Earthman CP, Fuerst T, Harris TB, Heymsfield SB, Horlick M, Lohman TG, Lukaski HC, Shepherd J, Siervogel RM, Borrud LG (2005) QDR 4500A dual-energy X-ray absorptiometer underestimates fat mass in comparison with criterion methods in adults. Am J Clin Nutr 81:1018–1025

16.

Li Y, Wang H, Wang K, Wang W, Dong F, Qian Y, Gong H, Xu G, Li G, Pan L, Zhu G, Shan G (2017) Optimal body fat percentage cut-off values for identifying cardiovascular risk factors in Mongolian and Han adults: a population-based cross-sectional study in Inner Mongolia. China. BMJ Open 7:e014675

17.

Hong S, Oh HJ, Choi H, Kim JG, Lim SK, Kim EK, Pyo EY, Oh K, Kim YT, Wilson K, Choi WH (2011) Characteristics of body fat, body fat percentage and other body composition for Koreans from KNHANES IV. J Korean Med Sci 26:1599–1605

18.

Janssen I, Heymsfield SB, Ross R (2002) Low relative skeletal muscle mass (sarcopenia) in older persons is associated with functional impairment and physical disability. J Am Geriatr Soc 50:889–896

19.

Grundy SM, Cleeman JI, Daniels SR, Donato KA, Eckel RH, Franklin BA, Gordon DJ, Krauss RM, Savage PJ, Smith SC Jr, Spertus JA, Costa F, American Heart A, National Heart L, Blood I (2005) Diagnosis and management of the metabolic syndrome: an American Heart Association/National Heart, Lung, and Blood Institute Scientific Statement. Circulation 112:2735–2752

20.

Lee SY, Park HS, Kim DJ, Han JH, Kim SM, Cho GJ, Kim DY, Kwon HS, Kim SR, Lee CB, Oh SJ, Park CY, Yoo HJ (2007) Appropriate waist circumference cutoff points for central obesity in Korean adults. Diabetes Res Clin Pract 75:72–80

21.

Kim J, Lee Y, Kye S, Chung YS, Lee O (2017) Association of serum vitamin D with osteosarcopenic obesity: korea National Health and Nutrition Examination Survey 2008-2010. J Cachexia Sarcopenia Muscle 8:259–266

22.

Inglis JE, Panton LB, Ormsbee MJ, Kelly OJ, Ilich JZ (2013) Defining osteosarcopenic obesity and identifying its prevalence in women across the age span. J Bone Miner Res. http://www.asbmr.org/education/AbstractDetail?aid=da7d06cc-1551-4abf-8445-51dc6e53bcf7. Accessed 5 April 2019

23.

Ilich JE, Inglis JZ, Kelly OJ, McGee DL (2015) Osteosarcopenic obesity is associated with reduced handgrip strength, walking abilities, and balance in postmenopausal women. Osteoporos Int 26:2587–2595

24.

JafariNasabian P, Inglis JE, Kelly OJ, Ilich JZ (2017) Osteosarcopenic obesity in women: impact, prevalence, and management challenges. Int J Womens Health 9:33–42

25.

Kim YM, Kim S, Kim SH, Won YJ (2018) Clinical and body compositional factors associated with metabolic syndrome in obese koreans: a cross-sectional study. Metab Syndr Relat Disord 16:290–298

26.

Wu H, Qi Q, Yu Z, Sun Q, Wang J, Franco OH, Sun L, Li H, Liu Y, Hu FB, Lin X (2010) Independent and opposite associations of trunk and leg fat depots with adipokines, inflammatory markers, and metabolic syndrome in middle-aged and older Chinese men and women. J Clin Endocrinol Metab 95:4389–4398

27.

Sakai Y, Ito H, Egami Y, Ohoto N, Hijii C, Yanagawa M, Satoh S, Jingu S (2005) Favourable association of leg fat with cardiovascular risk factors. J Intern Med 257:194–200

28.

Tagliaferri C, Wittrant Y, Davicco MJ, Walrand S, Coxam V (2015) Muscle and bone, two interconnected tissues. Ageing Res Rev 21:55–70

29.

Newman AB, Kupelian V, Visser M, Simonsick E, Goodpaster B, Nevitt M, Kritchevsky SB, Tylavsky FA, Rubin SM, Harris TB, Health ABCSI (2003) Sarcopenia: alternative definitions and associations with lower extremity function. J Am Geriatr Soc 51:1602–1609

30.

Wang YJ, Wang Y, Zhan JK, Tang ZY, He JY, Tan P, Deng HQ, Huang W, Liu YS (2015) Sarco-osteoporosis: prevalence and association with frailty in chinese community-dwelling older adults. Int J Endocrinol 2015:482940

31.

Kwon YN, Yoon SS, Lee KH (2018) Sarcopenic obesity in elderly korean women: a nationwide cross-sectional study. J Bone Metab 25:53–58

32.

Gunton JE, Girgis CM, Baldock PA, Lips P (2015) Bone muscle interactions and vitamin D. Bone 80:89–94

33.

Ding C, Gao D, Wilding J, Trayhurn P, Bing C (2012) Vitamin D signalling in adipose tissue. Br J Nutr 108:1915–1923

34.

Calton EK, Keane KN, Newsholme P, Soares MJ (2015) The impact of vitamin D levels on inflammatory status: a systematic review of immune cell studies. PLoS ONE 10:e0141770
Acknowledgements
We wish to acknowledge the Korea Centers for Disease Control and Prevention who performed the KNHANES. This work was supported by research fund of Catholic Kwandong University (CKURF-201805490001).
Ethics declarations
Conflict of interest
Yoo Mee Kim, Sunghoon Kim, Young Jun Won, and Se Hwa Kim confirm that they have no conflict of interest related to this study.
Human and Animal Rights and Informed Consent
All procedures on participants were performed in accordance with ethical standards of the institutional and/or national research committee and with the 1964 Helsinki Declaration and its later amendments or comparable ethical standards. Each participant gave written informed consent.
Additional information
Publisher's Note
Springer Nature remains neutral with regard to jurisdictional claims in published maps and institutional affiliations.
Electronic supplementary material
Below is the link to the electronic supplementary material.
About this article
Cite this article
Kim, Y.M., Kim, S., Won, Y.J. et al. Clinical Manifestations and Factors Associated with Osteosarcopenic Obesity Syndrome: A Cross-Sectional Study in Koreans with Obesity. Calcif Tissue Int 105, 77–88 (2019). https://doi.org/10.1007/s00223-019-00551-y
Received:

Accepted:

Published:

Issue Date:
Keywords
Appendicular skeletal muscle mass

Bone mineral density

Body fat

Bone loss

Muscle loss

Osteosarcopenic obesity