Abstract
The adipokine adiponectin affects multiple target tissues and plays important roles in glucose metabolism and whole-body energy homeostasis. Circulating adiponectin levels in obese people are lower than in non-obese, and increased serum adiponectin is associated with weight loss. Numerous clinical studies have established that fat mass is positively related to bone mass, a relationship that is maintained by communication between the two tissues through hormones and cytokines. Since adiponectin levels inversely correspond to fat mass, its bone effects and its potential contribution to the relationship between fat and bone have been investigated. In clinical observational studies, adiponectin was found to be negatively associated with bone mineral density, suggesting it might be a negative regulator of bone metabolism. In order to identify the mechanisms that underlie the activity of adiponectin in bone, a large number of laboratory studies in vitro and in animal models of mice over-expressing or deficient of adiponectin have been carried out. Results of these studies are not entirely congruent, partly due to variation among experimental systems and partly due to the complex nature of adiponectin signaling, which involves a combination of multiple direct and indirect mechanisms.
This is a preview of subscription content, log in to check access.
Access options
Buy single article
Instant access to the full article PDF.
US$ 39.95
Price includes VAT for USA
Subscribe to journal
Immediate online access to all issues from 2019. Subscription will auto renew annually.
US$ 199
This is the net price. Taxes to be calculated in checkout.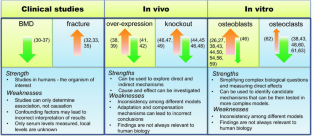 References
1.

Scherer PE, Williams S, Fogliano M, Baldini G, Lodish HF (1995) A novel serum protein similar to C1q, produced exclusively in adipocytes. J Biol Chem 270:26746–26749

2.

Maeda K, Okubo K, Shimomura I, Funahashi T, Matsuzawa Y, Matsubara K (1996) cDNA cloning and expression of a novel adipose specific collagen-like factor, apM1 (AdiPose Most abundant Gene transcript 1). Biochem Biophys Res Commun 221:286–289

3.

Pajvani UB, Du X, Combs TP, Berg AH, Rajala MW, Schulthess T, Engel J, Brownlee M, Scherer PE (2003) Structure-function studies of the adipocyte-secreted hormone Acrp30/adiponectin: implications fpr metabolic regulation and bioactivity. J Biol Chem 278:9073–9085

4.

Arita Y, Kihara S, Ouchi N, Takahashi M, Maeda K, Miyagawa J, Hotta K, Shimomura I, Nakamura T, Miyaoka K, Kuriyama H, Nishida M, Yamashita S, Okubo K, Matsubara K, Muraguchi M, Ohmoto Y, Funahashi T, Matsuzawa Y (1999) Paradoxical decrease of an adipose-specific protein, adiponectin, in obesity. Biochem Biophys Res Commun 257:79–83

5.

Carrasco F, Ruz M, Rojas P, Csendes A, Rebolledo A, Codoceo J, Inostroza J, Basfi-Fer K, Papapietro K, Rojas J, Pizarro F, Olivares M (2009) Changes in bone mineral density, body composition and adiponectin levels in morbidly obese patients after bariatric surgery. Obes Surg 19:41–46

6.

Pajvani UB, Hawkins M, Combs TP, Rajala MW, Doebber T, Berger JP, Wagner JA, Wu M, Knopps A, Xiang AH, Utzschneider KM, Kahn SE, Olefsky JM, Buchanan TA, Scherer PE (2004) Complex distribution, not absolute amount of adiponectin, correlates with thiazolidinedione-mediated improvement in insulin sensitivity. J Biol Chem 279:12152–12162

7.

Wang Y, Lam KS, Chan L, Chan KW, Lam JB, Lam MC, Hoo RC, Mak WW, Cooper GJ, Xu A (2006) Post-translational modifications of the four conserved lysine residues within the collagenous domain of adiponectin are required for the formation of its high molecular weight oligomeric complex. J Biol Chem 281:16391–16400

8.

Yamauchi T, Kamon J, Ito Y, Tsuchida A, Yokomizo T, Kita S, Sugiyama T, Miyagishi M, Hara K, Tsunoda M, Murakami K, Ohteki T, Uchida S, Takekawa S, Waki H, Tsuno NH, Shibata Y, Terauchi Y, Froguel P, Tobe K, Koyasu S, Taira K, Kitamura T, Shimizu T, Nagai R, Kadowaki T (2003) Cloning of adiponectin receptors that mediate antidiabetic metabolic effects. Nature 423:762–769

9.

Mao X, Kikani CK, Riojas RA, Langlais P, Wang L, Ramos FJ, Fang Q, Christ-Roberts CY, Hong JY, Kim RY, Liu F, Dong LQ (2006) APPL1 binds to adiponectin receptors and mediates adiponectin signalling and function. Nat Cell Biol 8:516–523

10.

Hug C, Wang J, Ahmad NS, Bogan JS, Tsao TS, Lodish HF (2004) T-cadherin is a receptor for hexameric and high-molecular-weight forms of Acrp30/adiponectin. Proc Natl Acad Sci USA 101:10308–10313

11.

Ye R, Scherer PE (2013) Adiponectin, driver or passenger on the road to insulin sensitivity? Mol Metab 2:133–141

12.

Combs TP, Marliss EB (2014) Adiponectin signaling in the liver. Rev Endocr Metab Disord 15:137–147

13.

Sun Y, Chen X (2010) Effect of adiponectin on apoptosis: proapoptosis or antiapoptosis? BioFactors 36:179–186

14.

Tilg H, Wolf AM (2005) Adiponectin: a key fat-derived molecule regulating inflammation. Expert Opin Ther Targets 9:245–251

15.

Yamauchi T, Kamon J, Waki H, Terauchi Y, Kubota N, Hara K, Mori Y, Ide T, Murakami K, Tsuboyama-Kasaoka N, Ezaki O, Akanuma Y, Gavrilova O, Vinson C, Reitman ML, Kagechika H, Shudo K, Yoda M, Nakano Y, Tobe K, Nagai R, Kimura S, Tomita M, Froguel P, Kadowaki T (2001) The fat-derived hormone adiponectin reverses insulin resistance associated with both lipoatrophy and obesity. Nat Med 7:941–946

16.

Berg AH, Combs TP, Du X, Brownlee M, Scherer PE (2001) The adipocyte-secreted protein Acrp30 enhances hepatic insulin action. Nat Med 7:947–953

17.

Staiger K, Stefan N, Staiger H, Brendel MD, Brandhorst D, Bretzel RG, Machicao F, Kellerer M, Stumvoll M, Fritsche A, Haring HU (2005) Adiponectin is functionally active in human islets but does not affect insulin secretory function or beta-cell lipoapoptosis. J Clin Endocrinol Metab 90:6707–6713

18.

Fasshauer M, Bluher M (2015) Adipokines in health and disease. Trends Pharmacol Sci 36:461–470

19.

Wang ZV, Scherer PE (2016) Adiponectin, the past two decades. J Mol Cell Biol 8:93–100

20.

Villareal DT, Fontana L, Das SK, Redman L, Smith SR, Saltzman E, Bales C, Rochon J, Pieper C, Huang M, Lewis M, Schwartz AV, Group CS (2016) Effect of two-year caloric restriction on bone metabolism and bone mineral density in non-obese younger adults: a randomized clinical trial. J Bone Miner Res 31:40–51

21.

Dolezalova R, Lacinova Z, Dolinkova M, Kleiblova P, Haluzikova D, Housa D, Papezova H, Haluzik M (2007) Changes of endocrine function of adipose tissue in anorexia nervosa: comparison of circulating levels versus subcutaneous mRNA expression. Clin Endocrinol (Oxf) 67:674–678

22.

Misra M, Miller KK, Cord J, Prabhakaran R, Herzog DB, Goldstein M, Katzman DK, Klibanski A (2007) Relationships between serum adipokines, insulin levels, and bone density in girls with anorexia nervosa. J Clin Endocrinol Metab 92:2046–2052

23.

Cawthorn WP, Scheller EL, Learman BS, Parlee SD, Simon BR, Mori H, Ning X, Bree AJ, Schell B, Broome DT, Soliman SS, DelProposto JL, Lumeng CN, Mitra A, Pandit SV, Gallagher KA, Miller JD, Krishnan V, Hui SK, Bredella MA, Fazeli PK, Klibanski A, Horowitz MC, Rosen CJ, MacDougald OA (2014) Bone marrow adipose tissue is an endocrine organ that contributes to increased circulating adiponectin during caloric restriction. Cell Metab 20:368–375

24.

Reid IR (2010) Fat and bone. Arch Biochem Biophys 503:20–27

25.

Lenchik L, Register TC, Hsu FC, Lohman K, Nicklas BJ, Freedman BI, Langefeld CD, Carr JJ, Bowden DW (2003) Adiponectin as a novel determinant of bone mineral density and visceral fat. Bone 33:646–651

26.

Berner HS, Lyngstadaas SP, Spahr A, Monjo M, Thommesen L, Drevon CA, Syversen U, Reseland JE (2004) Adiponectin and its receptors are expressed in bone-forming cells. Bone 35:842–849

27.

Luo XH, Guo LJ, Yuan LQ, Xie H, Zhou HD, Wu XP, Liao EY (2005) Adiponectin stimulates human osteoblasts proliferation and differentiation via the MAPK signaling pathway. Exp Cell Res 309:99–109

28.

Shinoda Y, Yamaguchi M, Ogata N, Akune T, Kubota N, Yamauchi T, Terauchi Y, Kadowaki T, Takeuchi Y, Fukumoto S, Ikeda T, Hoshi K, Chung U, Nakamura K, Kawaguchi H (2006) Regulation of bone formation by adiponectin through autocrine/paracrine and endocrine pathways. J Cell Biochem 99:196–208

29.

Kanazawa I (2012) Adiponectin in metabolic bone disease. Curr Med Chem 19:5481–5492

30.

Richards JB, Valdes AM, Burling K, Perks UC, Spector TD (2007) Serum adiponectin and bone mineral density in women. J Clin Endocrinol Metab 92:1517–1523

31.

Michaelsson K, Lind L, Frystyk J, Flyvbjerg A, Gedeborg R, Berne C, Zethelius B, Mallmin H, Soderberg S, Melhus H (2008) Serum adiponectin in elderly men does not correlate with fracture risk. J Clin Endocrinol Metab 93:4041–4047

32.

Araneta MR, von Muhlen D, Barrett-Connor E (2009) Sex differences in the association between adiponectin and BMD, bone loss, and fractures: the Rancho Bernardo study. J Bone Miner Res 24:2016–2022

33.

Kanazawa I, Yamaguchi T, Yamamoto M, Yamauchi M, Yano S, Sugimoto T (2009) Relationships between serum adiponectin levels versus bone mineral density, bone metabolic markers, and vertebral fractures in type 2 diabetes mellitus. Eur J Endocrinol 160:265–273

34.

Napoli N, Pedone C, Pozzilli P, Lauretani F, Ferrucci L, Incalzi RA (2010) Adiponectin and bone mass density: the InCHIANTI study. Bone 47:1001–1005

35.

Barbour KE, Zmuda JM, Boudreau R, Strotmeyer ES, Horwitz MJ, Evans RW, Kanaya AM, Harris TB, Bauer DC, Cauley JA (2011) Adipokines and the risk of fracture in older adults. J Bone Miner Res 26:1568–1576

36.

Barbour KE, Zmuda JM, Boudreau R, Strotmeyer ES, Horwitz MJ, Evans RW, Kanaya AM, Harris TB, Cauley JA, Health ABCS (2012) The effects of adiponectin and leptin on changes in bone mineral density. Osteoporos Int 23:1699–1710

37.

Biver E, Salliot C, Combescure C, Gossec L, Hardouin P, Legroux-Gerot I, Cortet B (2011) Influence of adipokines and ghrelin on bone mineral density and fracture risk: a systematic review and meta-analysis. J Clin Endocrinol Metab 96:2703–2713

38.

Oshima K, Nampei A, Matsuda M, Iwaki M, Fukuhara A, Hashimoto J, Yoshikawa H, Shimomura I (2005) Adiponectin increases bone mass by suppressing osteoclast and activating osteoblast. Biochem Biophys Res Commun 331:520–526

39.

Mitsui Y, Gotoh M, Fukushima N, Shirachi I, Otabe S, Yuan X, Hashinaga T, Wada N, Mitsui A, Yoshida T, Yoshida S, Yamada K, Nagata K (2011) Hyperadiponectinemia enhances bone formation in mice. BMC Musculoskelet Disord 12:18

40.

Combs TP, Pajvani UB, Berg AH, Lin Y, Jelicks LA, Laplante M, Nawrocki AR, Rajala MW, Parlow AF, Cheeseboro L, Ding YY, Russell RG, Lindemann D, Hartley A, Baker GR, Obici S, Deshaies Y, Ludgate M, Rossetti L, Scherer PE (2004) A transgenic mouse with a deletion in the collagenous domain of adiponectin displays elevated circulating adiponectin and improved insulin sensitivity. Endocrinology 145:367–383

41.

Ealey KN, Kaludjerovic J, Archer MC, Ward WE (2008) Adiponectin is a negative regulator of bone mineral and bone strength in growing mice. Exp Biol Med 233:1546–1553

42.

Abbott MJ, Roth TM, Ho L, Wang L, O'Carroll D, Nissenson RA (2015) Negative skeletal effects of locally produced adiponectin. PLoS ONE 10:e0134290

43.

Williams GA, Wang Y, Callon KE, Watson M, Lin JM, Lam JB, Costa JL, Orpe A, Broom N, Naot D, Reid IR, Cornish J (2009) In vitro and in vivo effects of adiponectin on bone. Endocrinology 150:3603–3610

44.

Wu Y, Tu Q, Valverde P, Zhang J, Murray D, Dong LQ, Cheng J, Jiang H, Rios M, Morgan E, Tang Z, Chen J (2014) Central adiponectin administration reveals new regulatory mechanisms of bone metabolism in mice: American journal of physiology. Endocrinol Metab 306:E1418–E1430

45.

Naot D, Watson M, Callon KE, Tuari D, Musson DS, Choi AJ, Sreenivasan D, Fernandez J, Tu PT, Dickinson M, Gamble GD, Grey A, Cornish J (2016) Reduced bone density and cortical bone indices in female adiponectin-knockout mice. Endocrinology 157:3550–3561

46.

Kajimura D, Lee HW, Riley KJ, Arteaga-Solis E, Ferron M, Zhou B, Clarke CJ, Hannun YA, DePinho RA, Guo EX, Mann JJ, Karsenty G (2013) Adiponectin regulates bone mass via opposite central and peripheral mechanisms through FoxO1. Cell Metab 17:901–915

47.

Wang QP, Li XP, Wang M, Zhao LL, Li H, Xie H, Lu ZY (2014) Adiponectin exerts its negative effect on bone metabolism via OPG/RANKL pathway: an in vivo study. Endocrine 47:845–853

48.

Tu Q, Zhang J, Dong LQ, Saunders E, Luo E, Tang J, Chen J (2011) Adiponectin inhibits osteoclastogenesis and bone resorption via APPL1-mediated suppression of Akt1. J Biol Chem 286:12542–12553

49.

Wang F, Wang PX, Wu XL, Dang SY, Chen Y, Ni YY, Gao LH, Lu SY, Kuang Y, Huang L, Fei J, Wang ZG, Pang XF (2013) Deficiency of adiponectin protects against ovariectomy-induced osteoporosis in mice. PLoS ONE 8:e68497

50.

Yu L, Tu Q, Han Q, Zhang L, Sui L, Zheng L, Meng S, Tang Y, Xuan D, Zhang J, Murray D, Shen Q, Cheng J, Kim SH, Dong LQ, Valverde P, Cao X, Chen J (2015) Adiponectin regulates bone marrow mesenchymal stem cell niche through a unique signal transduction pathway: an approach for treating bone disease in diabetes. Stem Cells 33:240–252

51.

Peake PW, Shen Y, Campbell LV, Charlesworth JA (2006) Human adiponectin binds to bacterial lipopolysaccharide. Biochem Biophys Res Commun 341:108–115

52.

Naot D, Williams GA, Lin JM, Cornish J, Grey A (2012) Evidence that contamination by lipopolysaccharide confounds in vitro studies of adiponectin activity in bone. Endocrinology 153:2076–2081

53.

Turner JJ, Smolinska MJ, Sacre SM, Foxwell BM (2009) Induction of TLR tolerance in human macrophages by adiponectin: does LPS play a role? Scand J Immunol 69:329–336

54.

Kanazawa I, Yamaguchi T, Yano S, Yamauchi M, Yamamoto M, Sugimoto T (2007) Adiponectin and AMP kinase activator stimulate proliferation, differentiation, and mineralization of osteoblastic MC3T3-E1 cells. BMC Cell Biol 8:51

55.

Panno ML, Naimo GD, Spina E, Ando S, Mauro L (2016) Different molecular signaling sustaining adiponectin action in breast cancer. Curr Opin Pharmacol 31:1–7

56.

Lee HW, Kim SY, Kim AY, Lee EJ, Choi JY, Kim JB (2009) Adiponectin stimulates osteoblast differentiation through induction of COX2 in mesenchymal progenitor cells. Stem Cells 27:2254–2262

57.

Tepper OM, Carr J, Allen RJ Jr, Chang CC, Lin CD, Tanaka R, Gupta SM, Levine JP, Saadeh PB, Warren SM (2010) Decreased circulating progenitor cell number and failed mechanisms of stromal cell-derived factor-1alpha mediated bone marrow mobilization impair diabetic tissue repair. Diabetes 59:1974–1983

58.

Weyer C, Funahashi T, Tanaka S, Hotta K, Matsuzawa Y, Pratley RE, Tataranni PA (2001) Hypoadiponectinemia in obesity and type 2 diabetes: close association with insulin resistance and hyperinsulinemia. J Clin Endocrinol Metab 86:1930–1935

59.

Huang CY, Lee CY, Chen MY, Tsai HC, Hsu HC, Tang CH (2010) Adiponectin increases BMP-2 expression in osteoblasts via AdipoR receptor signaling pathway. J Cell Physiol 224:475–483

60.

Yamaguchi N, Kukita T, Li YJ, Argueta JGM, Saito T, Hanazawa S, Yamashita YAFNYN, Kukita T, Li Y-J, Argueta JGM, Saito T, Hanazawa S, Yamashita Y (2007) Adiponectin inhibits osteoclast formation stimulated by lipopolysaccharide from Actinobacillus actinomycetemcomitans. FEMS Immunol Med Microbiol 49:28–34

61.

Yamaguchi N, Kukita T, Li YJ, Kamio N, Fukumoto S, Nonaka K, Ninomiya Y, Hanazawa S, Yamashita Y (2008) Adiponectin inhibits induction of TNF-alpha/RANKL-stimulated NFATc1 via the AMPK signaling. FEBS Lett 582:451–456

62.

Luo XH, Guo LJ, Xie H, Yuan LQ, Wu XP, Zhou HD, Liao EY (2006) Adiponectin stimulates RANKL and inhibits OPG expression in human osteoblasts through the MAPK signaling pathway. J Bone Miner Res 21:1648–1656

63.

Zhang L, Meng S, Tu Q, Yu L, Tang Y, Dard MM, Kim SH, Valverde P, Zhou X, Chen J (2014) Adiponectin ameliorates experimental periodontitis in diet-induced obesity mice. PLoS ONE 9:e97824
Acknowledgements
The authors thank Mr Greg Gamble for the valuable discussion. The work was supported by the Health Research Council of New Zealand and the Auckland Medical Research Foundation.
Ethics declarations
Conflict of interest
Dorit Naot, David S. Musson, Jillian Cornish declare that they have no conflict of interest.
Human and Animal Rights and Informed Consent
For this type of study formal consent is not required.
About this article
Cite this article
Naot, D., Musson, D.S. & Cornish, J. The Activity of Adiponectin in Bone. Calcif Tissue Int 100, 486–499 (2017). https://doi.org/10.1007/s00223-016-0216-5
Received:

Accepted:

Published:

Issue Date:
Keywords
Adiponectin

Adipokine

Bone

Fat