Abstract
Paget's disease is a condition involving focal overactivity of bone cells (osteoblasts and osteoclasts), which can result in significant skeletal morbidity. It is unclear in which bone cells the causative lesion resides. It is managed effectively with potent bisphosphonates, but treatment is difficult if these drugs are contraindicated. We describe a 75-year-old woman with Paget's disease involving the skull who was intolerant of bisphosphonates, so was treated with denosumab. This intervention normalized serum alkaline phosphatase for 4–8 months after each injection and led to some symptomatic improvement. Scintigraphic activity in the lesion was improved but not normalized. We conclude that reduction in RANKL activity by denosumab only partially corrects pagetic activity, indicating that the osteoclast overactivity of Paget's disease is not wholly mediated by RANKL. Denosumab has some clinical utility in Paget's disease and may become a second-line agent in those with contraindications to intravenous bisphosphonates.
Access options
Buy single article
Instant access to the full article PDF.
USD 39.95
Price includes VAT (USA)
Tax calculation will be finalised during checkout.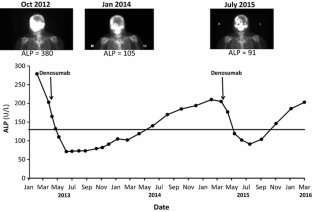 References
1.

Ralston SH, Langston AL, Reid IR (2008) Pathogenesis and management of Paget's disease of bone. Lancet 372:155–163

2.

Reid IR, Miller P, Lyles K et al (2005) Comparison of a single infusion of zoledronic acid with risedronate for Paget's disease. N Engl J Med 353:898–908

3.

Reid IR, Lyles K, Su GQ et al (2011) A single infusion of zoledronic acid produces sustained remissions in Paget disease: data to 6.5 years. J Bone Miner Res 26:2261–2270

4.

Hsu H, Lacey DL, Dunstan CR et al (1999) Tumor necrosis factor receptor family member RANK mediates osteoclast differentiation and activation induced by osteoprotegerin ligand. Proc Natl Acad Sci USA 96:3540–3545

5.

Fuller K, Wong B, Fox S et al (1998) TRANCE is necessary and sufficient for osteoblast-mediated activation of bone resorption in osteoclasts. J Exp Med 188:997–1001

6.

Lacey DL, Tan HL, Lu J et al (2000) Osteoprotegerin ligand modulates murine osteoclast survival in vitro and in vivo. Am J Pathol 157:435–448

7.

Lacey DL, Timms E, Tan HL et al (1998) Osteoprotegerin ligand is a cytokine that regulates osteoclast differentiation and activation. Cell 93:165–176

8.

Yasuda H, Shima N, Nakagawa N et al (1998) Osteoclast differentiation factor is a ligand for osteoprotegerin/osteoclastogenesis-inhibitory factor and is identical to TRANCE/RANKL. Proc Natl Acad Sci USA 95:3597–3602

9.

Reid IR, Davidson JS, Wattie D et al (2004) Comparative responses of bone turnover markers to bisphosphonate therapy in Paget's disease of bone. Bone 35:224–230

10.

Naot D, Bava U, Matthews B et al (2007) Differential gene expression in cultured osteoblasts and bone marrow stromal cells from patients with Paget's disease of bone. J Bone Miner Res 22:298–309

11.

Bekker PJ, Holloway DL, Rasmussen AS et al (2004) A single-dose placebo-controlled study of AMG 162, a fully human monoclonal antibody to RANKL, in postmenopausal women. J Bone Miner Res 19:1059–1066

12.

Miller PD, Bolognese MA, Lewiecki EM et al (2008) Effect of denosumab on bone density and turnover in postmenopausal women with low bone mass after long-term continued, discontinued, and restarting of therapy: a randomized blinded phase 2 clinical trial. Bone 43:222–229

13.

Reid IR, Mason B, Horne A et al (2006) Randomized controlled trial of calcium in healthy older women. Am J Med 119:777–785

14.

Kanis JA (1991) Pathophysiology and treatment of Paget's disease of bone. Martin Dunitz, London

15.

Ibbertson HK (1993) Paget's disease of bones. In: Nordin BEC, Need AG, Morris HA (eds) Metabolic bone and stone disease, 3rd edn. Churchill Livingstone, Edinburgh, pp 181–212

16.

Papapoulos S, Lippuner K, Roux C et al (2015) The effect of 8 or 5 years of denosumab treatment in postmenopausal women with osteoporosis: results from the FREEDOM Extension study. Osteoporos Int 26:2773–2783

17.

Schwarz P, Rasmussen AQ, Kvist TM et al (2012) Paget's disease of the bone after treatment with Denosumab: a case report. Bone 50:1023–1025

18.

Farías VS, Zanchetta MB (2014) Polyostotic Paget's disease resistance to biphosphonates treated with denosumab: case report and literature review. Actualizaciones en Osteologia 10:290–297

19.

Polyzos SA, Singhellakis PN, Naot D et al (2014) Denosumab treatment for juvenile Paget's disease: results from two adult patients with osteoprotegerin deficiency ("Balkan" mutation in the TNFRSF11B gene). J Clin Endocrinol Metab 99:703–707
Ethics declarations
Conflict of Interest
Dr. Reid reports grants, personal fees, and non-financial support from Amgen; grants, personal fees, and non-financial support from Novartis; grants and personal fees from Merck, outside the submitted work. Sonakshi Sharma, Ramanamma Kalluru, and Carl Eagleton have no conflict of interest to declare.
Human and Animal Rights and Informed Consent
The patient provided consent to receive treatment with denosumab for an unregistered inidcation and also consented to the publication of this case report.
About this article
Cite this article
Reid, I.R., Sharma, S., Kalluru, R. et al. Treatment of Paget's Disease of Bone with Denosumab: Case Report and Literature Review. Calcif Tissue Int 99, 322–325 (2016). https://doi.org/10.1007/s00223-016-0150-6
Received:

Accepted:

Published:

Issue Date:
Keywords
Paget's disease

Denosumab

Alendronate