Abstract
Risk factors for increased mortality in hip fracture patients include older age, male sex, fracture type, bone mineral density, and pre-existing co-morbidities. The role of biochemical and other anthropometric parameters on hip fracture mortality remains unclear. The aim of this study was to identify the risk factors for one-year mortality in patients with hip fractures. A total of 236 consecutive patients (59 males) with hip fractures were followed over a one-year period. Patient age, gender, type of fracture, type of treatment, time from admission to surgery, type of anesthesia, body mass index, and electrocardiograms were recorded. Complete blood counts, serum electrolytes, urea, creatinine, d-dimers, calcium, phosphate, osteocalcin, and beta-isomerised C-terminal telopeptide of collagen type I (β-CTX) were measured at admission and estimated glomerular filtration rate (eGFR) was calculated. Multivariate Cox regression models were used to analyze the association of these parameters with survival. One-year mortality rate was 28.4 %. Age was independently associated with mortality (HR 1.117, 95 % CI 1.062–1.174, P < 0.001). In a multivariable model, mortality was increased in patients with higher β-CTX (HR 4.63 95 % CI 1.87–11.45, P = 0.001) and lower eGFR (HR 0.972, 95 % CI 0.956–0.987, P < 0.001). Patients younger than 84 years, with eGFR < 55.4 ml/min had ten times higher mortality rates (3.2 vs. 24.5 %, HR 9.73, 95 % CI 2.06–45.93) as well as those with β-CTX > 0.276 g/L (3.5 vs. 25.7 %, HR 9.5, 95 % CI 2.11–42.76). Advanced age, high β-CTX levels, and impaired renal function are independent risk factors of mortality in patients with hip fractures.
Access options
Buy single article
Instant access to the full article PDF.
USD 39.95
Price excludes VAT (USA)
Tax calculation will be finalised during checkout.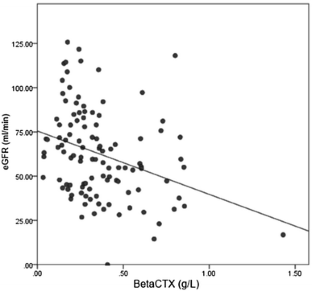 References
Kannus P, Parkkari J, Sievänen H, Heinonen A, Vuori I, Järvinen M (1996) Epidemiology of hip fractures. Bone 18:57S–63S

Abrahamsen B, van Staa T, Ariely R, Olson M, Cooper C (2009) Excess mortality following hip fracture: a systematic epidemiological review. Osteoporos Int 10:1633–1650. doi:10.1007/s00198-009-0920-3

Zuckerman JD (1996) Hip fracture. N Engl J Med 334:1519–1525

Hu F, Jiang C, Shen J, Tang P, Wang Y (2012) Preoperative predictors for mortality following hip fracture surgery: a systematic review and meta-analysis. Injury 43:676–685

Haentjens P, Magaziner J, Colón-Emeric CS et al (2010) Meta-analysis: excess mortality after hip fracture among older women and men. Ann Intern Med 152:380–390

Karagiannis A, Papakitsou E, Dretakis K, Galanos A, Megas P, Lambiris E, Lyritis P (2006) Mortality rates of patients with a hip fracture in a southwestern district of Greece: ten-year follow-up with reference to the type of fracture. Calcif Tissue Int 78:72–77

Lu-Yao GL, Baron JA, Barrett JA, Fisher ES (1994) Treatment and survival among elderly Americans with hip fractures: a population-based study. Am J Public Health 84:1287–1291

Fox KM, Magaziner J, Hebel JR, Kenzora JE, Kashner TM (1999) Intertrochanteric versus femoral neck hip fractures: differential characteristics, treatment, and sequelae. J Gerontol A Biol Sci Med Sci 54:635–640

Diamantopoulos AP, Hoff M, Hochberg M, Haugeberg G (2013) Predictors of short- and long-term mortality in males and females with hip fracture—a prospective observational cohort study. PLoS ONE 8:e78169

Meyer HE, Tverdal A, Falch JA, Pedersen JI (2000) Factors associated with mortality after hip fracture. Osteoporos Int 11:228–232

Li SG, Sun TS, Liu Z, Ren JX, Liu B, Gao Y (2013) Factors influencing postoperative mortality one year after surgery for hip fracture in Chinese elderly population. Chin Med J (Engl) 126:2715–2719

Brauer CA, Coca-Perraillon M, Cutler DM, Rosen AB (2009) Incidence and mortality of hip fractures in the United States. JAMA 302:1573–1579

Jiang HX, Majumdar SR, Dick DA, Moreau M, Raso J, Otto DD, Johnston DW (2005) Development and initial validation of a risk score for predicting in-hospital and 1-year mortality in patients with hip fractures. J Bone Miner Res 20:494–500

Kannegaard PN, van der Mark S, Eiken P, Abrahamsen B (2010) Excess mortality in men compared with women following a hip fracture. National analysis of comedications, comorbidity and survival. Age Ageing 39:203–209

Forsen L, Sogaard AJ, Meyer HE, Edna T, Kopjar B (1999) Survival after hip fracture: short- and longterm excess mortality according to age and gender. Osteoporos Int 10:73–78

Piirtola M, Vahlberg T, Löppönen M, Räihä I, Isoaho R, Kivelä SL (2008) Fractures as predictors of excess mortality in the aged-a population-based study with a 12-year follow-up. Eur J Epidemiol 23:747–755

Miyanishi K, Jingushi S, Torisu T (2010) Mortality after hip fracture in Japan: the role of nutritional status. J Orthop Surg (Hong Kong) 18:265–270

Meyer HE, Tverdal A, Falch JA (1995) Body height, body mass index, and fatal hip fractures: 16 years' follow-up of 674,000 Norwegian women and men. Epidemiology 6:299–305

Simunovic N, Devereaux PJ, Sprague S, Guyatt GH, Schemitsch E, Debeer J, Bhandari M (2010) Effect of early surgery after hip fracture on mortality and complications: systematic review and metaanalysis. CMAJ 182:1609–1616

Ho CA, Li CY, Hsieh KS, Chen HF (2010) Factors determining the 1-year survival after operated hip fracture: a hospital-based analysis. J Orthop Sci 15:30–37

Gruson KI, Aharonoff GB, Egol KA, Zuckerman JD, Koval KJ (2002) The relationship between admission hemoglobin level and outcome after hip fracture. J Orthop Trauma 16:39–44

Bhaskar D, Parker MJ (2011) Haematological indices as surrogate markers of factors affecting mortality after hip fracture. Injury 42:178–182

Oztürk A, Ozkan Y, Akgöz S, Yalçýn N, Ozdemir RM, Aykut S (2010) The risk factors for mortality in elderly patients with hip fractures: postoperative one-year results. Singapore Med J 51:137–143

O'Daly BJ, Walsh JC, Quinlan JF, Falk GA, Stapleton R, Quinlan WR, O'Rourke SK (2010) Serum albumin and total lymphocyte count as predictors of outcome in hip fractures. Clin Nutr 29:89–93

Koval KJ, Maurer SG, Su ET, Aharonoff GB, Zuckerman JD (1999) The effects of nutritional status on outcome after hip fracture. J Orthop Trauma 13:164–169

Pimlott BJ, Jones CA, Beaupre LA, Johnston DW, Majumdar SR (2011) Prognostic impact of preoperative albumin on short-term mortality and complications in patients with hip fracture. Arch Gerontol Geriatr 53:90–94

Chakraborty B, Vishnoi G, Goswami B, Gowda SH, Chowdhury D, Agarwal S (2013) Lipoprotein(a), ferritin, and albumin in acute phase reaction predicts severity and mortality of acute ischemic stroke in North Indian Patients. J Stroke Cerebrovasc Dis 22:e159–e167

Hannan JL, Radwany SM, Albanese T (2012) In-hospital mortality in patients older than 60 years with every low albumin levels. J Pain Symptom Manage 43:631–637

Aguayo-Becerra OA, Torres-Garibay C, Macías-Amezcua MD, Fuentes-Orozco C, Chávez-Tostado Mde G, Andalón-Dueñas E, Espinosa Partida A, Alvarez-Villaseñor Adel S, Cortés-Flores AO, González- Ojeda A (2013) Serum albumin level as a risk factor for mortality in burn patients. Clinics (Sao Paulo) 68:940–945

Mosfeldt M, Pedersen OB, Riis T, Worm HO, Sv Mark, Jørgensen HL, Duus BR, Lauritzen JB (2012) Value of routine blood tests for prediction of mortality risk in hip fracture patients. Acta Orthop 83:31–35

Bombaci H, Erdoğan Ö, Çetinkaya F, Kuyumcu M, Kaya E, Bombaci E (2012) Preoperative indicators affecting postoperative mortality in elderly patients with hip fractures. Acta Orthop Traumatol Turc 46:425–429

Zhao J, Xia W, Nie M, Zheng X, Wang Q, Wang X, Wang W, Ning Z, Huang W, Jiang Y, Li M, Wang O, Xing X, Sun Y, Luo L, He S, Yu W, Lin Q, Pei Y, Zhang F, Han Y, Tong Y, Che Y, Shen R, Hu Y, Zhou X, Xu L (2011) The levels of bone turnover markers in Chinese postmenopausal women: peking Vertebral Fracture study. Menopause 18:1237–1243

Lou H, Peng C, Chen Q (2012) Clinical value ofP1NP, β-CTX and 25(OH)D3 detection in evaluating risks of fragile hip fracture in elderly patients with osteoporosis [Article in Chinese]]. Nan Fang Yi Ke Da Xue Xue Bao 32:1346–1349

Ivaska KK, Gerdhem P, Akesson K, Garnero P, Obrant KJ (2007) Effect of fracture on bone turnover markers: a longitudinal study comparing marker levels before and after injury in 113 elderly women. J Bone Miner Res 22:1155–1164

Szulc P, Maurice C, Marchand F, Delmas PD (2009) Increased bone resorption is associated with higher mortality in community-dwelling men > or = 50 years of age: the MINOS study. J Bone Miner Res 24:1116–1124

Sambrook PN, Chen CJ, March L, Cameron ID, Cumming RG, Lord SR, Simpson JM, Seibel MJ (2006) High bone turnover is an independent predictor of mortality in the frail elderly. J Bone Miner Res 21:549–555

Lerchbaum E, Schwetz V, Pilz S, Grammer TB, Look M, Boehm BO, Obermayer-Pietsch B, März W (2013) Association of bone turnover markers with mortality in men referred to coronary angiography. Osteoporos Int 24:1321–1332

Lyles KW, Colón-Emeric CS, Magaziner JS, HORIZON Recurrent Fracture Trial et al (2007) Zoledronic acid and clinical fractures and mortality after hip fracture. N Engl J Med 357:1799–1809

Beaupre LA, Morrish DW, Hanley DA, Maksymowych WP, Bell NR, Juby AG, Majumdar SR (2011) Oral bisphosphonates are associated with reduced mortality after hip fracture. Osteoporos Int 22:983–991

Panula J, Pihlajamäki H, Mattila VM, Jaatinen P, Vahlberg T, Aarnio P, Kivelä SL (2011) Mortality and cause of death in hip fracture patients aged 65 or older: a population-based study. BMC Musculoskelet Disord 12:105

Hasegawa Y, Suzuki S, Wingstrand H (2007) Risk of mortality following hip fracture in Japan. J Orthop Sci 12:113–117

Khan MA, Hossain FS, Ahmed I, Muthukumar N, Mohsen A (2013) Predictors of early mortality after hip fracture surgery. Int Orthop 37:2119–2124

Wu C, Kato TS, Pronschinske K, Qiu S, Naka Y, Takayama H, Schulze-Späte U, Cremers S, Shane E, Mancini D, Schulze PC (2012) Dynamics of bone turnover markers in patients with heart failure and following haemodynamic improvement through ventricular assist device implantation. Eur J Heart Fail 14:1356–1365

Seibel MJ (2005) Biochemical markers of bone turnover: part I: biochemistry and variability. Clin Biochem Rev. 26:97–122
Funding
This research did not receive any financial support.
Ethics declarations
Conflicts of Interest
Tonko Gulin, Ivan Kruljac, Lora Kirigin, Marcela Merc, Marina Pavić, Mirna Tominac Trcin, Adrijana Bokulić, Željka Bukovec Megla, and Darko Kaštelan declare that they have no conflict of interest.
Human and Animal Rights and Informed Consent
All procedures followed were in accordance with the ethical standards of the responsible committee on human experimentation (institutional and national) and with the Helsinki Declaration of 1975, as revised in 2000. Informed consent was obtained from all patients for being included in the study.
About this article
Cite this article
Gulin, T., Kruljac, I., Kirigin, L. et al. Advanced Age, High β-CTX Levels, and Impaired Renal Function are Independent Risk Factors for All-Cause One-Year Mortality in Hip Fracture Patients. Calcif Tissue Int 98, 67–75 (2016). https://doi.org/10.1007/s00223-015-0070-x
Received:

Accepted:

Published:

Issue Date:

DOI: https://doi.org/10.1007/s00223-015-0070-x
Keywords
Hip fractures

Age

β-CTX

Renal function

eGFR

One-year mortality

Risk factors