Abstract
Sarcopenia is common in later life and may be associated with adverse health outcomes such as disability, falls and fracture. There is no consensus definition for its diagnosis although diagnostic algorithms have been proposed by the European Working Group for Sarcopenia in Older People (EWGSOP), the International Working Group on Sarcopenia (IWGS) and the Foundation for the National Institutes of Health Sarcopenia Project (FNIH). More recently, Binkley and colleagues devised a score-based system for the diagnosis of "dysmobility syndrome" in an attempt to combine adverse musculoskeletal phenotypes, including sarcopenia and osteoporosis, in order to identify older individuals at particular risk. We applied these criteria to participants from the Hertfordshire Cohort Study to define their prevalence in an unselected cohort of UK community-dwelling older adults and assess their relationships with previous falls and fracture. Body composition and areal bone mineral density were measured using dual-energy X-ray absorptiometry, gait speed was determined by a 3-m walk test and grip strength was assessed with a Jamar hand-held dynamometer. Researcher-administered questionnaires were completed detailing falls and fracture history. The prevalence of sarcopenia in this cohort was 3.3, 8.3 and 2.0 % using the EWGSOP, IWGS and related definition of FNIH, respectively; 24.8 % of individuals had dysmobility syndrome. Individuals with dysmobility reported significantly higher number of falls (last year and since the age of 45 years) (p < 0.01) than those without it, but no increased fracture rate was observed in this group (p = 0.96). Those with sarcopenia as defined by the IWGS reported significantly higher falls in the last year and prevalent fractures (falls in the last year: OR 2.51; CI 1.09–5.81; p = 0.03; fractures OR 2.50; CI 1.05–5.92; p = 0.04) but these significant associations were not seen when the EWGSOP definition was applied. The IWGS definition of sarcopenia appears to be an effective means of identifying individuals at risk of prevalent adverse musculoskeletal events.
Access options
Buy single article
Instant access to the full article PDF.
USD 39.95
Price excludes VAT (USA)
Tax calculation will be finalised during checkout.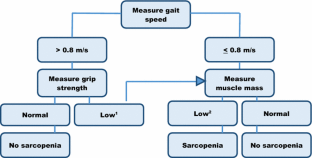 References
Doherty TJ (2003) Invited review: aging and sarcopenia. J Appl Physiol 95:1717–1727

Cruz-Jentoft AJ, Landi F, Schneider SM, Zuniga C, Arai H, Boirie Y, Chen LK, Fielding RA, Martin FC, Michel JP, Sieber C, Stout JR, Studenski SA, Vellas B, Woo J, Zamboni M, Cederholm T (2014) Prevalence of and interventions for sarcopenia in ageing adults: a systematic review. Report of the International Sarcopenia Initiative (EWGSOP and IWGS). Age Ageing 43:748–759

Faulkner JA, Larkin LM, Claflin DR, Brooks SV (2007) Age-related changes in the structure and function of skeletal muscles. Clin Exp Pharmacol Physiol 34:1091–1096

Di Monaco M, Vallero F, Di Monaco R, Tappero R (2011) Prevalence of sarcopenia and its association with osteoporosis in 313 older women following a hip fracture. Arch Gerontol Geriatr 52:71–74

Cooper C, Dere W, Evans W, Kanis JA, Rizzoli R, Sayer AA, Sieber CC, Kaufman JM, Abellan van Kan G, Boonen S, Adachi J, Mitlak B, Tsouderos Y, Rolland Y, Reginster JY (2012) Frailty and sarcopenia: definitions and outcome parameters. Osteoporos Int 23:1839–1848

Olde Rikkert MG, Rigaud AS, van Hoeyweghen RJ, de Graaf J (2003) Geriatric syndromes: medical misnomer or progress in geriatrics? Neth J Med 61:83–87

Cruz-Jentoft AJ, Baeyens JP, Bauer JM, Boirie Y, Cederholm T, Landi F, Martin FC, Michel JP, Rolland Y, Schneider SM, Topinkova E, Vandewoude M, Zamboni M (2010) Sarcopenia: European consensus on definition and diagnosis: Report of the European Working Group on Sarcopenia in Older People. Age Ageing 39:412–423

Fielding RA, Vellas B, Evans WJ, Bhasin S, Morley JE, Newman AB, Abellan van Kan G, Andrieu S, Bauer J, Breuille D, Cederholm T, Chandler J, De Meynard C, Donini L, Harris T, Kannt A, Keime Guibert F, Onder G, Papanicolaou D, Rolland Y, Rooks D, Sieber C, Souhami E, Verlaan S, Zamboni M (2011) Sarcopenia: an undiagnosed condition in older adults. Current consensus definition: prevalence, etiology, and consequences. International working group on sarcopenia. J Am Med Dir Assoc 12:249–256

Studenski SA, Peters KW, Alley DE, Cawthon PM, McLean RR, Harris TB, Ferrucci L, Guralnik JM, Fragala MS, Kenny AM, Kiel DP, Kritchevsky SB, Shardell MD, Dam TT, Vassileva MT (2014) The FNIH sarcopenia project: rationale, study description, conference recommendations, and final estimates. J Gerontol Ser A 69:547–558

Tanimoto Y, Watanabe M, Sun W, Sugiura Y, Hayashida I, Kusabiraki T, Tamaki J (2014) Sarcopenia and falls in community-dwelling elderly subjects in Japan: defining sarcopenia according to criteria of the European Working Group on Sarcopenia in Older People. Arch Gerontol Geriatr 59:295–299

Yamada M, Nishiguchi S, Fukutani N, Tanigawa T, Yukutake T, Kayama H, Aoyama T, Arai H (2013) Prevalence of sarcopenia in community-dwelling Japanese older adults. J Am Med Dir Assoc 14:911–915

Woo N, Kim SH (2014) Sarcopenia influences fall-related injuries in community-dwelling older adults. Geriatr Nurs 35:279–282

Hida T, Shimokata H, Sakai Y, Ito S, Matsui Y, Takemura M, Kasai T, Ishiguro N, Harada A (2015) Sarcopenia and sarcopenic leg as potential risk factors for acute osteoporotic vertebral fracture among older women. Eur Spine J. doi:10.1007/s00586-015-3805-5

Landi F, Liperoti R, Russo A, Giovannini S, Tosato M, Capoluongo E, Bernabei R, Onder G (2012) Sarcopenia as a risk factor for falls in elderly individuals: results from the ilSIRENTE study. Clin Nutr 31:652–658

Scott D, Stuart AL, Kay D, Ebeling PR, Nicholson G, Sanders KM (2014) Investigating the predictive ability of gait speed and quadriceps strength for incident falls in community-dwelling older women at high risk of fracture. Arch Gerontol Geriatr 58:308–313

Bischoff-Ferrari HA, Orav JE, Kanis JA, Rizzoli R, Schlogl M, Staehelin HB, Willett WC, Dawson-Hughes B (2015) Comparative performance of current definitions of sarcopenia against the prospective incidence of falls among community-dwelling seniors age 65 and older. Osteoporos Int. doi:10.1007/s00198-015-3194-y

Binkley N, Krueger D, Buehring B (2013) What's in a name revisited: should osteoporosis and sarcopenia be considered components of "dysmobility syndrome?". Osteoporos Int 24:2955–2959

Nielson CM, Srikanth P, Orwoll ES (2012) Obesity and fracture in men and women: an epidemiologic perspective. J Bone Miner Res 27:1–10

Waters DL, Hale L, Grant AM, Herbison P, Goulding A (2010) Osteoporosis and gait and balance disturbances in older sarcopenic obese New Zealanders. Osteoporos Int 21:351–357

Looker AC (2014) Dysmobility syndrome and mortality risk in US men and women age 50 years and older. Osteoporos Int 26:93–102

Syddall HE, Sayer AA, Simmonds SJ, Osmond C, Cox V, Dennison EM, Barker DJ, Cooper C (2005) Birth weight, infant weight gain, and cause-specific mortality: the Hertfordshire Cohort Study. Am J Epidemiol 161:1074–1080

Roberts HC, Denison HJ, Martin HJ, Patel HP, Syddall H, Cooper C, Sayer AA (2011) A review of the measurement of grip strength in clinical and epidemiological studies: towards a standardised approach. Age Ageing 40:423–429

Patel HP, Syddall HE, Jameson K, Robinson S, Denison H, Roberts HC, Edwards M, Dennison E, Cooper C, Aihie Sayer A (2013) Prevalence of sarcopenia in community-dwelling older people in the UK using the European Working Group on Sarcopenia in Older People (EWGSOP) definition: findings from the Hertfordshire Cohort Study (HCS). Age Ageing 42:378–384

Castillo EM, Goodman-Gruen D, Kritz-Silverstein D, Morton DJ, Wingard DL, Barrett-Connor E (2003) Sarcopenia in elderly men and women: the Rancho Bernardo study. Am J Prev Med 25:226–231

Beaudart C, Reginster JY, Slomian J, Buckinx F, Dardenne N, Quabron A, Slangen C, Gillain S, Petermans J, Bruyere O (2015) Estimation of sarcopenia prevalence using various assessment tools. Exp Gerontol 61:31–37

Beaudart C, Reginster JY, Slomian J, Buckinx F, Locquet M, Bruyere O (2014) Prevalence of sarcopenia: the impact of different diagnostic cut-off limits. J Musculoskelet Neuronal Interact 14:425–431

Oliver H, Jameson KA, Sayer AA, Cooper C, Dennison EM (2007) Growth in early life predicts bone strength in late adulthood: the Hertfordshire Cohort Study. Bone 41:400–405

Egger P, Duggleby S, Hobbs R, Fall C, Cooper C (1996) Cigarette smoking and bone mineral density in the elderly. J Epidemiol Community Health 50:47–50

Peters DM, Fritz SL, Krotish DE (2013) Assessing the reliability and validity of a shorter walk test compared with the 10-Meter Walk Test for measurements of gait speed in healthy, older adults. J Geriatr Phys Ther 36:24–30
Acknowledgments
The Hertfordshire Cohort Study was supported by the Medical Research Council of Great Britain; Arthritis Research UK and the International Osteoporosis Foundation. The work herein was also supported by the NIHR Nutrition BRC, University of Southampton and the NIHR Musculoskeletal BRU, University of Oxford. We thank all of the men and women who took part in the Hertfordshire Cohort Study; the HCS Research Staff and Vanessa Cox who managed the data. Michael Clynes was supported by the University of Southampton National Institute of Health.
Ethics declarations
Conflict of interest
Cyrus Cooper has received consultancy fees and honoraria from Servier; Eli Lilly; Merck; Amgen; Alliance; Novartis; Medtronic; GSK and Roche. Bjoern Buehring has received grants from Lilly, Extendicare Foundation and GE Healthcare. Elaine Dennsion has received speaking fees from Lilly. Michael Clynes, Mark Edwards and Neil Binkley have no interests to declare.
Human and Animal Rights and Informed Consent
All procedures followed were in accordance with the ethical standards of the responsible committee on human experimentation (institutional and national) and with the Helsinki Declaration of 1975, as revised in 2000. Informed consent was obtained from all patients for being included in the study.
About this article
Cite this article
Clynes, M.A., Edwards, M.H., Buehring, B. et al. Definitions of Sarcopenia: Associations with Previous Falls and Fracture in a Population Sample. Calcif Tissue Int 97, 445–452 (2015). https://doi.org/10.1007/s00223-015-0044-z
Received:

Accepted:

Published:

Issue Date:

DOI: https://doi.org/10.1007/s00223-015-0044-z
Keywords