Abstract
Vascular calcification is highly associated with cardiovascular disease mortality, particularly in high-risk patients with diabetes and chronic kidney diseases (CKD). In blood vessels, intimal calcification is associated with atherosclerosis, whereas medial calcification is a nonocclusive process which leads to increased vascular stiffness and reduced vascular compliance. In the valves, calcification of the leaflets can change the mechanical properties of the tissue and result in stenosis. For many decades, vascular calcification has been noted as a consequence of aging. Studies now confirm that vascular calcification is an actively regulated process and shares many features with bone development and metabolism. This review provides an update on the mechanisms of vascular calcification including the emerging roles of the RANK/RANKL/OPG triad, osteoclasts, and microRNAs. Potential treatments adapted from osteoporosis and CKD treatments that are under investigation for preventing and/or regressing vascular calcification are also reviewed.
Access options
Buy single article
Instant access to the full article PDF.
USD 39.95
Price excludes VAT (USA)
Tax calculation will be finalised during checkout.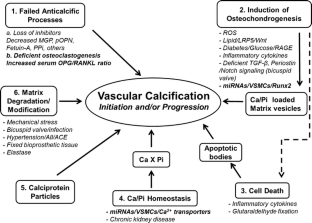 References
Giachelli CM (2004) Mechanisms of vascular calcification in uremia. Semin Nephrol 24:401–402

Nicoll R, Henein MY (2012) Arterial calcification: friend or foe? Int J Cardiol (in press)

Butany J, Collins MJ, Demellawy DE, Nair V, Israel N, Leong SW, Borger MA (2005) Morphological and clinical findings in 247 surgically excised native aortic valves. Can J Cardiol 21:747–755

Otto CM, Burwash IG, Legget ME, Munt BI, Fujioka M, Healy NL, Kraft CD, Miyake-Hull CY, Schwaegler RG (1997) Prospective study of asymptomatic valvular aortic stenosis. Clinical, echocardiographic, and exercise predictors of outcome. Circulation 95:2262–2270

Boström KI, Rajamannan NM, Towler DA (2011) The regulation of valvular and vascular sclerosis by osteogenic morphogens. Circ Res 109:564–577

Mohler ER, Gannon F, Reynolds C, Zimmerman R, Keane MG, Kaplan FS (2001) Bone formation and inflammation in cardiac valves. Circulation 103:1522–1528

Steiner I, Kasparová P, Kohout A, Dominik J (2007) Bone formation in cardiac valves: a histopathological study of 128 cases. Virchows Arch 450:653–657

O'Brien KD (2007) Epidemiology and genetics of calcific aortic valve disease. J Investig Med 55:284–291

Shanahan CM, Crouthamel MH, Kapustin A, Giachelli CM (2011) Arterial calcification in chronic kidney disease: key roles for calcium and phosphate. Circ Res 109:697–711

Chen JH, Simmons CA (2011) Cell–matrix interactions in the pathobiology of calcific aortic valve disease: critical roles for matricellular, matricrine, and matrix mechanics cues. Circ Res 108:1510–1524

Pai AS, Giachelli CM (2010) Matrix remodeling in vascular calcification associated with chronic kidney disease. J Am Soc Nephrol 21:1637–1640

Sage AP, Tintut Y, Demer LL (2010) Regulatory mechanisms in vascular calcification. Nat Rev Cardiol 7:528–536

Liu C, Walter TS, Huang P, Zhang S, Zhu X, Wu Y, Wedderburn LR, Tang P, Owens RJ, Stuart DI, Ren J, Gao B (2010) Structural and functional insights of RANKL–RANK interaction and signaling. J Immunol 184:6910–6919

Heymann MF, Herisson F, Davaine JM, Charrier C, Battaglia S, Passuti N, Lambert G, Gouëffic Y, Heymann D (2012) Role of the OPG/RANK/RANKL triad in calcifications of the atheromatous plaques: comparison between carotid and femoral beds. Cytokine 58:300–306

Steinmetz M, Skowasch D, Wernert N, Welsch U, Preusse CJ, Welz A, Nickenig G, Bauriedel G (2008) Differential profile of the OPG/RANKL/RANK-system in degenerative aortic native and bioprosthetic valves. J Heart Valve Dis 17:187–193

Bucay N, Sarosi I, Dunstan CR, Morony S, Tarpley J, Capparelli C, Scully S, Tan HL, Xu W, Lacey DL, Boyle WJ, Simonet WS (1998) Osteoprotegerin-deficient mice develop early onset osteoporosis and arterial calcification. Genes Dev 12:1260–1268

Bennett BJ, Scatena M, Kirk EA, Rattazzi M, Varon RM, Averill M, Schwartz SM, Giachelli CM, Rosenfeld ME (2006) Osteoprotegerin inactivation accelerates advanced atherosclerotic lesion progression and calcification in older ApoE–/– mice. Arterioscler Thromb Vasc Biol 26:2117–2124

Panizo S, Cardus A, Encinas M, Parisi E, Valcheva P, López-Ongil S, Coll B, Fernandez E, Valdivielso JM (2009) RANKL increases vascular smooth muscle cell calcification through a RANK-BMP4-dependent pathway. Circ Res 104:1041–1048

Deuell KA, Callegari A, Giachelli CM, Rosenfeld ME, Scatena M (2012) RANKL enhances macrophage paracrine pro-calcific activity in high phosphate-treated smooth muscle cells: dependence on IL-6 and TNF-α. J Vasc Res 49:510–521

Oksala N, Levula M, Pelto-Huikko M, Kytömäki L, Soini JT, Salenius J, Kähönen M, Karhunen PJ, Laaksonen R, Parkkila S, Lehtimäki T (2010) Carbonic anhydrases II and XII are up-regulated in osteoclast-like cells in advanced human atherosclerotic plaques—tampere vascular study. Ann Med 42:360–370

Byon CH, Sun Y, Chen J, Yuan K, Mao X, Heath JM, Anderson PG, Tintut Y, Demer LL, Wang D, Chen Y (2011) Runx2-upregulated receptor activator of nuclear factor κB ligand in calcifying smooth muscle cells promotes migration and osteoclastic differentiation of macrophages. Arterioscler Thromb Vasc Biol 31:1387–1396

Small EM, Olson EN (2011) Pervasive roles of microRNAs in cardiovascular biology. Nature 469:336–342

Goettsch C, Rauner M, Pacyna N, Hempel U, Bornstein SR, Hofbauer LC (2011) miR-125b regulates calcification of vascular smooth muscle cells. Am J Pathol 179:1594–1600

Cui RR, Li SJ, Liu LJ, Yi L, Liang QH, Zhu X, Liu GY, Liu Y, Wu SS, Liao XB, Yuan LQ, Mao DA, Liao EY (2012) MicroRNA-204 regulates vascular smooth muscle cell calcification in vitro and in vivo. Cardiovasc Res 96:320–329

Gui T, Zhou G, Sun Y, Shimokado A, Itoh S, Oikawa K, Muragaki Y (2012) MicroRNAs that target Ca2+ transporters are involved in vascular smooth muscle cell calcification. Lab Invest 92:1250–1259

Boskey A (2003) Bone mineral crystal size. Osteoporos Int 14(Suppl 5):S16–S20

Persy V, De Broe M, Ketteler M (2006) Bisphosphonates prevent experimental vascular calcification: treat the bone to cure the vessels? Kidney Int 70:1537–1538

Torregrosa JV, Durán CE, Barros X, Blasco M, Arias M, Cases A, Campistol JM (2012) Successful treatment of calcific uraemic arteriolopathy with bisphosphonates. Nefrologia 32:329–334

Nitta K, Akiba T, Suzuki K, Uchida K, Watanabe R, Majima K, Aoki T, Nihei H (2004) Effects of cyclic intermittent etidronate therapy on coronary artery calcification in patients receiving long-term hemodialysis. Am J Kidney Dis 44:680–688

Toussaint ND, Lau KK, Strauss BJ, Polkinghorne KR, Kerr PG (2010) Effect of alendronate on vascular calcification in CKD stages 3 and 4: a pilot randomized controlled trial. Am J Kidney Dis 56:57–68

Helas S, Goettsch C, Schoppet M, Zeitz U, Hempel U, Morawietz H, Kostenuik PJ, Erben RG, Hofbauer LC (2009) Inhibition of receptor activator of NF-kappaB ligand by denosumab attenuates vascular calcium deposition in mice. Am J Pathol 175:473–478

Di Bartolo BA, Schoppet M, Mattar MZ, Rachner TD, Shanahan CM, Kavurma MM (2011) Calcium and osteoprotegerin regulate IGF1R expression to inhibit vascular calcification. Cardiovasc Res 91:537–545

Morony S, Tintut Y, Zhang Z, Cattley RC, Van G, Dwyer D, Stolina M, Kostenuik PJ, Demer LL (2008) Osteoprotegerin inhibits vascular calcification without affecting atherosclerosis in ldlr–/– mice. Circulation 117:411–420

Saag KG, Shane E, Boonen S, Marín F, Donley DW, Taylor KA, Dalsky GP, Marcus R (2007) Teriparatide or alendronate in glucocorticoid-induced osteoporosis. N Engl J Med 357:2028–2039

Shao JS, Cheng SL, Charlton-Kachigian N, Loewy AP, Towler DA (2003) Teriparatide (human parathyroid hormone [1–34]) inhibits osteogenic vascular calcification in diabetic low density lipoprotein receptor–deficient mice. J Biol Chem 278:50195–50202

Hutchison AJ, Smith CP, Brenchley PE (2011) Pharmacology, efficacy and safety of oral phosphate binders. Nat Rev Nephrol 7:578–589

Qunibi W, Moustafa M, Muenz LR, He DY, Kessler PD, Diaz-Buxo JA, Budoff M, CARE-2 Investigators (2008) A 1-year randomized trial of calcium acetate versus sevelamer on progression of coronary artery calcification in hemodialysis patients with comparable lipid control: the Calcium Acetate Renagel Evaluation-2 (CARE-2) study. Am J Kidney Dis 51:952–965

Wolf M, Shah A, Gutierrez O, Ankers E, Monroy M, Tamez H, Steele D, Chang Y, Camargo CA, Tonelli M, Thadhani R (2007) Vitamin D levels and early mortality among incident hemodialysis patients. Kidney Int 72:1004–1013

Lau WL, Leaf EM, Hu MC, Takeno MM, Kuro-o M, Moe OW, Giachelli CM (2012) Vitamin D receptor agonists increase klotho and osteopontin while decreasing aortic calcification in mice with chronic kidney disease fed a high phosphate diet. Kidney Int 82:1261–1270

Jung S, Querfeld U, Müller D, Rudolph B, Peters H, Krämer S (2012) Submaximal suppression of parathyroid hormone ameliorates calcitriol-induced aortic calcification and remodeling and myocardial fibrosis in uremic rats. J Hypertens 30:2182–2191

Raggi P, Chertow GM, Torres PU, Csiky B, Naso A, Nossuli K, Moustafa M, Goodman WG, Lopez N, Downey G, Dehmel B, Floege J, Group AS (2011) The ADVANCE study: a randomized study to evaluate the effects of cinacalcet plus low-dose vitamin D on vascular calcification in patients on hemodialysis. Nephrol Dial Transpl 26:1327–1339

Westenfeld R, Krueger T, Schlieper G, Cranenburg EC, Magdeleyns EJ, Heidenreich S, Holzmann S, Vermeer C, Jahnen-Dechent W, Ketteler M, Floege J, Schurgers LJ (2012) Effect of vitamin K2 supplementation on functional vitamin K deficiency in hemodialysis patients: a randomized trial. Am J Kidney Dis 59:186–195

Spronk HM, Soute BA, Schurgers LJ, Thijssen HH, De Mey JG, Vermeer C (2003) Tissue-specific utilization of menaquinone-4 results in the prevention of arterial calcification in warfarin-treated rats. J Vasc Res 40:531–537

Schlieper G, Westenfeld R, Krüger T, Cranenburg EC, Magdeleyns EJ, Brandenburg VM, Djuric Z, Damjanovic T, Ketteler M, Vermeer C, Dimkovic N, Floege J, Schurgers LJ (2011) Circulating nonphosphorylated carboxylated matrix gla protein predicts survival in ESRD. J Am Soc Nephrol 22:387–395

Ong S, Coulson IH (2012) Diagnosis and treatment of calciphylaxis. Skinmed 10:166–170

Pasch A, Schaffner T, Huynh-Do U, Frey BM, Frey FJ, Farese S (2008) Sodium thiosulfate prevents vascular calcifications in uremic rats. Kidney Int 74:1444–1453

Mathews SJ, de Las Fuentes L, Podaralla P, Cabellon A, Zheng S, Bierhals A, Spence K, Slatopolsky E, Davila-Roman VG, Delmez JA (2011) Effects of sodium thiosulfate on vascular calcification in end-stage renal disease: a pilot study of feasibility, safety and efficacy. Am J Nephrol 33:131–138

Wu SY, Zhang BH, Pan CS, Jiang HF, Pang YZ, Tang CS, Qi YF (2003) Endothelin-1 is a potent regulator in vivo in vascular calcification and in vitro in calcification of vascular smooth muscle cells. Peptides 24:1149–1156

Essalihi R, Ouellette V, Dao HH, McKee MD, Moreau P (2004) Phenotypic modulation of vascular smooth muscle cells during medial arterial calcification: a role for endothelin? J Cardiovasc Pharmacol 44(Suppl 1):S147–S150

Wierzbicki AS, Viljoen A, Chambers JB (2010) Aortic stenosis and lipids: does intervention work? Curr Opin Cardiol 25:379–384

Novaro GM, Tiong IY, Pearce GL, Lauer MS, Sprecher DL, Griffin BP (2001) Effect of hydroxymethylglutaryl coenzyme a reductase inhibitors on the progression of calcific aortic stenosis. Circulation 104:2205–2209

Maniscalco BS, Taylor KA (2004) Calcification in coronary artery disease can be reversed by EDTA-tetracycline long-term chemotherapy. Pathophysiology 11:95–101

Krieger NS, Frick KK, Bushinsky DA (2004) Mechanism of acid-induced bone resorption. Curr Opin Nephrol Hypertens 13:423–436

Mendoza FJ, Lopez I, Montes de Oca A, Perez J, Rodriguez M, Aguilera-Tejero E (2008) Metabolic acidosis inhibits soft tissue calcification in uremic rats. Kidney Int 73:407–414

Anderson DM, Maraskovsky E, Billingsley WL, Dougall WC, Tometsko ME, Roux ER, Teepe MC, DuBose RF, Cosman D, Galibert L (1997) A homologue of the TNF receptor and its ligand enhance T-cell growth and dendritic-cell function. Nature 390:175–179

Simpson CL, Lindley S, Eisenberg C, Basalyga DM, Starcher BC, Simionescu DT, Vyavahare NR (2007) Toward cell therapy for vascular calcification: osteoclast-mediated demineralization of calcified elastin. Cardiovasc Pathol 16:29–37
Acknowledgements
Studies in C. M. G.'s lab are supported by NIH grants R01 HL114611, R01 HL62329, and R01 HL081785; Washington State Life Science Discovery grant 2361524; and a grant from Abbott Laboratories. C.R. is supported by the Bioengineering Cardiovascular NIH training grant T32EB001650.
Additional information
The authors have stated that they have no conflict of interest.
About this article
Cite this article
Wu, M., Rementer, C. & Giachelli, C.M. Vascular Calcification: An Update on Mechanisms and Challenges in Treatment. Calcif Tissue Int 93, 365–373 (2013). https://doi.org/10.1007/s00223-013-9712-z
Received:

Accepted:

Published:

Issue Date:

DOI: https://doi.org/10.1007/s00223-013-9712-z
Keywords
Vascular calcification

Treatment

MicroRNA

Osteoclast

RANK/RANKL/OPG

Osteoporosis