Abstract
Aging and sex hormones related changes lead to inflammatory and oxidant conditions, which are involved in the pathogenesis of osteoporosis. Recent studies have suggested that polyphenols may exert a protective effect in such conditions. We assessed the effect of phloridzin (Phlo), a flavonoid exclusively found in apple, on bone metabolism in ovariectomized (OVX) or sham-operated (SH) rats with and without inflammation. Six-month-old Wistar rats were allocated to two equal groups that received either a control diet or a diet supplemented with 0.25% Phlo for 80 days. Three weeks before necropsy, inflammation was induced by subcutaneous injection of talc in 10 animals of each group. At necropsy, ovariectomy decreased both total (T-BMD) and metaphyseal (M-BMD) femoral bone mineral density (P < 0.01). Inflammation conditions, checked by an increase in the spleen weight and α1-acid glycoprotein concentration in OVX rats, exacerbated the decrease in T-BMD (g/cm2) (as well as M-BMD) observed in castrated animals (P < 0.05). Daily Phlo intake prevented ovariectomy-induced bone loss in conditions of inflammation as shown by T-BMD and M-BMD (P < 0.05). At the diaphyseal site, BMD was improved by Phlo in OVX rats with or without inflammation (P < 0.05). These results could be explained by changes in bone remodeling as the increased urinary deoxypyridinoline excretion in OVX and OVXinf animals was prevented by the polyphenol-rich diet (P < 0.001), while plasma osteocalcin concentration was similar in all experimental groups. In conclusion, Phlo consumption may provide protection against ovariectomy-induced osteopenia under inflammation conditions by improving inflammation markers and bone resorption.
Access options
Buy single article
Instant access to the full article PDF.
US$ 39.95
Tax calculation will be finalised during checkout.
Subscribe to journal
Immediate online access to all issues from 2019. Subscription will auto renew annually.
US$ 119
Tax calculation will be finalised during checkout.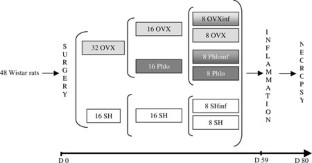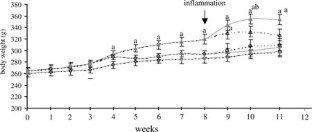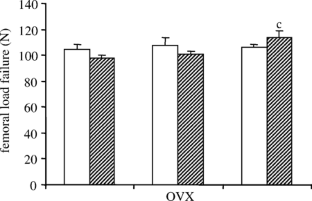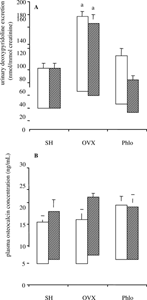 References
1.

Lindsay R (1992) The growing problem of osteoporosis. Osteoporosis Int 2:267–268

2.

Ralston SH (1994) Analysis of gene expression in human bone biopsies by polymerase chain reaction: evidence for enhanced cytokine expression in postmenopausal osteoporosis. J Bone Miner Res 9:883–890

3.

Pacifici R (1998) Cytokines, estrogen, and postmenopausal osteoporosis — the second decade. Endocrinology 139:2659–2661

4.

Santos-Eggimann B (1997) Demographic trends: implications for prevention in the female population. Ther Umsch 54:431–435

5.

Hulley S, Grady D, Bush T, Furberg C, Herrington D, Riggs B, Vittinghoff E, HERS I (1998) Randomized trial of estrogen plus progestin for secondary prevention of coronary heart disease in postmenopausal women. JAMA 280:605–613

6.

Hulley S, Furberg C, Barrett-Connor E, Cauley J, Grady D, Haskell W, Knopp R, Lowery M, Satterfield S, Schrott H, Vittinghoff E, Hunninghake D, HERS II (2002) Noncardiovascular disease outcomes during 6.8 years of hormone therapy. JAMA 288:58–66

7.

Lacey JV, Mink PJ, Lubin JH, Sherman ME, Troisi R, Hartge P, Schatzkin A, Schairer C (2002) Menopausal hormone replacement therapy and risk of ovarian cancer. JAMA 288:334–341

8.

Million Women Study (MWS) Collaborators (2003) Breast cancer and hormone-replacement therapy in the Million Women Study. Lancet 362:419–427

9.

Macdonald HM, New SA, Golden MH, Campbell MK, Reid DM (2004) Nutritional associations with bone loss during the menopausal transition: evidence of a beneficial effect of calcium, alcohol, and fruit and vegetable nutrients and of a detrimental effect of fatty acids. Am J Clin Nutr 9:155–165

10.

Horcajada-Molteni MN, Coxam V (2001) Flavonols and isoflavones prevent bone loss in the ovariectomized rat, a model for postmenopausal osteoporosis. In: Burkhardt F, Dawson-Hughes B, Heaney RP (eds) Nutritional aspects of osteoporosis. Academic Press, San Diego, pp 325–340

11.

/attel A, Kamel S, Mentaverri R, Lorget F, Prouillet C, Petit JP, Fardelonne P, Brazier M (2003) Potent inhibitory effect of naturally occurring flavonoids quercetin and kaempferol on in vitro osteoclastic bone resorption. Biochem Pharmacol 65:35–42

12.

Robbins SP (1994) Biochemical markers for assessing skeletal growth. Eur J Clin Nutr 48:S199–S209

13.

Pastoureau P, Chomel A, Bonnet J (1995) Specific evaluation of localized bone mass and bone loss in the rat using dual energy X-ray absorptiometry subregional analysis. Osteoporos Int 5:143–149

14.

Cook JGH (1975) Factors influencing the assay of creatinine. Ann Clin Biochem 12:219–232

15.

Breuille D, Arnal M, Rambourdin F, Bayle G, Levieux D, Obled C (1998) Sustained modifications of protein metabolism in various tissues in a rat model of long-lasting sepsis. Clin Sci (Colch) 94:413–423

16.

Kalu DN (1991) The ovariectomized rat model of postmenopausal bone loss. Bone Miner 15:175–191

17.

Bruunsgaard H, Pedersen M, Pedersen BK (2001) Aging and proinflammatory cytokines. Curr Opin Hematol 8:131–136

18.

Minne HW, Pfeilschifter J, Scharla S, Mutschelknauss S, Schwarz A, Krempien B, Ziegler R (1984) Inflammation-mediated osteopenia in the rat: a new animal model for pathological loss of bone mass. Endocrinology 115:50–54

19.

Richard CD, Gauldie J (1995) Role of cytokines in acute-phase response. In: Aggarwal BB, Puri RK (eds) Human cytokines: their role in disease and therapy. Blackwell Science, Cambridge, pp 253–269

20.

Cuzzocrea S, Santagati S, Sautebin L, Mazzon E, Calabro I, Caputi AP, Maggi A (2000) 17Beta-estradiol antiinflammatory activity in carrageenan-induced pleurisy. Endocrinology 141:1455–1463

21.

Marusic A, Kos K, Stavljenic A, Vukicevic S (1990) Talc granulomatosis in the rat. Involvement of bone in the acute-phase response. Inflammation 14:205–216

22.

Fournier T, Medjoubi N, Porquet D (2000) Alpha-1-acid glycoprotein. Biochim Biophys Acta 1482:157–171

23.

Vukicevic S, Marusic A, Stavljenic A, Cesnjaj M, Ivankovic D (1994) The role of tumor necrosis factor-alpha in the generation of acute phase response and bone loss in rats with talc granulomatosis. Lab Invest 70:386–391

24.

Krempien B, Vukicevic S, Vogel M, Stavljenic A, Buchele R (1988) Cellular basis of inflammation-induced osteopenia in growing rats. J Bone Miner Res 3:573–582

25.

Escarpa A, Gonzalez MC (1998) High-performance liquid chromatography with diode-array detection for the determination of phenolic compounds in peel and pulp from different apple varieties. J Chromatogr A 823:331–337

26.

Calliste CA, Le Bail JC, Trouillas P, Pouget C, Habrioux G, Chulia AJ, Duroux JL (2001) Chalcones: structural requirements for antioxidant, estrogenic and antiproliferative activities. Anticancer Res 21:3949–3956

27.

Miksicek RJ (1993) Commonly occurring plant flavonoids have estrogenic activity. Mol Pharmacol 44:37–43

28.

Fritsche S, Steinhart H (1999) Occurrence of hormonally active compounds in food: a review. Eur Food Res Technol 209:153–179

29.

Coxam V, Bowman BM, Mecham M, Roth CM, Miller MA, Miller SC (1996) Effects of dihydrotestosterone alone and combined with estrogen on bone mineral density, bone growth and formation rates in ovariectomized rats. Bone 19:107–114

30.

Arjmandi BH, Birnbaum RS, Juma S, Barengolts E, Kukreja SC (2000) The synthetic phytoestrogen, ipriflavone, and estrogen prevent bone loss by different mechanisms. Calcif Tissue Int 66:61–65

31.

Picherit C, Bennetau-Pelissero C, Chanteranne B, Lebecque P, Davicco MJ, Barlet JP, Coxam V (2001) Soybean isoflavones dose-dependently reduce bone turnover but do not reverse established osteopenia in adult ovariectomized rats. J Nutr 131:723–728

32.

Fanti P, Monier-Faugere MC, Geng Z, Schmidt J, Morris PE, Cohen D, Malluche HH (1998) The phytoestrogen genistein reduces bone loss in short-term ovariectomized rats. Osteoporos Int 8:274–281

33.

Coxam V, Bowman BM, Mecham M, Roth CM, Miller MA, Miller SC (1996) Effects of dihydrotestosterone alone and combined with estrogen on bone mineral density, bone growth, and formation rates in ovariectomized rats. Bone 19:107–114

34.

Ridgway T, O'Reilly J, West G, Tucker G, Wiseman H (1996) Potent antioxidant properties of novel apple-derived flavonoids with commercial potential as food additives. Biochem Soc Trans 24:39S

35.

Garrett IR, Boyce BF, Oreffo RO, Bonewald L, Poser J, Mundy GR (1990) Oxygen-derived free radicals stimulate osteoclastic bone resorption in rodent bone in vitro and in vivo. J Clin Invest 85:632–639

36.

Mody N, Parhami F, Sarafian TA, Demer L (2001) Oxidative stress modulates osteoblastic differentiation of vascular and bone cells. Free Radic Biol Med 31:509–519

37.

Seifert MF, Watkins BA (1997) Role of dietary lipid and antioxidants in bone metabolism. Nutr Res 17:1209–1228

38.

Raisz LG, Fall PM (1990) Biphasic effects of prostaglandin E2 on bone formation in cultured fetal rat calvaria: interaction with cortisol. Endocrinology 126:1654–1659
About this article
Cite this article
Puel, C., Quintin, A., Mathey, J. et al. Prevention of Bone Loss by Phloridzin, an Apple Polyphenol, in Ovariectomized Rats under Inflammation Conditions. Calcif Tissue Int 77, 311–318 (2005). https://doi.org/10.1007/s00223-005-0060-5
Received:

Accepted:

Published:

Issue Date:
Key words:
Phloridzin

Bone-sparing effect

Ovariectomized rat

Inflammation