Abstract
Although several observational studies have demonstrated an association between vitamin K status and bone mineral density (BMD) in postmenopausal women, no placebo-controlled intervention trials of the effect of vitamin K1 supplementation on bone loss have been reported thus far. In the trial presented here we have investigated the potential complementary effect of vitamin K1 (1 mg/day) and a mineral + vitamin D supplement (8 µg/day) on postmenopausal bone loss. The design of our study was a randomized, double-blind, placebo-controlled intervention study; 181 healthy postmenopausal women between 50 and 60 years old were recruited, 155 of whom completed the study. During the 3-year treatment period, participants received a daily supplement containing either placebo, or calcium, magnesium, zinc, and vitamin D (MD group), or the same formulation with additional vitamin K1 (MDK group). The main outcome was the change in BMD of the femoral neck and lumbar spine after 3 years, as measured by DXA. The group receiving the supplement containing additional vitamin K1 showed reduced bone loss of the femoral neck: after 3 years the difference between the MDK and the placebo group was 1.7% (95% Cl: 0.35–3.44) and that between the MDK and MD group was 1.3% (95% Cl: 0.10–3.41). No significant differences were observed among the three groups with respect to change of BMD at the site of the lumbar spine. If co-administered with minerals and vitamin D, vitamin K1 may substantially contribute to reducing postmenopausal bone loss at the site of the femoral neck.
Access options
Buy single article
Instant access to the full article PDF.
USD 39.95
Price excludes VAT (USA)
Tax calculation will be finalised during checkout.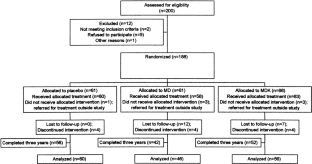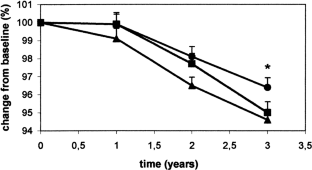 References
MC Chapuy ME Arlot F Duboeuf J Brun B Crouzet S Arnaud PD Delmas PJ Meunier (1992) ArticleTitleVitamin D3 and calcium to prevent hip fractures in elderly women. N Engl J Med 327 1637–1642 Occurrence Handle1:STN:280:ByyD28zgvVw%3D Occurrence Handle1331788

MC Chapuy ME Arlot PD Delmas PJ Meunier (1994) ArticleTitleEffect of calcium and cholecalciferol treatment for three years on hip fractures in elderly women. BMJ 308 1081–1082 Occurrence Handle1:STN:280:ByuB38jmsV0%3D Occurrence Handle8173430

B Dawson-Hughes SS Harris EA Krall GE Dallal (1997) ArticleTitleEffect of calcium and vitamin D supplementation on bone density in men and women 65 years of age or older. N Engl J Med 337 670–676

P Lips WC Graafmans ME Ooms PD Bezemer LM Bouter (1996) ArticleTitleVitamin D supplementation and fracture incidence in elderly persons. A randomized, placebo-controlled clinical trial. Ann Intern Med 124 400–406 Occurrence Handle1:STN:280:BymC2M7psVc%3D Occurrence Handle8554248

G Ferland JA Sadowski (1992) ArticleTitleVitamin K1 (phylloquinone) content of edible oils: effects of heating and light exposure. J Agricult Food Chem 40 1869–1873 Occurrence Handle1:CAS:528:DyaK38XlvFSmsbk%3D

SL Booth JA Sadowski JL Weihrauch G Ferland (1993) ArticleTitleVitamin K1 (phylloquinone) content of foods: a provisional table. J Food Comp Anal 6 109–120 Occurrence Handle10.1006/jfca.1993.1014 Occurrence Handle1:CAS:528:DyaK2cXhs1Wrsb0%3D

MJ Shearer C Bolton-Smith (2000) ArticleTitleThe U.K. food data-base for vitamin K and why we need it. Food Chem 68 213–218 Occurrence Handle10.1016/S0308-8146(99)00157-0 Occurrence Handle1:CAS:528:DC%2BD3cXkt12itQ%3D%3D

LJ Schurgers C Vermeer (2000) ArticleTitleDetermination of phylloquinone and menaquinones in food. Effect of food matrix on circulating vitamin K concentrations. Haemostasis 30 298–307 Occurrence Handle10.1159/000054147 Occurrence Handle1:CAS:528:DC%2BD3MXktlCksbg%3D Occurrence Handle11356998

LJ Sokoll JA Sadowski (1996) ArticleTitleComparison of biochemical indexes for assessing vitamin K nutritional status in a healthy adult population. Am J Clin Nutr 63 566–573 Occurrence Handle1:CAS:528:DyaK28Xit1Oltb4%3D Occurrence Handle8599321

LJ Sokoll SL Booth ME O'Brien KW Davidson KI Tsaioun JA Sadowski (1997) ArticleTitleChanges in serum osteocalcin, plasma phylloquinone, and urinary gamma-carboxyglutamic acid in response to altered intakes of dietary phylloquinone in human subjects. Am J Clin Nutr 65 779–784 Occurrence Handle1:CAS:528:DyaK2sXhs1Gksb4%3D Occurrence Handle9062529

MHJ Knapen K Hamulyak C Vermeer (1989) ArticleTitleThe effect of vitamin K supplementation on circulating osteocalcin (bone Gla protein) and urinary calcium excretion. Ann Intern Med 111 1001–1005 Occurrence Handle1:STN:280:By%2BD1cjkvVQ%3D Occurrence Handle2556952

JP Hart A Catterall RA Dodds L Klenerman MJ Shearer L Bitensky J Chayen (1984) ArticleTitleCirculating vitamin K1 levels in fractured neck of femur [letter]. Lancet 2 283 Occurrence Handle10.1016/S0140-6736(84)90321-0 Occurrence Handle1:STN:280:BiuB28bkvF0%3D Occurrence Handle6146829

JP Hart MJ Shearer L Klenerman A Catterall J Reeve PN Sambrook RA Dodds L Bitensky J Chayen (1985) ArticleTitleElectrochemical detection of depressed circulating levels of vitamin K1 in osteoporosis. J Clin Endocrinol Metab 60 1268–1269 Occurrence Handle1:STN:280:BiqB3cfhvFE%3D Occurrence Handle3998071

P Szulc M Arlot MC Chapuy F Duboeuf PJ Meunier PD Delmas (1994) ArticleTitleSerum undercarboxylated osteocalcin correlates with hip bone mineral density in elderly women. J Bone Miner Res 9 1591–1595 Occurrence Handle1:CAS:528:DyaK2MXhslCltLw%3D Occurrence Handle7817805

P Szulc MC Chapuy PJ Meunier PD Delmas (1996) ArticleTitleSerum undercarboxylated osteocalcin is a marker of the risk of hip fracture: a three year follow-up study [see comments]. Bone 18 487–488 Occurrence Handle10.1016/8756-3282(96)00037-3 Occurrence Handle1:STN:280:BymA3MbhvFQ%3D Occurrence Handle8739908

H Luukinen SM Kakonen K Pettersson K Koski P Laippala T Lovgren SL Kivela HK Vaananen (2000) ArticleTitleStrong prediction of fractures among older adults by the ratio of carboxylated to total serum osteocalcin. J Bone Miner Res 15 2473–2478 Occurrence Handle1:CAS:528:DC%2BD3cXovVShsL0%3D Occurrence Handle11127212

CE Fiore C Tamburino R Foti D Grimaldi (1990) ArticleTitleReduced axial bone mineral content in patients taking an oral anticoagulant. South Med J 83 538–542 Occurrence Handle1:STN:280:By%2BB28%2FmvVE%3D Occurrence Handle2343333

M Monreal A Olive E Lafoz L del Rio (1991) ArticleTitleHeparins, coumarin, and bone density. Lancet 338 706 Occurrence Handle10.1016/0140-6736(91)91292-3 Occurrence Handle1:STN:280:By6A2MbnvVY%3D

H Resch P Pietschmann E Krexner R Willvonseder (1991) ArticleTitleDecreased peripheral bone mineral content in patients under anticoagulant therapy with phenprocoumon. Eur Heart J 12 439–441 Occurrence Handle1:STN:280:By6B2cboslE%3D Occurrence Handle2040327

LD Piro MP Whyte WA Murphy SJ Birge (1982) ArticleTitleNormal cortical bone mass in patients after long-term coumadin therapy. J Clin Endocrinol Metab 54 470–473 Occurrence Handle1:STN:280:Bi2D1MflsFM%3D Occurrence Handle7054229

E Houvenagel O Leloire T Vanderlinden P Graux A Dutoit F Tison G Forzy A Racadot G Vincent (1989) ArticleTitleThe level of osteocalcin and bone mass in patients receiving anti-vitamin K agents. Rev Rhum Mal Osteoartic 56 677–679 Occurrence Handle1:STN:280:By%2BD1cvivFI%3D Occurrence Handle2595229

HN Rosen LA Maitland JW Suttie WJ Manning RJ Glynn SL Greenspan (1993) ArticleTitleVitamin K and maintenance of skeletal integrity in adults. Am J Med 94 62–68 Occurrence Handle1:STN:280:ByyC38fislw%3D Occurrence Handle8420301

M Shiraki Y Shiraki C Aoki M Miura (2000) ArticleTitleVitamin K2 (menatetrenone) effectively prevents fractures and sustains lumbar bone mineral density in osteoporosis. J Bone Miner Res 15 515–521 Occurrence Handle1:CAS:528:DC%2BD3cXitFaktrc%3D Occurrence Handle10750566

C Christiansen MS Christensen P McNair C Hagen KE Stocklund I Transbol (1980) ArticleTitlePrevention of early postmenopausal bone loss: controlled 2-year study in 315 normal females. Eur J Clin Invest 10 273–279 Occurrence Handle1:STN:280:Bi6D2cvhsVE%3D Occurrence Handle6253303

JF Aloia A Vaswani JK Yeh PL Ross E Flaster FA Dilmanian (1994) ArticleTitleCalcium supplementation with and without hormone replacement therapy to prevent postmenopausal bone loss. Ann Intern Med 120 97–103 Occurrence Handle1:STN:280:ByuD2sbhvFE%3D Occurrence Handle8256988

IR Reid RW Ames MC Evans GD Gamble SJ Sharpe (1995) ArticleTitleLong-term effects of calcium supplementation on bone loss and fractures in postmenopausal women: a randomized controlled trial. Am J Med 98 331–335 Occurrence Handle10.1016/S0002-9343(99)80310-6 Occurrence Handle1:STN:280:ByqB38rjtVU%3D Occurrence Handle7709944

R Heaney (1996) Design considerations for osteoporosis trials. R. M. (Eds) Osteoporosis. Academic Press San Diego 1125–1142

SJ Hodges K Akesson P Vergnaud K Obrant PD Delmas (1993) ArticleTitleCirculating levels of vitamins K1 and K2 decreased in elderly women with hip fracture. J Bone Miner Res 8 1241–1245 Occurrence Handle1:STN:280:ByuD2sfot1E%3D Occurrence Handle8256661

Y Somekawa M Chigughi M Harada T Ishibashi (1999) ArticleTitleUse of vitamin K2 (menatetrenone) and 1,25-dihydroxyvitamin D3 in the prevention of bone loss induced by leuprolide. J Clin Endocrinol Metab 84 2700–2704 Occurrence Handle1:CAS:528:DyaK1MXltFClsbo%3D Occurrence Handle10443663

JE Ronden HH Thijssen C Vermeer (1998) ArticleTitleTissue distribution of K-vitamers under different nutritional regimens in the rat. Biochim Biophys Acta 1379 16–22 Occurrence Handle10.1016/S0304-4165(97)00075-5 Occurrence Handle1:CAS:528:DyaK1cXhsFalug%3D%3D Occurrence Handle9468327
Acknowledgements
The authors wish to thank Novartis Consumer Health SA (Nyon, Switzerland) for their financial support of this study, and the Department of Nuclear Medicine at the University Hospital Maastricht for performing the DXA measurements. The statistical advice of Drs. M. Olesen (Novartis) and Dr. A. Kester (Department of Biostatistics, UM) is gratefully acknowledged. We wish to thank Professor J. Rosing for critically reading this manuscript. This study was supported by Novartis Consumer Health SA (Nyon, Switzerland) and in part by grant # 28-2817 from the Praeventiefonds (Netherlands).
About this article
Cite this article
Braam, L., Knapen, M., Geusens, P. et al. Vitamin K1 Supplementation Retards Bone Loss in Postmenopausal Women Between 50 and 60 Years of Age . Calcif Tissue Int 73, 21–26 (2003). https://doi.org/10.1007/s00223-002-2084-4
Received:

Accepted:

Published:

Issue Date:

DOI: https://doi.org/10.1007/s00223-002-2084-4
Keywords