Abstract
The treatment of traumatic brain injury (TBI) in military populations is hindered by underreporting and underdiagnosis. Clinical symptoms and outcomes may be mitigated with an effective pre-injury prophylaxis. This study evaluates whether CN-105, a 5-amino acid apolipoprotein E (ApoE) mimetic peptide previously shown to modify the post-traumatic neuroinflammatory response, would maintain its neuroprotective effects if administered prior to closed-head injury in a clinically relevant murine model. CN-105 was synthesized by Polypeptide Inc. (San Diego, CA) and administered to C57-BL/6 mice intravenously (IV) and/or by intraperitoneal (IP) injection at various time points prior to injury while vehicle treated animals received IV and/or IP normal saline. Animals were randomized following injury and behavioral observations were conducted by investigators blinded to treatment. Vestibulomotor function was assessed using an automated Rotarod (Ugo Basile, Comerio, Italy), and hippocampal microglial activation was assessed using F4/80 immunohistochemical staining in treated and untreated mice 7 days post-TBI. Separate, in vivo assessments of the pharmacokinetics was performed in healthy CD-1. IV CN-105 administered prior to head injury improved vestibulomotor function compared to vehicle control-treated animals. CN-105 co-administered by IP and IV dosing 6 h prior to injury also improved vestibulomotor function up to 28 days following injury. Microglia counted in CN-105 treated specimens were significantly fewer (P = 0.03) than in vehicle specimens. CN-105 improves functional outcomes and reduces hippocampal microglial activation when administered prior to injury and could be adapted as a pre-injury prophylaxis for soldiers at high risk for TBI.
Access options
Buy single article
Instant access to the full article PDF.
USD 39.95
Price excludes VAT (USA)
Tax calculation will be finalised during checkout.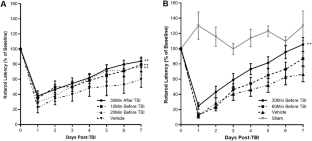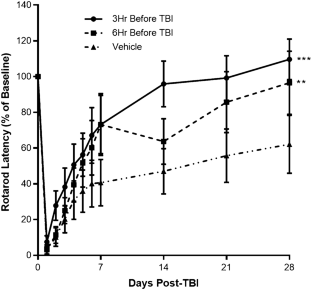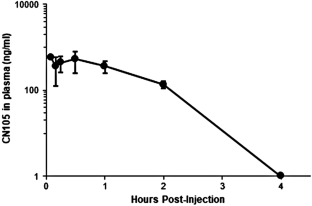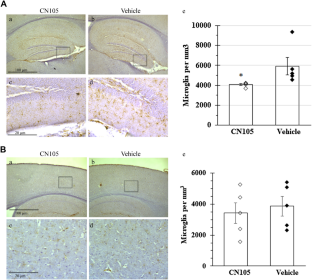 Data availability statement
The datasets generated during and/or analyzed during the current study are available from the corresponding author on reasonable request.
Abbreviations
A2AD:

Anti-access/area denial

ACURO:

Animal Care and Use Review Office

ANOVA:

Analysis of variance

ApoE:

Apolipoprotein E

CNS:

Central nervous system

DoD:

Department of Defense

LRP-1:

Low density lipoprotein receptor-related protein 1

MRT:

Mean plasma residence time

IP:

Intraperitoneal

IPB:

Intelligence preparation of the battlefield

IV:

Intravenous

PBS:

Phosphate buffered saline

RT:

Room temperature

SD:

Standard deviation

T 1/2 :

Terminal elimination half-life

TBI:

Traumatic brain injury

T max :

Time to maximal plasma concentration
References
Agimi Y, Regasa LE, Ivins B, Malik S, Helmick K, Marion D (2018) Role of department of defense policies in identifying traumatic brain injuries among deployed US service members, 2001–2016. Am J Public Health 108(5):683–688

Algattas H, Huang JH (2013) Traumatic Brain Injury pathophysiology and treatments: early, intermediate, and late phases post-injury. Int J Mol Sci 15(1):309–341

Aono M, Lee Y, Grant ER, Zivin RA et al (2002) Apolipoprotein E protects against NMDA excitotoxicity. Neurobiol Dis 11(1):214–220

Aono M, Bennett ER, Kim KS, Lynch JR, Myers J, Pearlstein RD et al (2003) Protective effect of apolipoprotein E-mimetic peptides on N-methyl-d-aspartate excitotoxicity in primary rat neuronal-glial cell cultures. Neuroscience 116(2):437–445

Brenner LA, Vanderploeg RD, Terrio H (2009) Assessment and diagnosis of mild traumatic brain injury, posttraumatic stress disorder, and other polytrauma conditions: burden of adversity hypothesis. Rehabil Psychol 54(3):239–246

Cao F, Jiang Y, Wu Y, Zhong J, Liu J, Qin X et al (2016) Apolipoprotein E-mimetic COG1410 reduces acute vasogenic edema following traumatic brain injury. J Neurotrauma 33(2):175–182

Carr W, Polejaeva E, Grome A, Crandall B, Lavalle C, Eonta SE et al (2015) Relation of repeated low-level blast exposure with symptomology similar to concussion. J Head Trauma Rehabil 30(1):47–55

Carr W, Stone JR, Walilko T, Young LA, Snook TL, Paggi ME et al (2016) Repeated low-level blast exposure: a descriptive human subjects study. Mil Med 181(5 Suppl):28–39

Chakraborty S, Skolnick B, Narayan RK (2016) Neuroprotection trials in traumatic brain injury. Curr Neurol Neurosci Rep 16(4):29

Chapman JC, Diaz-Arrastia R (2014) Military traumatic brain injury: a review. Alzheimers Dement 10(3 Suppl):S97-104

Cheng X, Zheng Y, Bu P, Qi X, Fan C, Li F et al (2018) Apolipoprotein E as a novel therapeutic neuroprotection target after traumatic spinal cord injury. Exp Neurol 299(Pt A):97–108

Craig SC, Morgan J (1997) Parachuting injury surveillance, Fort Bragg, North Carolina, May 1993 to December 1994. Mil Med 162(3):162–164

Croy JE, Brandon T, Komives EA (2004) Two apolipoprotein E mimetic peptides, ApoE(130–149) and ApoE(141–155)2, bind to LRP1. Biochemistry 43(23):7328–7335

Davenport ND (2016) The chaos of combat: an overview of challenges in military mild traumatic brain injury research. Front Psychiatry 7:85

Davidson J, Cusimano MD, Bendena WG (2015) Post-traumatic brain injury: genetic susceptibility to outcome. Neuroscientist 21(4):424–441

DoD Worldwide Numbers for TBI (2020). http://dvbic.dcoe.mil/dod-worldwide-numbers-tbi

Fortier CB, Amick MM, Grande L, Mcglynn S, Kenna A, Morra L et al (2014) The Boston Assessment of Traumatic Brain Injury-Lifetime (BAT-L) semistructured interview: evidence of research utility and validity. J Head Trauma Rehabil 29(1):89–98

French LM, Lange RT, Marshall K, Prokhorenko O, Brickell TA, Bailie JM et al (2014) Influence of the severity and location of bodily injuries on post-concussive and combat stress symptom reporting after military-related concurrent mild traumatic brain injuries and polytrauma. J Neurotrauma 31(19):1607–1616

Gao J, Wang H, Sheng H, Lynch JR, Warner DS, Durham L et al (2006) A novel apoE-derived therapeutic reduces vasospasm and improves outcome in a murine model of subarachnoid hemorrhage. Neurocrit Care 4(1):25–31

Gruenbaum SE, Zlotnik A, Gruenbaum BF, Hersey D, Bilotta F (2016) Pharmacologic neuroprotection for functional outcomes after traumatic brain injury: a systematic review of the clinical literature. CNS Drugs 30(9):791–806

Gu Z, Li F, Zhang YP, Shields LB, Hu X, Zheng Y et al (2013) Apolipoprotein E mimetic promotes functional and histological recovery in lysolecithin-induced spinal cord demyelination in mice. J Neurol Neurophysiol 2014(Suppl 12):10

Guptill JT, Raja SM, Boakye-Agyeman F, Noveck R, Ramey S, Tu TM et al (2017) Phase 1 randomized, double-blind, placebo-controlled study to determine the safety, tolerability, and pharmacokinetics of a single escalating dose and repeated doses of CN-105 in healthy adult subjects. J Clin Pharmacol 57(6):770–776

Hayward P (2008) (2008) Traumatic brain injury: the signature of modern conflicts. Lancet Neurol 7(3):200–201

Headquarters DOTA (2020) FM 4-02, Army Health System: Army Publishing Directorate. https://armypubs.army.mil/epubs/DR_pubs/DR_a/ARN31133-FM_4-02-000-WEB-1.pdf

Hoane MR, Pierce JL, Holland MA, Birky ND, Dang T, Vitek MP et al (2007) The novel apolipoprotein E-based peptide COG1410 improves sensorimotor performance and reduces injury magnitude following cortical contusion injury. J Neurotrauma 24(7):1108–1118

Hoane MR, Kaufman N, Vitek MP, Mckenna SE (2009) COG1410 improves cognitive performance and reduces cortical neuronal loss in the traumatically injured brain. J Neurotrauma 26(1):121–129

Ivins BJ, Schwab KA, Warden D, Harvey LT, Hoilien MA, Powell CO et al (2003) Traumatic brain injury in U.S. Army paratroopers: prevalence and character. J Trauma 55(4):617–621

James ML, Sullivan PM, Lascola CD, Vitek MP, Laskowitz DT (2009) Pharmacogenomic effects of apolipoprotein e on intracerebral hemorrhage. Stroke 40(2):632–639

Jha RM, Kochanek PM, Simard JM (2019) Pathophysiology and treatment of cerebral edema in traumatic brain injury. Neuropharmacology 145(Pt B):230–246

Keenan S, Riesberg JC (2017) Prolonged field care: beyond the "Golden Hour." Wilderness Environ Med 28(2S):S135–S139

Laskowitz DT, Vitek MP (2007) Apolipoprotein E and neurological disease: therapeutic potential and pharmacogenomic interactions. Pharmacogenomics 8(8):959–969

Laskowitz DT, Thekdi AD, Thekdi SD, Han SK, Myers JK, Pizzo SV et al (2001) Downregulation of microglial activation by apolipoprotein E and apoE-mimetic peptides. Exp Neurol 167(1):74–85

Laskowitz DT, Fillit H, Yeung N, Toku K, Vitek MP (2006) Apolipoprotein E-derived peptides reduce CNS inflammation: implications for therapy of neurological disease. Acta Neurol Scand Suppl 185:15–20

Laskowitz DT, Mckenna SE, Song P, Wang H, Durham L, Yeung N et al (2007) COG1410, a novel apolipoprotein E-based peptide, improves functional recovery in a murine model of traumatic brain injury. J Neurotrauma 24(7):1093–1107

Laskowitz DT, Song P, Wang H et al (2010) Traumatic brain injury exacerbates neurodegenerative pathology: improvement with an apolipoprotein E-based therapeutic. J Neurotrauma 27(11):1983–1995

Laskowitz DT, Wang H, Chen T, Lubkin DT, Cantillana V, Tu TM et al (2017) Neuroprotective pentapeptide CN-105 is associated with reduced sterile inflammation and improved functional outcomes in a traumatic brain injury murine model. Sci Rep 7:46461

Lei B, James ML, Liu J, Zhou G, Venkatraman TN, Lascola CD et al (2016) Neuroprotective pentapeptide CN-105 improves functional and histological outcomes in a murine model of intracerebral hemorrhage. Sci Rep 6:34834

Linton MF, Gish R, Hubl ST, Butler E, Esquivel C, Bry WI et al (1991) Phenotypes of apolipoprotein B and apolipoprotein E after liver transplantation. J Clin Invest 88(1):270–281

Liu J, Zhou G, Kolls BJ, Tan Y, Fang C, Wang H et al (2018) Apolipoprotein E mimetic peptide CN-105 improves outcome in a murine model of SAH. Stroke Vasc Neurol 3(4):222–230

Loane DJ, Stoica BA, Faden AI (2015) Neuroprotection for traumatic brain injury. Handb Clin Neurol 127:343–366

Lynch JR, Tang W, Wang H, Vitek MP, Bennett ER, Sullivan PM et al (2003) APOE genotype and an ApoE-mimetic peptide modify the systemic and central nervous system inflammatory response. J Biol Chem 278(49):48529–48533

Lynch JR, Wang H, Mace B, Leinenweber S, Warner DS, Bennett ER et al (2005) A novel therapeutic derived from apolipoprotein E reduces brain inflammation and improves outcome after closed head injury. Exp Neurol 192(1):109–116

Maas AI, Roozenbeek B, Manley GT (2010) Clinical trials in traumatic brain injury: past experience and current developments. Neurotherapeutics 7(1):115–126

Mcadoo JD, Warner DS, Goldberg RN, Vitek MP, Pearlstein R, Laskowitz DT (2005) Intrathecal administration of a novel apoE-derived therapeutic peptide improves outcome following perinatal hypoxic-ischemic injury. Neurosci Lett 381(3):305–308

Mcallister TW (2010) Genetic factors modulating outcome after neurotrauma. PM R 2(12 Suppl 2):S241–S252

Mckee AC, Robinson ME (2014) Military-related traumatic brain injury and neurodegeneration. Alzheimers Dement 10(3 Suppl):S242–S253

Mesis RG, Wang H, Lombard FW, Yates R, Vitek MP, Borel CO et al (2006) Dissociation between vasospasm and functional improvement in a murine model of subarachnoid hemorrhage. Neurosurg Focus 21(3):E4

Milliken CS, Auchterlonie JL, Hoge CW (2007) Longitudinal assessment of mental health problems among active and reserve component soldiers returning from the Iraq war. JAMA 298(18):2141–2148

Misra UK, Adlakha CL, Gawdi G, Mcmillian MK, Pizzo SV, Laskowitz DT (2001) Apolipoprotein E and mimetic peptide initiate a calcium-dependent signaling response macrophages. J Leukoc Biol 70(4):677–683

Narayan RK, Michel ME, Ansell B, Baethmann A, Biegon A, Bracken MB et al (2002) Clinical trials in head injury. J Neurotrauma 19(5):503–557

Nicholson JA, Searor JN, Lane AD (2020) Editorial on the approach to prolonged field care for the special forces medical sergeant: balancing the opportunity cost. J Spec Oper Med 20(3):117–119

Pogoda TK, Levy CE, Helmick K, Pugh MJ (2017) Health services and rehabilitation for active duty service members and veterans with mild TBI. Brain Inj 31(9):1220–1234

Qin X, You H, Cao F, Wu Y, Peng J, Pang J et al (2017) Apolipoprotein E mimetic peptide increases cerebral glucose uptake by reducing blood-brain barrier disruption after controlled cortical impact in mice: an (18)F-Fluorodeoxyglucose PET/CT study. J Neurotrauma 34(4):943–951

Rodriguez D (2019) Medical modernization: the pivot toward LSCO. www.medium.com/experientia-et-progressus/medical-modernization-the-pivot-towards-lsco-d2c82ffa60cf

Rogge AK, Roder B, Zech A, Nagel V, Hollander K, Braumann KM et al (2017) Balance training improves memory and spatial cognition in healthy adults. Sci Rep 7(1):5661

Schouten JW (2007) Neuroprotection in traumatic brain injury: a complex struggle against the biology of nature. Curr Opin Crit Care 13(2):134–142

Setnik L, Bazarian JJ (2007) The characteristics of patients who do not seek medical treatment for traumatic brain injury. Brain Inj 21(1):1–9

Sosin DM, Sniezek JE, Thurman DJ (1996) Incidence of mild and moderate brain injury in the United States. Brain Inj 10(1):47–54

Sulhan S, Lyon KA, Shapiro LA, Huang JH (2020) Neuroinflammation and blood-brain barrier disruption following traumatic brain injury: pathophysiology and potential therapeutic targets. J Neurosci Res 98(1):19–28

Travers S, Carfantan C, Luft A, Aigle L, Pasquier P, Martinaud C et al (2019) Five years of prolonged field care: prehospital challenges during recent French military operations. Transfusion 59(S2):1459–1466

Tu TM, Kolls BJ, Soderblom EJ, Cantillana V, Ferrell PD, Moseley MA et al (2017) Apolipoprotein E mimetic peptide, CN-105, improves outcomes in ischemic stroke. Ann Clin Transl Neurol 4(4):246–265

Tukhovskaya EA, Yukin AY, Khokhlova ON, Murashev AN, Vitek MP (2009) COG1410, a novel apolipoprotein-E mimetic, improves functional and morphological recovery in a rat model of focal brain ischemia. J Neurosci Res 87(3):677–682

Wang H, Durham L, Dawson H, Song P, Warner DS, Sullivan PM et al (2007) An apolipoprotein E-based therapeutic improves outcome and reduces Alzheimer's disease pathology following closed head injury: evidence of pharmacogenomic interaction. Neuroscience 144(4):1324–1333

Wang H, Anderson LG, Lascola CD, James ML, Venkatraman TN, Bennett ER et al (2013) ApolipoproteinE mimetic peptides improve outcome after focal ischemia. Exp Neurol 241:67–74

Wang R, Hong J, Lu M, Neil JE, Vitek MP, Liu X et al (2014) ApoE mimetic ameliorates motor deficit and tissue damage in rat spinal cord injury. J Neurosci Res 92(7):884–892

Wu Y, Pang J, Peng J, Cao F, Vitek MP, Li F et al (2016) An apoE-derived mimic peptide, COG1410, alleviates early brain injury via reducing apoptosis and neuroinflammation in a mouse model of subarachnoid hemorrhage. Neurosci Lett 627:92–99

Yang L, Liu CC, Zheng H, Kanekiyo T, Atagi Y, Jia L et al (2016) LRP1 modulates the microglial immune response via regulation of JNK and NF-kappaB signaling pathways. J Neuroinflamm 13(1):304

Yu AW, Cutcliffe HC, Laskowitz DT et al (2018) Neuroprotective effect of an ApoE mimetic peptide in a gyrencephalic blast animal model (conference presentation). In: Military Health System Research Symposium 2018, Orlando

Zhou W, Xu D, Peng X, Zhang Q, Jia J, Crutcher KA (2008) Meta-analysis of APOE4 allele and outcome after traumatic brain injury. J Neurotrauma 25(4):279–290
Funding
Study drug was provided by Aegis CN, LLC. This study was supported by contract DOD CDMRP#W81XWH-16-C-0142 "Prophylactic administration of CN-105 confers neuroprotection against acute brain injury".
Ethics declarations
Conflict of interest
The views expressed are solely those of the authors and do not reflect the official policy or position of the US Army, US Navy, US Air Force, the Department of Defense, or the US Government. Dr. Laskowitz is an officer and has equity in Aegis CN, LLC which supplied the study drug. Dr. Wang serves as a consultant for Aegis CN, LLC. Aegis CN, LLC had no editorial control over the study design, its execution, or the writing of this manuscript. Duke University has equity and an intellectual property stake in CN-105.
Ethical approval and consent to participate
All experiments were approved by and conducted in accordance with the Duke University Institutional Animal Care and Use Committee.
Consent for publication
Not applicable.
Additional information
Communicated by Bill J Yates.
Publisher's Note
Springer Nature remains neutral with regard to jurisdictional claims in published maps and institutional affiliations.
Supplementary Information
Below is the link to the electronic supplementary material.
About this article
Cite this article
Van Wyck, D., Kolls, B.J., Wang, H. et al. Prophylactic treatment with CN-105 improves functional outcomes in a murine model of closed head injury. Exp Brain Res 240, 2413–2423 (2022). https://doi.org/10.1007/s00221-022-06417-4
Received:

Accepted:

Published:

Issue Date:

DOI: https://doi.org/10.1007/s00221-022-06417-4
Keywords