Abstract
This study aimed to establish the role of miR-129 and miR-384-5p in cerebral ischemia-induced apoptosis. Using PC12 cells transfected with miR-129 or miR-384-5p mimics or inhibitors, oxygen glucose deprivation (OGD) conditions were applied for 4 h to simulate transient cerebral ischemia. Apoptotic phenotypes were assessed via lactate dehydrogenase (LDH) assay, MTT cell metabolism assay, and fluorescence-activated cell sorting (FACS). The effect of miR overexpression and inhibition was evaluated by protein and mRNA detection of bcl-2 and caspase-3, critical apoptosis factors. Finally, the direct relationship of miR-129 and bcl-2 and miR-384-5p and caspase-3 was measured by luciferase reporter assay. The overexpression of miR-384-5p and miR-129 deficiency significantly enhanced cell viability, reduced LDH release, and inhibited apoptosis. By contrast, overexpression of miR-129 and miR-384-5p deficiency aggravated hypoxia-induced apoptosis and cell injury. miR-129 overexpression significantly reduced mRNA and protein levels of bcl-2 and miR-129 inhibition significantly increased mRNA and protein levels of bcl-2 in hypoxic cells.miR-384-5p overexpression significantly reduced protein levels of caspase-3 while miR-384-5p deficiency significantly increased protein levels of caspase-3. However, no changes were observed in caspase-3 mRNA in either transfection paradigm. Finally, luciferase reporter assay confirmed caspase-3 to be a direct target of miR-384-5p; however, no binding activity was detected between bcl-2 and miR-129.Transient cerebral ischemia induces differential expression of miR-129 and miR-384-5p which influences apoptosis by regulating apoptotic factors caspase-3 and bcl-2, thereby participating in the pathological mechanism of cerebral ischemia, and becoming potential targets for the treatment of ischemic cerebral injury in the future.
Graphic abstract

Access options
Buy single article
Instant access to the full article PDF.
USD 39.95
Price includes VAT (USA)
Tax calculation will be finalised during checkout.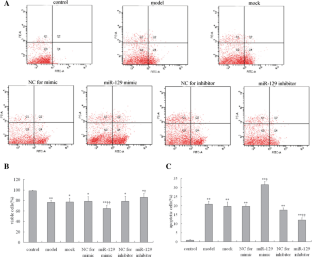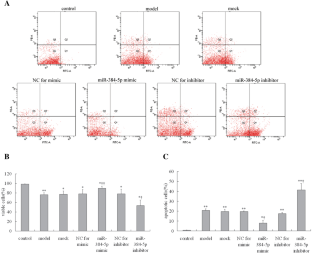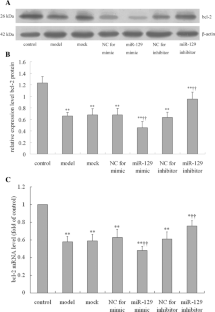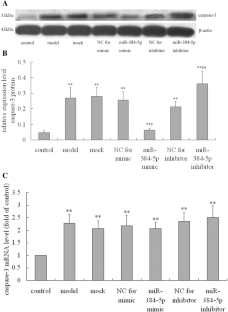 Availability of data and materials
The dataset(s) supporting the conclusions of this article are available from the corresponding author upon the reasonable request.
Acknowledgements
We thank all colleagues from the departments of all authors in this paper.
Funding
The project was financially supported by the National Natural Science Foundation of China, No. 81973317, No. 81374007, No. 81870977; the Natural Science Foundation of Heilongjiang Province, No. HL2019H062; the Projects of Basic Scientific Research Business Expenses in Higher Education Institutions of Heilongjiang Province,No.2018-KYYWF-MY-005; and the Students Innovative and Entrepreneurship Training Scientific Research Foundation of Heilongjiang Province, No.102292017001.
Ethics declarations
Conflict of interest
The authors declare no conflict of any financial AND non-financial interests.
Ethical approval
The study was approved by the Institutional Review Board of Mudanjiang Medical University.
Additional information
Publisher's Note
Springer Nature remains neutral with regard to jurisdictional claims in published maps and institutional affiliations.
Communicated by Sreedharan Sajikumar.
Supplementary Information
Below is the link to the electronic supplementary material.
Supplementary file1 Supplementary Figure 1 A The structure of bcl-2 wild-type and bcl-2 mutant vector. Potential binding site between miR-129 and bcl-2 mRNA 3'-UTR, which is between miR-129 and bcl-2 3'-UTR target region, Inter-complementary nucleotides are connected by short vertical lines. B The structure of caspase-3 wild-type and caspase-3 mutant vector. Potential binding site between miR-384-5p and caspase-3 mRNA 3'-UTR. The complementary nucleotides between miR-384-5p and caspase-3 3'-UTR target regions are connected by short vertical lines. (TIF 4831 KB)
About this article
Cite this article
Guan, HL., Guan, Y., Li, WY. et al. Regulatory role of miR-129 and miR-384-5p on apoptosis induced by oxygen and glucose deprivation in PC12 cell. Exp Brain Res (2021). https://doi.org/10.1007/s00221-021-06236-z
Received:

Accepted:

Published:
Keywords
Cerebral ischemia, oxygen glucose deprivation

Apoptosis, bcl-2

Caspase-3, miR-129

miR-384-5p