Abstract
The medial temporal lobe (MTL) is the core neural construction related to associative memory. This study sought to explore the dynamic functional connectivity (dFC) between the subdivisions of MTL and other regions in the whole brain. Additionally, it sought to determine relationships between connectivity stability and associative memory function, to elucidate the neural foundation of associative memory from the perspectives of dFC. A Wechsler Memory Scale China revised edition (WMS-RC) measurement and a resting-state functional magnetic resonance imaging were conducted to clarify adults' function of associative memory and dFC patterns in subdivisions of the MTL. A multiple regression analysis was carried out to analyze the relationships described above. The results demonstrated that (i) connectivity in the left brain included the anterior hippocampus (aHIP) and right fusiform (Fusiform_R), middle hippocampus (mHIP) and right inferior parietal lobule (IPL_R), posterior hippocampus (pHIP) and left inferior parietal lobule (IPL_L), perirhinal cortex (PRC) and left supramarginal gyrus (SMG_L), entorhinal cortex (ERC) and [left middle temporal gyrus (MTG_L), left superior parietal lobule (SPL_L), right fusiform (Fusiform_R)], anterior parahippocampal cortex (aPHC) and right precentral gyrus (PCG_R); (ii) connectivity in the right brain included the aHIP and right supramarginal gyrus (SMG_R), mHIP and left paracentral lobule (PCL_L), pHIP and left superior occipital gyrus (SOG_L), PRC and left middle occipital gyrus (MOG_L), ERC and right middle occipital gyrus (MOG_R); (iii) for most connectivity patterns, the more stable the dFC, the better are the associative memory functions. This study elucidates the neural foundations of associative memory in terms of dFC patterns.
Access options
Buy single article
Instant access to the full article PDF.
USD 39.95
Price includes VAT (USA)
Tax calculation will be finalised during checkout.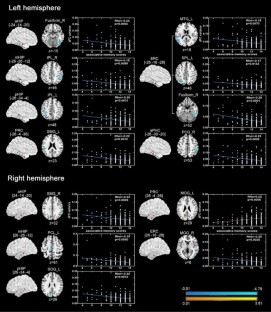 Availability of data and material
References
Baker JT, Sanders AL, Maccotta L, Buckner RL (2001) Neural correlates of verbal memory encoding during semantic and structural processing tasks. NeuroReport 12(6):1251–1256

Bastin C, Bahri MA, Miévis F, Lemaire C, Collette F, Genon S, Simon J, Guillaume B, Diana RA, Yonelinas AP, Salmon E (2014) Associative memory and its cerebral correlates in Alzheimer׳s disease: evidence for distinct deficits of relational and conjunctive memory. Neuropsychologia 63:99–106. https://doi.org/10.1016/j.neuropsychologia.2014.08.023

Brown MW, Aggleton JP (2001) Recognition memory: What are the roles of the perirhinal cortex and hippocampus? Nat Rev Neurosci 2(1):51–61. https://doi.org/10.1038/35049064

Chapleau M, Montembeault M, Boukadi M, Bedetti C, Laforce R Jr, Wilson M, Brambati SM (2019) The role of the hippocampus in the semantic variant of primary progressive aphasia: a resting-state fcMRI study. Hippocampus 29(11):1127–1132. https://doi.org/10.1002/hipo.23156

Chen J, Duan X, Shu H, Wang Z, Long Z, Liu D, Liao W, Shi Y, Chen H, Zhang Z (2016) Differential contributions of subregions of medial temporal lobe to memory system in amnestic mild cognitive impairment: insights from fMRI study. Sci Rep 6(1):26148. https://doi.org/10.1038/srep26148

Chen H, Nomi JS, Uddin LQ, Duan X, Chen H (2017) Intrinsic functional connectivity variance and state-specific under-connectivity in autism. Hum Brain Mapp 38(11):5740–5755. https://doi.org/10.1002/hbm.23764

Deschamps I, Baum SR, Gracco VL (2014) On the role of the supramarginal gyrus in phonological processing and verbal working memory: evidence from rTMS studies. Neuropsychologia 53:39–46. https://doi.org/10.1016/j.neuropsychologia.2013.10.015

Du X, Zhan L, Chen G, Guo D, Li C, Moscovitch M, Yang J (2019) Differential activation of the medial temporal lobe during item and associative memory across time. Neuropsychologia 135:107252. https://doi.org/10.1016/j.neuropsychologia.2019.107252

Duncan K, Tompary A, Davachi L (2014) Associative encoding and retrieval are predicted by functional connectivity in distinct hippocampal area CA1 pathways. J Neurosci 34(34):11188–11198. https://doi.org/10.1523/JNEUROSCI.0521-14.2014

Eichenbaum H (2000) A cortical–hippocampal system for declarative memory. Nat Rev Neurosci 1(1):41–50. https://doi.org/10.1038/35036213

Feng F, Samarth P, Paré D, Nair SS (2016) Mechanisms underlying the formation of the amygdalar fear memory trace: a computational perspective. Neuroscience 322:370–376. https://doi.org/10.1016/j.neuroscience.2016.02.059

Ferko K, Blumenthal A, Martin C, Proklova D, Bussey T, Saksida L, Khan A, Köhler S (2020) Perirhinal and anterolateral entorhinal cortex activity patterns reflect perceived visual similarity of highly similar objects. J vis 20(11):1197. https://doi.org/10.1167/jov.20.11.1197

Freedberg M, Reeves JA, Toader AC, Hermiller MS, Voss JL, Wassermann EM (2019) Persistent enhancement of hippocampal network connectivity by parietal rTMS is reproducible. Eneuro 6(5):ENEURO.0129-19.2019. https://doi.org/10.1523/ENEURO.0129-19.2019

Fyhn M, Molden S, Witter MP, Moser EI, Moser MB (2004) Spatial representation in the entorhinal cortex. Science 305(5688):1258–1264. https://doi.org/10.1126/science.1099901

Garcia AD, Buffalo EA (2020) Anatomy and function of the primate entorhinal cortex. Ann Rev vis Sci 6(1):411–432. https://doi.org/10.1146/annurev-vision-030320-041115

Gong Y, Jiang D, Deng J (1989) Revision of the Manual of Wechseler memory Scale. Hunan Medical University, Changsha, p 2

Hales JB, Brewer JB (2011) The timing of associative memory formation: frontal lobe and anterior medial temporal lobe activity at associative binding predicts memory. J Neurophysiol 105(4):1454–1463. https://doi.org/10.1152/jn.00902.2010

Hartwigsen G, Baumgaertner A, Price CJ, Koehnke M, Ulmer S, Siebner HR (2010) Phonological decisions require both the left and right supramarginal gyri. Proc Natl Acad Sci 107(38):16494–16499. https://doi.org/10.1073/pnas.1008121107

Horn MM, Kennedy KM, Rodrigue KM (2018) Association between subjective memory assessment and associative memory performance: role of ad risk factors. Psychol Aging 33(1):109–118. https://doi.org/10.1037/pag0000217

Howett D, Castegnaro A, Krzywicka K, Hagman J, Marchment D, Henson R, Rio M, King JA, Burgess N, Chan D (2019) Differentiation of mild cognitive impairment using an entorhinal cortex-based test of virtual reality navigation. Brain 142(6):1751–1766. https://doi.org/10.1093/brain/awz116

Jia H, Hu X, Deshpande G (2014) Behavioral relevance of the dynamics of the functional brain connectome. Brain Connect 4(9):741–759. https://doi.org/10.1089/brain.2014.0300

Jitsuishi T, Hirono S, Yamamoto T, Kitajo K, Iwadate Y, Yamaguchi A (2020) White matter dissection and structural connectivity of the human vertical occipital fasciculus to link vision-associated brain cortex. Sci Rep 10(1):820. https://doi.org/10.1038/s41598-020-57837-7

Jones DT, Vemuri P, Murphy MC, Gunter JL, Senjem ML, Machulda MM, Przybelski SA, Gregg BE, Kantarci K, Knopman DS, Boeve BF, Petersen RC, Jack CR (2012) Non-stationarity in the "resting brain's" modular architecture. PLoS ONE 7(6):e39731. https://doi.org/10.1371/journal.pone.0039731

Kahn I, Andrews-Hanna JR, Vincent JL, Snyder AZ, Buckner RL (2008) Distinct cortical anatomy linked to subregions of the medial temporal lobe revealed by intrinsic functional connectivity. J Neurophysiol 100(1):129–139. https://doi.org/10.1152/jn.00077.2008

Laufs H, Rodionov R, Thornton R, Duncan JS, Lemieux L, Tagliazucchi E (2014) Altered fMRI connectivity dynamics in temporal lobe epilepsy might explain seizure semiology. Front Neurol 5(SEP):1–13. https://doi.org/10.3389/fneur.2014.00175

Lester BD, Dassonville P (2014) The role of the right superior parietal lobule in processing visual context for the establishment of the egocentric reference frame. J Cognit Neurosci 26(10):2201–2209. https://doi.org/10.1162/jocn_a_00636

Li M, Lu S, Zhong N (2016) The parahippocampal cortex mediates contextual associative memory: evidence from an fmri study. Biomed Res Int. https://doi.org/10.1155/2016/9860604

Libby LA, Ekstrom AD, Ragland JD, Ranganath C (2012) Differential connectivity of perirhinal and parahippocampal cortices within human hippocampal subregions revealed by high-resolution functional imaging. J Neurosci 32(19):6550–6560. https://doi.org/10.1523/JNEUROSCI.3711-11.2012

Lin JJ, Rugg MD, Das S, Stein J, Rizzuto DS, Kahana MJ, Lega BC (2017) Theta band power increases in the posterior hippocampus predict successful episodic memory encoding in humans. Hippocampus 27(10):1040–1053. https://doi.org/10.1002/hipo.22751

Liu F, Wang Y, Li M, Wang W, Li R, Zhang Z, Lu G, Chen H (2017) Dynamic functional network connectivity in idiopathic generalized epilepsy with generalized tonic-clonic seizure. Hum Brain Mapp 38(2):957–973. https://doi.org/10.1002/hbm.23430

Mayes A, Montaldi D, Migo E (2007) Associative memory and the medial temporal lobes. Trends Cognit Sci 11(3):126–135. https://doi.org/10.1016/j.tics.2006.12.003

McDermott KB, Petersen SE, Watson JM, Ojemann JG (2003) A procedure for identifying regions preferentially activated by attention to semantic and phonological relations using functional magnetic resonance imaging. Neuropsychologia 41(3):293–303. https://doi.org/10.1016/S0028-3932(02)00162-8

McKenna BS, Brown GG, Drummond SPA, Turner TH, Mano QR (2013) Linking mathematical modeling with human neuroimaging to segregate verbal working memory maintenance processes from stimulus encoding. Neuropsychology 27(2):243–255. https://doi.org/10.1037/a0031515

Mion M, Patterson K, Acosta-Cabronero J, Pengas G, Izquierdo-Garcia D, Hong YT, Fryer TD, Williams GB, Hodges JR, Nestor PJ (2010) What the left and right anterior fusiform gyri tell us about semantic memory. Brain 133(11):3256–3268. https://doi.org/10.1093/brain/awq272

Morrison DJ, Rashid AJ, Yiu AP, Yan C, Frankland PW, Josselyn SA (2016) Parvalbumin interneurons constrain the size of the lateral amygdala engram. Neurobiol Learn Mem 135:91–99. https://doi.org/10.1016/j.nlm.2016.07.007

Paracentral lobule (2021) IMAIOS. https://www.imaios.com/en/e-Anatomy/Anatomical-Parts/Paracentral-lobule. Accessed 10 Apr 2021

Qin S, Duan X, Supekar K, Chen H, Chen T, Menon V (2016) Large-scale intrinsic functional network organization along the long axis of the human medial temporal lobe. Brain Struct Funct 221(6):3237–3258. https://doi.org/10.1007/s00429-015-1098-4

Quillan MR (1966) Semantic memory. Bolt Beranek and Newman Inc, Cambridge

Reinke B, Ven VV, Matura S, Linden DEJ, Oertel-Knöchel V (2013) Altered intrinsic functional connectivity in language-related brain regions in association with verbal memory performance in euthymic bipolar patients. Brain Sci 3(3):1357–1373. https://doi.org/10.3390/brainsci3031357

Ritchey M, Yonelinas AP, Ranganath C (2014) Functional connectivity relationships predict similarities in task activation and pattern information during associative memory encoding. J Cogn Neurosci 26(5):1085–1099. https://doi.org/10.1162/jocn_a_00533

Robin J (2018) Spatial scaffold effects in event memory and imagination. Wiley Interdiscip Rev 9(4):e1462. https://doi.org/10.1002/wcs.1462

Segal E, Petrides M (2012) The anterior superior parietal lobule and its interactions with language and motor areas during writing. Eur J Neurosci 35(2):309–322. https://doi.org/10.1111/j.1460-9568.2011.07937.x

Stoeckel C, Gough PM, Watkins KE, Devlin JT (2009) Supramarginal gyrus involvement in visual word recognition. Cortex 45(9):1091–1096. https://doi.org/10.1016/j.cortex.2008.12.004

Suh J, Rivest AJ, Nakashiba T, Tominaga T, Tonegawa S (2011) Entorhinal cortex layer III input to the hippocampus is crucial for temporal association memory. Science 334(6061):1415–1420. https://doi.org/10.1126/science.1210125

Tulving E, Markowitsch HJ (1998) Episodic and declarative memory: role of the hippocampus. Hippocampus 8(3):198–204. https://doi.org/10.1002/(SICI)1098-1063(1998)8:3%3c198::AID-HIPO2%3e3.0.CO;2-G

van de Ven V, Lee C, Lifanov J, Kochs S, Jansma H, De Weerd P (2020) Hippocampal-striatal functional connectivity supports processing of temporal expectations from associative memory. Hippocampus 30(9):926–937. https://doi.org/10.1002/hipo.23205

Wang JX, Rogers LM, Gross EZ, Ryals AJ, Dokucu ME, Brandstatt KL, Hermiller MS, Voss JL (2014) Targeted enhancement of cortical–hippocampal brain networks and associative memory. Science 345(6200):1054–1057. https://doi.org/10.1126/science.1252900

Wang S-F, Ritchey M, Libby LA, Ranganath C (2016) Functional connectivity based parcellation of the human medial temporal lobe. Neurobiol Learn Mem 134:123–134. https://doi.org/10.1016/j.nlm.2016.01.005

Westerberg C, Mayes A, Florczak SM, Chen Y, Creery J, Parrish T, Weintraub S, Mesulam M-M, Reber PJ, Paller KA (2013) Distinct medial temporal contributions to different forms of recognition in amnestic mild cognitive impairment and Alzheimer's disease. Neuropsychologia 51(12):2450–2461. https://doi.org/10.1016/j.neuropsychologia.2013.06.025

Yu Q, Erhardt EB, Sui J, Du Y, He H, Hjelm D, Cetin MS, Rachakonda S, Miller RL, Pearlson G, Calhoun VD (2015) Assessing dynamic brain graphs of time-varying connectivity in fMRI data: application to healthy controls and patients with schizophrenia. Neuroimage 107:345–355. https://doi.org/10.1016/j.neuroimage.2014.12.020
Acknowledgements
We would like to thank the participants of this study and the support received from the Department of MR, Shanxi Provincial People's Hospital.
Funding
This work was supported by the National Key Research and Development Program of China [2016YFC1307004] and the National Natural Science Foundation of China [81571319]. Multidisciplinary Team for Cognitive Impairment of Shanxi Science and Technology Innovation Training Team and Support Program of the Youth Sanjin Scholars [201705D131027].
Ethics declarations
Conflict of interest
The authors declare that the research was conducted in the absence of any commercial or financial relationships that could be construed as a potential conflict of interest.
Ethics approval
The protocol was approved by the Ethics Committee of the Shanxi Medical University.
Consent to participate
All subjects gave written informed consent in accordance with the Declaration of Helsinki.
Consent for publication
The authors affirm that human research participants provided informed consent for publication of the images in Fig. 1.
Additional information
Publisher's Note
Springer Nature remains neutral with regard to jurisdictional claims in published maps and institutional affiliations.
Communicated by Bill J Yates.
About this article
Cite this article
Zhang, J., Zhang, Y., Pan, Y. et al. The neural foundation of associative memory: a dynamic functional connectivity study for right-handed young adults. Exp Brain Res 239, 3527–3536 (2021). https://doi.org/10.1007/s00221-021-06222-5
Received:

Accepted:

Published:

Issue Date:
Keywords
Associative memory

Dynamic functional connectivity

Right-handed young adults

Medial temporal lobe