Abstract
This study explored the relationship between single motor unit (MU) firing rates (FRs) and limb movement velocity during voluntary shortening contractions when accounting for the effects of time course variability between different kinematic comparisons. Single MU trains recorded by intramuscular electromyography in agonist muscles of the anconeus (n = 15 participants) and lateral head of the triceps brachii (n = 6) were measured during each voluntary shortening contraction. Elbow extension movements consisted of a targeted velocity occurring along the sagittal plane at 25, 50, 75 and 100% of maximum velocity. To account for the effect of differences in contraction time course between parameters, each MU potential was time locked throughout the shortening muscle contraction and linked with separated kinematic parameters of the elbow joint. Across targeted movement velocities, instantaneous FRs were significantly correlated with elbow extension rate of torque development (r = 0.45) and torque (r = 0.40), but FRs were not correlated with velocity (r = 0.03, p = n.s.). Instead, FRs had a weak indirect relationship with limb movement velocity and position assessed through multiple correlation of the stepwise kinematic progression. Results show that voluntary descending synaptic inputs correspond to a more direct relationship between agonist muscle FRs and torque during shortening contractions, but not velocity. Instead, FRs were indirectly correlated to preparing the magnitude of imminent movement velocity of the lagging limb through torque.
Access options
Buy single article
Instant access to the full article PDF.
USD 39.95
Price includes VAT (USA)
Tax calculation will be finalised during checkout.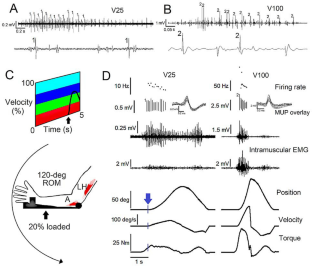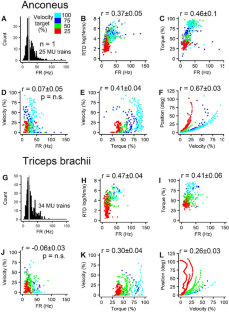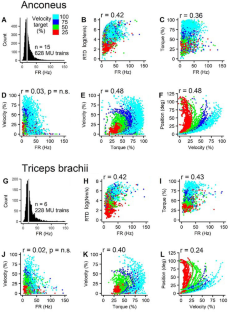 Availability of data and material
Datasets described in this paper can be accessed by correspondence with the authors on reasonable request.
Code availability
All analyses were supported from open source software packages in R, specific code described in the current study can be accessed by correspondence with the authors.
References
Baldissera F, Cavallari P, Cerri G (1998) Motoneuronal pre-compensation for the low-pass filter characteristics of muscle. A quantitative appraisal in cat muscle units. J Physiol 511:611–627

Balnave CD, Allen DG (1996) The effect of muscle length on intracellular calcium and force in single fibres from mouse skeletal muscle. J Physiol 492:705–713

Bates D, Maechler M, Bolker B, Walker S (2015) Fitting linear mixed-effects models using lme4. J Stat Softw 67:1–48

Binder-Macleod SA, Lee SCK (1996) Catchlike property of human muscle during isovelocity movements. J Appl Physiol 80:2051–2059

Boe SG, Stashuk DW, Doherty TJ (2006) Within-subject reliability of motor unit number estimates and quantitative motor unit analysis in a distal and proximal upper limb muscle. Clin Neurophysiol 117:596–603

Brown IE, Loeb GE (2000) Measured and modeled properties of mammalian skeletal muscle: IV. Dynamics of activation and deactivation. J Muscle Res Cell Motil 21:33–47

Brown IE, Cheng EJ, Loeb GE (1999) Measured and modeled properties of mammalian skeletal muscle. II. The effects of stimulus frequency on force-length and force-velocity relationships. J Muscle Res Cell Motil 20:627–643

Buchthal F, Rosenfalck P (1960) Dynamic elasticity in the initial phase of an isotonic twitch. Acta Physiol Scand 49:198–210

Canty A, Ripley BD (2019) boot: Bootstrap R (S-Plus) Functions. R package version 1.3-24.

Cavanagh PR, Komi PV (1979) Electromechanical delay in human skeletal muscle under concentric and eccentric contractions. Eur J Appl Physiol Occup Physiol 42:159–163

Chen R, Yaseen Z, Cohen LG, Hallett M (1998) Time course of corticospinal excitability in reaction time and self-paced movements. Ann Neurol 44:317–325

Churchland MM, Shenoy KV (2007) Temporal complexity and heterogeneity of single-neuron activity in premotor and motor cortex. J Neurophysiol 97:4235–4257

Churchland MM, Cunningham JP, Kaufman MT et al (2012) Neural population dynamics during reaching. Nature 487:51–56

Coriolano M, Lins O, Amorim M, Amorim A (2009) Anatomy and functional architecture of the anconeus muscle. Int J Morphol 27:1009–1012

Dalton BH, Jakobi JM, Allman BL, Rice CL (2010) Differential age-related changes in motor unit properties between elbow flexors and extensors. Acta Physiol 200:45–55

Davison AC, Hinkley DV (1997) Bootstrap methods and their applications. Cambridge University Press, Cambridge

Del Valle A, Thomas CK (2005) Firing rates of motor units during strong dynamic contractions. Muscle Nerve 32:316–325

Desmedt JE, Godaux E (1979) Voluntary motor commands in human ballistic movements. Ann Neurol 5:415–421

Devanne H, Lavoie BA, Capaday C (1997) Input-output properties and gain changes in the human corticospinal pathway. Exp Brain Res 114:329–338

Ebashi S, Endo M (1968) Calcium ion and muscle contraction. Prog Biophys Mol Biol 18:123–183

Economo MN, Viswanathan S, Tasic B et al (2018) Distinct descending motor cortex pathways and their roles in movement. Nature 563:79–84

Edman KAP (1979) The velocity of unloaded shortening and its relation to sarcomere length and isometric force in vertebrate muslce fibres. J Physiol 29:143–159

Edman KAP (2014) The force-velocity relationship at negative loads (assisted shortening) studied in isolated, intact muscle fibres of the frog. Acta Physiol 211:609–616

Efron B (1979) Bootstrap methods: another look at the Jackknife. Ann Stat 7:1–26

Ejaz N, Hamada M, Diedrichsen J (2015) Hand use predicts the structure of representations in sensorimotor cortex. Nat Neurosci 18:1034–1040

Flash T, Hogan N (1985) The coordination of arm movements: an experimentally confirmed mathematical model. J Neurosci 5:1688–1703

Ford L, Huxley A, Simmons R (1977) Tension responses to sudden length change in stimulated frog muscle fibres near slack length. J Physiol 269:441–515

Fuglevand AJ, Winter D, Patla A (1993) Models of recruitment and rate coding organization in motor-unit pools. J Neurophysiol 70:2470–2488

Garland SJ, Cooke JD, Miller KJ et al (1996) Motor unit activity during human single joint movements. J Neurophysiol 76:1982–1990

Goldberg SJ, Alex Meredith M, Shall MS (1998) Extraocular motor unit and whole-muscle responses in the lateral rectus muscle of the squirrel monkey. J Neurosci 18:10629–10639

Gydikov A, Kosarov D, Kossev A et al (1986) Motor unit potentials at high muscle activity recorded by selective elctrodes. Biochim Biophys Acta 45:63–68

Hallett M, Shahani B, Young R (1975) EMG analysis of stereotyped voluntary movements in man. J Neurol Neurosurg Psychiatry 38:1154–1162

Harris C, Wolpert D (1998) Signal-dependent noise determines motor planning. Nature 394:780–784

Harwood B, Rice CL (2012) Changes in motor unit recruitment thresholds of the human anconeus muscle during torque development preceding shortening elbow extensions. J Neurophysiol 107:2876–2884

Harwood B, Rice CL (2014) Short interspike intervals and double discharges of anconeus motor unit action potentials for the production of dynamic elbow extensions. J Neurophysiol 111:2039–2046

Harwood B, Davidson AW, Rice CL (2011) Motor unit discharge rates of the anconeus muscle during high-velocity elbow extensions. Exp Brain Res 208:103–113

Harwood B, Choi I, Rice CL (2012) Reduced motor unit discharge rates of maximal velocity dynamic contractions in response to a submaximal dynamic fatigue protocol. J Appl Physiol 113:1821–1830

Harwood B, Dalton BH, Power GA, Rice CL (2013) Motor unit properties from three synergistic muscles during ramp isometric elbow extensions. Exp Brain Res 231:501–510

Heckman CJ, Binder MD (1991) Computer simulation of the steady-state input-output function of the cat medial gastrocnemius motoneuron pool. J Neurophysiol 65:952–967

Herzog W, Leonard T, Joumaa V et al (2012) The three filament model of skeletal muscle stability and force production. Mol Cell Biomech 9:175–191

Hill A (1922) The maximum work and mechanical efficiency of human muscles, and their most economical speed. J Physiol 56:19–41

Howell JN, Fuglevand AJ, Walsh ML, Bigland-Ritchie B (1995) Motor unit activity during isometric and concentric-eccentric contractions of the human first dorsal interosseus muscle. J Neurophysiol 74:901–904

Hyngstrom AS, Johnson MD, Miller JF, Heckman CJ (2007) Intrinsic electrical properties of spinal motoneurons vary with joint angle. Nat Neurosci 10:363–369

Johnson MD, Heckman CJ (2014) Gain control mechanisms in spinal motoneurons. Front Neural Circuits 8:1–7

Kallio J, Søgaard K, Avela J et al (2013) Motor unit firing behaviour of soleus muscle in isometric and dynamic contractions. PLoS ONE 8:1–7

Kjaer M (2004) Role of extracellular matrix in adaptation of tendon and skeletal muscle to mechanical loading. Physiol Rev 84:649–698

Kuznetsova A, Brockhoff P, Rune H (2017) lmerTest package: tests in linear mixed effects models. J Stat Softw 82:1–26

Lawrence D, Kuypers H (1968) The functional organization of the motor system in the monkey. Brain 91:15–36

Le Bozec S, Maton B (1982) The activity of anconeus during voluntary elbow extension: the effect of lidocaine blocking of the muscle. Electromyogr Clin Neurophysiol 22:265–275

Le Bozec S, Maton B (1987) Differences between motor unit firing rate, twitch characteristics and fibre type composition in an agonistic muscle group in man. Eur J Appl Physiol Occup Physiol 56:350–355

Le Bozec S, Maton B, Cnockaert JC (1980) The synergy of elbow extensor muscles during dynamic work in man—I. Elbow extension. Eur J Appl Physiol Occup Physiol 44:255–269

Luke SG (2017) Evaluating significance in linear mixed-effects models in R. Behav Res Methods 49:1494–1502

Maton B, Le Bozec S, Cnockaert JC (1980) The synergy of elbow extensor muscles during dynamic work in man—II. Braking of elbow flexion. Eur J Appl Physiol Occup Physiol 44:271–278

Miguel-Andres I, Alonso-Rasgado T, Walmsley A, Watts AC (2017) Effect of anconeus muscle blocking on elbow kinematics: electromyographic, inertial sensors and finite element study. Ann Biomed Eng 45:775–788

Norman R, Komi P (1979) Electromechanical delay in skeletal muslce under normal movement conditions. Acta Physiol Scand 106:241–248

Oliveira A, Nergro F (2021) Neural control of matched motor units during muscle shortening and lengthening at increasing velocities. J Appl Physiol (A head of Print)

Parra ME, Sterczala AJ, Miller JD et al (2020) Sex-related differences in motor unit firing rates and action potential amplitudes of the first dorsal interosseous during high-, but not low-intensity contractions. Exp Brain Res 238:1133–1144

Partridge LD (1965) Modifications of neural output signals by muscles: a frequency response. J Appl Physiol 20:150–156

Partridge LD (1966) Signal-handling characteristics of load-moving skeletal muscle. Am J Physiol Regul Integr Comp Physiol 210:1178–1191

Rich C, O'Brien G, Cafarelli E (1998) Probabilities associated with counting average motor unit firing rates in active human muscle. Can J Appl Physiol 7:956–963

Robinson DA (1970) Oculomotor unit behavior in the monkey. J Neurophysiol 33:393–403

Stevens DES, Harwood B, Power GA et al (2013) Anconeus motor unit number estimates using decomposition-based quantitative electromyography. Muscle Nerve 50:52–59

Stevens DE, Smith CB, Harwood B, Rice CL (2014) In vivo measurement of fascicle length and pennation of the human anconeus muscle at several elbow joint angles. J Anat 225:502–509

Tang Y, Horikoshi M, Li W (2016) ggfortify: unified interface to visualize statistical results of popular r packages. R J 8:478–489

Tenan MS, Nathan Marti C, Griffin L (2014) Motor unit discharge rate is correlated within individuals: a case for multilevel model statistical analysis. J Electromyogr Kinesiol 24:917–922

Todorov E, Jordan MI (2002) Optimal feedback control as a theory of motor coordination. Nat Neurosci 5:1226–1235

Van Gisbergen JAM, Robinson DA, Gielen S (1981) A quantitative analysis of generation of saccadic eye movements by burst neurons. J Neurophysiol 45:417–442

Wagstaff D, Elek E, Kulis S, Marsiglia F (2009) Using a nonparametric bootstrap to obtain a confidence interval for Pearons's r with cluster randomized data: a case study. J Prim Prev 30:497–512

Weiler J, Gribble PL, Pruszynski JA (2019) Spinal stretch reflexes support efficient hand control. Nat Neurosci 22:529–533
Acknowledgements
We thank all participants for their volunteered contribution.
Funding
This work was supported by the Natural Sciences and Engineering Research Council of Canada (NSERC) to E. A. Kirk (CGS-D) and C. L. Rice (No. 180970).
Ethics declarations
Conflict of interest
The authors have no competing interests.
Ethical approval
In agreement with the latest revision of the Declaration of Helsinki, the local University's full research ethics board for human experimentation approved all procedures (no. 107505).
Consent to participate
Each participant gave their informed consent.
Additional information
Publisher's Note
Springer Nature remains neutral with regard to jurisdictional claims in published maps and institutional affiliations.
Communicated by Winston D Byblow.
Supplementary Information
Below is the link to the electronic supplementary material.
About this article
Cite this article
Kirk, E.A., Rice, C.L. The relationship of agonist muscle single motor unit firing rates and elbow extension limb movement kinematics. Exp Brain Res 239, 2755–2766 (2021). https://doi.org/10.1007/s00221-021-06168-8
Received:

Accepted:

Published:

Issue Date:
Keywords
Concentric

Discharge rate

Human

Rate coding

Skeletal muscle

Voluntary