Abstract
To investigate the role of GluN2A and GluN2B in neuroprotective effect of sevoflurane preconditioning against cerebral ischemia–reperfusion injury (CIRI). Rats were randomly divided into five groups as follows: control, ischemia–reperfusion (I/R) 6 h, sevoflurane preconditioning (SP), SP + amantadine, SP + NMDA. Immunoblot and immunoprecipitation were used to detect the tyrosine phosphorylation of GluN2A/GluN2B, the interaction of GluN2A/GluN2B-PSD-95-MLK3 and the expression of phosphorylation of MLK3, MKK7 and JNK3. Cresyl violet staining was employed to analyse neuronal injury in rat hippocampal CA1 subfields. Sevoflurane preconditioning inhibits the tyrosine phosphorylation of GluN2A/GluN2B, the interaction of GluN2A/GluN2B-PSD-95-MLK3 and the phosphorylation of MLK3, MKK7 and JNK3 in rat hippocampus. An N-methyl-d-aspartate receptor (NMDAR) antagonist amantadine reversed the MLK3-MKK7- JNK3 signal events. Such reversion was also realized by NMDA (60 and 80 nmol) and low doses of NMDA (0–40 nmol) could not change the inhibitory effect of sevoflurane preconditioning on MLK3-MKK7-JNK3 signal events. Finally, Cresyl violet staining also confirmed that low dose of NMDA reduced neuronal loss in rat hippocampal CA1 subfields. Sevoflurane preconditioning provides neuroprotection against CIRI by inhibiting NMDAR over-activation.
Access options
Buy single article
Instant access to the full article PDF.
USD 39.95
Price includes VAT (USA)
Tax calculation will be finalised during checkout.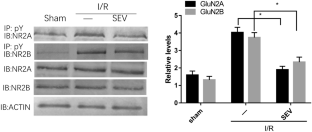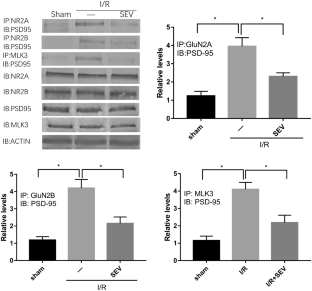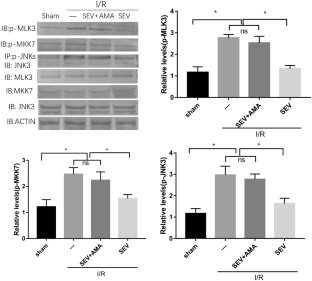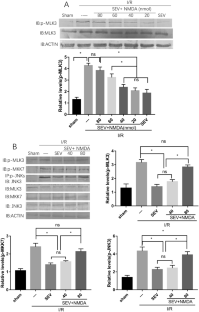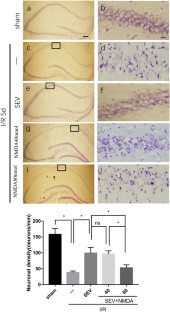 References
Brancho D, Ventura JJ, Jaeschke A, Doran B, Flavell RA, Davis RJ (2005) Role of MLK3 in the regulation of mitogen activated protein kinase signaling cascades. Mol Cell Biol 25:3670–3681

Chen X, Levy JM, Hou A et al (2015) PSD-95 family MAGUKs are essential for anchoring AMPA and NMDA receptor complexes at the postsynaptic density [J]. Proc Natl Acad Sci USA 112(50):6983–6992

Enrica M, Omar A-M, Anna S-B, Verónica B, de Benoit P, Jordi A (2019) Pyk2 in the amygdala modulates chronic stress sequelae via PSD-95-related micro-structural changes. Transl Psychiatry 9:3

Guillaume D, Laurent C, Mathieu L-P, Anh-Tien T, Riham A (2017) Molecular basis of interactions between SH3 domain-containing proteins and the proline-rich region of the ubiquitin ligase Itch. J Biol Chem 292(15):6325–6338

Hu CY, Guo YQ, Hao YH, Zheng LN, Qi YH (2020) Research on mechanism of sevoflurane in alleviating cerebral ischemia-reperfusion injury in rats through JNK signaling pathway [J]. Eur Rev Med Pharmacol 24:3907–3914

Jiang Q, Gu Z, Zhang G, Jing G (2000) Diphosphorylation and involvement of extracellular signal-regulated kinases (ERK1/2) in glutamate-induced apoptotic-like death in cultured rat cortical neurons. Brain Res 857:71–77

Jiao Y, Fan H, Wang K et al (2019) Sevoflurane impairs short-term memory by affecting PSD-95 and AMPA receptor in the hippocampus of a mouse model [J]. Behav Neurol 2019:1–11

Jie M, Xiaomei L, Dongsheng P (2014) Overexpression of C-terminal fragment of glutamate receptor 6 prevents neuronal injury in kainate-induced seizure via disassembly of GluR6-PSD-95-MLK3 signaling module. Neural Regen Res 9(23):2059–2065

Kenji H, Washburn HR, Sheffler-Collins SI et al (2017) Extracellular phosphorylation of a receptor tyrosine kinase controls synaptic localization of NMDA receptors and regulates pathological pain [J]. PLoS Biol 15(7):3

Kim E, Bae J, Lee KH, Jeon YT, Hwang JW, Lim YJ et al (2016) Sevoflurane postconditioning reduces apoptosis by activating the JAK-STAT pathway after transient global cerebral ischemia in rats [J]. J Neurosurg Anesthesiol 29(1):37

Kokoszka ME, Kall SL, Sehar K, McGinnis JE, Lavie A, Kay BK (2018) Identification of two distinct peptide-binding pockets in the SH3 domain of human mixed-lineage kinase 3. J Biol Chem 293:00262

Krzysztof K, Ida Søndergaard R, Anders B, Kristian S (2017) PSD-95 uncoupling from NMDA receptors by Tat- N-dimer ameliorates neuronal depolarization in cortical spreading depression. J Cereb Blood Flow Metab 37(5):1820–1828

Laurent L, Jesús P, Shreyasi T, Irina S, Makoto H (2018) NMDA receptor autoantibodies in autoimmune encephalitis cause a subunit-specific nanoscale redistribution of NMDA receptors. Cell Rep 23(13):3759–3768

Li H, Luo XB, Xu Y, Hou XY (2019) A brief ischemic postconditioning protects against amyloid-β peptide neurotoxicity by downregulating MLK3-MKK3/6-P38MAPK signal in rat hippocampus. J Alzheimer Dis 71(2):1–14

Lin W, Wang S, Yang Z, Cai B (2017) Heme oxygenase-1 inhibits neuronal apoptosis in spinal cord injury through down-regulation of Cdc42-MLK3-MKK7-JNK3 axis ischemia/reperfusion in rats [J]. J Neurotrauma 34(3):695–706

Liu Y, Zhang G, Gao C, Hou X (2001) NMDA receptor activation results in tyrosine phosphorylation of NMDA receptor subunit2A(NR2A) and interaction of Pyk2 and Src with NR2A after transient cerebral ischemia and reperfusion. Brain Res 909:51–58

Liu Y, Hou XY, Zhang GY et al (2003) L-type voltage-gated calcium channel attends regulation of tyrosine phosphorylation of NMDA receptor subunit 2A induced by transient brain ischemia [J]. Brain Res 972(1–2):142–148

Liu L, Miao Y, Shi X (2020) Phosphorylated chitosan hydrogels inducing osteogenic differentiation of osteoblasts via JNK and p38 signaling pathways [J]. ACS Biomater Sci Eng. https://doi.org/10.1021/acsbiomaterials.9b01374

Louise L, Elin K, Stefano G, Per J (2020) Functional interplay between protein domains in a supramodular structure involving the postsynaptic density protein PSD-95. J Biol Chem 295(7):1992–2000

María R-M, Onetti Y, Elsa C-M et al (2018) Cannabidiol enhances morphine antinociception, diminishes NMDA-mediated seizures and reduces stroke damage via the sigma 1 receptor [J]. Mol Brain. https://doi.org/10.1186/s13041-018-0395-2

Olivares D, Deshpande VK, Shi Y et al (2012) N-methyl d-aspartate (NMDA) receptor antagonists and memantine treatment for Alzheimer's disease, vascular dementia and parkinson's disease [J]. Curr Alzheimer Res 9(6):746–758

Qiao Shi-Gang, Gao Xue, Zhu Yong-Ming et al (2017) Sevoflurane postconditioning attenuates reactive astrogliosis and glial scar formation after ischemia-reperfusion brain injury. Neuroscience An International Journal Under the Editorial Direction of Ibro. 356:125–141

Saleiro D, Gavin T, Blyth Kosciuczuk EM, Ozark PA, Majchrzak-Kita B (2018) IFN-inducible antiviral responses require ULK1-mediated activation of MLK3 and ERK5 [J]. Sci Signal. https://doi.org/10.1126/scisignal.aap9921

Schroyer AL, Stimes NW, Abi Saab WF et al (2017) MLK3 phosphorylation by ERK1/2 is required for oxidative stress-induced invasion of colorectal cancer cells [J]. Oncogene. https://doi.org/10.1038/onc.2017.396

Sclip A, Südhof TC (2020) LAR receptor phospho-tyrosine phosphatases regulate NMDA-receptor responses. Elife Sci. https://doi.org/10.7554/eLife.53406

Song T, Lv LY, Xu J et al (2011) Diet-induced obesity suppresses sevoflurane preconditioning against myocardial ischemia-reperfusion injury: role of AMP-activated protein kinase pathway [J]. Exp Biol Med 236(12):1427

Song YJ, Dai CX, Li M, Cui MM, Ding X, Zhao XF et al (2019) The potential role of HO-1 in regulating the MLK3-MKK7-JNK3 module scaffolded by JIP1 during cerebral. Behav Brain Res 359:528–535

Vishaal R, Ameet SS, Michael WS (2020) Tripartite signalling by NMDA receptors. Mol Brain 13:23

Wang H, Luo M, Cui L et al (2011) Propofol post-conditioning induced long-term neuroprotection and reduced internalization of AMPAR GluR2 subunit in a rat model of focal cerebral ischemia/reperfusion [J]. J Neurochem 119(1):210–219

Wen XR, Fu YY, Liu HZ, Wu J, Shao XP, Zhang XB et al (2016) Neuroprotection of sevoflurane against ischemia/reperfusion-induced brain injury through inhibiting JNK3/Caspase-3 by enhancing akt signaling pathway [J]. Mol Neurobiol 53(3):1661

Wu GM, Hou XY (2010) Oligomerized Aβ25–35 induces increased tyrosine phosphorylation of NMDA receptor subunit 2A in rat hippocampal CA1 subfield. Brain Res E 1343:186–193

Yang Q, Yan W, Li X et al (2012) Activation of canonical notch signaling pathway is involved in the ischemic tolerance induced by sevoflurane preconditioning in mice [J]. Anesthesiology 117(5):996–1005

Yu Wu, Chen C, Yang Q, Jiao M, Qiu S (2017) Endocytosis of GluN2B-containing NMDA receptor mediates NMDA-induced excitotoxicity. Mol Pain 13:17448069–17701921

Yu X, Zhang F, Shi J (2018) Neonatal exposure to sevoflurane caused cognitive deficits by dysregulating SK2 channels and GluA2-lacking AMPA receptors in juvenile rat hippocampus [J]. Neuropharmacology 141:66–75

Zhang Y, Shan Z, Zhao H et al (2019) Sevoflurane prevents miR-181a-induced cerebral ischemia/reperfusion injury [J]. Chem Biol Interact. https://doi.org/10.1016/j.cbi.2019.06.008

Zhang F, Zhu Y, Wu S, Hou G, Wu N, Qian L et al (2020) MLK3 is a newly identified microRNA-520b target that regulates liver cancer cell migration[J]. PLoS ONE. https://doi.org/10.1371/journal.pone.0230716
Additional information
Publisher's Note
Springer Nature remains neutral with regard to jurisdictional claims in published maps and institutional affiliations.
Communicated by Sreedharan Sajikumar.
About this article
Cite this article
Jin, L., Bo, X.M. Neuroprotection of sevoflurane against ischemia/reperfusion-induced brain injury through inhibiting GluN2A/GluN2B-PSD-95-MLK3 module. Exp Brain Res 239, 2701–2709 (2021). https://doi.org/10.1007/s00221-021-06157-x
Received:

Accepted:

Published:

Issue Date:
Keywords
Sevoflurane

GluN2A

GluN2B

MLK3

PSD-95

CIRI