Abstract
Recent studies have hypothesized that the stereotypical representation of the body may reflect some functional aspects of routine actions that are performed in specific peripersonal domains. For example, the lower and upper limbs tend to 'act' in different peripersonal spaces and perform different functions. The present study aims to directly investigate the relationship between body representation and the spatial context where actions are performed. By means of a modified version of the body image task, we investigated body representation before and after a sorting task training in two groups of participants who were asked to carry out the same task/actions in two different spaces: on a table or on the floor, while sitting on a chair. Findings showed that a significant recalibration of the perceived upper arms' length occurred when participants were asked to perform a motor task on the floor. These results seem to suggest that the modulation of the body representation reflects an increase action capabilities driven by the contribution of motor training, and importantly, the location in which the action occurs. Furthermore, the modulation was not limited to the body part actively involved in the action (the arms), it extended to other upper body parts (the torso) to maintain, we propose, a functionally coherent representation of the upper body.
Access options
Buy single article
Instant access to the full article PDF.
USD 39.95
Price includes VAT (USA)
Tax calculation will be finalised during checkout.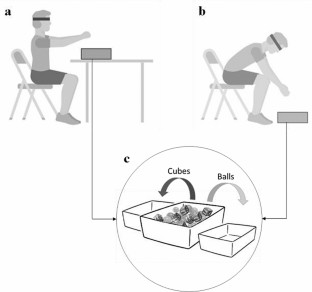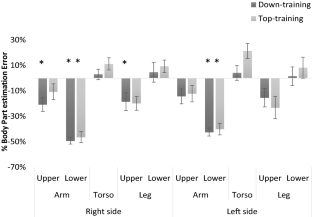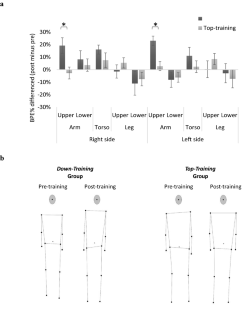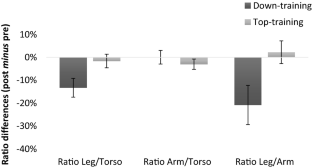 Data availability statement
The data that support the findings of this study are available from the corresponding author upon reasonable request.
References
Anelli F, Candini M, Cappelletti M, Oliveri M, Frassinetti F (2015) The remapping of time by active tool-use. PLoS ONE 10(12):e0146175

Avanzino L, Bassolino M, Pozzo T, Bove M (2011) Use-dependent hemispheric balance. J Neurosci 31(9):3423–3428

Bourgeois J, Farnè A, Coello Y (2014) Costs and benefits of tool-use on the perception of reachable space. Acta Psychol (amst) 148:91–95. https://doi.org/10.1016/j.actpsy.2014.01.008

Brozzoli C, Makin TR, Cardinali L, Holmes NP, Farnè A (2012) Peripersonal space: a multisensory interface for body-object interactions. In: Murray MM, Wallace MT (eds) The neural bases of multisensory processes. CRC Press/Taylor & Francis, Boca Raton, p 2012

Bruno V, Carpinella I, Rabuffetti M, De Giuli L, Sinigaglia C, Garbarini F, Ferrarin M (2019) How tool-use shapes body metric representation: evidence from motor training with and without robotic assistance. Front Hum Neurosci 13:299

Caggiano P, Cocchini G (2020) The functional body: does body representation reflect functional properties? Exp Brain Res 238(1):153–169

Cardinali L, Brozzoli C, Farnè A (2009a) Peripersonal space and body schema: two labels for the same concept? Brain Topogr 21:252–260

Cardinali L, Frassinetti F, Brozzoli C, Urquizar C, Roy AC, Farnè A (2009b) Tool-use induces morphological updating of the body schema. Curr Biol 19(12):R478–R479

Cocchini G, Galligan T, Mora L, Kuhn G (2018) The magic hand: Effect of expertise on representation of own hand. Q J Exp Psychol 71(11):2314–2324

Colby CL (1998) Action-oriented spatial reference frames in cortex. Neuron 20(1):15–24

Costantini M, Ambrosini E, Scorolli C, Borghi AM (2011) When objects are close to me: affordances in the peripersonal space. Psychon Bull Rev 18:302–308. https://doi.org/10.3758/s13423-011-0054-4

D'Angelo M, di Pellegrino G, Seriani S, Gallina P, Frassinetti F (2018) The sense of agency shapes body schema and peripersonal space. Sci Rep 8(1):13847

de Vignemont F, Majid A, Jola C, Haggard P (2009) Segmenting the body into parts: evidence from biases in tactile perception. Q J Exp Psychol 62(3):500–512. https://doi.org/10.1080/17470210802000802

Facchini S, Muellbacher W, Battaglia F, Boroojerdi B, Hallett M (2002) Focal enhancement of motor cortex excitability during motor imagery: a transcranial magnetic stimulation study. Acta Neurol Scand 105(3):146–151. https://doi.org/10.1034/j.1600-0404.2002.1o004.x (PMID: 11886355)

Faul F, Erdfelder E, Buchner A, Lang A-G (2009) Statistical power analyses using G*Power 31: tests for correlation and regression analyses. Behav Res Methods 41(4):1149–1160

Ferretti G (2016) Through the forest of motor representations. Conscious Cogn 43:177–196

Fuentes CT, Longo MR, Haggard P (2013) Body image distortions in healthy adults. Acta Physiol (oxf) 144:344–351

Gallagher S (1986) Body image and body schema: a conceptual clarification. J Mind Behav 7:541–554

Gallagher S (2005) How the body shapes the mind. Oxford University Press, New York

Gallagher S, Cole J (1995) Body schema and body image in a deafferented subject. J Mind Behav 16:369–390

Gallese V, Sinigaglia C (2010) The bodily self as power for action. Neuropsychologia 48(3):746–755

Ghez C, Hening W, Gordon J (1991) Organization of voluntary movement. Curr Opin Neurobiol 1:664–671

Graziano MSA (2009) The intelligent movement machine: An ethological perspective on the primate motor system. Oxford University Press, New York

Hluštík P, Solodkin A, Gullapalli RP, Noll DC, Small SL (2001) Somatopy in human primary motor and somatosensory hand representations revisited. Cereb Cortex 11:312–321

Holmes NP, Spence C (2004) The body schema and multisensory representation(s) of peripersonal space. Cogn Process 5:94–105

Huber R, Ghilardi MF, Massimini M, Ferrarelli F, Riedner BA, Peterson MJ, Tononi G (2006) Arm immobilization causes cortical plastic changes and locally decreases sleep slow wave activity. Nat Neurosci 9(9):1169–1176

Iriki A, Tanaka M, Iwamura Y (1996) Coding of modified body schema during tool use by macaque postcentral neurones. NeuroReport 7(14):2325–2330

Ishibashi H, Hihara S, Iriki A (2000) Acquisition and development of monkey tool-use: behavioral and kinematic analyses. Can J Physiol Pharmacol 78(11):958–966

Jeannerod M, Decety J (1995) Mental motor imagery: a window into the representational stages of action. Curr Opin Neurobiol 5(6):727–732

Lemon R (1988) The output map of the primate motor cortex. Trends Neurosci 11(11):501–506

Longo MR, Lourenco SF (2007) Space perception and body morphology: extent of near space scales with arm length. Exp Brain Res 177(2):285–290. https://doi.org/10.1007/s00221-007-0855-x

Lourenco SF, Longo MR (2009) The plasticity of near space: Evidence for contraction. Cognition 112(3):451–456

Maeda RS, Cluff T, Gribble PL, Pruszynski JA (2018) Feedforward and feedback control share an internal model of the Arm's dynamics. J Neurosci 38(49):10505–10514

Maravita A, Iriki A (2004) Tools for the body (schema). Trends Cogn Sci 8:79–86

Maravita A, Spence C, Kennett S, Driver J (2002) Tool-use changes multimodal spatial interactions between vision and touch in normal humans. Cognition 83(2):B25–B34

Miller LE, Longo MR, Saygin AP (2017) Visual illusion of tool use recalibrates tactile perception. Cognition 162:32–40

Mora L, Cowie D, Banissy MJ, Cocchini G (2018) My true face: unmasking one's own face representation. Acta Physiol (oxf) 191:63–68

O'Shaughnessy B (1995) Proprioception and the body image. In: Bermúdez, Marcel, and Eilan 1995, pp 175–204

Paillard, J (1999) Body schema and body image: a double dissociation in deafferented patients. In: Gantchev GN, Mori S, Massion J (eds) Motor control, today and tomorrow. Academic Publishing House, pp 197–214

Patané I, Iachini T, Farnè A, Frassinetti F (2016) Disentangling action from social space: tool-use differently shapes the space around us. PLoS ONE 11(5):e0154247

Patané I, Farnè A, Frassinetti F (2017) Cooperative tool-use reveals peripersonal and interpersonal spaces are dissociable. Cognition 166:13–22

Perez-Marcos D, Martini M, Fuentes CT, Bellido Rivas AI, Haggard P, Sanchez-Vives MV (2018) Selective distortion of body image by asynchronous visuotactile stimulation. Body Image 24:55–61

Rathelot J-A, Strick PL (2006) Muscle representation in the macaque motor cortex: an anatomical perspective. PANS 103(21):8257–8262. https://doi.org/10.1073/pnas.0602933103

Rizzolatti G, Luppino G, Matelli M (1998) The organization of the cortical motor system: new concepts. Electroencephalogr Clin Neurophysiol 106(4):283–296. https://doi.org/10.1016/s0013-4694(98)00022-4

Romano D, Uberti E, Caggiano P, Cocchini G, Maravita A (2019) Different tool training induces specific effects on body metric representation. Exp Brain Res 237(2):493–501

Sadibolova R, Ferrè ER, Linkenauger SA, Longo MR (2019) Distortions of perceived volume and length of body parts. Cortex 111:74–86

Sposito AV, Bolognini N, Vallar G, Posteraro L, Maravita A (2010) The spatial encoding of body parts in patients with neglect and neurologically unimpaired participants. Neuropsychologia 48(1):334–340

Sposito A, Bolognini N, Vallar G, Maravita A (2012) Extension of perceived arm length following tool-use: clues to plasticity of body metrics. Neuropsychologia 50(9):2187–2194

Taylor JL (2009) Proprioception. In: Squire LR (ed) Encyclopedia of neuroscience. Academic Press, pp 1143–1149

Tsakiris M, Prabhu G, Haggard P (2006) Having a body versus moving your body: how agency structures body-ownership. Conscious Cogn 15(2):423–432

Witt JK, Proffitt DR, Epstein W (2005) Tool use affects perceived distance but only when you intend to use it. J Exp Psychol Human 31:880–888

Wolpert DM, Flanagan JR (2001) Motor prediction. Curr Biol 11(18):R729–R732

Wolpert DM, Ghahramani Z, Jordan MI (1995) An internal model for sensorimotor integration. Science 269:1880–1882

Wolpert DM, Diedrichsen J, Flanagan JR (2011) Principles of sensorimotor learning. Nat Rev Neurosci 12:739–751
Acknowledgements
The authors would like to thank Guido Orgs for his valuable input in the initial phase of the study.
Ethics declarations
Conflict of interest
The authors declare that they have no conflict of interest.
Ethical approval
All participants completed an informed consent form before performing the experiments. The study was approved by the Goldsmiths Ethics Committee and it was carried out in accordance with the Declaration of Helsinki (BMJ 1991; 302: 1194).
Additional information
Publisher's Note
Springer Nature remains neutral with regard to jurisdictional claims in published maps and institutional affiliations.
Communicated by Francesca Frassinetti.
About this article
Cite this article
Caggiano, P., Bertone, E. & Cocchini, G. Same action in different spatial locations induces selective modulation of body metric representation. Exp Brain Res 239, 2509–2518 (2021). https://doi.org/10.1007/s00221-021-06135-3
Received:

Accepted:

Published:

Issue Date:
Keywords
Body metric representation

Body image

Body schema

Action

Spatial location

Posture