Abstract
Sensorimotor adaptation can involve multiple learning processes with different time courses, and these processes may have different patterns of transfer. In this study, we tested how slow learning and fast learning transfer across tasks, and the specificity of transfer. We tested two natural goal-directed tasks: pointing and walking toward a visible target. We also tested a novel "hand locomotion" task in which subjects used pointing movements to cause simulated self-motion in virtual reality. The hand locomotion task used the same physical movement as pointing, but performed the same function as stepping. During an experimental block, subjects performed alternating training trials with perturbed visual feedback and test trials with no feedback. The test trials were either the same task to measure adaptation, or a different task to measure transfer. Perturbations on adaptation trials varied over time as a sum of sinusoids with different frequencies. Fast learning would be expected to produce equal responses to fast and slow perturbations, while slower learning would dampen responses to higher frequency perturbations. Subjects were generally not aware of the smoothly varying perturbations, but showed detectable adaptation for all three tasks. Only pointing produced significantly different responses to high- and low-frequency perturbations, consistent with slow learning. Adaptation of pointing produced more transfer to the hand locomotion task, which shared the same effector and motor actions, than to the stepping task. The other tasks showed fast learning but little or no slow learning, and equal transfer to tasks with different effector or function. Our results suggest that the slower components of sensorimotor adaptation are more movement specific, while faster learning is more generalizable.
Access options
Buy single article
Instant access to the full article PDF.
USD 39.95
Price includes VAT (USA)
Tax calculation will be finalised during checkout.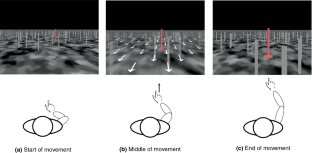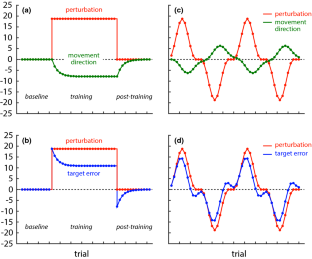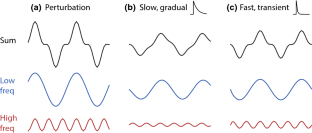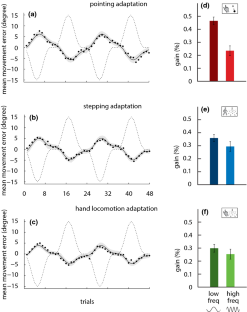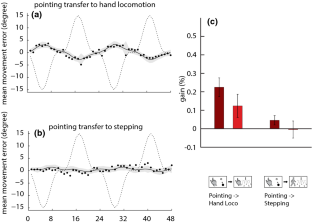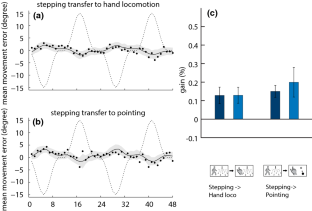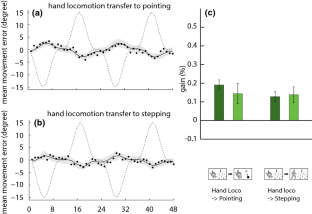 Data availability statement
References
Adolph KE, Vereijken B, Denny MA (1998) Learning to crawl. Child Dev 69:1299–1312

Anstis S (1995) After effects from jogging. Exp Brain Res 103:476–478

Bond KM, Taylor JA (2015) Flexible explicit but rigid implicit learning in a visuomotor adaptation task. J Neurophysiol 113:3836–3849

Bruggeman H, Warren WH (2010) The direction of walking—but not throwing or kicking—is adapted by optic flow. Psychol Sci 21(7):1006–1013. https://doi.org/10.1177/0956797610372635

Bruggeman H, Zosh W, Warren WH Jr (2007) Optic flow drives human visuo-locomotor adaptation. Curr Biol 17:2035–2040

Durgin FH, Pelah A (1999) Visuomotor adaptation without vision? Exp Brain Res 127:12–18

Durgin FH, Fox LF, Kim DH (2003) Not letting the left leg know what the right leg is doing: limb-specific locomotor adaptation to sensory-cue conflict. Psychol Sci 6:567–572

Haith AM, Huberdeau DM, Krakauer JW (2015) The influence of movement preparation time on the expression of visuomotor learning and savings. The Journal of neuroscience : the official journal of the society for neuroscience 35(13):5109–5117. https://doi.org/10.1523/JNEUROSCI.3869-14.2015

Harris CS (1963) Adaptation to displaced vision: visual, motor, or proprioceptive change? Science (New York, NY) 140(5):812–813. https://doi.org/10.1126/science.140.3568.812

Hay JC, Pick HL Jr (1966) Visual and proprioceptive adaptation to optical displacement of the visual stimulus. J Exp Psychol 71:150–158

Held R, Bossom J (1961) Neonatal deprivation and adult rearrangement: complementary techniques for analyzing plastic sensory-motor coordination. J Comp Physiol Psychol 54:33–37

Held R, Freedman SJ (1963) Plasticity in human sensorimotor control. Science 142:455–462

Herlihey T, Rushton SK (2012) The role of discrepant retinal motion during walking in the realignment of egocentric space. J Vis 12(3):1–11. https://doi.org/10.1167/12.3.4

Hudson TE, Landy MS (2012) Measuring adaptation with a sinusoidal perturbation function. J Neurosci Methods 208(1):48–58. https://doi.org/10.1016/j.jneumeth.2012.04.001

Hutter SA Taylor JA (2018) Relative sensitivity of explicit reaiming and implicit motor adaptation. J Neurophysiol 120(5):2640–2648. https://doi.org/10.1152/jn.00283.2018

Izawa J, Shadmehr R (2011) Learning from sensory and reward prediction errors during motor adaptation. PLoS Comput Biol 7:e1002012

Izawa J, Criscimagna-Hemminger SE, Shadmehr R (2012) Cerebellar contributions to reach adaptation and learning sensory consequences of action. J Neurosci 32:4230–4239

Krakauer JW, Mazzoni P, Ghazizadeh A, Ravindran R, Shadmehr R (2006) Generalization of motor learning depends on the history of prior action. PLoS Biol 4:1798–1808

Mazzoni P, Krakauer JW (2006) An implicit plan overrides an explicit strategy during visuomotor adaptation. J Neurosci 26:3642–3645

McDougle SD, Bond KM, Taylor JA (2015) Explicit and implicit processes constitute the fast and slow processes of sensorimotor learning. J Neurosci 35:9568–9579

Mohler BJ, Thompson WB, Creem-Regehr SH, Willemsen P, Rieser JJ (2007) Calibration of locomotion resulting from visual motion in a treadmill-based virtual environment. ACM Trans Appl Perception 4(1). https://doi.org/10.1145//1227134./1227138

Morehead JR, Qasim SE, Crossley MJ, Ivry R (2015) Savings upon Re-Aiming in Visuomotor Adaptation. J Soc. Neurosci 35(42):14386–14396. https://doi.org/10.1523/JNEUROSCI.1046-15.2015

Morton SM, Bastian AJ (2004) Prism adaptation during walking generalizes to reaching and requires a cerebellum. J Neurophysiol 92:2497–2509

Morton SM, Lang CE, Bastian AJ (2001) Inter- and intra-limb generalization of adaptation during catching. Exp Brain Res 141(4):438–445. https://doi.org/10.1007/s002210100889

Niehorster DC, Li L, Lappe M (2017) The accuracy and precision of position and orientation tracking in the HTC vive virtual reality system for scientific research. i-Percept. Sage J 8. https://doi.org/10.1177/2041669517708205.

Poh E, Carroll TJ, Taylor JA (2016) Effect of coordinate frame compatibility on the transfer of implicit and explicit learning across limbs. J Neurophysiol 116(3):1239–1249

Redding GM, Wallace B (1985) Cognitive interference in prism adaptation. Percept Psychophys 37(3):225–230. https://doi.org/10.3758/BF03207568

Redding GM, Wallace B (1997) Adaptive spatial alignment. Erlbaum, Hillsdale, NJ

Redding GM, Clark SE, Wallace B (1985) Attention and prism adaptation. Cogn Psychol 17(1):1–25. https://doi.org/10.1016/0010-0285(85)90002-7

Rieser JJ, Pick HL Jr, Ashmead DH, Garing AE (1995) Calibration of human locomotion and models of perceptual-motor organization. J Exp Psychol Hum Percept Perf. 21(3):480–497. https://doi.org/10.1037/0096-1523.21.3.480

Rushton SK, Harris JM, Lloyd M, Wann JP (1998) Guidance of locomotion foot uses perceived target location rather than optic flow. Curr Biol 8:1191–1194

Saunders JA (2014) Reliability and relative weighting of visual and nonvisual information for perceiving direction of self-motion during walking. J Vis 14(3):24. https://doi.org/10.1167/14.3.24

Saunders JA, Durgin FH (2011) Adaptation to conflicting visual and physical heading directions during walking. J Vis 11(3):1–10. https://doi.org/10.1167/11.3.15

Schween R, Hegele M (2017) Feedback delay attenuates implicit but facilitates explicit adjustments to a visuomotor rotation. Neurobiol Learn Mem 140:124–133. https://doi.org/10.1016/j.nlm.2017.02.015

Seidler RD, Bloomberg JJ, Stelmach GE (2001) Patterns of transfer of adaptation among body segments. Behav Brain Res 122:145–157

Synofzik M, Lindner A, Thier P (2008) The cerebellum updates predictions about the visual consequences of one's behavior. Curr Biol 18:814–818

Taylor JA, Ivry RB (2011) Flexible cognitive strategies during motor learning. PLoS Comput Biol 7:e1001096

Taylor JA, Klemfuss NM, Ivry RB (2010) An explicit strategy prevails when the cerebellum fails to compute movement errors. Cerebellum 9:580–586

Taylor JA, Krakauer JW, Ivry RB (2014) Explicit and implicit contributions to learning in a sensorimotor adaptation task. J Neurosci 34:3023–3032

Tseng YW, Diedrichsen J, Krakauer JW, Shadmehr R, Bastian AJ (2007) Sensory prediction errors drive cerebellum-dependent adaptation of reaching. J Neurophysiol 98:54–62

Warren WH Jr, Kay BA, Zosh WD, Duchon AP, Sahuc S (2001) Optic flow is used to control human walking. Nat Neurosci 4:213–216

Withagen R, Michaels CF (2002) The calibration of walking transfers to crawling: are action systems calibrated? Ecol Psychol 14(4):223–234. https://doi.org/10.1207/S15326969ECO1404_2
Acknowledgements
This work was supported by a grant from the Hong Kong Research Grants Council, GRF 17407914.
Ethics declarations
Conflict of interest
On behalf of all the authors, the corresponding author states that there is no conflict of interest.
Additional information
Publisher's Note
Springer Nature remains neutral with regard to jurisdictional claims in published maps and institutional affiliations.
Communicated by Melvyn A. Goodale.
About this article
Cite this article
Xing, X., Saunders, J.A. Different generalization of fast and slow visuomotor adaptation across locomotion and pointing tasks. Exp Brain Res 239, 2859–2871 (2021). https://doi.org/10.1007/s00221-021-06112-w
Received:

Accepted:

Published:

Issue Date:
Keywords
Visuomotor adaptation

Motor learning

Transfer

Generalization