Abstract
Age-related declines in fine motor control may impact tool-use and thereby limit functional independence. Most previous research has, however, focused on the effect of aging on gross motor tasks. Few studies have investigated the effects of aging on the strategy or quality of fine motor skills, especially in tool-use, which may better reflect how age impacts complex movement capability. Twenty-two young (ages 19–35) and 18 older adults (ages 58–87) performed a timed upper extremity task using a tool to acquire and transport objects to different locations. Overall task performance was divided into two phases based on 3-D position of the tool: a gross motor phase (object transport) and a fine motor phase (object acquisition). Overall, older adults took longer to complete the task. A linear model indicated that this was due to the duration of the fine motor phase more so than the gross motor phase. To identify age-related differences in the quality of the fine motor phase, we fit three-dimensional ellipsoids to individual data and the calculated the ellipsoid volume. Results demonstrated a significant volume-by-age interaction, whereby increased ellipsoid volume (space the tool occupied) related to increased mean dwell time for the older adult group only; younger adults did not demonstrate this relationship. Additionally, older adults with longer movement times during the fine motor phase also had lower cognitive scores. No age-related differences were observed for the gross motor phase, suggesting that age-related declines in tool-use may be due to changes in fine motor control and cognitive status.
Access options
Buy single article
Instant access to the full article PDF.
US$ 39.95
Tax calculation will be finalised during checkout.
Subscribe to journal
Immediate online access to all issues from 2019. Subscription will auto renew annually.
US$ 119
Tax calculation will be finalised during checkout.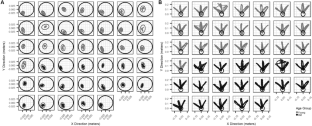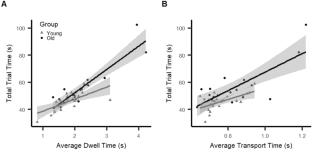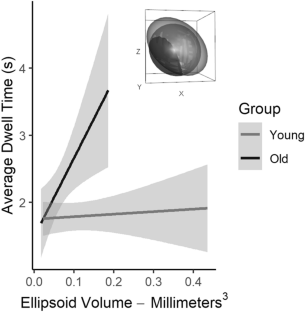 Availability of data and materials
Metadata that support the findings of this study are available from the corresponding author upon reasonable request.
Code availability (software application or custom code)
References
Cole KJ (1991) Grasp force control in older adults. J Mot Behav 23:251–258. https://doi.org/10.1080/00222895.1991.9942036

Colón-Emeric CS, Whitson HE, Pavon J, Hoenig H (2013) Functional decline in older adults. Am Fam Physician 88:388–394

Contreras-Vidal JL, Teulings H, Stelmach G (1998) Elderly subjects are impaired in spatial coordination in fine motor control. Acta Psychol (Amst) 100:25–35. https://doi.org/10.1016/S0001-6918(98)00023-7

Costello MC, Bloesch EK, Davoli CC et al (2015) Spatial representations in older adults are not modified by action: Evidence from tool use. Psychol Aging 30:656–668. https://doi.org/10.1037/pag0000029

Dixon RA, Kurzman D, Friesen IC (1993) Handwriting performance in younger and older adults: Age, familiarity, and practice effects. Psychol Aging 8:360–370. https://doi.org/10.1037/0882-7974.8.3.360

Dunlop DD, Semanik P, Song J et al (2005) Risk factors for functional decline in older adults with arthritis. Arthritis Rheum 52:1274–1282. https://doi.org/10.1002/art.20968

Ebaid D, Crewther SG, MacCalman K et al (2017) Cognitive processing speed across the lifespan: beyond the influence of motor speed. Front Aging Neurosci 9:62. https://doi.org/10.3389/fnagi.2017.00062

Fauth EB, Schaefer SY, Zarit SH et al (2017) Associations between fine motor performance in activities of daily living and cognitive ability in a nondemented sample of older adults: implications for geriatric physical rehabilitation. J Aging Health 29:1144–1159. https://doi.org/10.1177/0898264316654674

Floel A, Vomhof P, Lorenzen A et al (2008) Levodopa improves skilled hand functions in the elderly. Eur J Neurosci 27:1301–1307. https://doi.org/10.1111/j.1460-9568.2008.06079.x

Gallivan JP, Adam McLean D, Valyear KF, Culham JC (2013) Decoding the neural mechanisms of human tool use. Elife. https://doi.org/10.7554/eLife.00425

Glenberg AM, Witt JK, Metcalfe J (2013) From the revolution to embodiment. Perspect Psychol Sci 8:573–585. https://doi.org/10.1177/1745691613498098

Hanna-Pladdy B, Heilman KM, Foundas AL (2003) Ecological implications of ideomotor apraxia: evidence from physical activities of daily living. Neurology 60:487–490. https://doi.org/10.1212/WNL.60.3.487

Hinder MR, Carroll TJ, Summers JJ (2013) Inter-limb transfer of ballistic motor skill following non-dominant limb training in young and older adults. Exp Brain Res 227:19–29. https://doi.org/10.1007/s00221-013-3481-9

Hoellinger T, McIntyre J, Jami L et al (2017) A strategy of faster movements used by elderly humans to lift objects of increasing weight in ecological context. Neuroscience 357:384–399. https://doi.org/10.1016/J.NEUROSCIENCE.2017.04.010

Holt RJ, Lefevre AS, Flatters IJ et al (2013) Grasping the changes seen in older adults when reaching for objects of varied texture. PLoS ONE 8:e69040. https://doi.org/10.1371/journal.pone.0069040

Hoogendam YY, van der Lijn F, Vernooij MW et al (2014) Older age relates to worsening of fine motor skills: a population-based study of middle-aged and elderly persons. Front Aging Neurosci 6:259. https://doi.org/10.3389/fnagi.2014.00259

Hooyman A, Malek-Ahmadi M, Fauth EB, Schaefer SY (2020) Challenging the relationship of grip strength with cognitive status in older adults. Int J Geriatr Psychiatry. https://doi.org/10.1002/gps.5441

Iriki A, Tanaka M, Iwamura Y (1996) Coding of modified body schema during tool use by macaque postcentral neurones. NeuroReport 7:2325–2330. https://doi.org/10.1097/00001756-199610020-00010

Itaguchi Y (2020) Toward natural grasping with a tool: effects of practice and required accuracy on the kinematics of tool-use grasping. J Neurophysiol 123:2024–2036. https://doi.org/10.1152/jn.00384.2019

Judge J, Stirling J (2003) Fine motor skill performance in left- and right-handers: evidence of an advantage for left-handers. Laterality 8:297–306. https://doi.org/10.1080/13576500342000022

Katz S, Downs TD, Cash HR, Grotz RC (1970) Progress in development of the index of ADL. Gerontologist 10:20–30. https://doi.org/10.1093/geront/10.1_part_1.20

Ketcham CJ, Stelmach GE (2004) Movement control in the older adult. In: National Research Council (US) Steering Committee for the Workshop on Technology for Adaptive Aging. In: Pew RW, Van Hemel SB, editors. Technology for Adaptive Aging. Washington (DC): National Academies Press (US). https://www.ncbi.nlm.nih.gov/books/NBK97342/

Kuehn E, Perez-Lopez MB, Diersch N et al (2018) Embodiment in the aging mind. Neurosci Biobehav Rev 86:207–225. https://doi.org/10.1016/J.NEUBIOREV.2017.11.016

Maechler M (2020) sfsmisc: Utilities from "Seminar fuer Statistik" ETH Zurich, R package version, 1.1-5

Maechler M, Rousseeuw P, Struyf A, Hubert M, Hornik K (2021) cluster: Cluster Analysis Basics and Extensions. R package version 2.1.1

Maravita A, Spence C, Kennett S, Driver J (2002) Tool-use changes multimodal spatial interactions between vision and touch in normal humans. Cognition 83:B25–B34. https://doi.org/10.1016/S0010-0277(02)00003-3

Moore AZ, Caturegli G, Metter EJ et al (2014) Difference in muscle quality over the adult life span and biological correlates in the baltimore longitudinal study of aging. J Am Geriatr Soc 62:230–236. https://doi.org/10.1111/jgs.12653

Morrison S, Newell KM (2012) Aging, neuromuscular decline, and the change in physiological and behavioral complexity of upper-limb movement dynamics. J. Aging Res. 2012:1–14

Newell KM, Vaillancourt DE, Sosnoff JJ (2006) Aging, complexity, and motor performance. Handb Psychol Aging. https://doi.org/10.1016/B978-012101264-9/50011-2

O'Rielly JL, Ma-Wyatt A (2018) Changes to online control and eye-hand coordination with healthy ageing. Hum Mov Sci 59:244–257. https://doi.org/10.1016/J.HUMOV.2018.04.013

Oldfield RC (1971) The assessment and analysis of handedness: the Edinburgh inventory. Neuropsychologia 9:97–113. https://doi.org/10.1016/0028-3932(71)90067-4

Parikh PJ, Cole KJ (2012) Handling objects in old age: forces and moments acting on the object. J Appl Physiol 112:1095–1104. https://doi.org/10.1152/japplphysiol.01385.2011

Pison G, Struyf A, Rousseeuw PJ (1999) Displaying a clustering with CLUSPLOT. Comput Stat Data Anal 30:381–392. https://doi.org/10.1016/S0167-9473(98)00102-9

Pratt J, Chasteen AL, Abrams RA (1994) Rapid aimed limb movements: age differences and practice effects in component submovements. Psychol Aging 9:325–334. https://doi.org/10.1037//0882-7974.9.2.325

R Core Team (2019) R: A Language and environment for statistical computing. R Foundation for Statistical Computing

Ratcliff R, Thapar A, McKoon G (2001) The effects of aging on reaction time in a signal detection task. Psychol Aging 16:323–341. https://doi.org/10.1037/0882-7974.16.2.323

Rodríguez-Aranda C, Mittner M, Vasylenko O (2016) Association between executive functions, working memory, and manual dexterity in young and healthy older adults. Percept Mot Skills 122:165–192. https://doi.org/10.1177/0031512516628370

Roy EA, Weir PL, Desjardins-Denault S, Winchester T (1999) Pointing versus grasping in young and older adults. Dev Neuropsychol 16:19–27. https://doi.org/10.1207/S15326942DN160102

Sarlegna FR, Sainburg RL (2009) The roles of vision and proprioception in the planning of reaching movements. Adv Exp Med Biol 629:317–335. https://doi.org/10.1007/978-0-387-77064-2_16

Schaefer SY, Dibble LE, Duff K (2015) Efficacy and feasibility of functional upper extremity task-specific training for older adults with and without cognitive impairment. Neurorehabil Neural Repair 29:636–644. https://doi.org/10.1177/1545968314558604

Schaefer SY, Duff K (2015) Rapid responsiveness to practice predicts longer-term retention of upper extremity motor skill in non-demented older adults. Front Aging Neurosci 7:214. https://doi.org/10.3389/fnagi.2015.00214

Schaefer SY, Hengge CR (2016) Testing the concurrent validity of a naturalistic upper extremity reaching task. Exp Brain Res 234:229–240. https://doi.org/10.1007/s00221-015-4454-y

Schaefer SY, Hooyman A, Duff K (2020) Using a timed motor task to predict one-year functional decline in amnestic mild cognitive impairment. J Alzheimer's Dis. https://doi.org/10.3233/JAD-200518

Schupf N, Tang M-X, Albert SM et al (2005) Decline in cognitive and functional skills increases mortality risk in nondemented elderly. Neurology 65:1218–1226. https://doi.org/10.1212/01.wnl.0000180970.07386.cb

Seidler RD (2006) Differential effects of age on sequence learning and sensorimotor adaptation. Brain Res Bull 70:337–346. https://doi.org/10.1016/j.brainresbull.2006.06.008

Seidler RD, Bernard JA, Burutolu TB et al (2010) Motor control and aging: Links to age-related brain structural, functional, and biochemical effects. Neurosci Biobehav Rev 34:721–733. https://doi.org/10.1016/J.NEUBIOREV.2009.10.005

Shea CH, Park J-H, Braden HW (2006) Age-related effects in sequential motor learning. Phys Ther 86:478–488

Shiffman LM (1992) Effects of aging on adult hand function. Am J Occup Ther 46:785–792. https://doi.org/10.5014/ajot.46.9.785

Slavin MJ, Phillips JG, Bradshaw JL (1996) Visual cues and the handwriting of older adults: a kinematic analysis. Psychol Aging 11:521–526. https://doi.org/10.1037/0882-7974.11.3.521

Sprague BN, Phillips CB, Ross LA (2019) Age-varying relationships between physical function and cognition in older adulthood. Journals Gerontol Ser B 74:772–784. https://doi.org/10.1093/geronb/gbx126

Stelmach GE, Sirica A (1986) Aging and proprioception. Age (Omaha) 9:99–103. https://doi.org/10.1007/BF02432281

Sternad D (2018) It's not (only) the mean that matters: variability, noise and exploration in skill learning. Curr Opin Behav Sci 20:183–195

Sullivan EV, Rohlfing T, Pfefferbaum A (2010) Quantitative fiber tracking of lateral and interhemispheric white matter systems in normal aging: Relations to timed performance. Neurobiol Aging 31:464–481. https://doi.org/10.1016/J.NEUROBIOLAGING.2008.04.007

Titterington DM (1975) Optimal design: some geometrical aspects of D-optimality. Biometrika 62:313. https://doi.org/10.2307/2335366

Umiltà MA, Escola L, Intskirveli I et al (2008) When pliers become fingers in the monkey motor system. Proc Natl Acad Sci USA 105:2209–2213. https://doi.org/10.1073/pnas.0705985105

Vallet GT (2015) Embodied cognition of aging. Front Psychol. https://doi.org/10.3389/fpsyg.2015.00463

Venables WN, Ripley BD (2002) Modern applied statistics with S-Plus, Fourth. Springer

Voelcker-Rehage C (2008) Motor-skill learning in older adults—a review of studies on age-related differences. Eur Rev Aging Phys Act 5:5–16. https://doi.org/10.1007/s11556-008-0030-9

Voelcker-Rehage C, Alberts JL (2005) Age-related changes in grasping force modulation. Exp brain Res 166:61–70. https://doi.org/10.1007/s00221-005-2342-6

Ward NS, Frackowiak RSJ (2003) Age-related changes in the neural correlates of motor performance. Brain 126:873–888. https://doi.org/10.1093/brain/awg071

Wilson M (2002) Six views of embodied cognition. Psychon Bull Rev 9:625–636. https://doi.org/10.3758/BF03196322

Wulf G, Shea CH (2002) Principles derived from the study of simple skills do not generalize to complex skill learning. Psychon Bull Rev 9:185–211. https://doi.org/10.3758/BF03196276

Yan JH, Thomas JR, Stelmach GE (1998) Aging and rapid aiming arm movement control. Exp Aging Res 24:155–168. https://doi.org/10.1080/036107398244292

Zisberg A, Shadmi E, Sinoff G et al (2011) Low mobility during hospitalization and functional decline in older adults. J Am Geriatr Soc 59:266–273. https://doi.org/10.1111/j.1532-5415.2010.03276.x
Funding
This work was supported by the National Institutes of Health [grant number K01AG047926 to SYS]. This sponsor did not have any role in the following: the study design; the collection, analysis, or interpretation of data; the writing of the paper; nor the decision to submit the paper for publication.
Ethics declarations
Conflict of interest
The authors have no disclosures to report.
Ethics approval
This study was approved by the Arizona State University Institutional Review Board (Study 00004214 and 00009764), and was therefore performed in accordance with the ethical standards laid down in the 1964 Declaration of Helsinki.
Consent to participate
All individuals provided informed consent prior to participation.
Additional information
Publisher's Note
Springer Nature remains neutral with regard to jurisdictional claims in published maps and institutional affiliations.
Communicated by Bill J Yates.
Supplementary Information
Below is the link to the electronic supplementary material.
About this article
Cite this article
Hooyman, A., Wang, P. & Schaefer, S.Y. Age-related differences in functional tool-use are due to changes in movement quality and not simply motor slowing. Exp Brain Res 239, 1617–1626 (2021). https://doi.org/10.1007/s00221-021-06084-x
Received:

Accepted:

Published:

Issue Date:
Keywords
Functional Movement

Motor Performance

Fine Motor Skill

Older Adult

Cognition