Abstract
The two-point discrimination threshold (2PDT) has been used to investigate the integration of sensory information, especially in relation to spatial acuity. The 2PDT has been investigated for both innocuous mechanical stimuli and noxious thermal stimuli; however, previous studies used different stimulation modalities to compare innocuous and noxious stimuli. This study investigated the 2PDT in 19 healthy participants, using both thermal (laser) and mechanical stimulation modalities. Within each modality, both innocuous and noxious intensities were applied. Concurrent point stimuli were applied to the right volar forearm, with separation distances of 0–120 mm, in steps of 10 mm. 0 mm corresponds to a single point. Following each stimulus, the participants indicated the number of perceived points (1 or 2) and the perceived intensity (NRS: 0: no perception, 3: pain threshold, 10: maximum pain). The order of stimulation modality, intensity and distance was randomized. The 2PDT for innocuous and noxious mechanical stimuli was 34.7 mm and 47.1 mm, respectively. For thermal stimuli, the 2PDT was 80.5 mm for innocuous stimuli and 66.9 mm for noxious stimuli. The average NRS for thermal stimuli was 1.6 for innocuous intensities and 4.0 for noxious intensities, while for mechanical stimuli, the average NRS was 0.9 for innocuous intensities and 3.6 for noxious intensities. This study showed that the 2PDT highly depends on both stimulation modality and intensity. Within each modality, noxious intensities modulates the 2PDT differently, i.e., noxious intensities lowers the 2PDT for thermal stimuli, but increases the 2PDT for mechanical stimuli.
Access options
Buy single article
Instant access to the full article PDF.
US$ 39.95
Tax calculation will be finalised during checkout.
Subscribe to journal
Immediate online access to all issues from 2019. Subscription will auto renew annually.
US$ 119
Tax calculation will be finalised during checkout.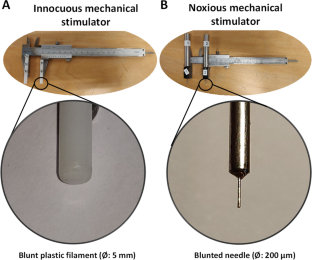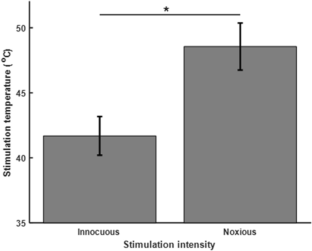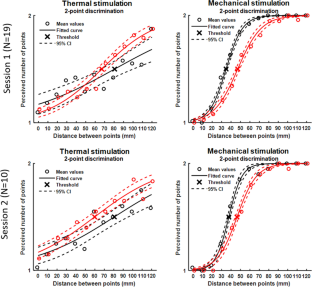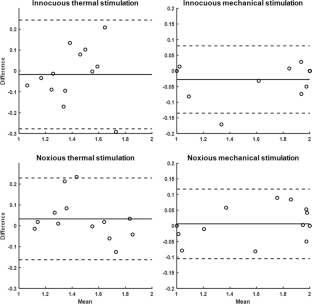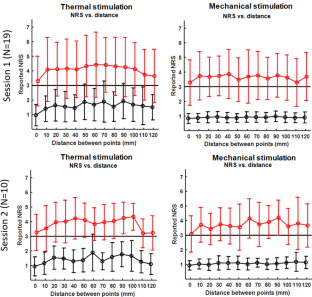 Data availability
All data generated or analysed during this study are included in this published article.
References
Adamczyk WM, Luedtke K, Saulicz O, Saulicz E (2018a) Sensory dissociation in chronic low back pain: Two case reports. Physiother Theory Pract 34:643–651

Adamczyk WM, Saulicz O, Saulicz E, Luedtke K (2018b) Tactile acuity (dys)function in acute nociceptive low back pain: a double-blind experiment. Pain 159:427–436

Békésy GV (1962) Lateral inhibition of heat sensations on the skin. J ApplPhysiol 17:1003–1008

Bromm B, Jahnke MT, Treede RD (1984) Responses of human cutaneous afferents to CO2 laser stimuli causing pain. Exp Brain Res 55:158–166

Catley MJ, O'Connell NE, Berryman C et al (2014) Critical review is tactile acuity altered in people with chronic pain? a systematic review and meta-analysis. J Pain 15:985–1000

Catley MJ, Tabor A, Wand BM, Lorimer Moseley G (2013) Assessing tactile acuity in rheumatology and musculoskeletal medicine-how reliable are two-point discrimination tests at the neck, hand, back and foot? Rheumatology 53:1454–1461

Churyukanov M, Plaghki L, Legrain V, Mouraux A (2012) Thermal detection thresholds of Aδ- and C-fibre afferents activated by brief CO2 laser pulses applied onto the human hairy skin. PLoS ONE 7:1–10

Darian-Smith I, Johnson K, Lamotte C et al (1979) Warm fibers innervating palmar and digital skin of the monkey: responses to thermal stimuli. J Neurophysiol 42:1297–1315

Defrin R, Urca G (1996) Spatial summation of heat pain: a reassessment. Pain 66:23–29

Frahm KS, Mørch CD, Andersen OK (2019a) Directional discrimination is better for noxious laser stimuli than for innocuous laser stimuli. Eur J Pain ejp.1521

Frahm KS, Mørch CD, Andersen OK (2018) Tempo-spatial discrimination is lower for noxious stimuli than for innocuous stimuli. Pain 159:393–401

Frahm KS, Mørch CD, Andersen OK (2019) Cutaneous nociceptive sensitization affects the directional discrimination – but not the 2-point discrimination. Scand J Pain 19:605–613

Hallin RG, Torebjörk HE, Wiesenfeld Z (1981) Nociceptors and warm receptors innervated by C fibres in human skin. J NeurolNeurosurg Psychiatry 44:313–319

Hensel H, Iggo A (1971) Analysis of cutaneous warm and cold fibres in primates. Pflügers Arch 329:1–8

Kauppila T, Mohammadian P, Nielsen J et al (1998) Capsaicin-induced impairment of tactile spatial discrimination ability in man: indirect evidence for increased receptive fields in human nervous system. Brain Res 797:361–367

Kemp J, Despres O, Dufour A (2012) Unreliability of the visual analog scale in experimental pain assessment: A sensitivity and evoked potentials study. Pain Physician 15:693–700

Lamotte RH, Campbell JN (1978) Comparison of responses of warm and nociceptive C-fibermerents in monkey with human judgments of thermal pain. JpurnalNeurophysiol 41:509–528

Madden VJ, Catley MJ, Grabherr L et al (2016) The effect of repeated laser stimuli to ink-marked skin on skin temperature-recommendations for a safe experimental protocol in humans. PeerJ 2016:1–10

Mancini F, Bauleo A, Cole J et al (2014) Whole-body mapping of spatial acuity for pain and touch. Ann Neurol 75:917–924

Martikainen IK, Pertovaara A (2002) Spatial discrimination of one versus two test stimuli in the human skin : dissociation of mechanisms depending on the task and the modality of stimulation. NeurosciLett 328:322–324

Mørch CD, Andersen OK, Quevedo AS et al (2010) Exteroceptive aspects of nociception: Insights from graphesthesia and two-point discrimination. Pain 151:45–52

Nielsen J, Arendt-Nielsen L (1997) Spatial summation of heat induced pain within and between dermatomes. Somatosens Mot Res 14:119–125

Price DD, McHaffie JG, Larson MA (1989) Spatial summation of heat-induced pain: influence of stimulus area and spatial separation of stimuli on perceived pain sensation intensity and unpleasantness. J Neurophysiol 62:1270–1279

Quevedo AS, Coghill RC (2009) Filling-In, spatial summation, and radiation of pain: evidence for a neural population code in the nociceptive system. J Neurophysiol 102:3544–3553

Quevedo AS, Mørch CD, Andersen OK, Coghill RC (2017) Lateral Inhibition during nociceptive processing. Pain 158:1046–1052

Rolke R, Baron R, Maier C et al (2006) Quantitative sensory testing in the German research network on neuropathic pain (DFNS): standardized protocol and reference values. Pain 123:231–243

Schlereth T, Magerl W, Treede R (2001) Spatial discrimination thresholds for pain and touch in human hairy skin. Pain 92:187–194

Schmidt R, Schmelz M, Weidner C et al (2002) Innervation territories of mechano-insensitive C nociceptors in human skin. J Neurophysiol 88:1859–1866

Tong J, Mao O, Goldreich D (2013) Two-point orientation discrimination versus the traditional two-point test for tactile spatial acuity assessment. Front Hum Neurosci 7:1–11

Treede R-D, Meyer RA, Campbell JN (1990) Comparison of heat and mechanical receptive fields of cutaneous C-fiber nociceptors in monkey. J Neurophysiol 64:1502–1513

Treede RD, Meyer RA, Raja SN, Campbell JN (1995) Evidence for two different heat transduction mechanisms in nociceptive primary afferents innervating monkey skin. J Physiol 483:747–758

Vallbo AB, Olausson H, Wessberg J, Kakuda N (1995) Receptive field characteristics of tactile units with myelinated afferents in hairy skin of human subjects. J Physiol 483:783–795

Van Den BEN, Mouraux A (2015) Enhanced brain responses to C-fiber input in the area of secondary hyperalgesia induced by high-frequency electrical stimulation of the skin Enhanced brain responses to C-fiber input in the area of secondary hyperalgesia induced by high-frequency electric. J Neurophysiol 112:2059–2066

Wessel LE, Ekstein CM, Marshall DC et al (2020) Pre-operative two-point discrimination predicts response to carpal tunnel release. HSS J 16:206–211

Ylioja S, Ve Carlson S, Raij TT, Pertovaara A (2006) Localization of touch versus heat pain in the human hand: A dissociative effect of temporal parameters on discriminative capacity and decision strategy. Pain 121:6–13
Funding
This study was funded by the Danish National Research Foundation (DNRF121).
Ethics declarations
Ethics approval
The experiment was approved by the local ethical committee (VN-20190005).
Conflict of interest
None to declare.
Additional information
Publisher's Note
Springer Nature remains neutral with regard to jurisdictional claims in published maps and institutional affiliations.
Communicated by Winston D Byblow.
About this article
Cite this article
Frahm, K.S., Gervasio, S. The two-point discrimination threshold depends both on the stimulation noxiousness and modality. Exp Brain Res 239, 1439–1449 (2021). https://doi.org/10.1007/s00221-021-06068-x
Received:

Accepted:

Published:

Issue Date:
Keywords
2-point discrimination threshold

Spatial acuity

Laser stimulation

Mechanical stimulation

Pinprick stimulation

Psycho-physics

Sensory integration