Abstract
Successful propagation throughout the step cycle is contingent on adequate regulation of whole-limb stiffness by proprioceptive feedback. Following spinal cord injury (SCI), there are changes in the strength and organization of proprioceptive feedback that can result in altered joint stiffness. In this study, we measured changes in autogenic feedback of five hindlimb extensor muscles following chronic low thoracic lateral hemisection (LSH) in decerebrate cats. We present three features of the autogenic stretch reflex obtained using a mechanographic method. Stiffness was a measure of the resistance to stretch during the length change. The dynamic index documented the extent of adaptation or increase of the force response during the hold phase, and the impulse measured the integral of the response from initiation of a stretch to the return to the initial length. The changes took the form of variable and transient increases in the stiffness of vastus (VASTI) group, soleus (SOL), and flexor hallucis longus (FHL), and either increased (VASTI) or decreased adaptation (GAS and PLANT). The stiffness of the gastrocnemius group (GAS) was also variable over time but remained elevated at the final time point. An unexpected finding was that these effects were observed bilaterally. Potential reasons for this finding and possible sources of increased excitability to this muscle group are discussed.
Access options
Buy single article
Instant access to the full article PDF.
USD 39.95
Price includes VAT (USA)
Tax calculation will be finalised during checkout.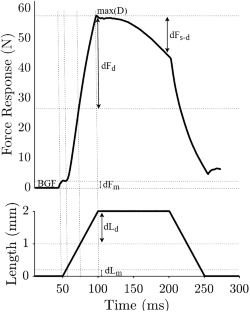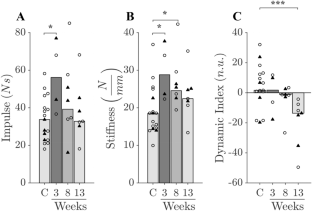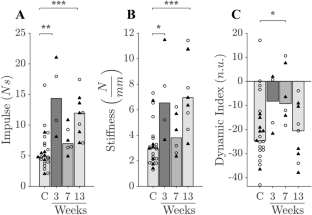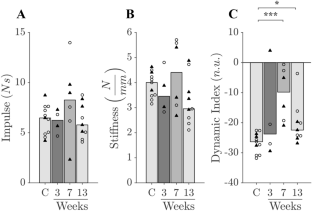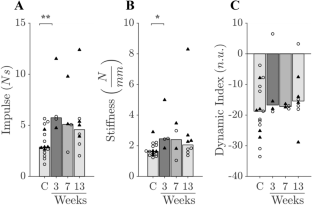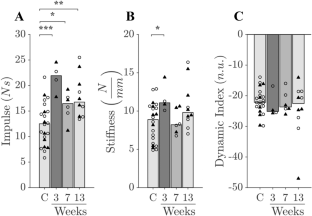 Availability of data and material
The data are available given a reasonable request.
References
Abelew TA, Miller MD, Cope TC, Nichols TR (2000) Local loss of proprioception results in disruption of interjoint coordination during locomotion in the cat. J Neurophysiol 84:2709–2714. https://doi.org/10.1152/jn.2000.84.5.2709

Allum JH, Mauritz KH, Vogele H (1982) The mechanical effectiveness of short latency reflexes in human triceps surae muscles revealed by ischaemia and vibration. Exp Brain Res 48:153–156. https://doi.org/10.1007/BF00239584

Barbeau H, Rossignol S (1987) Recovery of locomotion after chronic spinalization in the adult cat. Brain Res 412:84–95. https://doi.org/10.1016/0006-8993(87)91442-9

Basso DM, Murray M, Goldberger ME (1994) Differential recovery of bipedal and overground locomotion following complete spinal cord hemisection in cats. Restor Neurol Neurosci 7(2):95–110

Bennett DJ, Hultborn H, Fedirchuk B, Gorassini M (1998) Synaptic activation of plateaus in hindlimb motoneurons of decerebrate cats. J Neurophysiol 80:2023–2037. https://doi.org/10.1152/jn.1998.80.4.2023

Bennett DJ, Li Y, Harvey PJ, Gorassini M (2001) Evidence for plateau potentials in tail motoneurons of awake chronic spinal rats with spasticity. J Neurophysiol 86:1972–1982. https://doi.org/10.1152/jn.2001.86.4.1972

Burke D, Gillies JD, Lance JW (1970) The quadriceps stretch reflex in human spasticity. J Neurol Neurosurg Psychiatry 33:216–223. https://doi.org/10.1136/jnnp.33.2.216

Cope TC, Bonasera SJ, Nichols TR (1994) Reinnervated muscles fail to produce stretch reflexes. J Neurophysiol 71:817–820. https://doi.org/10.1152/jn.1994.71.2.817

Doperalski AE, Tester NJ, Jefferson SC, Howland DR (2011) Altered obstacle negotiation after low thoracic hemisection in the cat. J Neurotrauma 28(9):1983–1993

Eccles JC, Eccles RM, Lundberg A (1957) The convergence of monosynaptic excitatory afferents on to many different species of alpha motoneurones. J Physiol 137:22–50. https://doi.org/10.1113/jphysiol.1957.sp005794

Eccles RM, Lundberg A (1959) Supraspinal control of interneurones mediating spinal reflexes. J Physiol 147:565–584. https://doi.org/10.1113/jphysiol.1959.sp006262

ElBasiouny SM, Schuster JE, Heckman CJ (2010) Persistent inward currents in spinal motoneurons: important for normal function but potentially harmful after spinal cord injury and in amyotrophic lateral sclerosis. Clin Neurophysiol 121:1669–1679. https://doi.org/10.1016/j.clinph.2009.12.041

Grillner S (1975) Locomotion in vertebrates: central mechanisms and reflex interaction. Physiol Rev 55:247–304. https://doi.org/10.1152/physrev.1975.55.2.247

Hagbarth KE (1979) Exteroceptive, proprioceptive, and sympathetic activity recorded with microelectrodes from human peripheral nerves. Mayo Clin Proc 54:353–365

Hagbarth KE, Wallin G, Lofstedt L (1973) Muscle spindle responses to stretch in normal and spastic subjects. Scand J Rehabil Med 5:156–159

Hebb DO (1949) The organization of behavior. John Wiley & Sons Inc., New York

Heckmann CJ, Gorassini MA, Bennett DJ (2005) Persistent inward currents in motoneuron dendrites: implications for motor output. Muscle Nerve 31:135–156. https://doi.org/10.1002/mus.20261

Helgren ME, Goldberger ME (1993) The recovery of postural reflexes and locomotion following low thoracic hemisection in adult cats involves compensation by undamaged primary afferent pathways. Exp Neurol 123:17–34. https://doi.org/10.1006/exnr.1993.1137

Hochman S, McCrea DA (1994a) Effects of chronic spinalization on ankle extensor motoneurons. I. Composite monosynaptic Ia EPSPs in four motoneuron pools. J Neurophysiol 71:1452–1467. https://doi.org/10.1152/jn.1994.71.4.1452

Hochman S, McCrea DA (1994b) Effects of chronic spinalization on ankle extensor motoneurons. II. Motoneuron electrical properties. J Neurophysiol 71:1468–1479. https://doi.org/10.1152/jn.1994.71.4.1468

Hultborn H, Kiehn O (1992) Neuromodulation of vertebrate motor neuron membrane properties. Curr Opin Neurobiol 2:770–775. https://doi.org/10.1016/0959-4388(92)90132-5

Hultborn H, Malmsten J (1983) Changes in segmental reflexes following chronic spinal cord hemisection in the cat. I. Increased monosynaptic and polysynaptic ventral root discharges. Acta Physiol Scand 119:405–422. https://doi.org/10.1111/j.1748-1716.1983.tb07357.x

Jankowska E, Edgley S (1993) Interactions between pathways controlling posture and gait at the level of spinal interneurones in the cat. Prog Brain Res 97:161–171. https://doi.org/10.1016/s0079-6123(08)62274-8

Jankowska E, Riddell JS, Skoog B, Noga BR (1993) Gating of transmission to motoneurones by stimuli applied in the locus coeruleus and raphe nuclei of the cat. J Physiol 461:705–722. https://doi.org/10.1113/jphysiol.1993.sp019537

Johansson H, Sjolander P (1993) The neurophysiology of joints. In: Wright VaR E (ed) Mechanics of human joints: physiology, pathophysiology and treatment, 1st edn. Marcel Dekker Inc., New York, pp 243–290

Kajtaz E (2019) Autogenic and intermuscular pathways in cats with partial spinal cord lesions. Georgia Institute of Technology, Atlanta

Kim JH, Partridge LD (1969) Observations on types of response to combinations of neck, vestibular, and muscle stretch signals. J Neurophysiol 32:239–250. https://doi.org/10.1152/jn.1969.32.2.239

Krenz NR, Weaver LC (1998) Sprouting of primary afferent fibers after spinal cord transection in the rat. Neuroscience 85:443–458. https://doi.org/10.1016/s0306-4522(97)00622-2

Kuhtz-Buschbeck JP, Boczek-Funcke A, Mautes A, Nacimiento W, Weinhardt C (1996) Recovery of locomotion after spinal cord hemisection: an X-ray study of the cat hindlimb. Exp Neurol 137:212–224. https://doi.org/10.1006/exnr.1996.0020

de Leon RD, Hodgson JA, Roy RR, Edgerton VR (1998) Locomotor capacity attributable to step training versus spontaneous recovery after spinalization in adult cats. J Neurophysiol 79:1329–1340. https://doi.org/10.1152/jn.1998.79.3.1329

Li Y, Gorassini MA, Bennett DJ (2004) Role of persistent sodium and calcium currents in motoneuron firing and spasticity in chronic spinal rats. J Neurophysiol 91(2):767–783. https://doi.org/10.1152/jn.00788.2003

Lyalka VF, Orlovsky GN, Deliagina TG (2009) Impairment of postural control in rabbits with extensive spinal lesions. J Neurophysiol 101:1932–1940. https://doi.org/10.1152/jn.00009.2008

Lyle MA, Nichols TR (2018) Patterns of intermuscular inhibitory force feedback across cat hindlimbs suggest a flexible system for regulating whole limb mechanics. J Neurophysiol 119:668–678. https://doi.org/10.1152/jn.00617.2017

Lyle MA, Prilutsky BI, Gregor RJ, Abelew TA, Nichols TR (2016a) Self-reinnervated muscles lose autogenic length feedback, but intermuscular feedback can recover functional connectivity. J Neurophysiol 116:1055–1067. https://doi.org/10.1152/jn.00335.2016

Maas H, Prilutsky BI, Nichols TR, Gregor RJ (2007) The effects of self-reinnervation of cat medial and lateral gastrocnemius muscles on hindlimb kinematics in slope walking. Exp Brain Res 181:377–393. https://doi.org/10.1007/s00221-007-0938-8

Macpherson JM, Fung J (1999) Weight support and balance during perturbed stance in the chronic spinal cat. J Neurophysiol 82:3066–3081. https://doi.org/10.1152/jn.1999.82.6.3066

Malmsten J (1983) Time course of segmental reflex changes after chronic spinal cord hemisection in the rat. Acta Physiol Scand 119:435–443. https://doi.org/10.1111/j.1748-1716.1983.tb07359.x

Matthews PBC (1972) Mammalian muscle receptors and their central actions. Edward Arnold Ltd, London

McCouch G, Austin GM, Liu CN, Liu CY (1958) Sprouting as a cause of spasticity. J Neurophysiol 21:205–216. https://doi.org/10.1152/jn.1958.21.3.205

McNair PJ, Wood GA, Marshall RN (1992) Stiffness of the hamstring muscles and its relationship to function in anterior cruciate ligament deficient individuals. Clin Biomech (Bristol, Avon) 7:131–137. https://doi.org/10.1016/0268-0033(92)90027-2

Mendelsohn AI, Simon CM, Abbott LF, Mentis GZ, Jessell TM (2015) Activity regulates the incidence of heteronymous sensory-motor connections. Neuron 87:111–123. https://doi.org/10.1016/j.neuron.2015.05.045

Mirbagheri MM, Barbeau H, Ladouceur M, Kearney RE (2001) Intrinsic and reflex stiffness in normal and spastic, spinal cord injured subjects. Exp Brain Res 141:446–459. https://doi.org/10.1007/s00221-001-0901-z

Mondello SE, Jefferson SC, Tester NJ, Howland DR (2015) Impact of treatment duration and lesion size on effectiveness of chondroitinase treatment post-SCI. Exp Neurol 267:64–77

Munson JB, Foehring RC, Lofton SA, Zengel JE, Sypert GW (1986) Plasticity of medial gastrocnemius motor units following cordotomy in the cat. J Neurophysiol 55:619–634. https://doi.org/10.1152/jn.1986.55.4.619

Murray KC et al (2010) Recovery of motoneuron and locomotor function after spinal cord injury depends on constitutive activity in 5-HT2C receptors. Nat Med 16:694–700. https://doi.org/10.1038/nm.2160

Nelson SG, Mendell LM (1979) Enhancement in Ia-motoneuron synaptic transmission caudal to chronic spinal cord transection. J Neurophysiol 42:642–654. https://doi.org/10.1152/jn.1979.42.3.642

Nichols TR (1987) A technique for measuring the mechanical actions of heterogenic (intermuscular) reflexes in the decerebrate cat. J Neurosci Methods 21:265–273. https://doi.org/10.1016/0165-0270(87)90121-x

Nichols TR, Cope TC (2001) The organization of distributed proprioceptive feedback in the chronic spinal cat. In: Cope TC (ed) Motor neurobiology of the spinal cord. CRC Press, New York, pp 305–327

Nichols TR, Houk JC (1976) Improvement in linearity and regulation of stiffness that results from actions of stretch reflex. J Neurophysiol 39:119–142. https://doi.org/10.1152/jn.1976.39.1.119

Nichols TR, Steeves JD (1986) Resetting of resultant stiffness in ankle flexor and extensor muscles in the decerebrate cat. Exp Brain Res 62:401–410. https://doi.org/10.1007/BF00238859

Nichols TR, Bunderson NE, Lyle MA (2016) Neural Regulation of Limb Mechanics: Insights From the Organization of Proprioceptive Circuits. In: Prilutsky BIaE DH (ed) Neuromechanical Modeling of Posture and Locomotion. Springer-Verlag, New York, pp 69–102

Noga BR, Bras H, Jankowska E (1992) Transmission from group II muscle afferents is depressed by stimulation of locus coeruleus/subcoeruleus Kolliker-Fuse and raphe nuclei in the cat. Exp Brain Res 88:502–516. https://doi.org/10.1007/BF00228180

Pearson KG, Collins DF (1993) Reversal of the influence of group Ib afferents from plantaris on activity in medial gastrocnemius muscle during locomotor activity. J Neurophysiol 70:1009–1017. https://doi.org/10.1152/jn.1993.70.3.1009

Perreault EJ, Crago PE, Kirsch RF (2000) Estimation of intrinsic and reflex contributions to muscle dynamics: a modeling study. IEEE Trans Biomed Eng 47:1413–1421. https://doi.org/10.1109/TBME.2000.880092

Powers RK, Marder-Meyer J, Rymer WZ (1988) Quantitative relations between hypertonia and stretch reflex threshold in spastic hemiparesis. Ann Neurol 23:115–124. https://doi.org/10.1002/ana.410230203

Pratt CA (1995) Evidence of positive force feedback among hindlimb extensors in the intact standing cat. J Neurophysiol 73:2578–2583. https://doi.org/10.1152/jn.1995.73.6.2578

Pratt CA, Fung J, Macpherson JM (1994) Stance control in the chronic spinal cat. J Neurophysiol 71:1981–1985. https://doi.org/10.1152/jn.1994.71.5.1981

Prilutsky BI, Maas H, Bulgakova M, Hodson-Tole EF, Gregor RJ (2011) Short-term motor compensations to denervation of feline soleus and lateral gastrocnemius result in preservation of ankle mechanical output during locomotion. Cells Tissues Organs 193:310–324. https://doi.org/10.1159/000323678

Rapoport S, Mizrahi J, Kimmel E, Verbitsky O, Isakov E (2003) Constant and variable stiffness and damping of the leg joints in human hopping. J Biomech Eng 125:507–514. https://doi.org/10.1115/1.1590358

Rodin BE, Sampogna SL, Kruger L (1983) An examination of intraspinal sprouting in dorsal root axons with the tracer horseradish peroxidase. J Comp Neurol 215:187–198. https://doi.org/10.1002/cne.902150206

Ross KT, Nichols TR (2009) Heterogenic feedback between hindlimb extensors in the spontaneously locomoting premammillary cat. J Neurophysiol 101:184–197. https://doi.org/10.1152/jn.90338.2008

Ross KT (2006) Quantitative Analysis of Feedback During Locomotion., Emory University and Georgia Institute of Technology

Roy RR, Hutchison DL, Pierotti DJ, Hodgson JA, Edgerton VR (1991) EMG patterns of rat ankle extensors and flexors during treadmill locomotion and swimming. J Appl Physiol (1985) 70:2522–2529. https://doi.org/10.1152/jappl.1991.70.6.2522

Rymer WZ, Hasan Z (1980) Absence of force-feedback regulation in soleus muscle of the decerebrate cat. Brain Res 184:203–209. https://doi.org/10.1016/0006-8993(80)90599-5

Schwindt PC, Crill WE (1980) Properties of a persistent inward current in normal and TEA-injected motoneurons. J Neurophysiol 43:1700–1724. https://doi.org/10.1152/jn.1980.43.6.1700

Silverman J et al (2005) Decerebrate mammalian preparations: unalleviated or fully alleviated pain? A review and opinion. Contemp Top Lab Anim Sci 44:34–36

Sinkjaer T, Hayashi R (1989) Regulation of wrist stiffness by the stretch reflex. J Biomech 22:1133–1140. https://doi.org/10.1016/0021-9290(89)90215-7

Taylor JS, Friedman RF, Munson JB, Vierck CJ Jr (1997) Stretch hyperreflexia of triceps surae muscles in the conscious cat after dorsolateral spinal lesions. J Neurosci 17:5004–5015

Tester NJ, Howland DR (2008) Chondroitinase ABC improves basic and skilled locomotion in spinal cord injured cats. Exp Neurol 209:483–496. https://doi.org/10.1016/j.expneurol.2007.07.019

Thilmann AF, Fellows SJ, Garms E (1991) The mechanism of spastic muscle hypertonus. Variation in reflex gain over the time course of spasticity. Brain 114(Pt 1A):233–244

Vierck CJ (1991) Can mechanisms of central pain syndromes be investigated in animal models? In: Casey KL (ed) Pain and central nervous system disease: the central pain syndromes. Raven Press, New York, pp 129–141

Vincent JA, Gabriel HM, Deardorff AS, Nardelli P, Fyffe REW, Burkholder T, Cope TC (2017) Muscle proprioceptors in adult rat: mechanosensory signaling and synapse distribution in spinal cord. J Neurophysiol 118:2687–2701. https://doi.org/10.1152/jn.00497.2017

Webb CB, Cope TC (1992) Influence of synaptic identity on single-Ia-afferent connectivity and EPSP amplitude in the adult cat: homonymous versus heteronymous connections. J Neurophysiol 68:1046–1052. https://doi.org/10.1152/jn.1992.68.4.1046

Zhang LQ, Rymer WZ (1997) Simultaneous and nonlinear identification of mechanical and reflex properties of human elbow joint muscles. IEEE Trans Biomed Eng 44:1192–1209. https://doi.org/10.1109/10.649991
Acknowledgements
Some of the work reported in this paper comprised part of a dissertation (Kajtaz 2019). The authors would like to acknowledge contributions of Drs. B. Prilutsky, A. Kilshko, and R. Mehta, who generously provided control animals and invaluable expertise. The authors wish to thank Drs. M.A. Lyle, R. Noel, and C. Tuthill for their help with terminal experiments, K.A. Cheffer and W.J.R. O'Steen for their help with survival surgeries, Dr. M.D. Reed and J.M. Nanney for thoughtful comments on the manuscript and graphical assistance, and Darlene Burke for advising on a statistical approach. We also thank Dr. T.C. Cope for valuable discussions on the interpretation of these results.
Funding
This work was supported by the National Institutes of Health NS097781 and Veterans Administration I01RX002316 & B9249S, and the Rebecca F. Hammond Endowment.
Ethics declarations
Conflict of interest
The authors declare no conflicts of interest.
Ethics approval
All procedures were completed in accordance with the guidelines from the National Institute of Health and protocols approved by the Institutional Animal Care and Use Committee of Georgia Institute of Technology, the University of Louisville, and the Robley Rex VA Medical Center.
Consent to participate
All authors consented to participate in this research and preparation of the manuscript.
Consent to publish
All authors consented to publish this article and all contributed to the manuscript.
Code availability
The software was written in Matlab© and is available given a reasonable request.
Additional information
Publisher's Note
Springer Nature remains neutral with regard to jurisdictional claims in published maps and institutional affiliations.
Communicated by Winston D. Byblow.
Supplementary Information
Below is the link to the electronic supplementary material.
About this article
Cite this article
Kajtaz, E., Montgomery, L.R., McMurtry, S. et al. Non-uniform upregulation of the autogenic stretch reflex among hindlimb extensors following lateral spinal lesion in the cat. Exp Brain Res 239, 2679–2691 (2021). https://doi.org/10.1007/s00221-020-06016-1
Received:

Accepted:

Published:

Issue Date:
Keywords
Hemisection

Length feedback

Ia pathway

Extensor muscles