Abstract
Motor executions alter sensory processes. Studies have shown that loudness perception changes when a sound is generated by active movement. However, it is still unknown where and how the motor-related changes in loudness perception depend on the task demand of motor execution. We examined whether different levels of precision demands in motor control affects loudness perception. We carried out a loudness discrimination test, in which the sound stimulus was produced in conjunction with the force generation task. We tested three target force amplitude levels. The force target was presented on a monitor as a fixed visual target. The generated force was also presented on the same monitor as a movement of the visual cursor. Participants adjusted their force amplitude in a predetermined range without overshooting using these visual targets and moving cursor. In the control condition, the sound and visual stimuli were generated externally (without a force generation task). We found that the discrimination performance was significantly improved when the sound was produced by the force generation task compared to the control condition, in which the sound was produced externally, although we did not find that this improvement in discrimination performance changed depending on the different target force amplitude levels. The results suggest that the demand for precise control to produce a fixed amount of force may be key to obtaining the facilitatory effect of motor execution in auditory processes.
Access options
Buy single article
Instant access to the full article PDF.
US$ 39.95
Tax calculation will be finalised during checkout.
Subscribe to journal
Immediate online access to all issues from 2019. Subscription will auto renew annually.
US$ 119
Tax calculation will be finalised during checkout.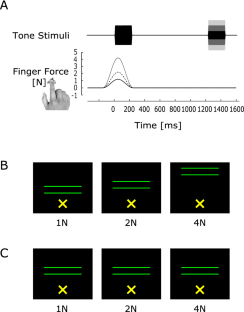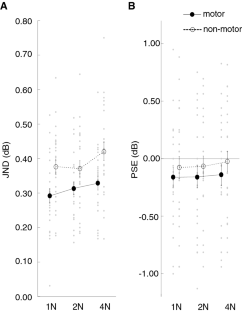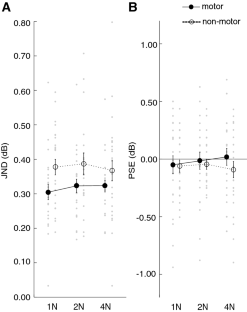 Acknowledgements
This study was partially supported by a Grant-in-Aid for Japan Society for the Promotion of Science Fellows 20J14743 awarded to NE; research grants from the National Institute on Deafness and Other Communication Disorders Grant R01-DC017439 awarded to TI; JSPS KAKENHI Grant numbers 17H00753 and 17H06344 awarded to KW; JST CREST JPMJCR14E4 and JPMJCR16E1 awarded to KW and KN; JSPS KAKENHI Grant number 18H04082 awarded to KN.
Additional information
Publisher's Note
Springer Nature remains neutral with regard to jurisdictional claims in published maps and institutional affiliations.
Communicated by Francesca Frassinetti.
About this article
Cite this article
Endo, N., Ito, T., Mochida, T. et al. Precise force controls enhance loudness discrimination of self-generated sound. Exp Brain Res (2021). https://doi.org/10.1007/s00221-020-05993-7
Received:

Accepted:

Published:
Keywords
Auditory perception

Auditory–motor interaction

Motor execution

Self-generated sound