Abstract
Pole walking (PW) has received attention not only as a whole-body exercise that can be adapted for elderly people with poor physical fitness but also as a possible intervention for the restoration of gait function in normal walking without the use of poles (i.e., conventional walking CW). However, the characteristics of PW, especially how and why PW training affects CW, remain unclear. The purpose of this study was to examine the characteristics of locomotor adaptation in PW from the perspective of kinematic variables. For this purpose, we compared the locomotor adaptation in PW and CW to that when walking on a split-belt treadmill in terms of spatial and temporal coordination. The result showed that adaptations to the split-belt treadmill in PW and CW were found only in interlimb parameters (step length and double support time ratios (fast/slow limb)), not in intralimb parameters (stride length and stance time ratios). In these interlimb parameters, the movement patterns acquired through split-belt locomotor adaptations (i.e., the aftereffects) were transferred between CW and PW regardless of whether the novel movement patterns were learned in CW or PW. The aftereffects of double support time and step length learned in CW were completely washed out by the subsequent execution in PW. On the other hand, the aftereffect of double support time learned in PW was not completely washed out by the subsequent execution in CW, whereas the aftereffect of step length learned in PW was completely washed out by the subsequent execution in CW. These results suggest that the neural mechanisms related to controlling interlimb parameters are shared between CW and PW, and it is possible that, in interlimb coordination, temporal coordination is preferentially stored in adaptation during PW.
Access options
Buy single article
Instant access to the full article PDF.
US$ 39.95
Tax calculation will be finalised during checkout.
Subscribe to journal
Immediate online access to all issues from 2019. Subscription will auto renew annually.
US$ 119
Tax calculation will be finalised during checkout.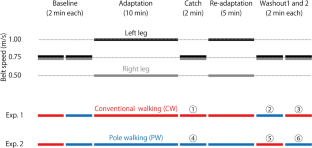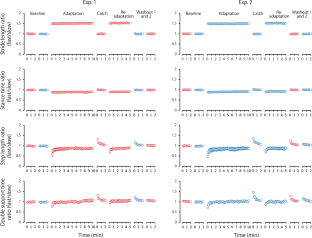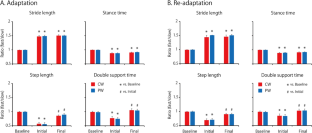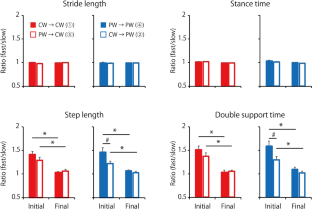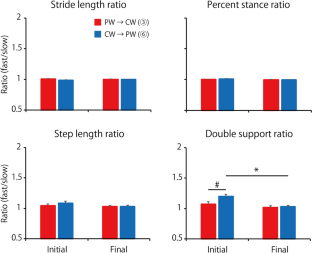 References
Choi JT, Bastian AJ (2007) Adaptation reveals independent control networks for human walking. Nat Neurosci 10(8):1055–1062

Choi JT, Vining EPG, Reisman DS, Bastian AJ (2009) Walking flexibility after hemispherectomy: split-belt treadmill adaptation and feedback control. Brain 132(3):722–733

Figard-Fabre H, Fabre N, Leonardi A, Schena F (2010) Physiological and perceptual responses to Nordic walking in obese middle-aged women in comparison with the normal walk. Eur J Appl Physiol 108(6):1141–1151

Figueiredo S, Finch L, Mai J, Ahmed S, Huang A, May NE (2013) Nordic walking for geriatric rehabilitation: a randomized pilot study. Disabil Rehabil 35(12):968–975

Fukusaki C, Leetawesup K, Kato N, Kadokura Y, Nakazawa K, Yano H, Ishii N (2018) Effects of defensive style Nordic walking intervention in patients with lumbar and lower-limb osteoarthritis. J Nov Physiother 8(2):383. https://doi.org/10.4172/2165-7025.1000383

Gougeon MA, Zhou L, Nantel J (2017) Nordic walking improves trunk stability and gait spatial-temporal characteristics in people with Parkinson disease. NeuroRehabilitation 41(1):205–210

Jayaram G, Galea JM, Bastian AJ, Celnik P (2011) Human locomotor adaptive learning is proportional to depression of cerebellar excitability. Cereb Cortex 21(8):1901–1909

Jayaram G, Tang B, Pallegadda R, Vasudevan EV, Celnik P, Bastian AJ (2012) Modulating locomotor adaptation with cerebellar stimulation. J Neurophysiol 107(11):2950–2957

Malone LA, Bastian AJ (2010) Thinking about walking: effects of conscious correction versus distraction on locomotor adaptation. J Neurophysiol 103(4):1954–1962

Malone LA, Bastian AJ, Torres-Oviedo G (2012) How does the motor system correct for errors in time and space during locomotor adaptation? J Neurophysiol 108(2):672–683

Monteiro EP, Franzoni LT, Cubillos DM, de Oliveira FA, Carvalho AR, Oliveira HB, Pantoja PD, Schuch FB, Rieder CR, Martinez FG, Peyré-Tartaruga LA (2017) Effects of Nordic walking training on functional parameters in Parkinson's disease: a randomized controlled clinical trial. Scand J Med Sci Sports 27(3):351–358

Morton SM, Bastian AJ (2006) Cerebellar contributions to locomotor adaptations during split-belt treadmill walking. J Neurosci 26(36):9107–9116

Musselman KE, Patrick SK, Vasudevan EV, Bastian AJ, Yang JF (2011) Unique characteristics of motor adaptation during walking in young children. J Neurophysiol 105(5):2195–2203

Obata H, Ogawa T, Hoshino M, Fukusaki C, Masugi Y, Kobayashi H, Yano H, Nakazawa K (2017) Effects of aquatic pole walking on the reduction of spastic hypertonia in a patient with hemiplegia: a case study. Int J Phys Med Rehabil 5:401. https://doi.org/10.4172/2329-9096.1000401

Obata H, Ogawa T, Nakazawa K (2019) Unique controlling mechanisms underlying walking with two handheld poles in contrast to those of conventional walking as revealed by split-belt locomotor adaptation. Exp Brain Res 237(12):3175–3183

Ogawa T, Kawashima N, Ogata T, Nakazawa K (2012) Limited transfer of newly acquired movement patterns across walking and running in humans. PLoS ONE 7(9):e46349

Ogawa T, Kawashima N, Obata H, Kanosue K, Nakazawa K (2015) Mode-dependent control of human walking and running as revealed by split-belt locomotor adaptation. J Exp Biol 218(Pt 20):3192–3198

Ogawa T, Obata H, Yokoyama H, Kawashima N, Nakazawa K (2018) Velocity-dependent transfer of adaptation in human running as revealed by split-belt treadmill adaptation. Exp Brain Res 236(4):1019–1029

Parkatti T, Perttunen J, Wacker P (2012) Improvements in functional capacity from Nordic walking: a randomized-controlled trial among elderly people. J Aging Phys Act 20(1):93–105

Reisman DS, Block HJ, Bastian AJ (2005) Interlimb coordination during locomotion: what can be adapted and stored? J Neurophysiol 94:2403–2415

Reisman DS, Bastian AJ, Morton SM (2010) Neurophysiologic and rehabilitation insights from the split-belt and other locomotor adaptation paradigms. Phys Ther 90(2):187–195

Reuter I, Mehnert S, Leone P, Kaps M, Oechsner M, Engelhardt M (2011) Effects of a flexibility and relaxation programme, walking, and Nordic walking on Parkinson's disease. J Aging Res 2011:232473. https://doi.org/10.4061/2011/232473

Shin JH, Kim CB, Choi JD (2015) Effects of trunk rotation induced treadmill gait training on gait of stroke patients: a randomized controlled trial. J Phys Ther Sci 27(4):1215–1217

Vasudevan EV, Bastian AJ (2010) Split-belt treadmill adaptation shows different functional networks for fast and slow human walking. J Neurophysiol 103(1):183–191

Vasudevan EV, Torres-Oviedo G, Morton SM, Yang JF, Bastian AJ (2011) Younger is not always better: development of locomotor adaptation from childhood to adulthood. J Neurosci 31(8):3055–3065

Warlop T, Detrembleur C, Buxes Lopez M, Stoquart G, Lejeune T, Jeanjean A (2017) Does Nordic walking restore the temporal organization of gait variability in Parkinson's disease? J Neuroeng Rehabil 14(1):17. https://doi.org/10.1186/s12984-017-0226-1

Wolpaw JR (2007) Spinal cord plasticity in acquisition and maintenance of motor skills. Acta Physiol 189(2):155–169
Additional information
Publisher's Note
Springer Nature remains neutral with regard to jurisdictional claims in published maps and institutional affiliations.
Communicated by Francesco Lacquaniti.
About this article
Cite this article
Obata, H., Ogawa, T., Yokoyama, H. et al. Spatiotemporal characteristics of locomotor adaptation of walking with two handheld poles. Exp Brain Res 238, 2973–2982 (2020). https://doi.org/10.1007/s00221-020-05954-0
Received:

Accepted:

Published:

Issue Date:
Keywords
Walking adaptation

Locomotion

Motor learning

Pole walking