Abstract
Humans employ anticipatory muscle activation when catching under conditions of load uncertainty. Questions addressed were (a) on what information referent do catchers base their anticipatory neuromotor control when catching balls of unknown weight?, and (b) how do catchers use this functional referent? Thirty-six participants caught visually identical balls dropped from 0.75 m. Participants performed 40 trials, half with knowledge of ball weight and half without. Group L caught balls with a large weight range, while group S caught balls with a smaller range of weights. EMG integrals were computed for the ball flight period in five muscles. Anticipatory EMG integrals in the unknown weight condition were normalized to anticipatory EMG integrals for the maximum, minimum and average ball weights in the known ball weight condition. We assumed participants would base anticipatory control in the unknown weight condition on similar information, regardless of group. Therefore, differences in normalized EMG integrals between groups L and S would suggest that the specific referent tested (e.g., minimum possible ball weight) was not used to scale anticipatory muscle activation under load uncertainty. Independent sample t tests ascertained differences in normalized EMG integrals between groups L and S. The results suggested that the information referent participants used to catch balls of an unknown weight was knowledge of the maximum ball weight. Participants used this referent to generate a submaximal level of anticipatory muscle activation, i.e., about 93.2% of that used to catch the heaviest ball when ball weight was known in advance.
Access options
Buy single article
Instant access to the full article PDF.
USD 39.95
Price excludes VAT (USA)
Tax calculation will be finalised during checkout.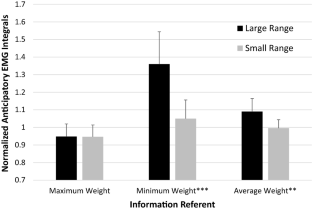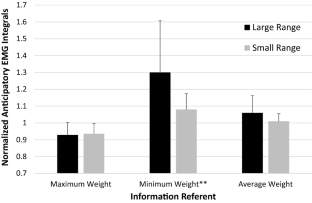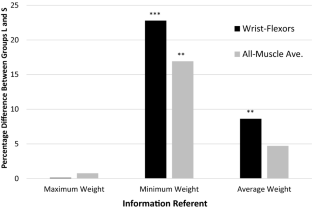 References
Bennett S, Ashford D, Rioja N, Elliott D (2004) Intermittent vision and one-handed catching: the effect of general and specific task experience. J Motor Behav 36:442–449

Berg WP, Hughes MH (2017) The effect of load uncertainty and foreperiod regularity on anticipatory and compensatory neuromotor control in catching. Mot Control 21:1–25

Berg WP, Hughes MH (2020) The effect of load uncertainty on neuromotor control in catching: gender differences and short foreperiods. J Motor Behav 52:318–332

Eckerle JJ, Berg WP, Ward RM (2012) The effect of load uncertainty on anticipatory muscle activity in catching. Exp Brain Res 220:311–318

Hermens HJ, Freriks B, Merletti R, Stegeman D, Blok J, Rau G, Disselhorst-Klug C, Hägg G (eds) (1999) SENIAM 8: European recommendations for surface electromyography: results of the SENIAM project. Roessingh Research and Development bv, Enschede, The Netherlands

Kazennikov OV, Lipshits MI (2010) Influence of preliminary information about the mass on anticipatory muscle activity during the catching of a falling object. Hum Physiol 36:198–202

Lacquaniti F, Maioli C (1989a) The role of preparation in tuning anticipatory and reflex responses during catching. J Neurosci 9:134–148

Lacquaniti F, Maioli C (1989b) Adaptation to suppression of visual information during catching. J Neurosci 9:149–159

Lang CE, Bastian AJ (1999) Cerebellar subjects show impaired adaptation of anticipatory EMG during catching. J Neurophysiol 82:2108–2119

R Core Team (2020) R: a language and environment for statistical computing. R Foundation for Statistical Computing, Vienna, Austria. URL https://www.R-project.org/

Shimura K, Yahagi S, Kasai T (2001) Influence of perturbation induced by an anticipated load on human motor regulatory systems. Percept Motor Skill 93:639–647

Xie L, Wang J (2019) Anticipatory and compensatory postural adjustments in response to loading perturbation of unknown magnitude. Exp Brain Res 237:173–180

Zago M, McIntyre J, Senot P, Lacquaniti F (2009) Visuo-motor coordination and internal models for object interception. Exp Brain Res 192:571–604
Additional information
Communicated by Melvyn A. Goodale.
Publisher's Note
Springer Nature remains neutral with regard to jurisdictional claims in published maps and institutional affiliations.
About this article
Cite this article
Berg, W.P., Hughes, M.R. Information for anticipatory neuromotor control in catching under load uncertainty. Exp Brain Res 238, 1285–1292 (2020). https://doi.org/10.1007/s00221-020-05809-8
Received:

Accepted:

Published:

Issue Date:

DOI: https://doi.org/10.1007/s00221-020-05809-8
Keywords